This resource provides step-by-step instructions to help you process employer requests to connect at your institution in Handshake. Explore each of the collapsible headers for more information!
For tips navigating approvals, refer to Best Practices: Employer Approvals and Best Practices: Tips for Vetting Employers on Handshake. 
Accessing pending employer approval requests
To process employer approval requests for your institution, follow the steps below.
1. Determine which employers are requesting approval (employers with a status of pending have requested, but not yet received, approval to connect with your institution).
There are two ways to access pending employer requests: 
Click

Employers

 

from the left navigation bar to be directed to the Manage Employers page, then click on the Pending tab.

Note: In the left navigation bar, the number to the right of

 

Employers indicates the number of requests pending. 

Click Home at the top of the left navigation bar to be taken to your home page; the right side of your homepage highlights items needing your attention. Scroll down to Employer Approvals and click the link for "employers are waiting for approval".
2. Once you've used one of these methods to determine which employers are awaiting approval from your institution, you're ready to determine whether or not to grant approval to each employer.
Handshake displays information to help you make this decision:  
Website: for quick reference, instead of having to go to the company profile
Date Requested: when the employer requested access to your institution
To the right of Date Requested, a small blue circle with an "i" may appear – if present, this indicates the employer has been tagged.
Refer to Understanding how Employers are Validated on Handshake for more information on how we use technology to ensure secure Employer Validation.
Here's an example of how pending requests are displayed: 

Tip: If you'd like to contact the employer directly to discuss their approval request, click the employer's name to view the company profile, then locate the Contact Information section on the left side where a public phone number or email address may be present.

3. Now that you've evaluated the pending employer, you're ready to process the request.
Use the three dots on the far right to quickly Email Employer Contacts, Add or Remove Labels, Edit Roles, Assign (the employer) to Me, or Set to In Progress.
Note: You will only be able to Email Employer Contacts if one of the employer's staff members is already a contact of your institution. Refer to Employer User & Contact Privacy for more information.
To approve or decline the request, take action from the list view or from the company profile: 
Use the Yes/No buttons to Approve/Decline individual employers from the list view:
To Approve/Decline 2 or more employers, click the checkboxes to the left of the employer names, then use the bulk action in the column header More, and choose Approve or Decline:
When viewing a company profile, use the action items in the Employer Approval section to process a pending request, or update an existing Approved/Declined employer. Click the desired button for Status: Declined, In Progress, Approved, then click Save or Save & View Next
From the list view, when you click Yes or Approve Employer Approvals, a pop-up will appear prompting you to select roles to assign to the employer. If you have default roles selected in your Institution Settings, those will automatically be selected, but you can add or remove roles from this pop-up as well. Mark the desired selections, then click Approve.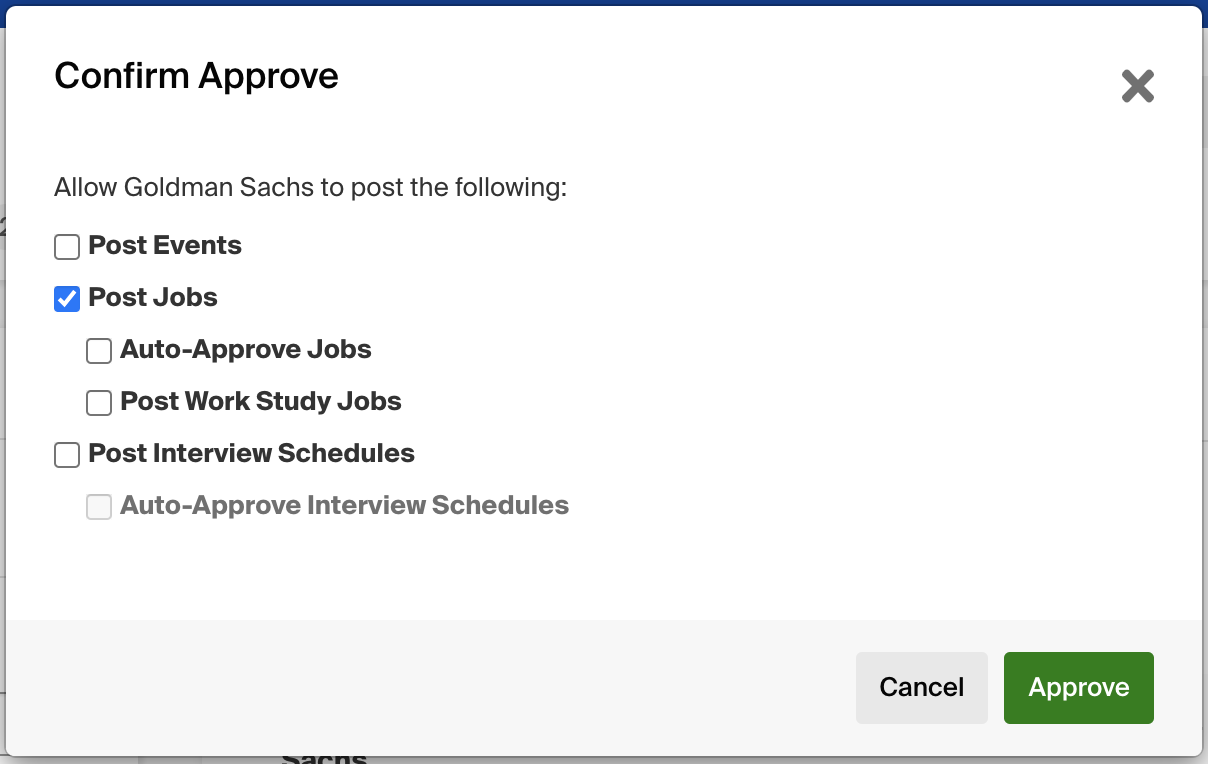 On the company profile, after selecting a status button, select the desired roles, then click Save.
When you decline an employer, you'll be prompted to submit a reason for the decline. This prompt improves the process by: 
capturing moral, ethical, and specific legal decline reasons
enabling our flagging system to be more efficiently reviewed by focusing on fraud and abuse

providing sufficient information for employers to correct any errors in order to be reconsidered for approval

 
helping us at Handshake better understand what's important to you
generating a tag for the employer
The decline reason chosen will be added as a comment to the company profile, which is viewable to the employer user(s) connected to that company, as well as other staff members at your institution. 
Select from the following decline reasons:
Employer industry does not align with our institution policy (dropdown menu, choose one):


Adult entertainment industry
Alcohol or Tobacco
Cannabis
Firearms
Gambling
Multi-level marketing
Third party recruiter or staffing firm

Ideological objection to industry

 (please explain)


Not compliant with employment laws
Employer requires up-front costs
Other (please explain below)

After choosing a decline reason, select your choices: 
Please tell us more about your decision (text box for required comments or additional information you'd like to share)
Share my name with employer

(Yes / No)

If you select this option, your name will be displayed with the comment. 
To save, click the blue button Decline Employer in the lower-right corner of the pop-up.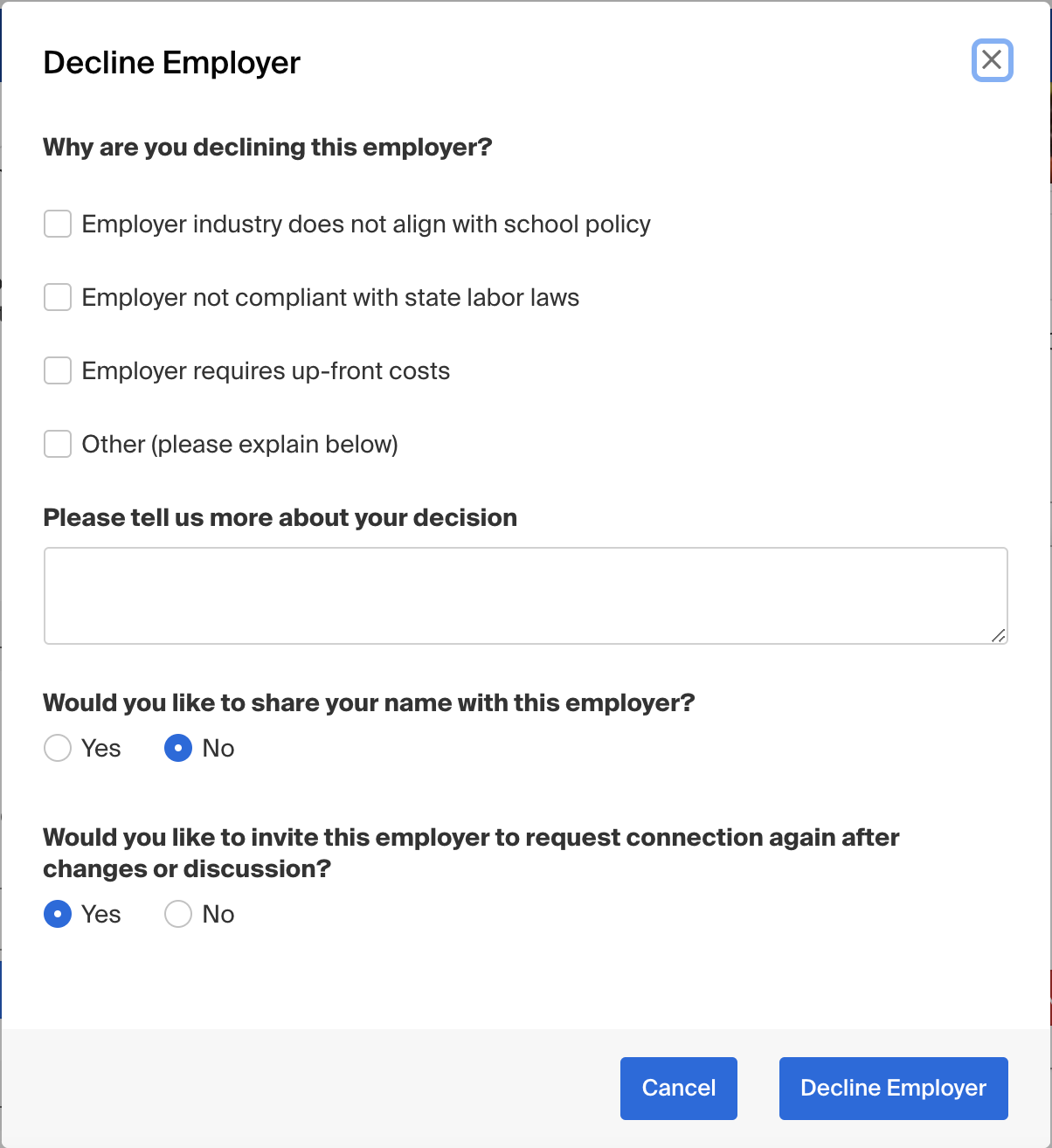 Note: if you decline an employer, this will cancel any existing career fair registration and events regardless of status. 
Employer request outcome notifications
Employer users are automatically sent a notification of the outcome in Handshake and via email. For examples from the employer perspective, refer to Declined by an Institution. 
If an employer chooses to follow-up via comment, you'll receive a notification of the comment in Handshake and via email. 
notification in Handshake (accessible via the world icon in the upper-right corner)


notification via email:
If you aren't receiving notifications as expected, double-check your notification preferences for Employers > "Someone comments on an employer approval".
On the company profile in Handshake, you can review the comment and choose to respond. If you respond to the comment, note that your name will be included with your comment.