When students receive messages from employers, they have the ability to report those messages to our team for further review. Our Trust and Safety team handle these reports within 24 business hours.
Reporting a message
Students can click on the three dots in the upper-right corner of the message and click Report Message to alert our team of their concerns.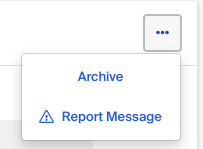 When the student clicks Report Message, they will be prompted to select from two options:
This employer appears to be fake or fraudulent (alerts our team in the form of an Harassment Report).
This employer is spamming me (alerts our team in the form of a Spam Report).

If the student selects the first option, fake or fraudulent, they will be able to add additional details in the text box below the radio button.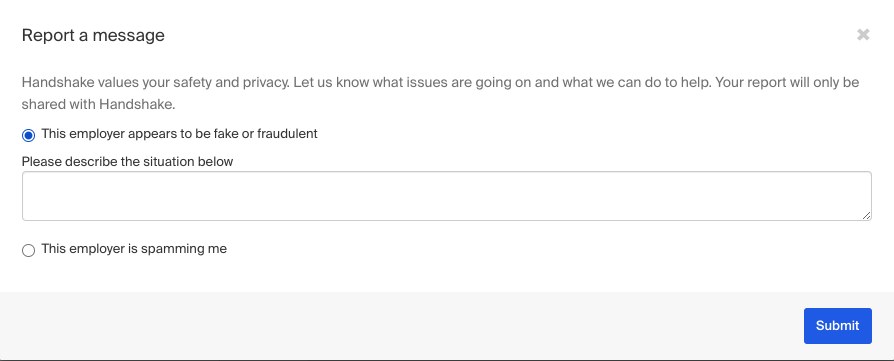 Investigating spam and harassment reports
When our team receives a spam or harassment report, they will launch an investigation into the message as well as the employer. This investigation includes review of:
message content (valid job link, errors/grammar, message counts by user, etc.)
valid website
email domain (generic email or if a corporate domain, ensure user matches company)
other Terms of Service violations (available here)
If the user is found to be in violation of our Terms of Service, does not meet account expectations, or is fraudulent, that user will be suspended. Our team will work with users on a case-by-case basis to recover their account if applicable.
Spam Reports are managed internally and students should not expect a reply, however, Harassment Reports will be responded to individually by our Trust & Safety team after the investigation has concluded, or if more information is needed.
It's important to note that a majority of these reports do not result in a case of fraud. The majority of fraudulent employers are identified via our flagging system. You can read more on this in Safety: Flagging an Employer.