You can filter your view of interview schedules by career center, if your school has multiple career centers listed in Handshake.
Pro tip: you can check to see if your school uses multiple career centers by going to your school settings, then look for Career Centers. If you only have one career center then you will not see the option for Career Centers.
To view your interview schedules at a specific career center, first select Interviews in the left hand menu.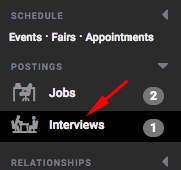 Your view will default to all career centers, but you can change the view by selecting Edit This.

Selecting Edit This will allow you to choose the career center you'd like to view.

Troubleshooting
Unable to edit room availability?
If you are attempting to edit the room availability but are unable to, make sure you have both chosen a career center and are linked to the career center in your user settings. You cannot edit room availability while viewing All Career Centers in Handshake.
To update the career center(s) you're connected to, click on your name in the top right of Handshake, then click User Settings. Select the Personal Information option from the left menu, and scroll down to Career Centers. Add the needed center(s), and make sure to save your changes!

Not seeing a requested interview schedule?
If an employer has requested a schedule, but you aren't seeing the request, make sure you're viewing the career center the schedule is linked to. You'll only see schedules for the selected center!