As a Career Services user, depending on your roles, you may find yourself working with an employer who is having difficulty connecting in Handshake, and it doesn't look like the user is pending approval at your school. This is probably because they are pending approval at their company, NOT your school yet.
This process outlines steps you can take on your end, before escalating to Handshake Support.
1. Search for the employer user's name in the global search bar, the upper-most blue bar. (Do not search in the Contacts or Employer tabs because these users are not yet added to the school's database.)

2. Clicking on the result that populates will navigate to the employer's profile. Here, information about the profile status is displayed - in the example below, it shows that the user is pending staff member approval from the company itself, not the school.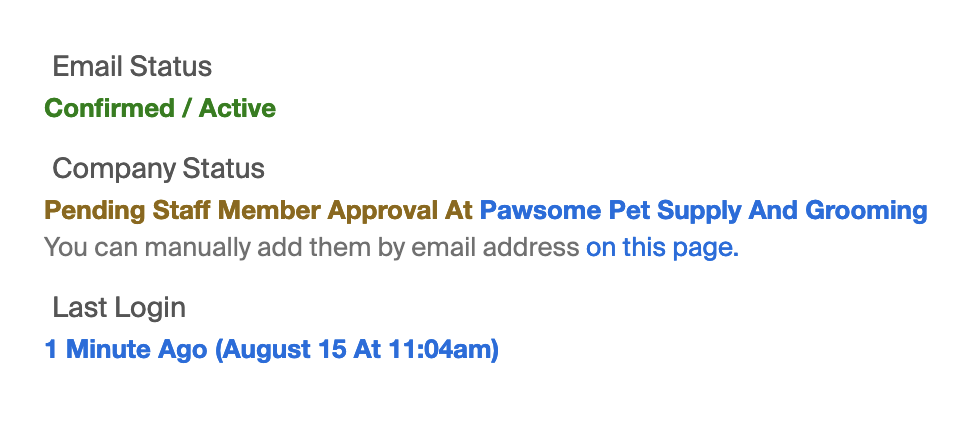 3. In order to either add this user to the company, or locate the owner of the account for approval, select the link for "on this page" to review the company's staff members page.

4. Here, as a Career Services user, you can manually add the user to the company page by their email address. We recommend only doing this for employers you personally know, small companies, or when there are no other staff members on the account to check with for approval.

Tip: If the company in Handshake is large, or if the user has a different email domain, we recommend sharing the Owner's contact information with them. This allows the user to reach out to the Owner or Admin for approval to connect with the company.


Only the Owner or Admin can approve new users – recruiters do not have this permission.
If the employer has further questions about approval, they can always reach out to Support for assistance.
Note: If you attempt to add a new user to a company profile that does not have a matching email domain, the following error will appear in the lower-right corner of the page:
"Error This user does not have an email domain that matches the employer. Please request a company email address from this user to connect them to the account."