Automatically invite candidates who meet your qualifications to widen your talent pool after upgrading your job.
Topics: 
Choose job to upgrade 
From job post 
Click the blue button + Add to job to subscribe to Plus and upgrade your job. Handshake will direct you to the Stripe-hosted customer portal to finalize your purchase and manage your subscription.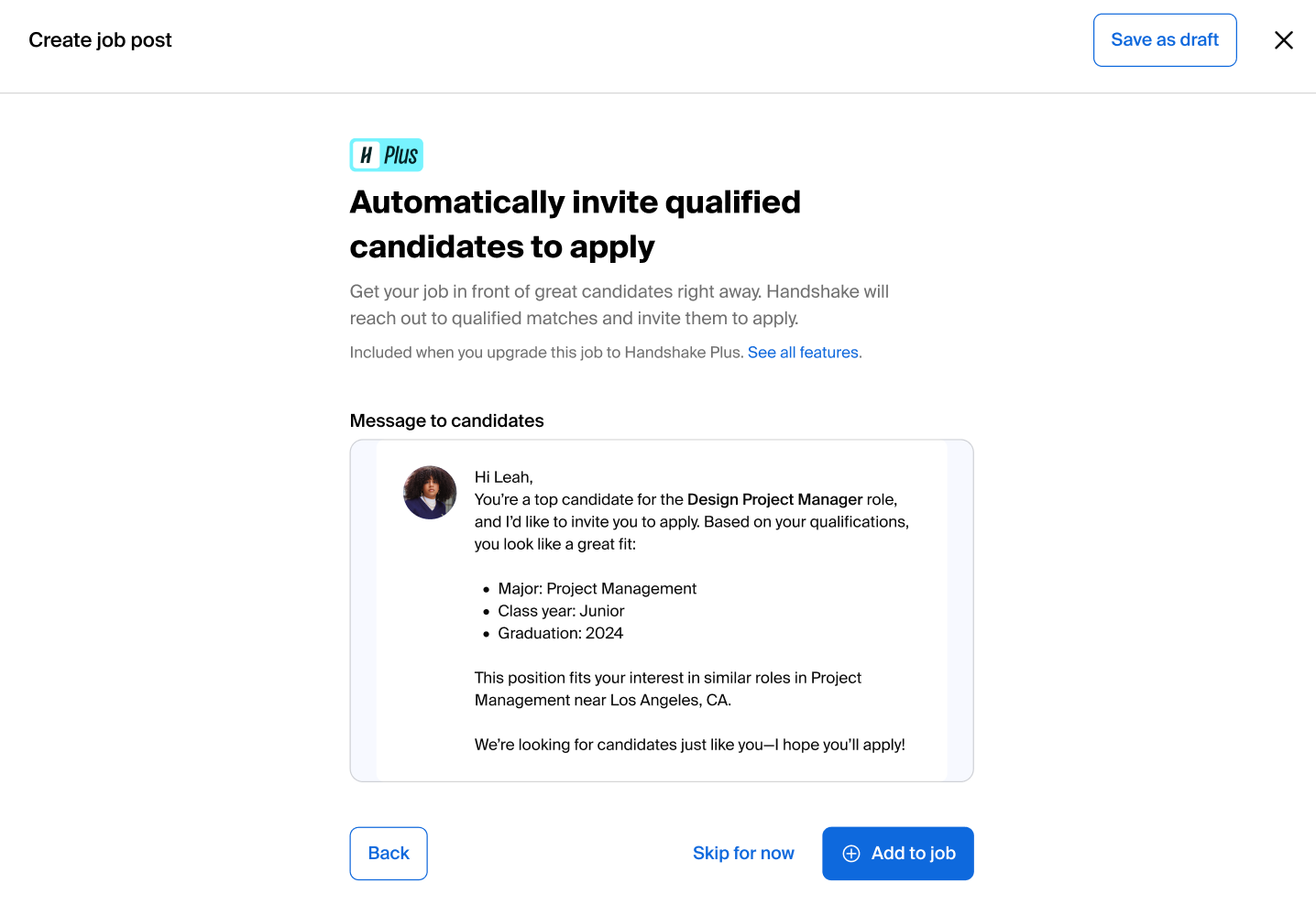 From portal 
If you've recently subscribed to Plus and have not yet created a job, refer to How to Post a Job.
Once the job is created, click your name in the top-right corner of any page in Handshake, then select Subscription. 
On the Subscription page, click the white button Upgrade job in the module in the Upgraded job section.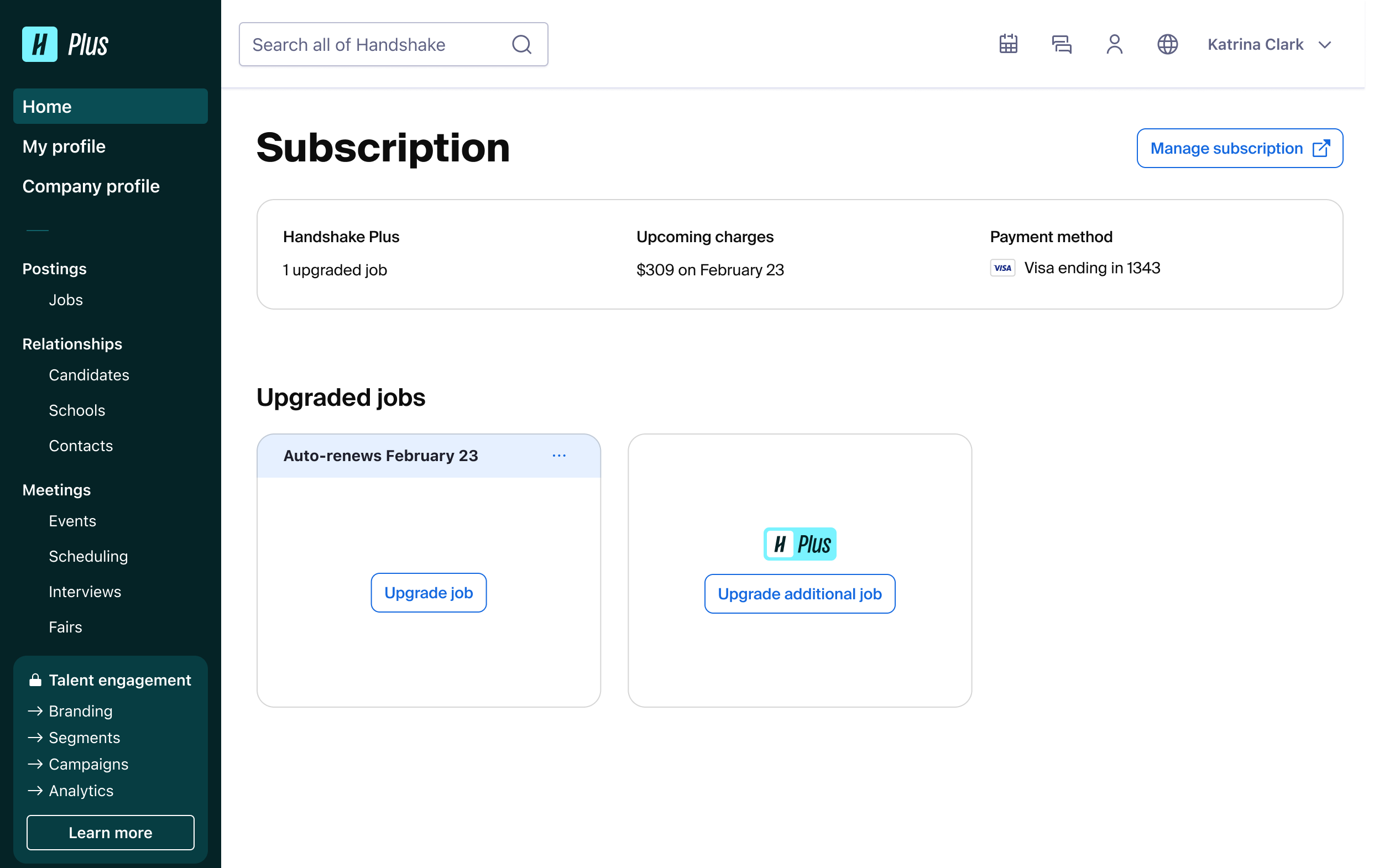 In the pop-up modal, choose which job you would like to upgrade to Plus from the dropdown, then click the blue button Upgrade job. 
Note: not all jobs in Handshake are eligible to receive Handshake Plus benefits at this time.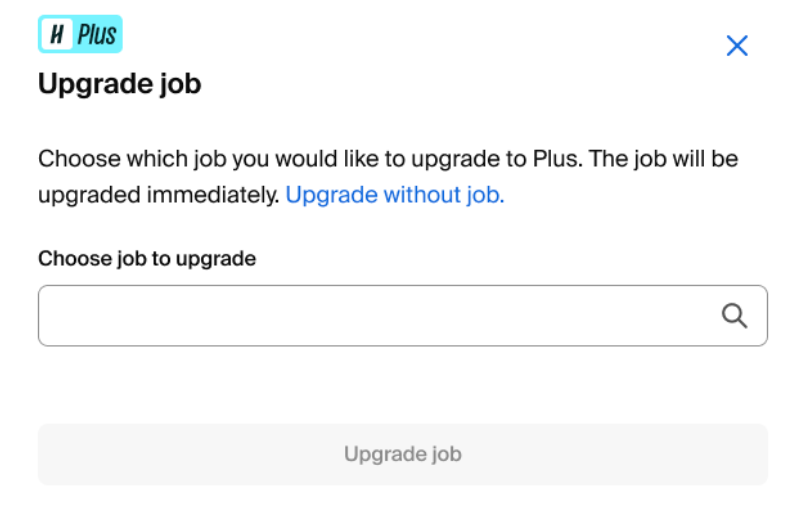 If there are no eligible jobs available to upgrade, you will have the option to create a job or upgrade without a job. 

To create a new job, click the white button Create job.

Note: to use the automated job outreach functionality, you will need to create a job.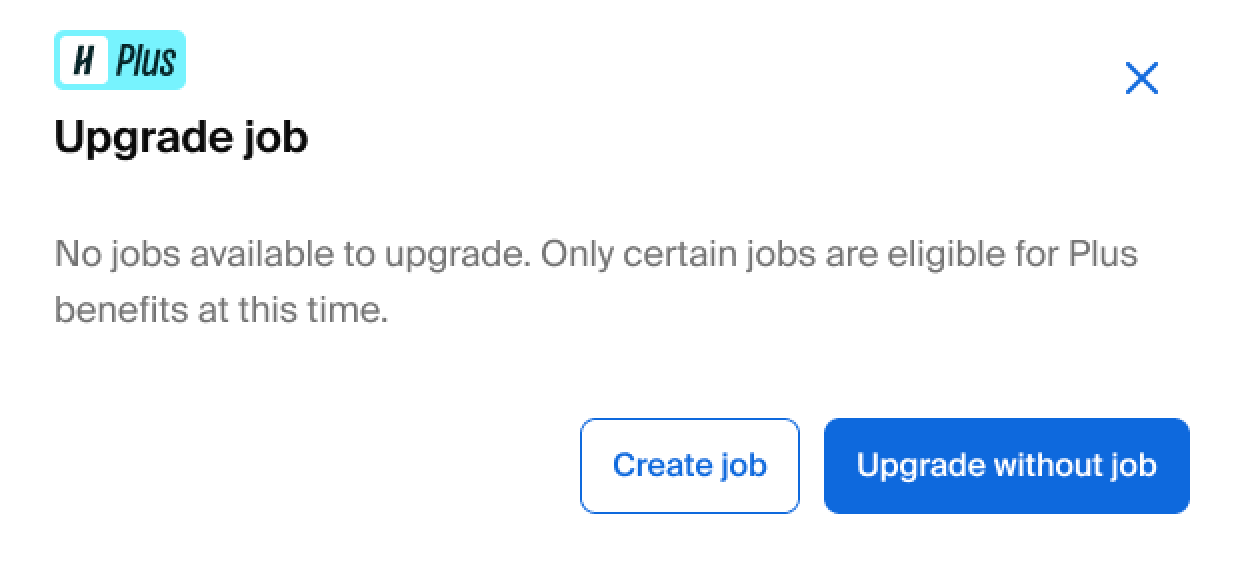 Automate outreach 
Once a job is upgraded, Handshake will define a target audience of students who can apply based on your candidate preferences, and automatically schedule and send a small campaign to the target audience to invite them to apply. 
Note: automated campaign messages are exempt from your message caps. 
To view the campaign status, click the Overview tab of the job posting page. The tab displays varying messages depending on the status.
When in progress, the message "

Your automated outreach is in progress" appears. 

When there are no new candidates, the message "We've run out of new candidates. Expand your audience by posting your job to new schools" appears. 

To expand your audience, click the blue button Post to more schools.

When outreach is disabled, the message "Automated outreach is off. With automated outreach, Handshake will reach out to qualified candidates and invite them to apply." appears. To enable automatic outreach, click the blue button Manage outreach.

This campaign will repeat in weekly batches as long as the job is upgraded and there are uncontacted candidates who meet the employer's preferences.
Once there are no more candidates available to contact, you will receive an email indicating this and encouraging you to use School Recommendations to post your job to more schools to expand your candidate pool. Learn more about School Network Management: School Recommendations.