As a student, you'll likely end up performing searches in many areas of Handshake.  To save you time, you can save your searches so you can easily run them again in the future.  For example, you may do a search for a job with specific criteria that are important to you. If you save that search, you can come back days, weeks, or months later and quickly run the same search on the current list of jobs.  
 
Note:  When saving a search, please be aware that you are not saving your search results.  You are saving your search criteria.  
 
While your search criteria will vary depending on the area of the site you're searching, the steps you will follow to create and save a search will be similar.  
 
We'll use the Jobs tab for this example.
 
First, create your search:
Click

 

Jobs

 on the left-hand navigation bar.
You will see on the left of the screen a list of filters you can use to create the criteria for your search.  Filters include items such as location, employment type, major, etc.   

Select

 the criteria for your search.  You will see that the list of relevant job postings changes as narrow your search by adding additional search criteria.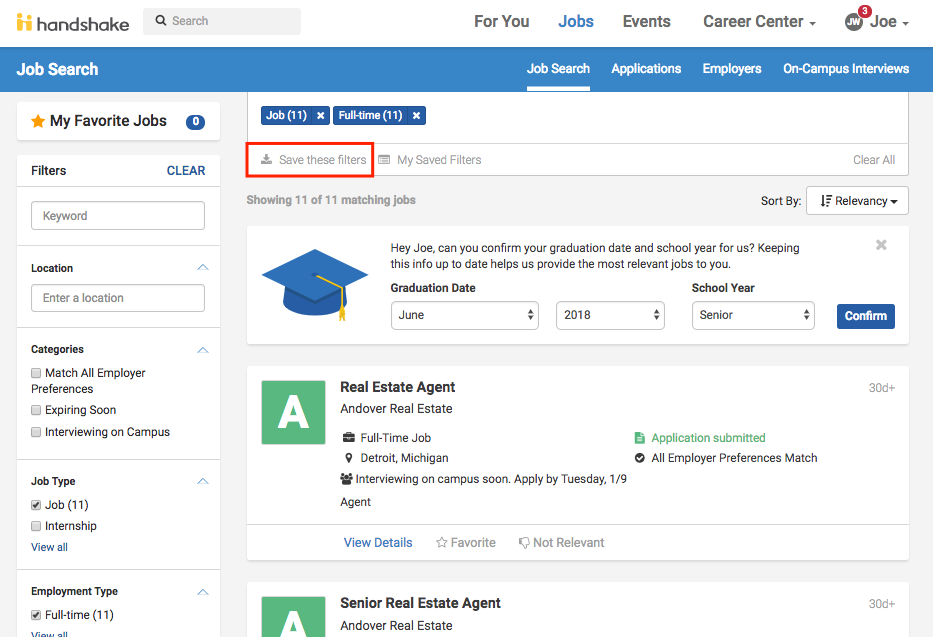 If you think this is a search you'd like to perform again in the future, you'll want to save it.  Remember, by saving your search you are saving the criteria for the search, not the data the search yielded.  The jobs meeting the criteria of your saved search could easily change from day to day.
 
To save your search:
Click

 the "Save These Filters" option in the filters box.  
A Save Current Search window will appear.  

Enter

 a 

Name

 and 

Description

 of your search and 

click

 

Save

.  Your saved search is private for your use only.
Now, to conduct a saved search (one you have previously saved):
Click

 

My Saved Filters

 at the top of your screen.
You will see a list of searches you have saved.  

Click

 the saved search you'd like to run.

Your search results will appear and will be populated with the most current data that meets your saved search criteria.