You have the ability to not only save your job searches in Handshake, but also to customize and receive job alert notifications when new jobs matching your search criteria are added.  
Note:  When saving a search, please be aware that you are not saving your search results.  You are saving your search criteria.  
  
First, create your search:
Select

 

Jobs

 from the top menu bar.
You will see a list of filters you can use to create the criteria for your search.  Filters include items such as keywords, location, and employment type.  

Select

 the criteria for your search.  You will see that the list of relevant job postings changes as narrow your search by adding additional search criteria.


You'll want to save this search if you think this is one you'd like to perform again in the future, or you want to receive alerts when more jobs like this are posted.  Remember, by saving your search you are saving the criteria for the search, not the data the search yielded.  The jobs meeting the criteria of your saved search could easily change from day to day.
 
To save your search:
Select

 the Create Search Alert under Saved Searches  

You have saved your search! This search is viewable by you alone; no one else has access to it.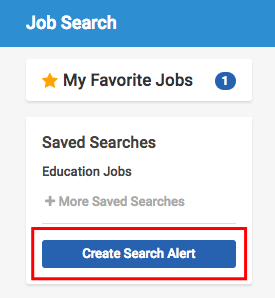 Note: If you save a search that does not have a keyword, Handshake will default to naming the search according the criteria you used. Example: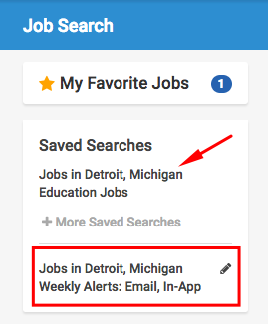 If you would like, you are also able to edit the title of the search, or edit the notification settings for the alerts.
To save your search:
Select

 the pencil icon next to the saved search 

Here, you can rename your search, and choose how and when you'd like to be notified when new jobs are posted that match this job search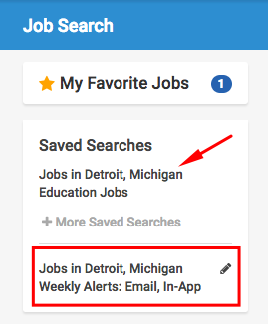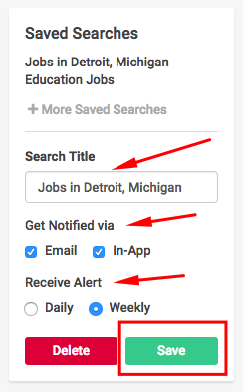 Please note: a cap of 25 jobs will be displayed in the email notification sent to you. We recommend logging and clicking on your Saved Search to view the rest!