If you are looking to apply to On-Campus Interviews, you can go about this two different ways:
searching for specific interviews and then applying to the related jobs
searching for and applying to specific jobs that are connected to interview schedules.
You can read more about applying for jobs here.
To view on-campus interviews occurring at your school, click on Jobs in the upper navigation bar on the page, then click on On-Campus Interviews in the row that appears below Jobs.
You will see a list of interview schedules available at your school. You can type in a keyword directly to search, or you can use a filter or multiple filters (on the left of the page) to customize your search.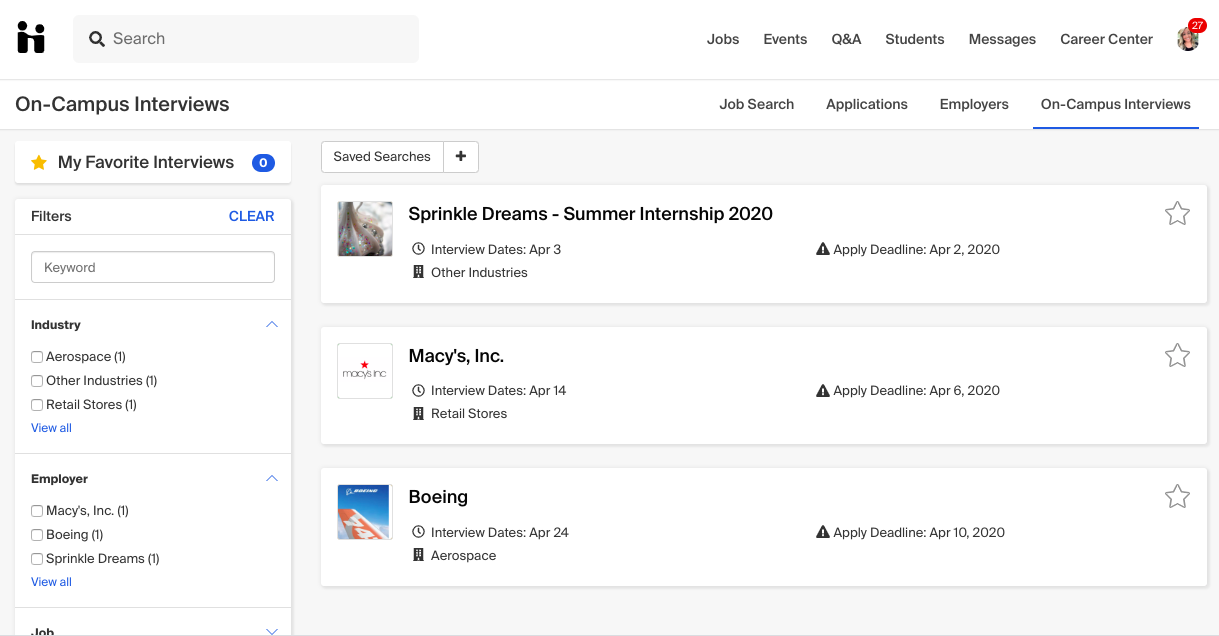 If you select an On-Campus Interview that is not yet open for applications, you will see messaging about what happens if you apply and are selected to take a slot, and you will also see the breakdown of the interview's timeline. You will also see any attached jobs.
Handshake Pro Tip: You can select one of the related jobs, and then favorite it, so you can easily come back later to apply.
If you select an Interview Schedule that you've already applied to, you will see messaging like this:

Once you've been chosen by an employer for an On-Campus Interview, you'll receive a notification in Handshake.

Handshake Pro Tip: You'll only receive a notification in Handshake if you've kept your default Interview Notification preferences. To make changes to your notification preferences in Handshake, you can do so by following the steps here.
You can always find all of the jobs, along with any interviews, that you've applied to by selecting Applications from the menu. Along the side of each job or interview title, you can easily view the status of that application, such as 'Submitted', 'Primary' or 'Alternate'.
Handshake Pro Tip: If you're selected as a primary applicant, you get first access to sign up for an interview slot. If you're selected as an alternate applicant, you'll get access to sign up for a slot a bit later. Handshake will send you a notification email as soon as you're able to sign up for a slot, based on your primary/alternate status.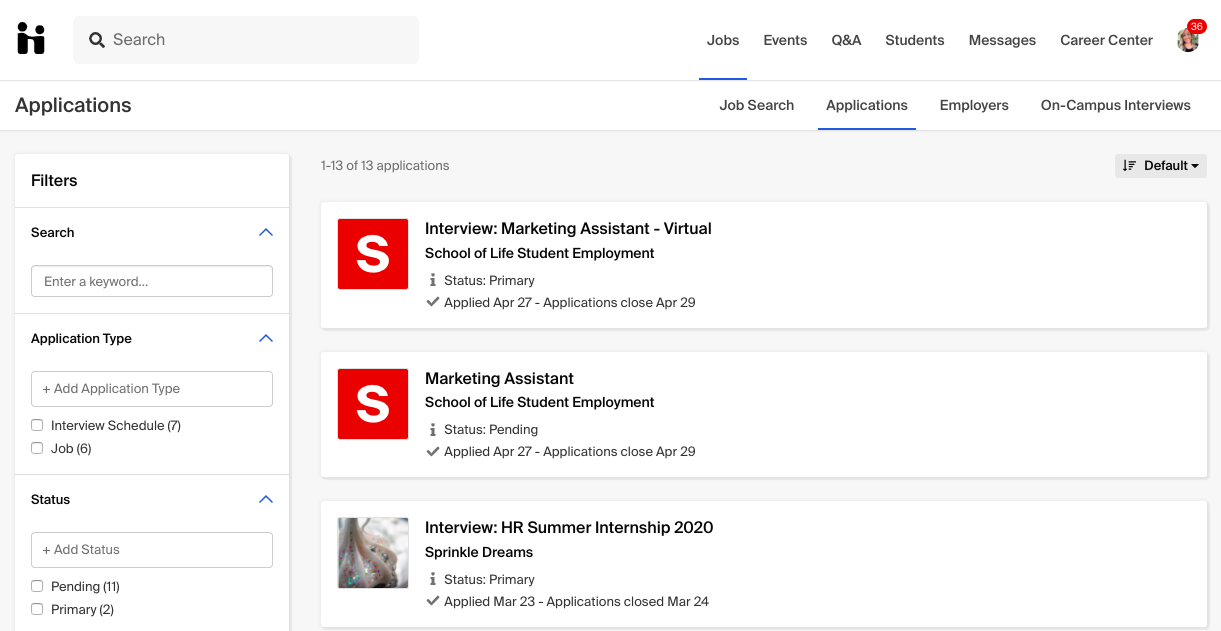 If you see that you've been selected to interview, you can select the interview in order to see all available slots. Simply select Take Slot to reserve that time for yourself to interview.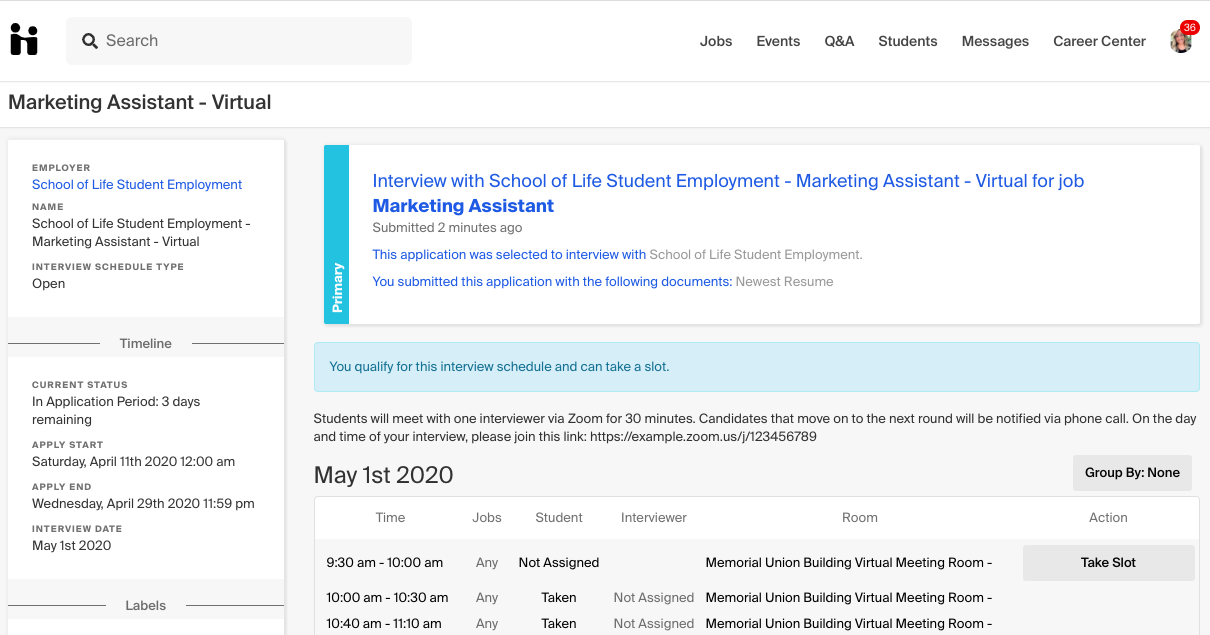 As long as there is an open slot available, you can always leave the slot that you choose, and take another.

If another applicant has taken the slot you need, you can request to swap slots with them.

Staff members at your school who are working with the interview schedule will receive a notification that you requested a swap, and can even perform the swap themselves if they need.
The other student will also get a notification in Handshake that someone is requesting to swap slots, and will be given directions on how to decline the request, or complete the swap.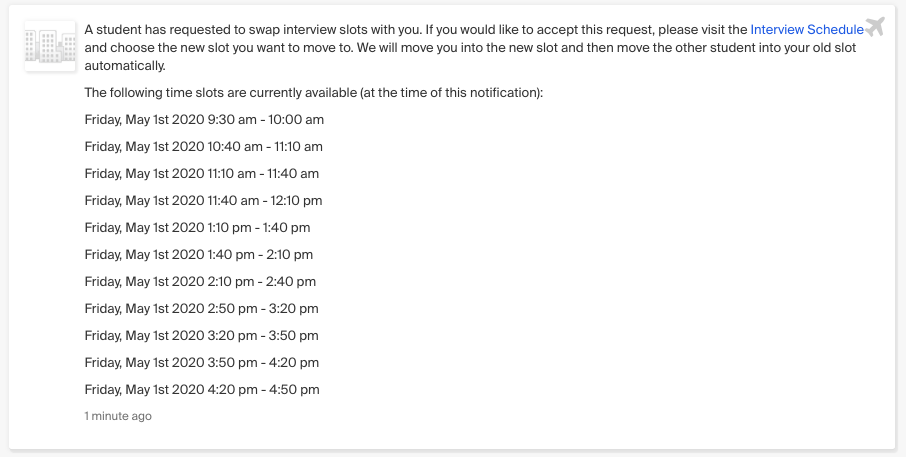 Handshake Pro Tip: Once the signup period has ended for an interview schedule, the schedule will be locked and you will not be able to take a slot, leave a slot, or make any other changes on your own. Please reach out to your Career Service Center and ask for assistance.
Not seeing "On-Campus Interviews" at the top of your screen?

If you select "Jobs" at the top of your screen and do not see the "On-Campus Interviews" option toward the top right, it means your school doesn't currently partner with Handshake (yet!) If you're enjoying your experience on Handshake, feel free to encourage your career center to formally partner with us and we can unlock additional benefits for you and your university!