If you are planning on having an employer's request interview schedules on campus you should setup Interview Schedule Timelines in the school settings so employers will have an idea of the possible timelines available for interview schedules at your university.

Select School Settings from the Main drop down menu.
Select Interview Schedule Timelines from the list on the left:

While templates are used to easily build out slots for an interview schedule request, timelines are used for establishing the dates of the interview schedule. The dates included in the timeline are application periods, signup periods, and reminder dates.

As long as a timeline is available to the interview schedule requester, a timeline must be chosen. In addition, employers will not be allowed to manually choose their Interview Schedule Type or dates if timelines are available to be chosen.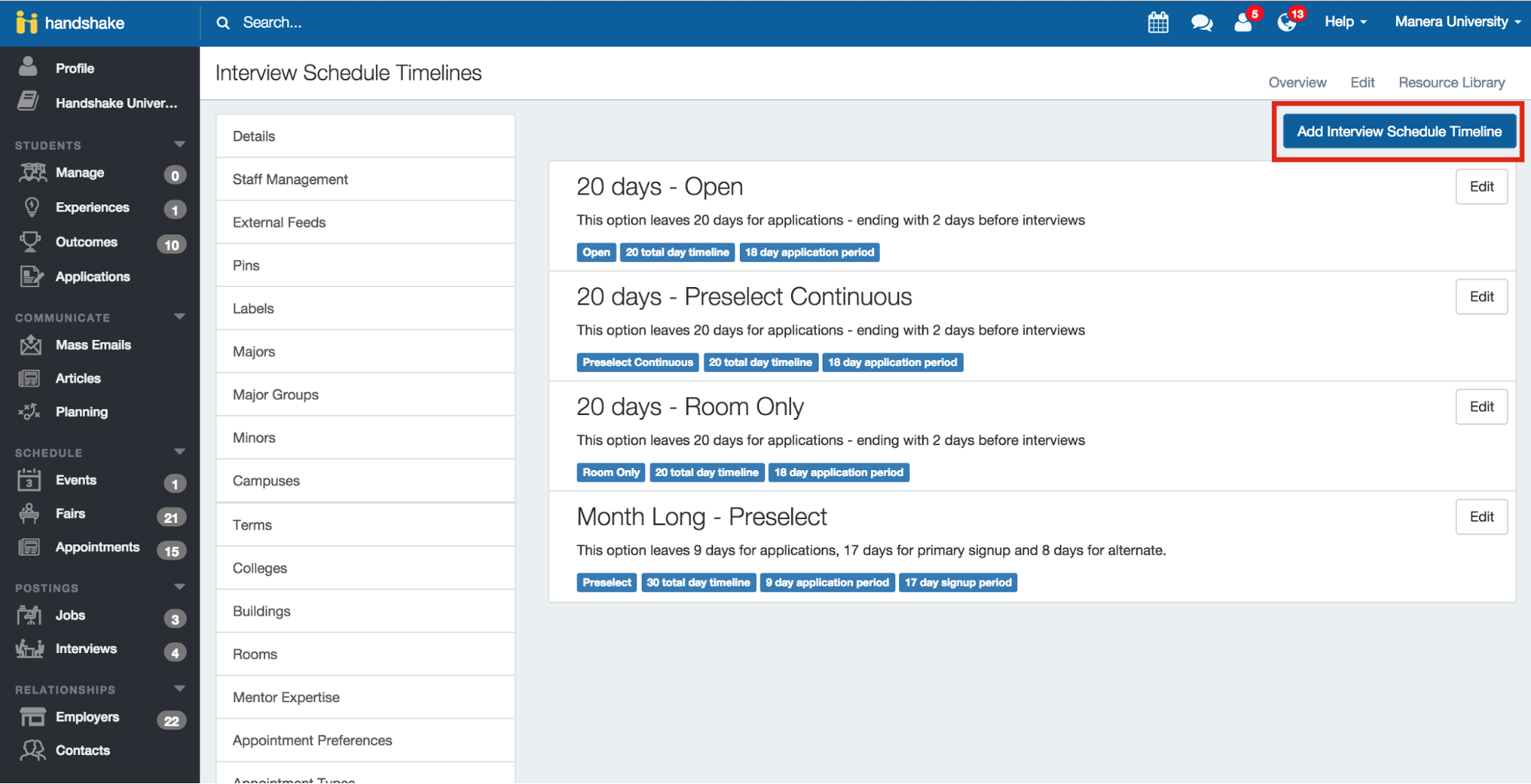 Click Add Interview Schedule Timeline

Type

​

​

Room only:

In this period of time, the employer will have the room reserved from your school, but they will not be using Handshake to sign students up for specific interview slots.

Preselect: During a Preselect period, employers will define an application period and separate interview signup periods for Primary and Alternate candidates. After the application period has ended, they will select Primary and Alternate candidates from the students who applied. Candidates employers designate as "Primary" are allowed to sign up any time after the primary signup start and candidates they designate as "Alternate" are allowed to sign up any time after the alternate signup date. This helps ensure that employers' most promising candidates are able to find an acceptable interview slot.

Open: During an "Open" period, any student who meets the specified job or interview qualifications is allowed to reserve an interview slot (without manual approval).

Note: all candidates on an Open schedule will remain in Pending status unless otherwise designated by the employer or your staff.
Name: The name of the timeline that employers will see
Hidden from Employers: Whether or not this timeline should be available to employers requesting schedules. You may have timelines that are only used internally.
Description: A description so the employer understands what this timeline means, it is helpful to include information about how long the application period will be and how long the employer will have to select candidates.
Next you can select the offsets for the timeline, which lets you specify when the apply start/end dates occur (prior to the interview date). For example if the interview starts on Jan 1 and you want the students to start applying Dec 1 you would do an offset of 31 days in the Apply Start offset. Note: You can view the example dates on the top-right side of the page to see the actual dates these will occur, based on how you set up the offsets.
​