You can contact your job applicants directly in Handshake or via external email to discuss job opportunities, or share information about your company, including events and career fairs. 
Topics
Access job or interview 
Click Jobs or Interviews from the left navigation bar, then select the job or interview. From here, click the Applicants tab. 
You may use the filters on the left sidebar to narrow and customize your search results.
You can filter applicants by:
Job filters 
Keyword Search
Engagement

This filter returns any applicants who received a message with this job attached. 

Status
Labels
Not Labels
Schools
Skills
Majors
Individual Majors
Date 
On-campus interviews filters
Keyword search 
Scheduling 
Status
Label 
Not Labels
Employer Division 
Job Applied For 
Job Type
Employment Type
Skills
Majors 
Individual Majors 
Message applicants 
On the Applicants page, check the box to the left of each applicant you want to message.
Once the box for at least one applicant is checked, the applicant table header is replaced with bulk actions. If you want to message all students displayed, click Select all.
Click Message Students or Message Applicants to send the applicant(s) a message. A message popup box will appear on your screen, allowing you to create your message.
While bulk messaging isn't counted against your messaging limits per recruiting season, there are limitations. For additional information, refer to Message Limits in Handshake.

For job applicants, compose the desired message, then click Preview message in the lower-left corner.
To send your message, click the green button Send message in the pop-up modal.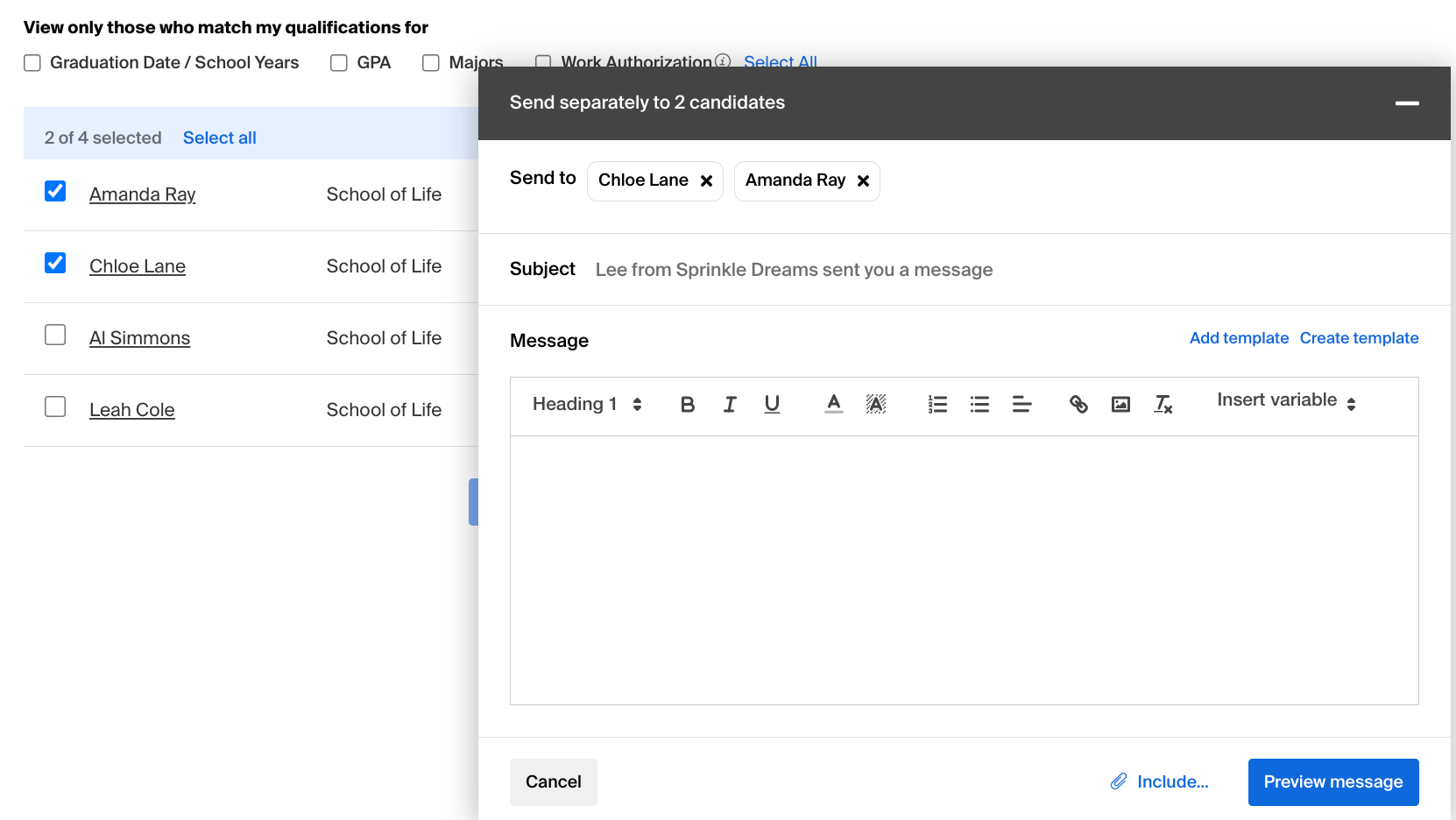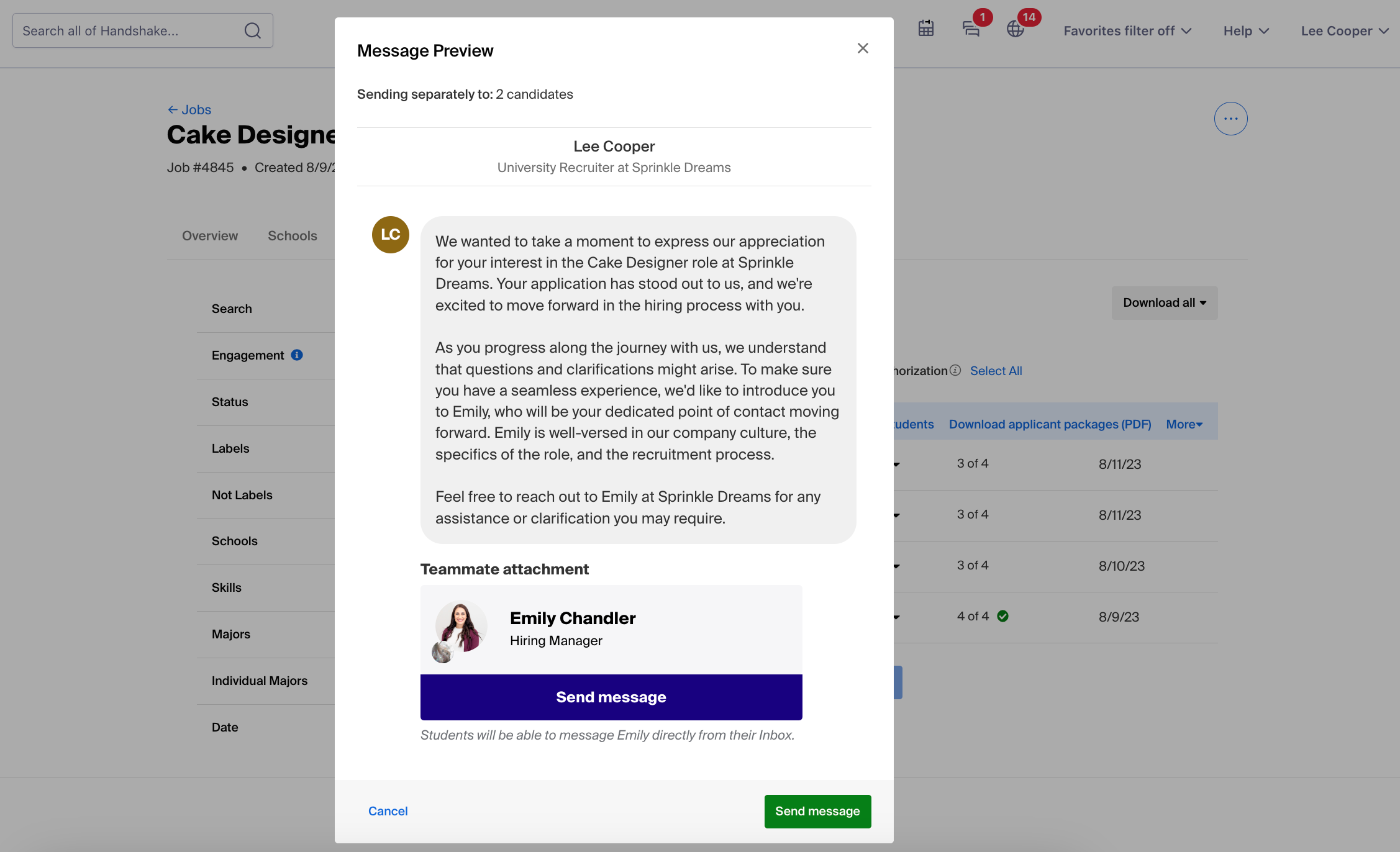 For interview applicants, compose the desired message, then click the blue button Send.
To send your message, click the green button Confirm in the pop-up modal.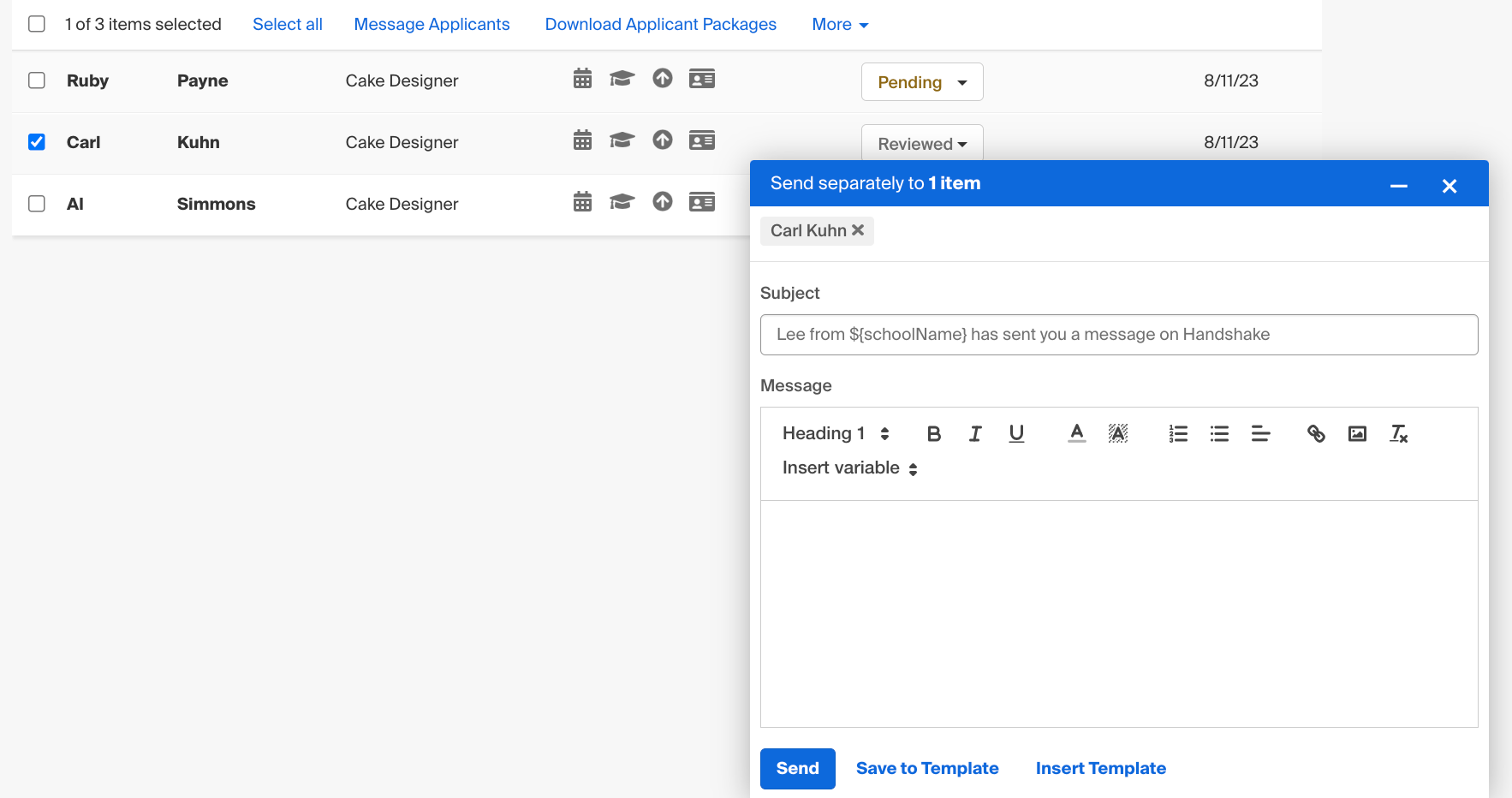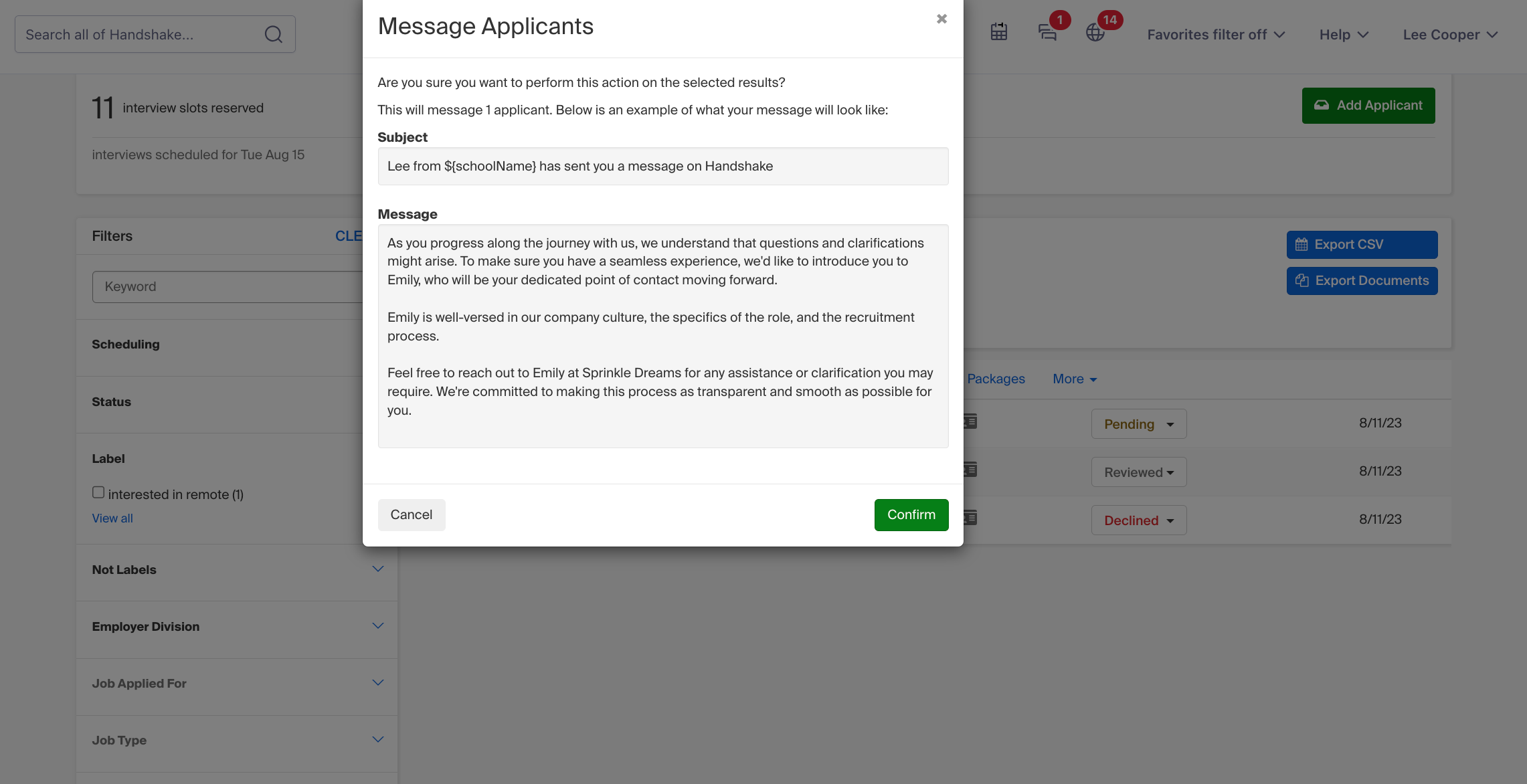 Once the message is sent, the message "Your message has been sent to [number] of applicants" will display in a green banner in the lower-left corner of the page. 
You can read more about the student experience in our student-facing article, Receiving Employer Messages in Handshake.
Message applicants via external email 
To email applicants outside Handshake, you will need to export applicant data from Handshake. 
Jobs
Once the applicants are selected, click the gray button Download all, then select Download applicant data (CSV). Your file will also be emailed to your email address.
Note: if no applicants are selected, the CSV file will contain the information for all applicants.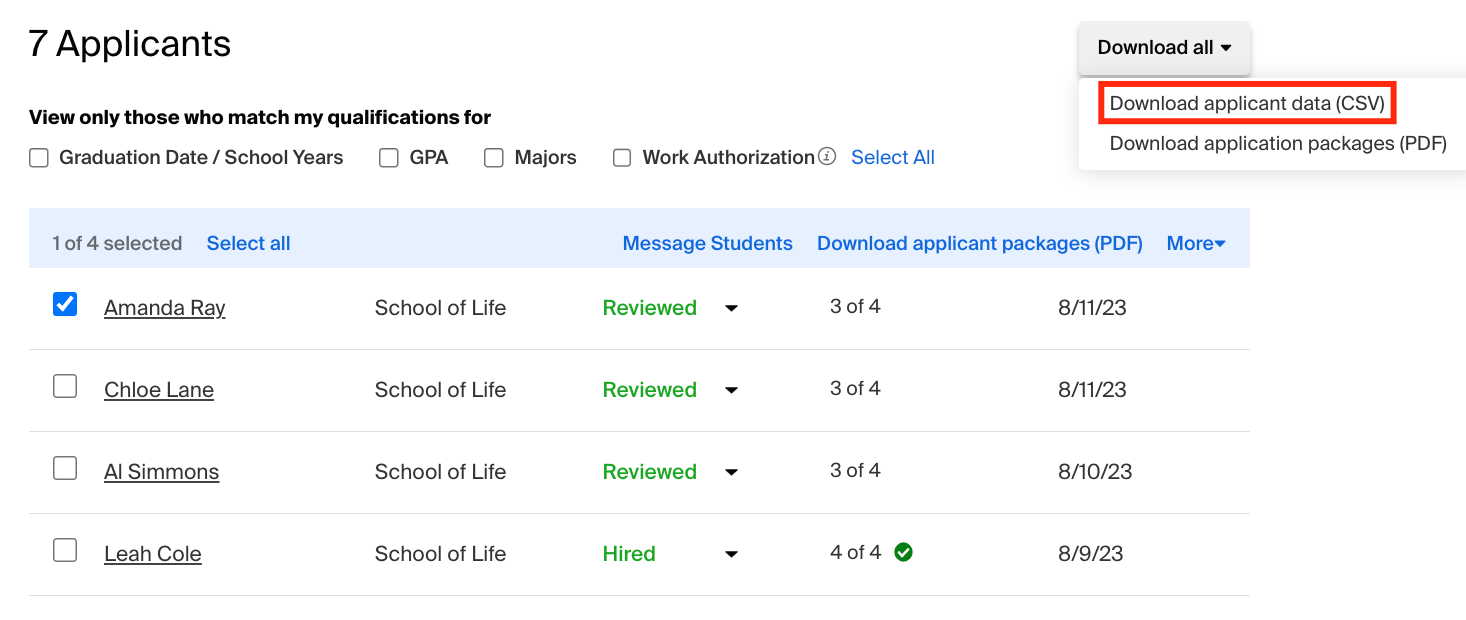 On-Campus Interviews
Once applicants are selected, click the blue button Export CSV above the Applicant table. 

A pop-up will appear indicating the download is building. This process can take longer if there are many applicants. 
The file will also

be sent to your email address

, so you can close the window if you prefer not to wait.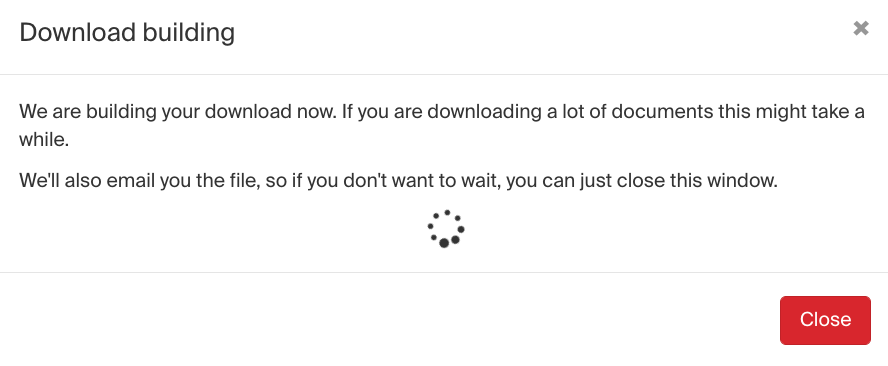 Once the CSV file is ready, click the hyperlinked text "Your download is ready. Click here to retrieve the file" to view the file.
Tip: we recommend using Chrome or Firefox to have the best experience. If there are issues downloading the file, make sure you're using either browser. If you already are, close all Handshake tabs, clear the cache, open a new browser window, and try to download the file again. 

The CSV file will contain the following applicant data:
Application ID

Application Date

Application Status 

Student ID

First Name

Last Name

Email 

Fully Qualified? (TRUE/FALSE)

School Year

School

Primary College

Graduation Date
Majors
Applied To ID (Job ID)
Applied To Type (Job Type)
Applied To Name (Job Name)
Job Applied For 
Employer ID
Employer Name
Employer Division
Document IDs
Using this information, you can directly contact the applicants outside Handshake using their email address.