On Handshake, you can reach out to your job applicants directly in-app or via external email.
Note: You do not need a Trust Score of 80 to message any applicants.
Message applicants in Handshake
1. Select the specific job posting or interview schedule to access the list of applicants. For more details on how to do this, refer to Access and View Applications.
2. On the Applicants tab in the upper-right corner of the page, click the check boxes to the left of the applicant names you'd like to contact.
Once you have checked the box for at least one applicant, the applicant table column headers are replaced with bulk actions. Click Select all to message all applicants.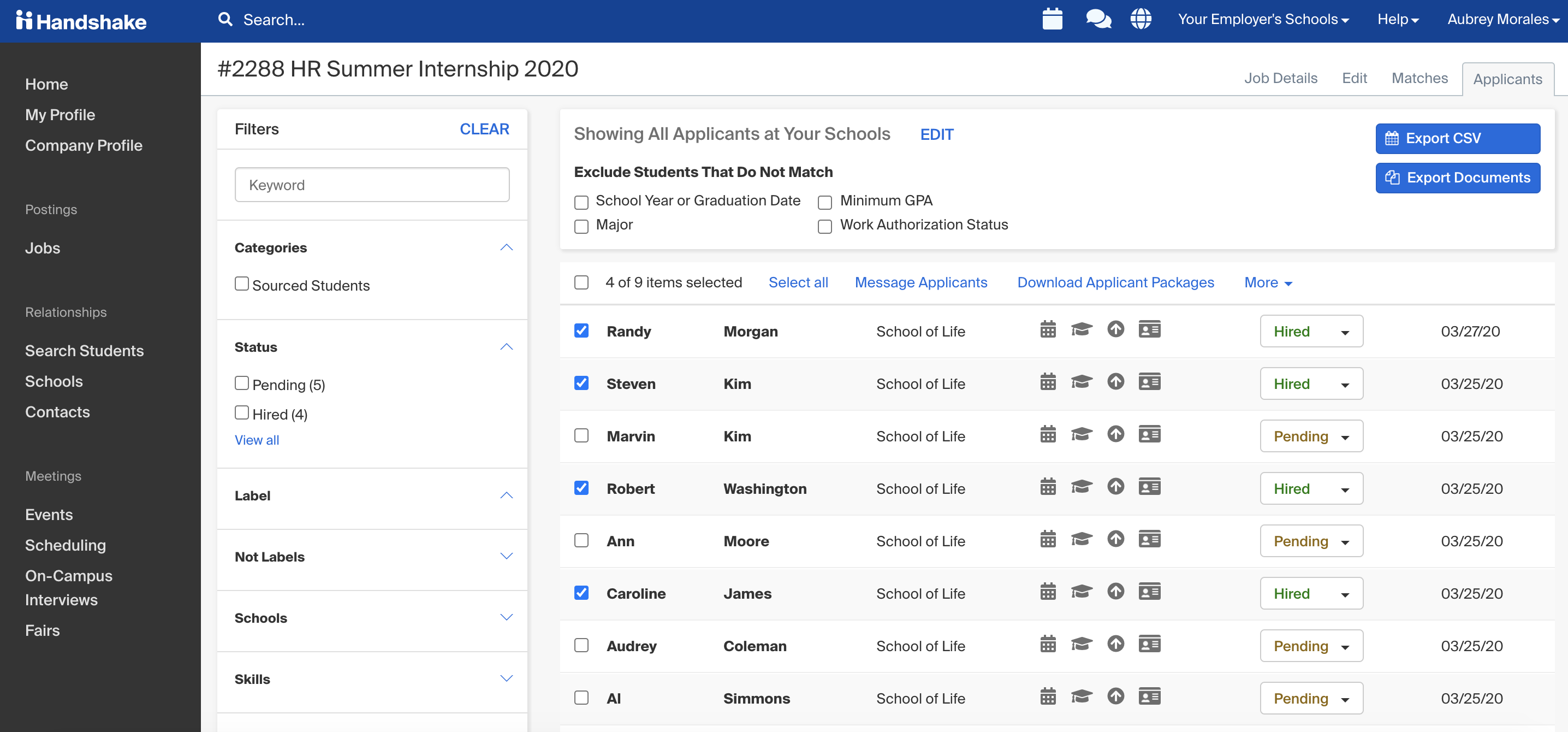 3. Click Message Applicants to generate the bulk message pop-up.
If you're messaging more than one applicant, while these messages are sent separately and do not count toward your messaging limits per recruiting season, there are limitations for bulk messaging––for more information, refer to Messaging Limits in Handshake.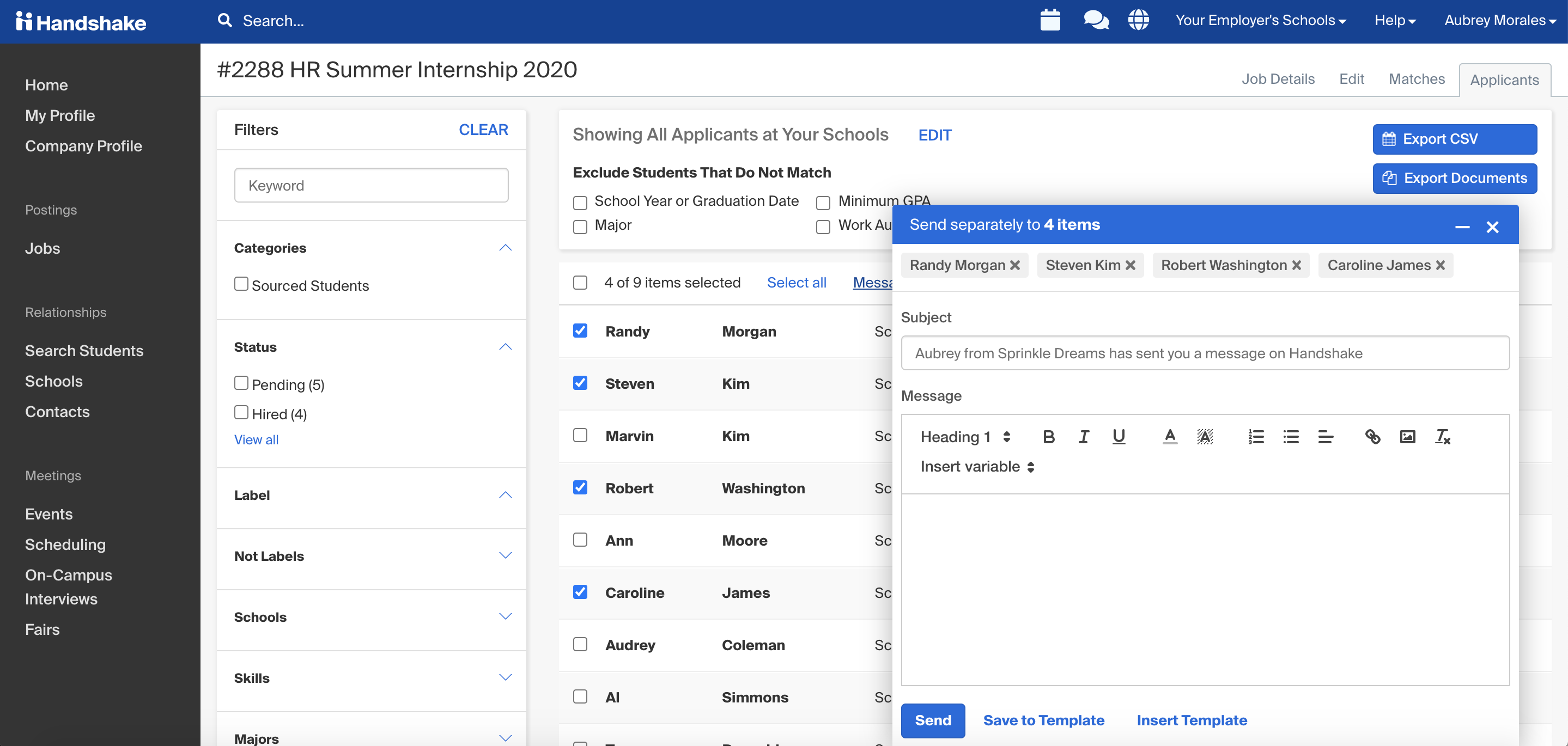 4. Compose the desired message, then click Send in the lower-left corner of the pop-up.
Additional actions at the bottom of this popup enable you to save a new template or insert a previously saved template.
Click Insert Template to use an existing message template.

Click Save to Template to save your composed message as a template for future use.

5. Once you click Send, a confirmation box will popup. Review the message, then click Confirm in the lower-right corner to send.
The message will send automatically, and you will receive a confirmation of the sent message(s) in the lower-right corner of your screen.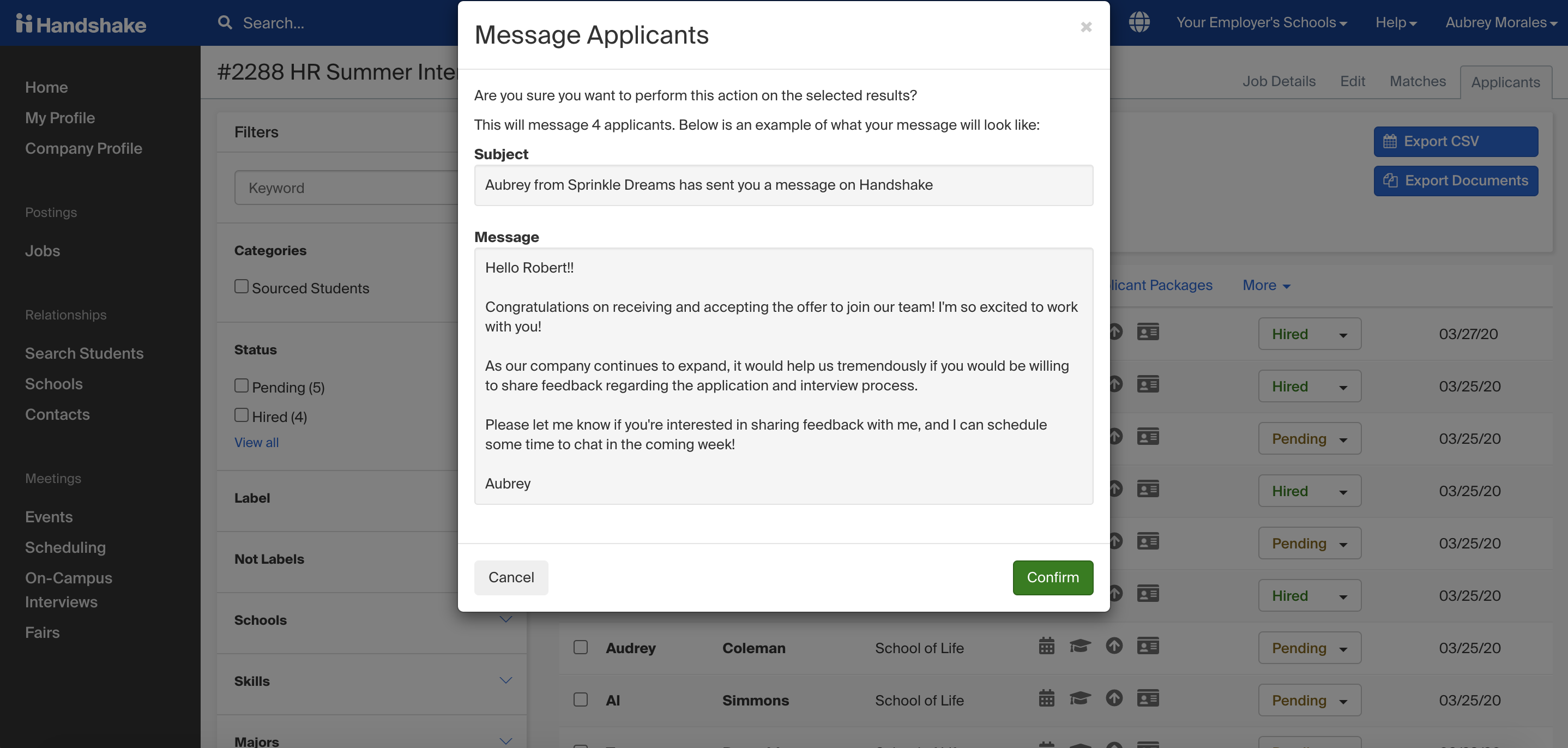 Here is an example of what the message looks like from the student's point of view: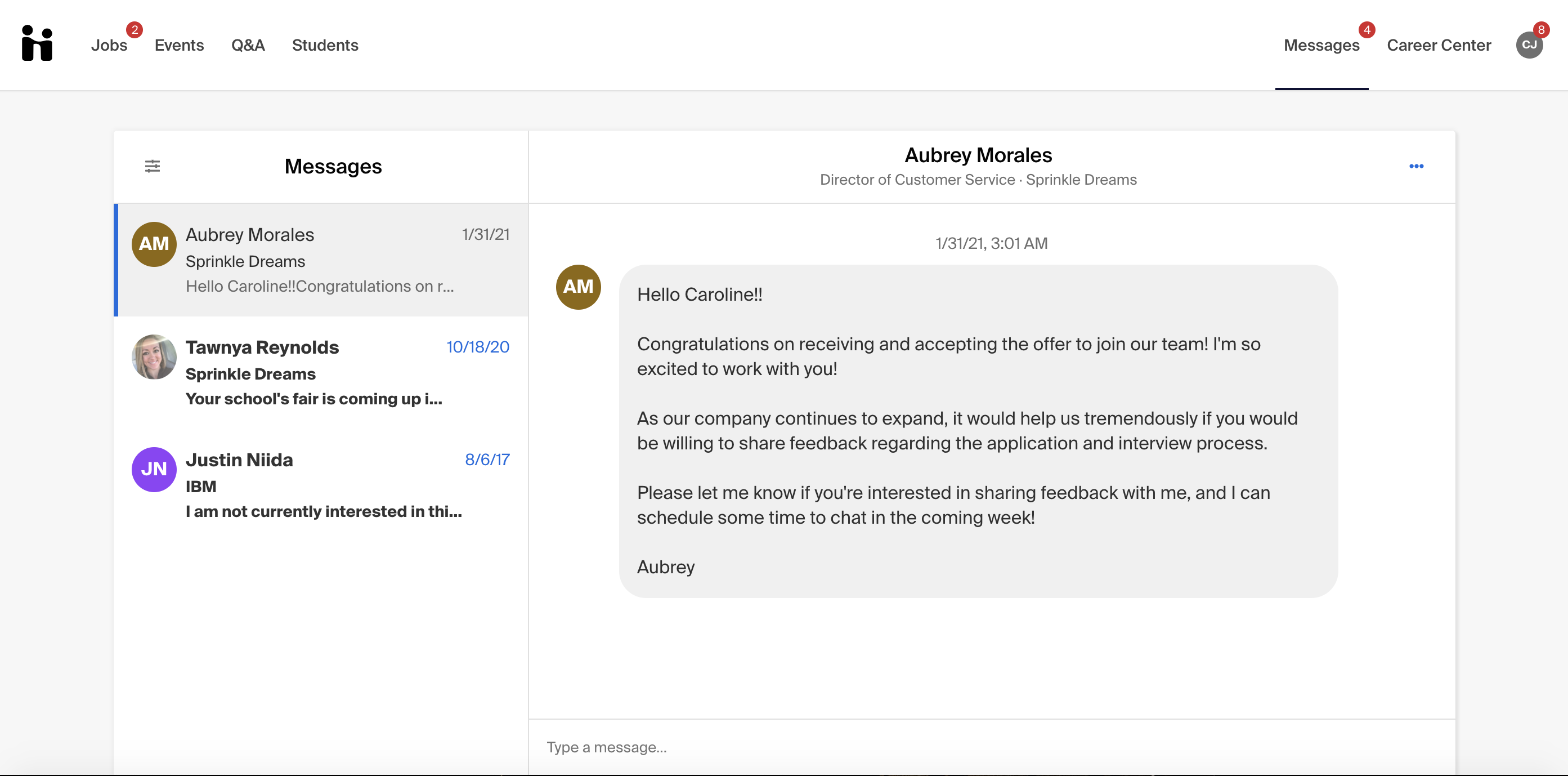 Message applicants via external email
In order to email applicants outside of Handshake, you will need to export applicant data from Handshake.
1. Once you have selected the applicants to contact via checkbox, click on Export CSV button in the upper-right corner of the page. This will allow you to download a spreadsheet of the Applicants information.
Note: If no applicants are selected, this action will download all applicants information from that job into the CSV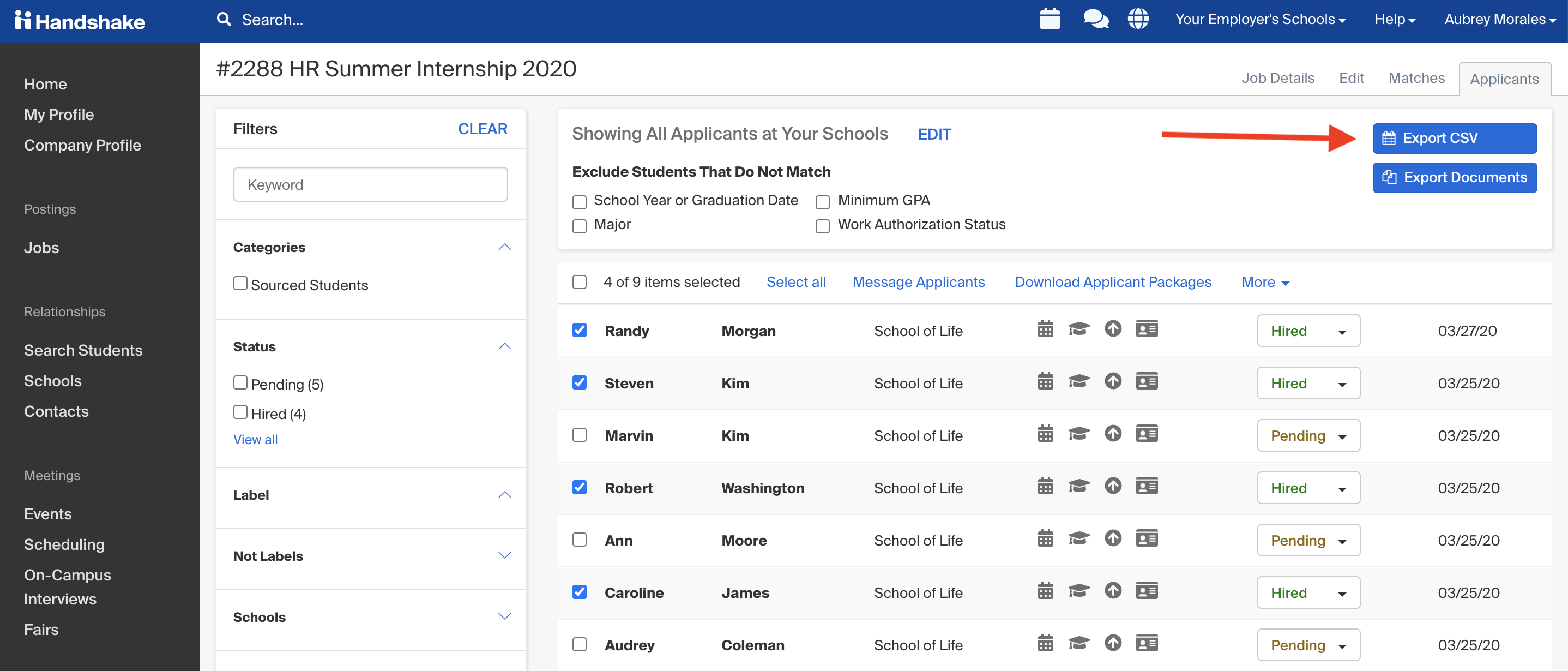 Alternatively, you can use the bulk actions options to download applicant data to a CSV or a zip file.

After at least one applicant is selected, above the applicant table, click More from the toolbar, then select either Download Applicant Data to CSV from the dropdown menu.
2. A pop-up will appear indicating the download is building. This action can take a little longer if there are many applicants.
An email of this download file will also be sent to you, so you can close the window if you don't want to wait for the download to build at this time. Click on Close to do this.

3. Once the CSV file is ready to view, click directly on the link text: Your download is ready. Click here to retrieve the file. If you don't want to review this download now, you can click Close to close out this notification.

If you select the download link, this should immediately download for you.


Tip: We recommend using Chrome or Firefox for the best experience –– if there are issues downloading the file, ensure you're using one of these browsers. If you already are, we recommend to close Handshake tabs, clear the cache, open a new browser window, and try downloading again.

If you close out this notification, you can access the download from the email sent to you. Click on the Bulk Download link from your email to access.
Once downloaded, all of the following applicant data will be in the CSV:
Application ID

Application Date

Application Status

Student ID

First Name

Last Name

Email

Fully Qualified? (TRUE/FALSE)

School Year

School

Primary College

Graduation Date
Majors
Applied To ID (Job ID)
Applied To Type (Job Type)
Applied To Name (Job Name)
Job Applied For
Employer ID
Employer Name
Employer Division
Document IDs
With this information, you can copy/paste the applicants email address into your own email client to reach out to the applicants directly outside of Handshake.