Your company profile is a key component of your overall brand strategy. By creating a compelling company profile, you can provide students with valuable insights into your company's culture, mission, and values. 
Learn more about your company profile structure in Understanding your Company Profile.
*Premium partners have access to additional features, denoted by an asterisk(*), which help further personalize their brand and customize the way students view and interact with it. For more information, please check out this resource.
Notes to keep in mind:
The Handshake platform is locked, so only students who have an active Handshake account will be able to view your profile unless you've enabled Allow Public Pages — SEO in your company settings. Explore your Company Settings: Global Settings. 
Other employers on Handshake will not be able to access your profile; only students, career services, and other team members connected to your company.
The information listed on your company profile can only be edited by the Owner or Admin on the account. Discover How to Edit Your Company Profile Settings.
*Your company's profile contains sections that are dynamic, as indicated by an asterisk (*), so its appearance will vary depending on which student is viewing your profile.


For example, if a student attends ABC University and you have an Employee Perspective by an intern from the same school, we'll tailor that student's view to show that Employee Perspective first. This same example would work for similar majors.
The Overview tab on your company profile contains various customizable sections to help position your brand accordingly. Click on each headline below to learn how to personalize each section. 
Cover Photo, Company Name & General Information
The first item displayed on your company profile is your Cover Photo.
This is an important component because this is the first thing students will notice when they view your profile on Handshake. 

Below your Cover Photo is your Company's Name, Logo, and all information about your company.
This includes your location, industry, employer size, and public or private status.
You can edit the Cover Photo or Logo at any time, provided you are an Owner or Admin. 
For image size and ratio recommendations, refer to Handshake Image Size Guide!
You can specify which job you'd like to feature directly on your profile to highlight for students right away.
Select which job you'd like to feature in your Company Settings. For steps, refer to the Details section in How to Edit Your Company Profile Settings.
There can only be one featured job at a time. However, students can click See more jobs to view all jobs posted on Handshake at their school.

*Dynamic
These are testimonials from your current employees. You'll work directly with your Employer Success Manager at Handshake to get these posted.
We recommend working with any of your interns or entry-level hires who are comfortable being featured on your company's profile page.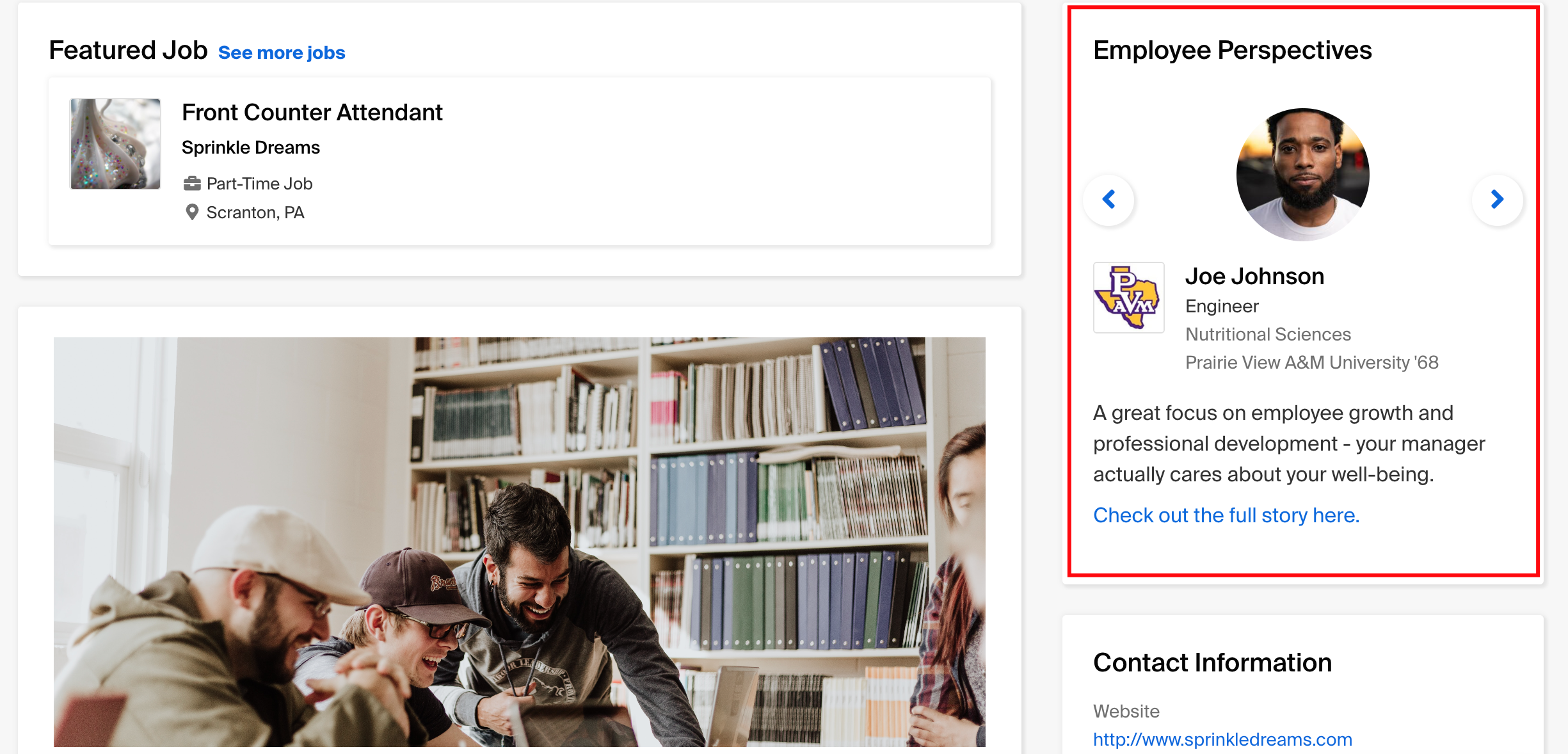 We host videos from both Youtube and Vimeo, and both can be posted on your profile. You will need to work directly with our Support Team at Handshake to update these as needed. 
Note: you're able to post as many photos and videos as you'd like!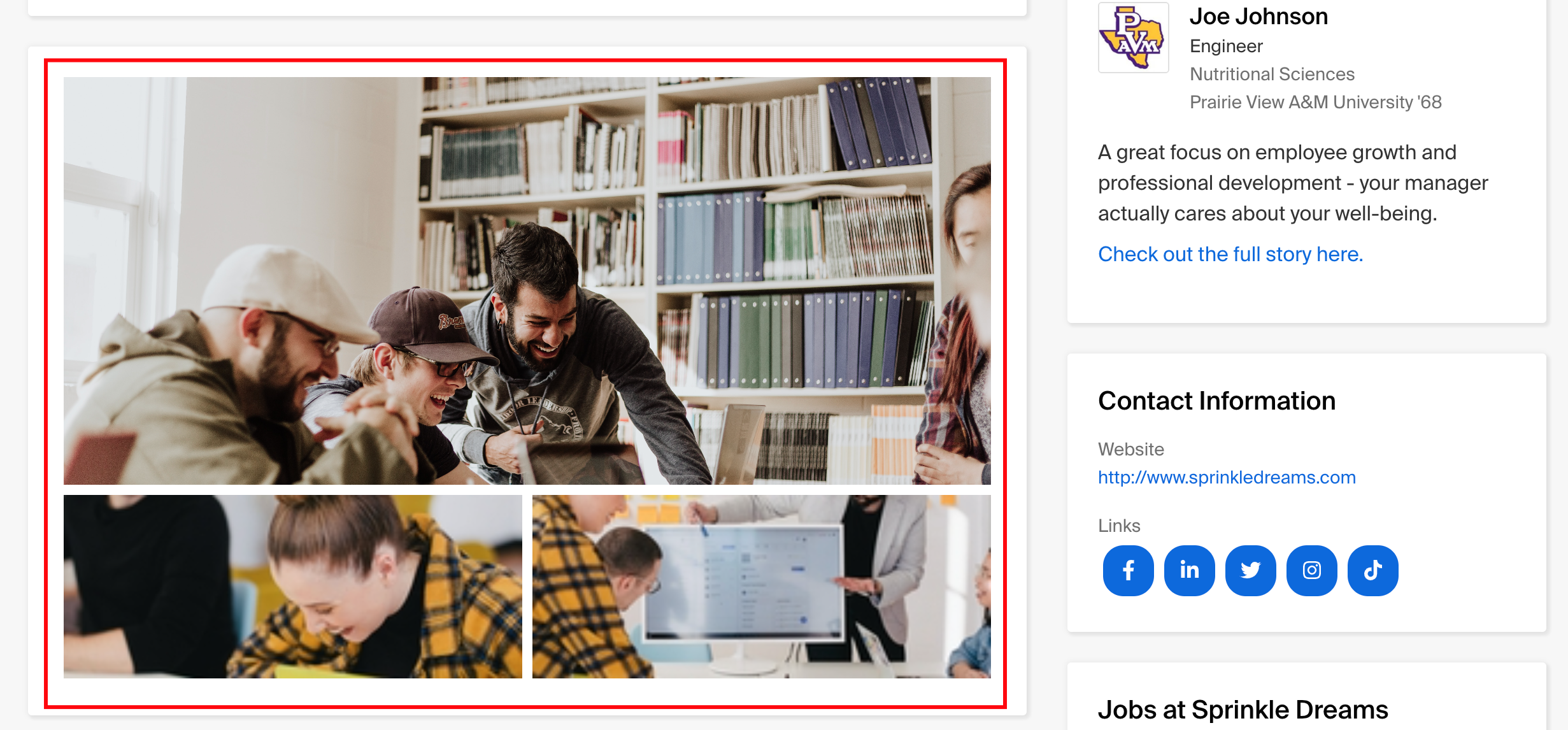 Here you'll be able to display your website, phone number, company email, and any social media links you want to include:
LinkedIn

Facebook

Twitter

Glassdoor

Instagram

TikTok
This information can be updated via the Company Settings > Details.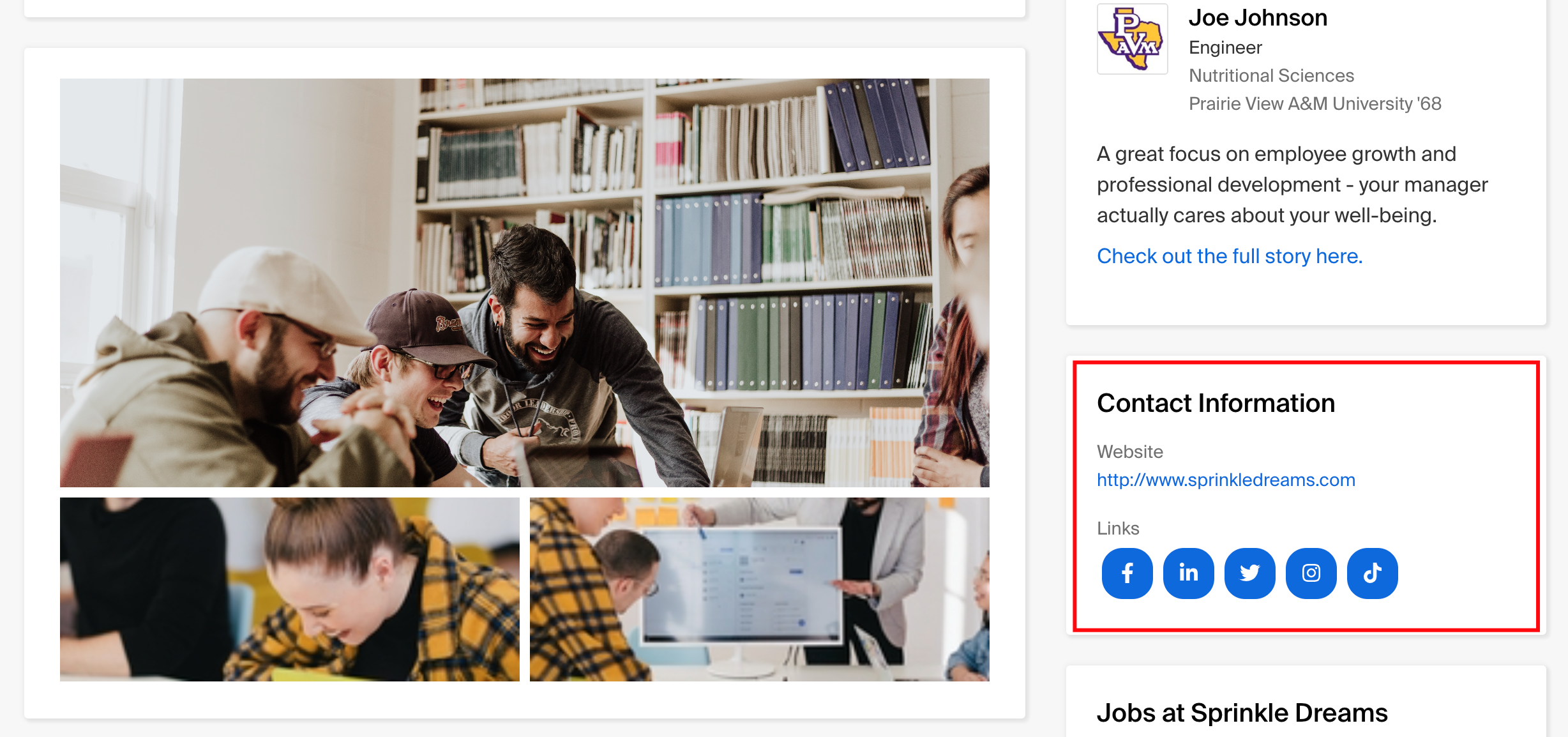 This will showcase a general overview of your company. This can be updated via Company Settings > Details > Description.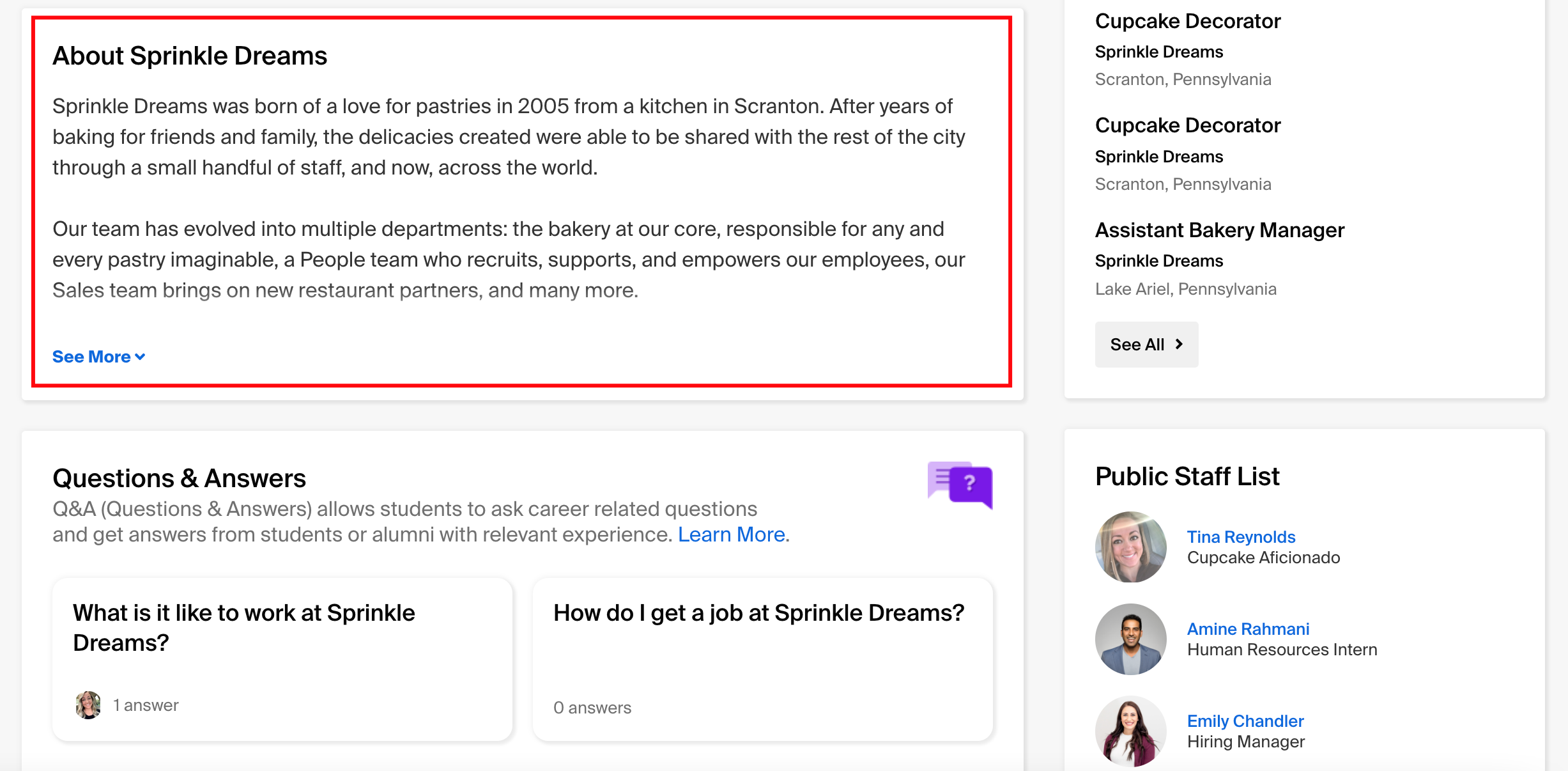 *Dynamic
This highlights job positions that your company is looking to fill. From a student's perspective, the information is advertised as "Just for you".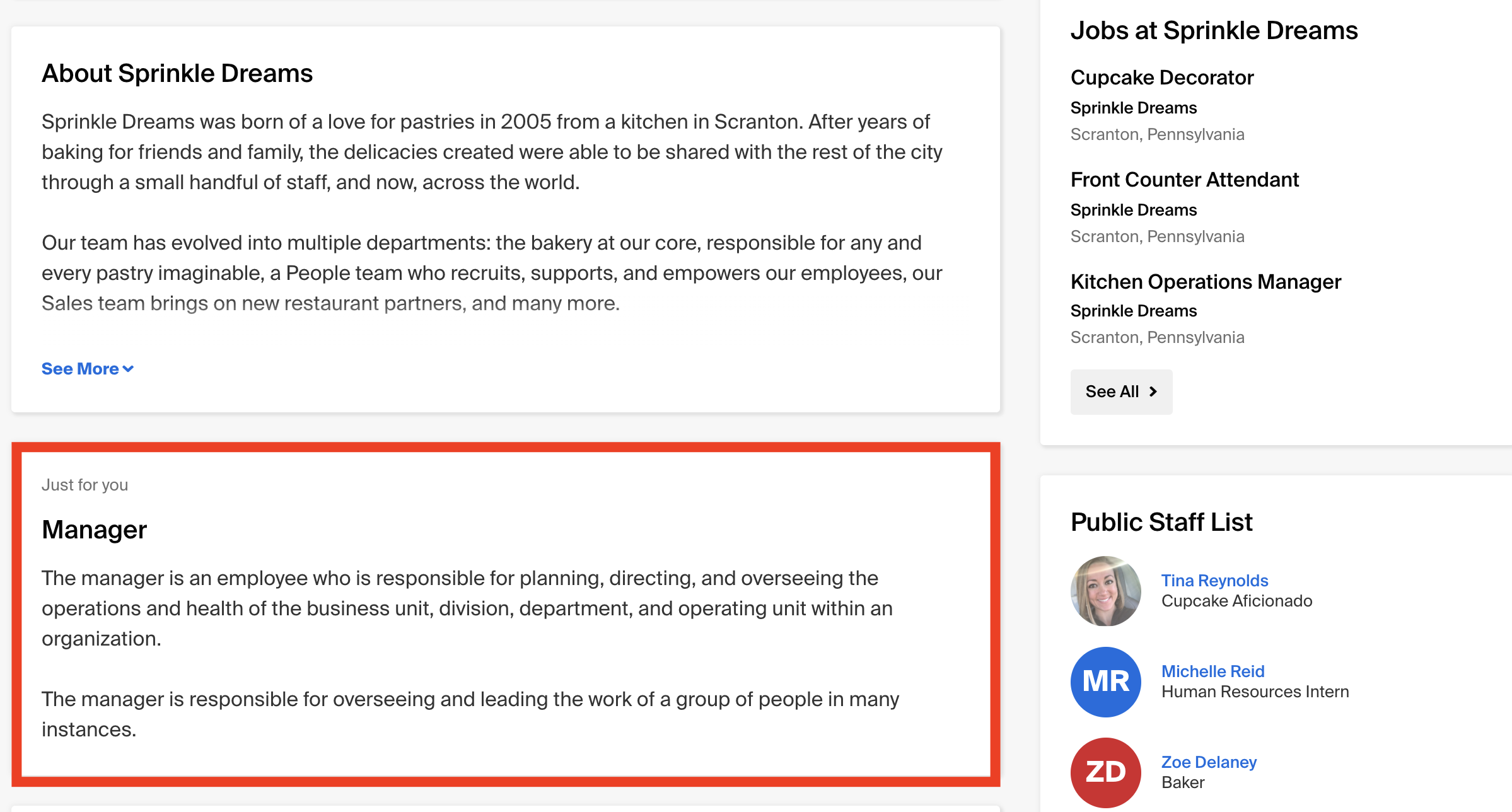 Note: the information is only available to students that meet the job candidate qualificationsthe g.  
These are unlimited and you can post as many as you'd like!
We recommend keeping in mind that these are going to students, and some of these students may be the first generation and this may be their first experience with a corporate-level job. In this case, it's very useful for you to provide clear and helpful tips for when they're going to interview or start their first day with your company. 
You will need to work directly with our Support Team at Handshake to update these as needed.

You're able to post three news articles at a time. You will need to work directly with our Support Team at Handshake to update these as needed.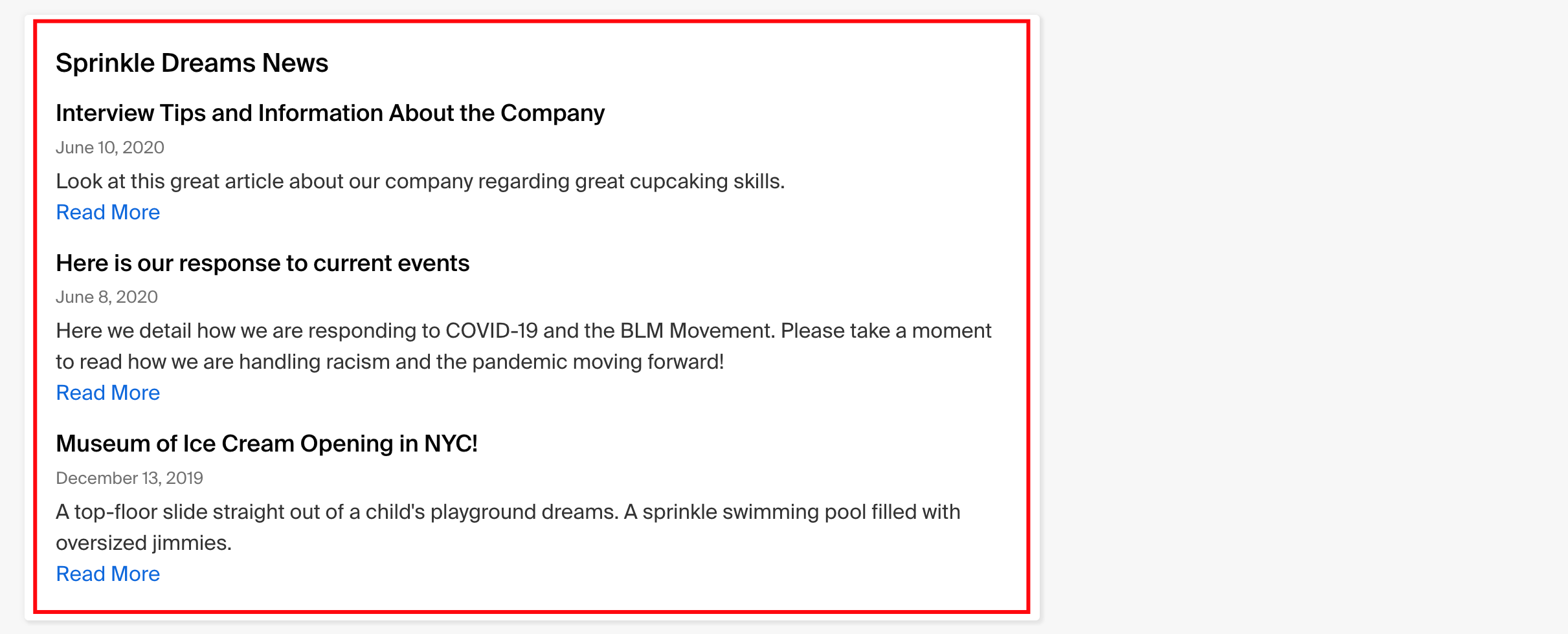 Any team member can indicate whether they'd like to be publicly listed on the company profile.
If they are public, they will be displayed on the profile to students at schools your company is approved with. Students will be able to click on their names to be taken directly to their user profiles. 
Note: students at schools you're not yet connected with will not be able to view this list.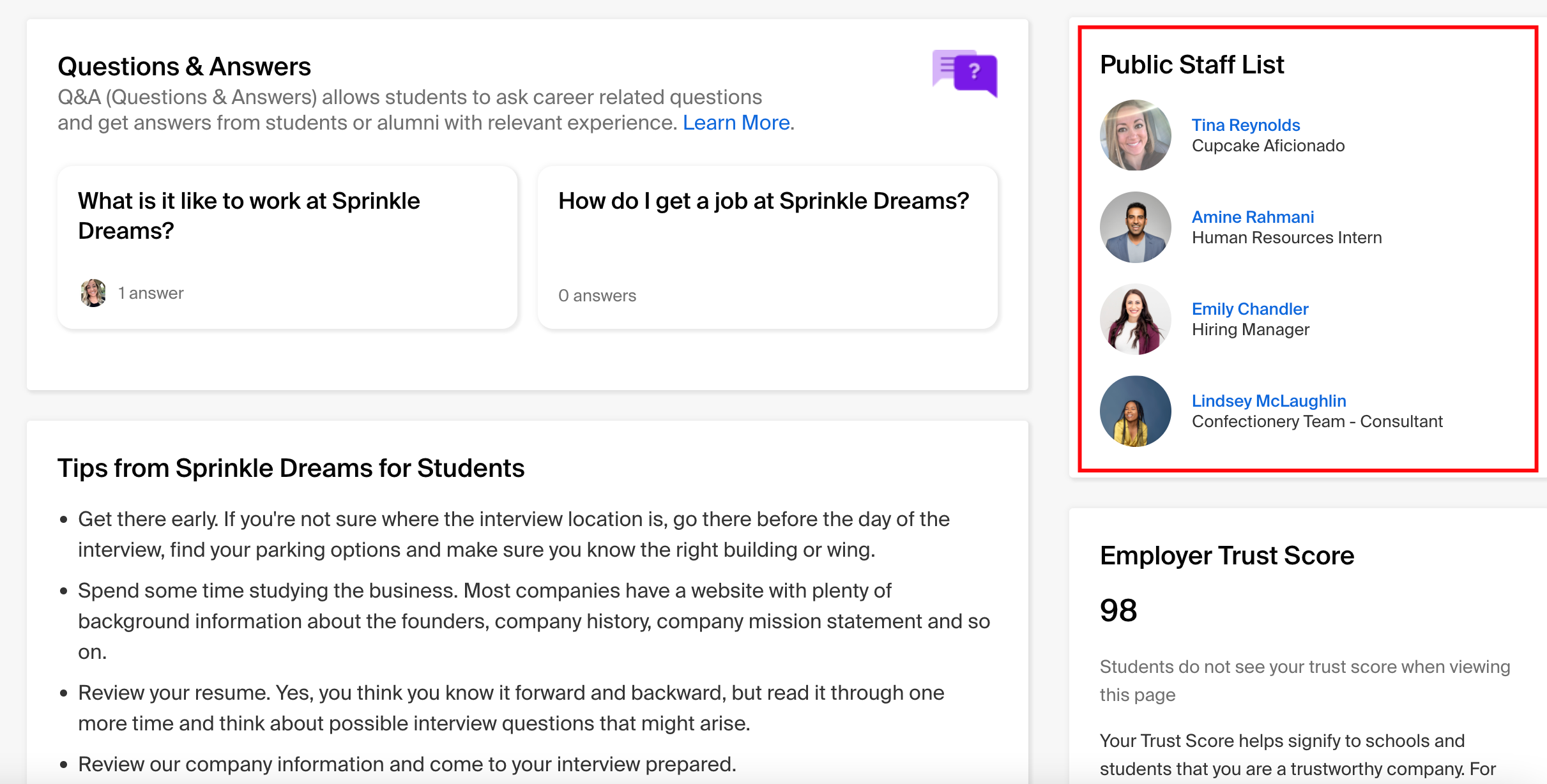 Preview company profile
Note: all role types except for Representative, Advocate, and Recruiter (Standard) can preview their company profile. 
To preview your company profile as a student, click Company Profile or Branding from the left navigation bar, then click the gray button View As... in the top-right corner of the page. 

Select a major from the Preview as a dropdown, then select a school from the student from dropdown. When finished, click the gray button Exit View to the far right of the page. 

Additional resources 
Premium partners with integrations or SSO configured will need to reach out to their account manager for setting changes. Read more about these tools in Integrations & SSO. 
Learn more about optimizing your employer brand in our self-guided Pathfinders course here.