Taking notes and adding evaluations or adding labels for a student during or after a virtual event helps you followup more efficiently with the student later on.
To access RSVPs, navigate to the event overview page, and select View RSVP List or click the RSVPs tab. From this view, you can review and select students who RSVPed and checked in.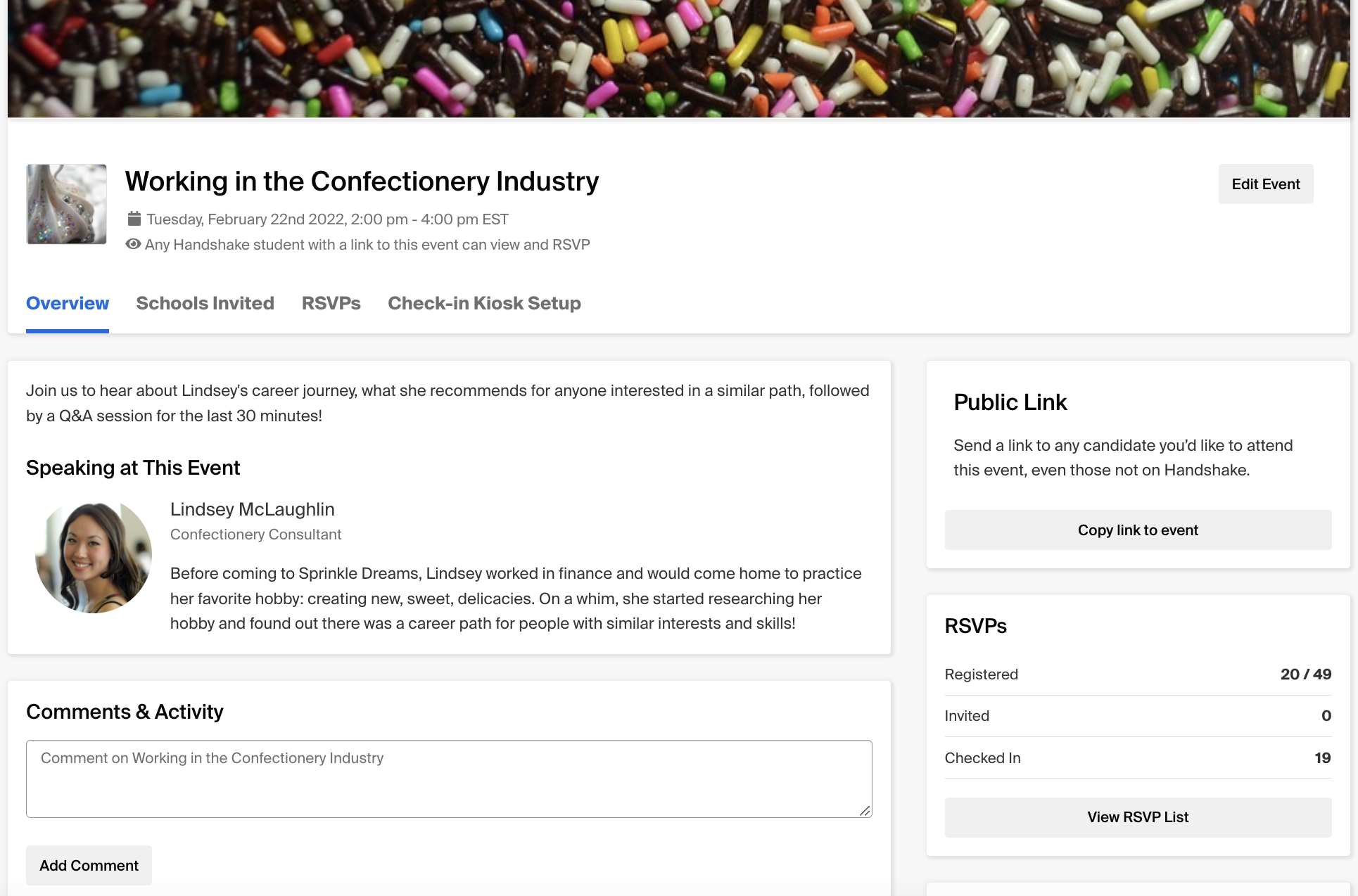 Adding notes and evaluations
Evaluations and Notes are a feature included in the Virtual Event Management Premium offering, and all active teammates in Handshake have access to utilize evaluations and notes, regardless of role or seat type. Evaluations and Notes are usable on events, fairs, and employer-hosted schedules.
Please note: Premium features are for Handshake Premium accounts only. For more information, please check out this resource!
To add a note or evaluation, click the notepad/paper icon next to the student's name on the left side of the student list. If you want the note to only be visible to you, select the checkbox for Personal Note.
Note: If you are using check in and note at the same time, after a student has checked in, click RSVP on top again to refresh the page, you should then be able to locate the recently checked in student.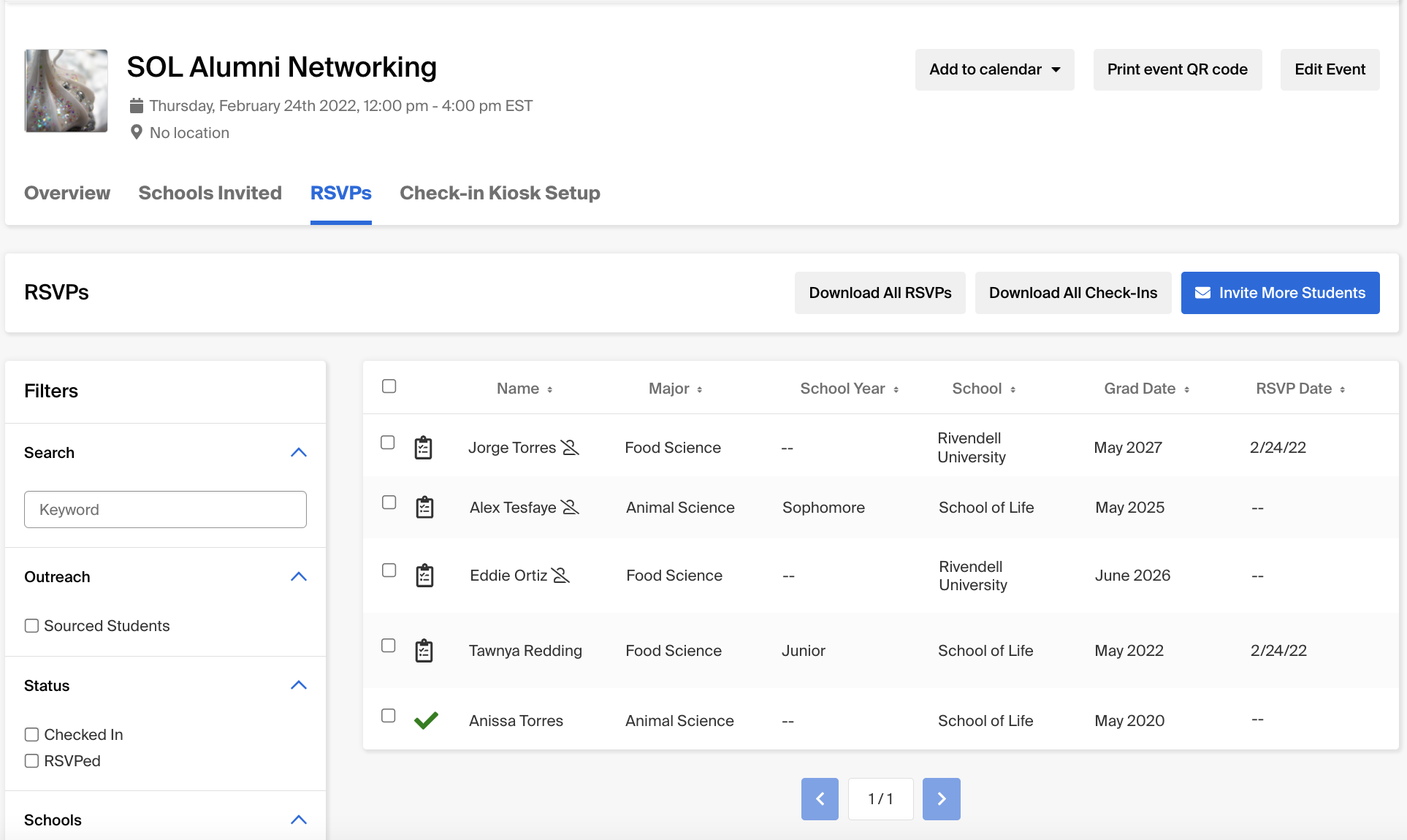 When you take notes, you will also be able to evaluate those students. The Evaluation section asks if you'd recommend the candidate, and you may select from:
1 - No

2 - Neutral

3 - Yes

4 - Strong Yes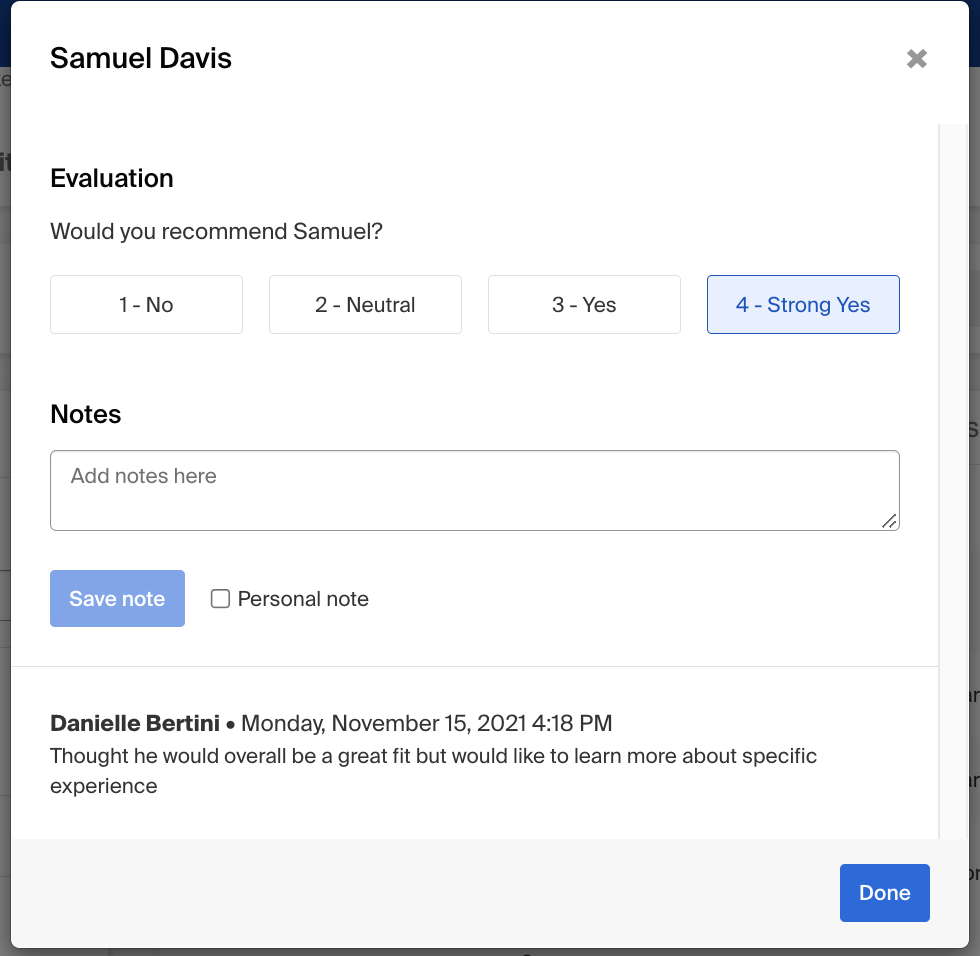 You'll only be able to save one evaluation per student, so if you have a colleague that also wants to rate the student, your colleague should add a note with their comments!
In order to download those notes, evaluations or student information you can do so by clicking the button Download All Check-Ins, above the candidate table.

The information below is included in this csv:
First Name, Last Name

Email Address

Graduation Date

Majors

School

RSVP

Check-in

Labels

Notes

Jobs Interested In

Evaluation Rating
Adding and filtering searches with labels
Labels can be added (or removed) via bulk actions as described below or directly to a candidate's profile.
To add a label, put a check in the box to the far left in the row with the student's name, then click Add Label from the bulk actions options that appear in the column header row above the attendees table.

To remove a label, put a check in the box to the far left in the row with the student's name, then click More > Remove Label in the upper-right corner of the table.

You can use an added label as a filter on the Search Students or Candidates > Search All page.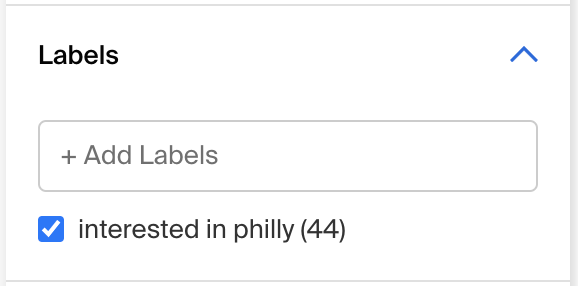 Put a check next to student names to select them, or use the box at the top to select all on that page, then use bulk actions that appear at the top of the table to connect with students. Bulk actions may include Message Students, Download Resumes, and Add or Remove Labels.

Once you have concluded the event, you can review additional tips on how to follow up with students in Following Up After a Virtual Fair.