After an Experience has been submitted for approval, you can manage your Experience in Handshake to ensure the most up-to date information is reflected.
Click on the expandable headers to learn more!
If you've requested an Experience and want to check on the approval status, refer to Tracking Your Experience.
Click Career Center on the left navigation menu, then click Experiences.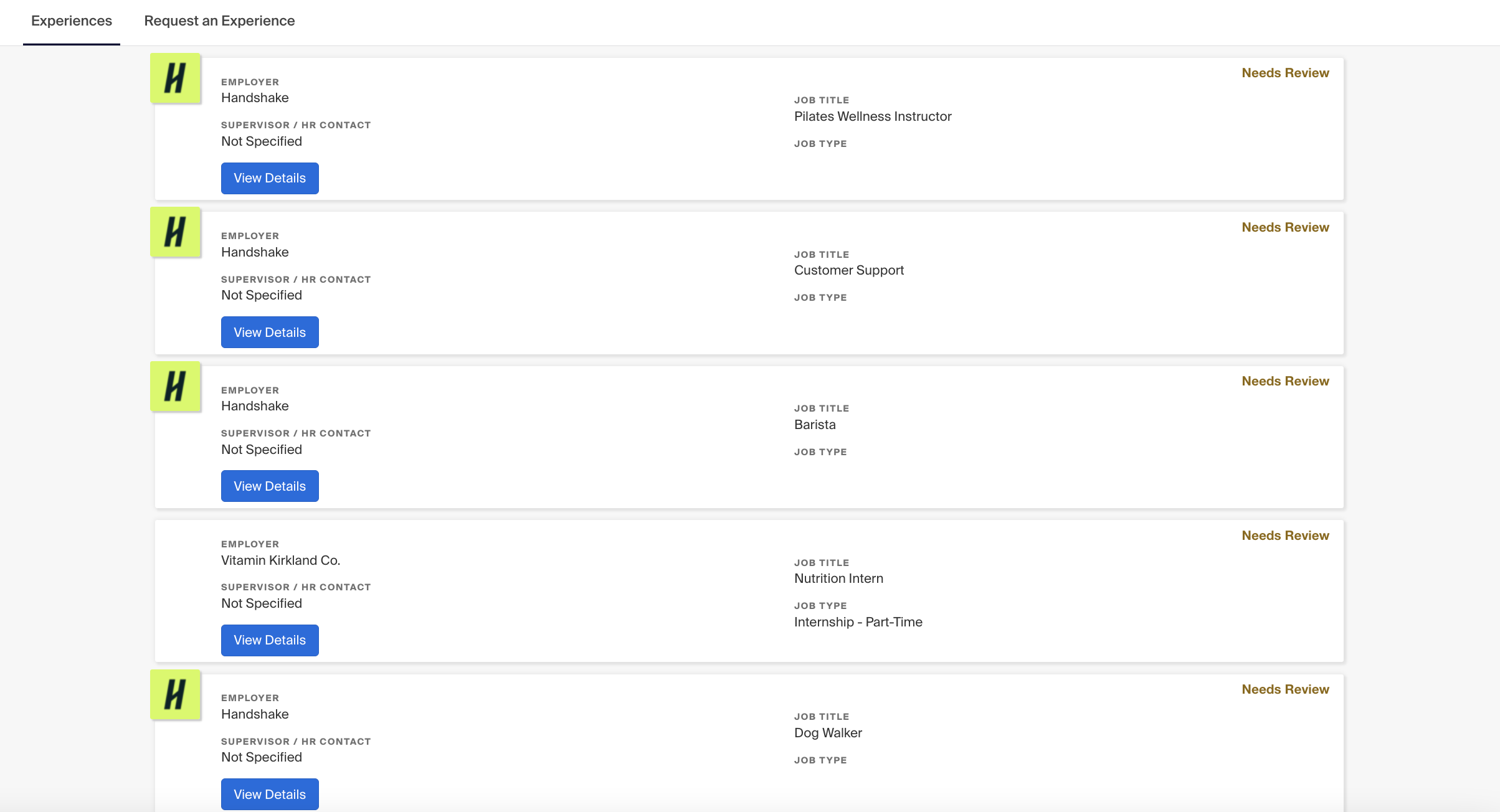 All the experiences that you've requested will be listed on the page. Locate the experience you'd like to review, then click the blue button View Details.
The Details Overview page
Once you've navigated to a particular experience, you can explore the Details Overview page
! Here, t
he information you entered into Handshake when you requested the experience will be displayed.
Basic Information

EMPLOYER
TERM
JOB
TEMPLATE

Attachments
Student

NAME
SCHOOL
CURRENT SCHOOL YEAR

Job

TITLE
DEPARTMENT
INDUSTRY
START DATE
SALARY
JOB TYPE
ACCEPTANCE DATE (if applicable)
END DATE (if applicable)

Employer

EMPLOYER
PHONE
LOCATION
EMAIL

Approvers

Faculty Member

STATUS
NAME
EMAIL ADDRESS
TITLE
PHONE NUMBER

Internship Supervisor

STATUS
NAME
EMAIL ADDRESS
TITLE
PHONE NUMBER

Survey Response

(applicable)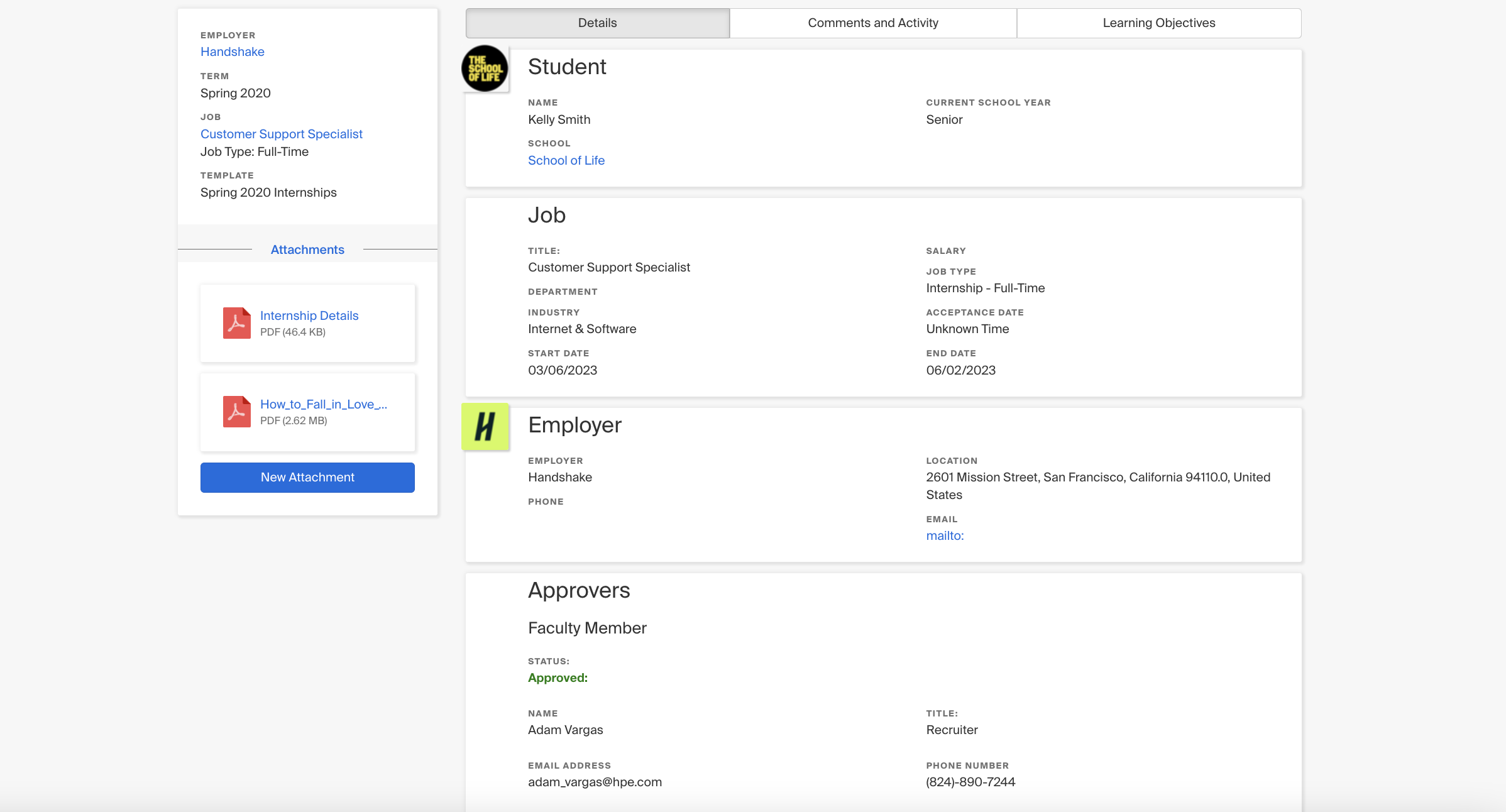 If you need to make an edit to an Experience, follow the steps outlined in Edit Your Experience Details.
Click the Comments and Activity tab, located to the right of Details to review all actions and comments associated with your experience.
Comments
If a Career Services user has left a comment about your experience, the comment will be available for you to view — the commenters name will be displayed below the comment along with the date and time.
If you would like to add a comment or respond to one, type your comment in the provided text box, then click the blue button Add Comment.
Note: all comments submitted in Handshake will be visible to any Career Services user that reviews your Experience.

Activities
The date and time of the following activities are recorded for your record in Handshake:
CREATE
STUDENT MID-TERM EVALUATION REQUEST
REVIEWER MID-TERM EVALUATION REQUEST
STUDENT FINAL EVALUATION REQUEST
REVIEWER FINAL EVALUATION REQUEST
Click the Learning Objectives tab, located to the left of Comments and Activities to review, upload, and edit all Learning Objectives associated with your Experience.
To upload a learning objective, follow the steps outlined in Add Learning Objectives to an Experience.
Note: Learning objectives may be edited until the school, employer and student have all approved them. At that point they will be locked in place. They will still be able to be marked as complete after they have been locked. If you need to make changes after these have been locked down, please contact your career center.