Career services team members can download a QR code to display to students in order to check in for either a virtual event, an in-person event, or an in-person career fair.
As with other forms of check in, the checked in student data will appear on the Attendees tab and the quick download of the event or fair immediately. The checked in data will not appear in Analytics reporting until the next day.
Note: QR code check-in is not compatible with nametag printing - if you are hosting an in-person event or fair and need to print nametags, you'll need to use the standard check-in kiosk option.
Topics:
Benefits of QR Code Check-in
For virtual events, career services users are able to display a QR code during the presentation, so students can complete a clear check in action to check into the event, improving check-in data accuracy. Without using the QR code for a virtual event, students will still be marked as checked-in to the virtual event when they click Join.
For in-person events and fairs, the QR code check in allows career services users to offer a different type of check, so students can check in from a distance. For events in particular, career services users can project a QR code on a screen so that multiple students can check in at once.


Generate a QR Code
Career services users are able to download either a JPG or PDF of the QR code for each virtual event hosted by your institution and in-person event or fair.
The following browsers work best for generating the QR code: Chrome, Firefox, Safari. If you encounter any issues, we recommend to clear your cache and cookies, then try again.
To generate a QR code, follow the steps below.
1. Navigate to the event or in-person fair overview page in Handshake, then click Get Check-in QR Code from the Actions menu on the left of the page.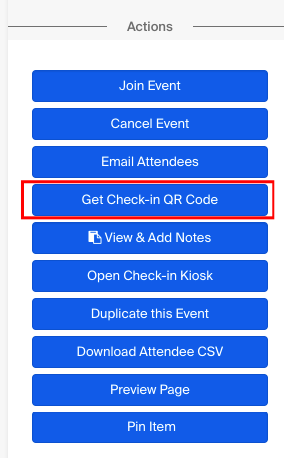 2. A pop-up will appear offering two options to generate a QR code:
Print PDF: You will be downloading a ready to print PDF document designed by Handshake containing the appropriate code for this event.
Download PNG: You will be downloading an image of this event's QR code that you can put on any other document (a banner, a virtual presentation, a posted, etc.).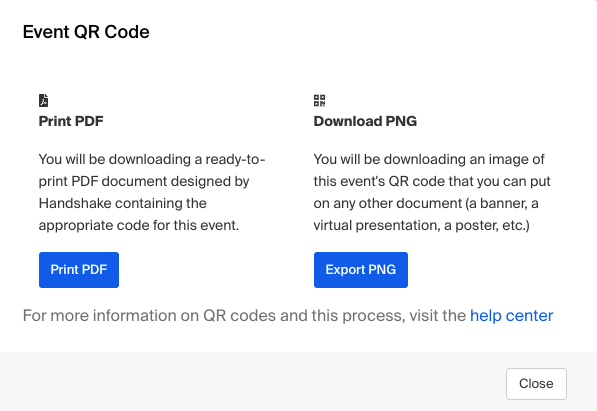 Please note that this screenshot is taken from our US site and there may be some differences in language from the UK platform.
Here's an example of generating the QR code to save / print as a PDF: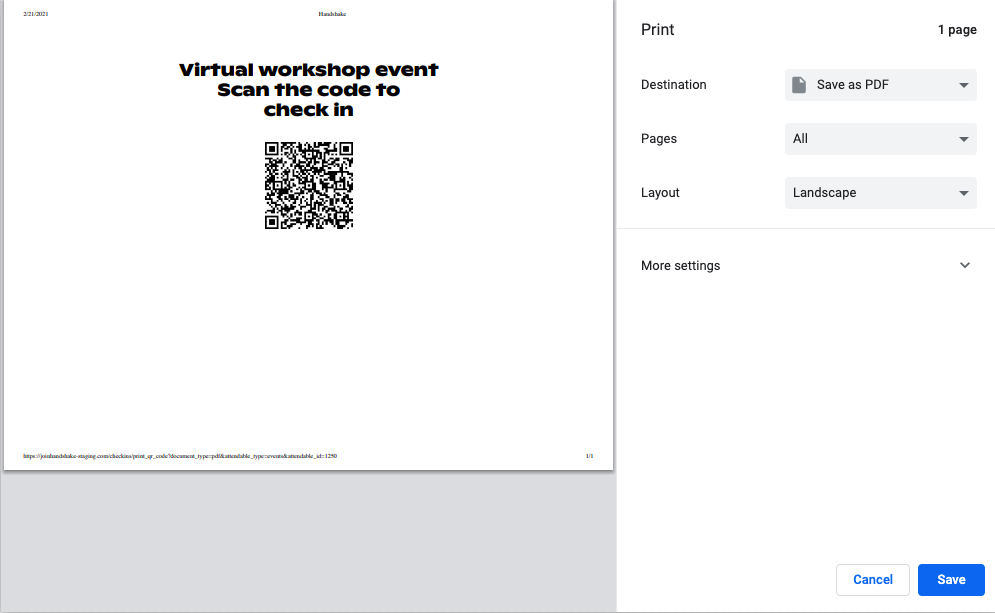 Here's an example of a PNG download via Chrome: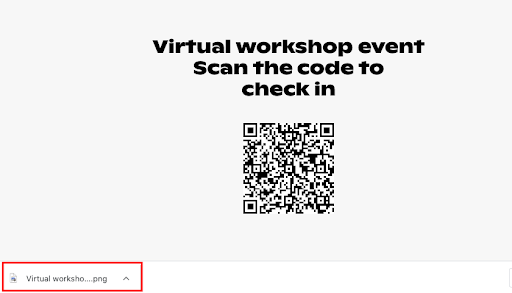 Student QR Code Usage
Students are able to use an Android or iPhone to check in. Scanning the QR code with their device camera will open their default mobile browser to access the check in kiosk.
While students will need to enter their Handshake account email address, they do not need to sign into Handshake to check in. Our team will explore mobile app functionality later this year.
Only students associated with the school (or from invited institutions for multi-institution events) will be able to check in.
Students do not need to register for the fair or event in order to be able to check in, and they will not be able to check in after the event has taken place.
Check in flow
To check in with the QR code, students need to open their camera application on their Android or iOS phones, and hover over the QR code. The check in site will pop up, and student will need to tap the pop-up to open the check in site, similar to the example below: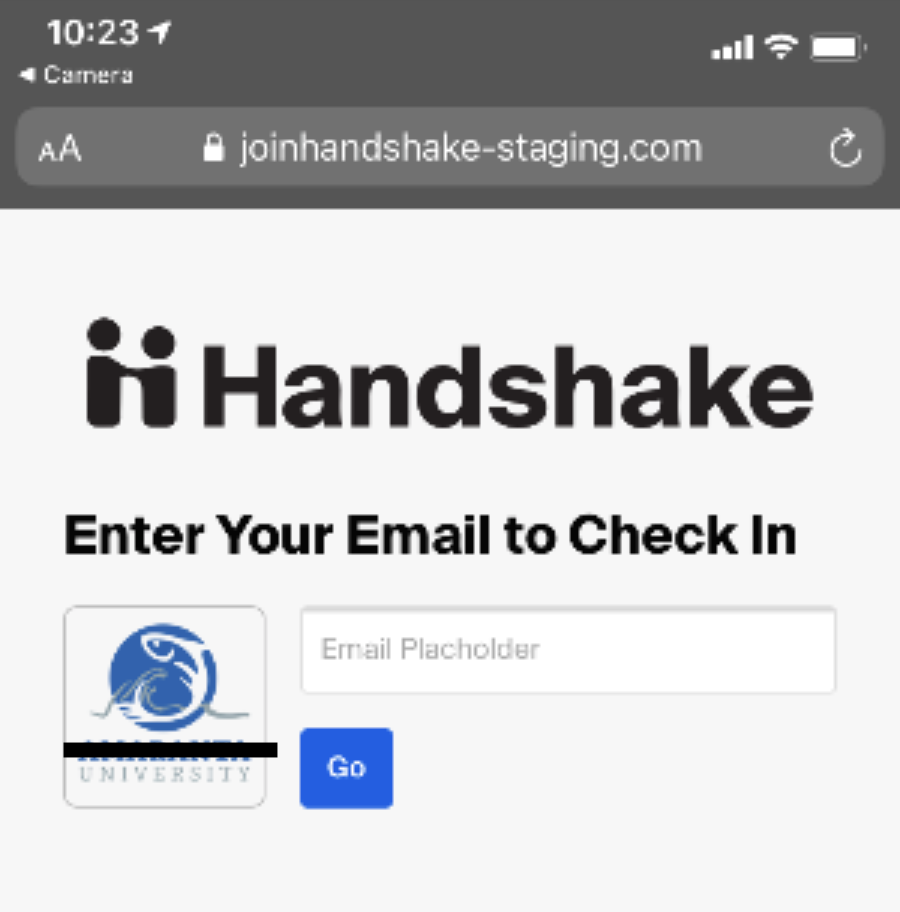 To check in successfully, students must enter the email address or username associated with their Handshake account, then click Go. A confirmation will appear that states "You have successfully checked in!".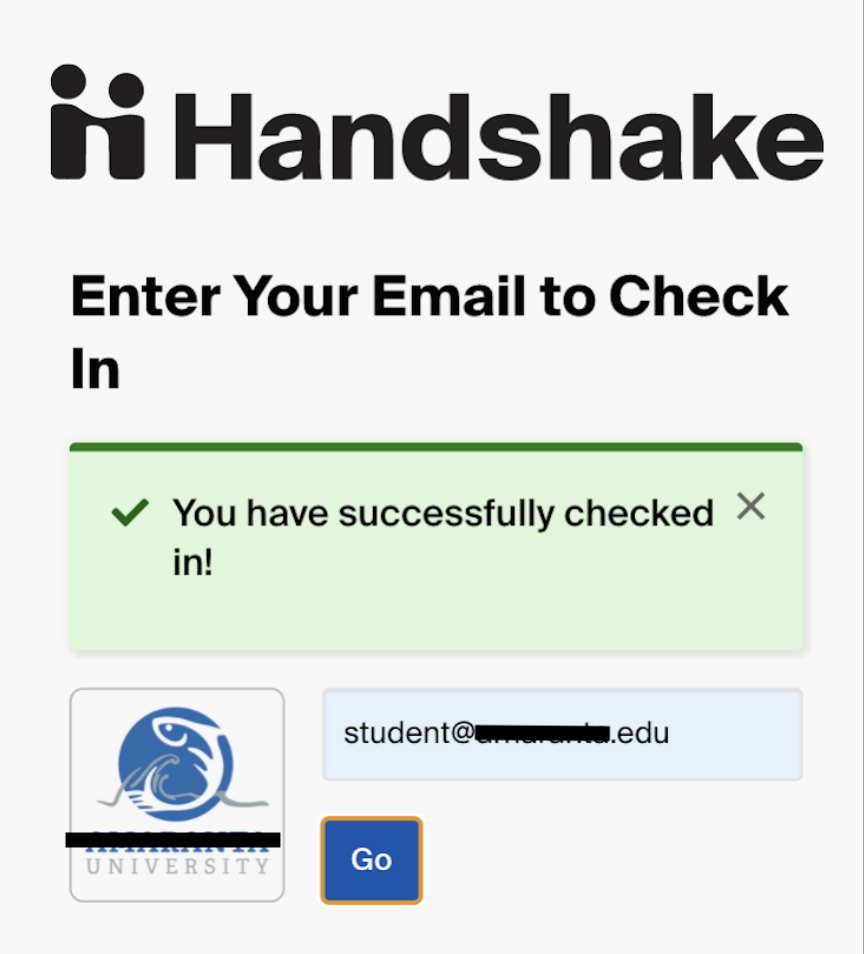 If their check in is unsuccessful, an error will appear that states "Failed to check in student". This could occur if the student uses an email address other than the one on their Handshake account. Here's an example of how the error appears: