After an Event has wrapped up, you may want to send a survey to Students that attended. 
To do this, you'll first want to create the Survey as described in this article: 
Once the survey is setup, you'll need to take the following steps to send the survey to Attendees: 
1. Pull up the event page in Handshake, and click on the blue button for "Email Attendees", under the Actions section: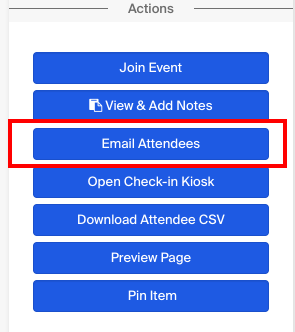 2. Select which recipients you'd like for the email based on their Registration Status, then select "Create Email":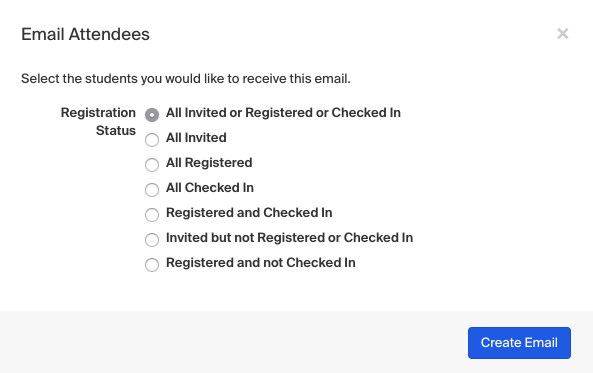 3. This will generate a new Mass or Targeted Email, depending on which tool you have enabled at that time. Build the email as desired per these instructions: 
Targeted Emails: Creating and Sending
*Tip: In Targeted Emails, you can link to the survey using a Button. Just select Basic Content, then choose "Button". You can title the Button as desired and use the survey link from the Survey overview page. 

Mass Emails: Creating and Sending
*Tip: In Mass Emails, you can attach the survey as a Card. Just search for the name of the survey and select it to attach. 
4. There will be no need to go through the recipient selection process, as the recipients are pre-determined from the selection in Step 2. Send the email as desired (either immediately or scheduled for later).