You are allowed to upload as many documents as you like, however, only one document may be featured on your profile (or considered public) at a time.
For written instructions about uploading a document, use How to Upload a New Document or if you prefer verbal instructions, use Video: How to Upload a Document.
Public Documents
A document is considered public if it has been marked as "Featured on Profile". Public documents are visible to certain employers in Handshake, including employers you've applied for a job with, signed up for a virtual fair session, registered for an event, and some additional employers that have been thoroughly vetted by our Trust & Safety team. Career Services users with the corresponding account permissions will always be able to view all of your uploaded documents.
While you may upload as many documents as you like, only one document may be featured on your profile (visible) at a time. This helps reduce confusion when employers and career services download visible documents.
Please note: Your profile privacy does have to be set to either Employers or Community in order for the document to become viewable directly on your profile. We recommend Community to get the most out of Handshake!
Private Documents
Private documents (ones that are not set as visible on your profile) can be attached to specific job applications only.
The employer who receives the application will be able to view the document (as will your institution's Career Services Centre), but other employers on Handshake will not be able to view it.
It's a good idea to keep personalised documents (like cover letters) and customised versions of your CV private - and only for use in specific job applications.
Change Document Visibility
You can see which document is currently public by clicking your account icon in the upper-right corner of Handshake, then click Documents. Look to the column "On Profile" - if the circle is filled in green with a white check, that indicates it is visible. Click the circle to quickly change visibility.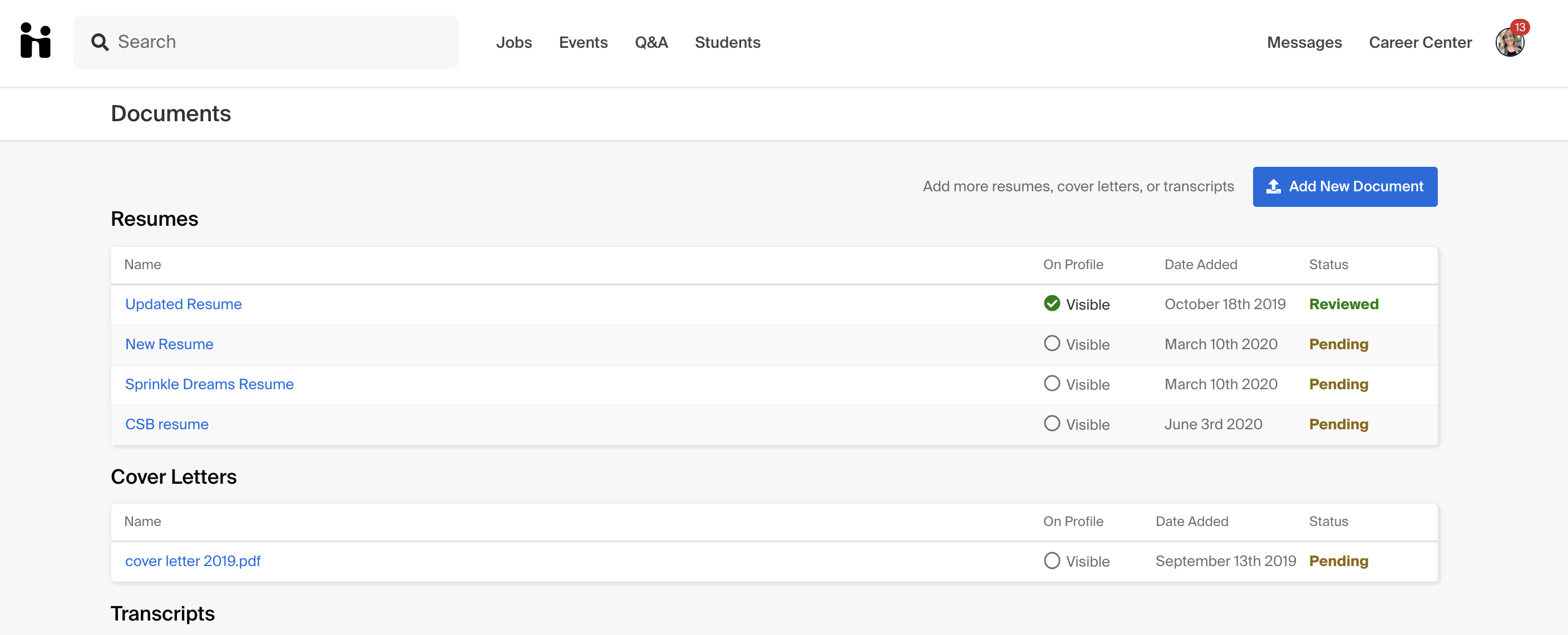 Note: If you're attending employer sessions via a virtual fair in Handshake, make sure you have your resume marked as Visible if you'd like to be included in the employer's CV download from their RSVPs list!