You have the option to have your documents visible on your profile, allowing employers to view and download these documents if they'd like. Many students have numerous documents saved to their profile, but only a couple that are listed visible for employers. Handshake only allows you to upload one visible resume to reduce confusion when employers and career services download visible documents. 
Private documents (ones that are not set as visible on your profile) can be attached to specific job applications. The employer who receives the application will be able to view the document (as will your school's Career Services Center), but other employers searching on Handshake will not be able to view it. It's a good idea to keep personalized documents (like cover letters) and customized versions of your resume private - and only for use in specific job applications. 
You can see which documents are currently public by clicking Manage Documents on the right side of your profile page.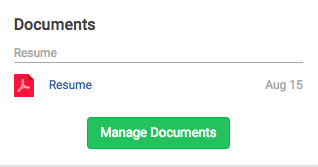 Here you can quickly toggle between visible and invisible for each of your documents.