On Handshake, you'll be able to reach out to an applicant directly in-app, or via your personal email.
Note: You do not need a Trust Score of 80 to message any applicants. This restriction only applies to the search/message a student feature.
To contact applicants to your job:
First, choose the particular Job or Interview you're interested in to access the direct list of students that have applied - see how here.


From here, you can click the check boxes next to the applicants you'd like to contact, or select the topmost check box to highlight all applicants.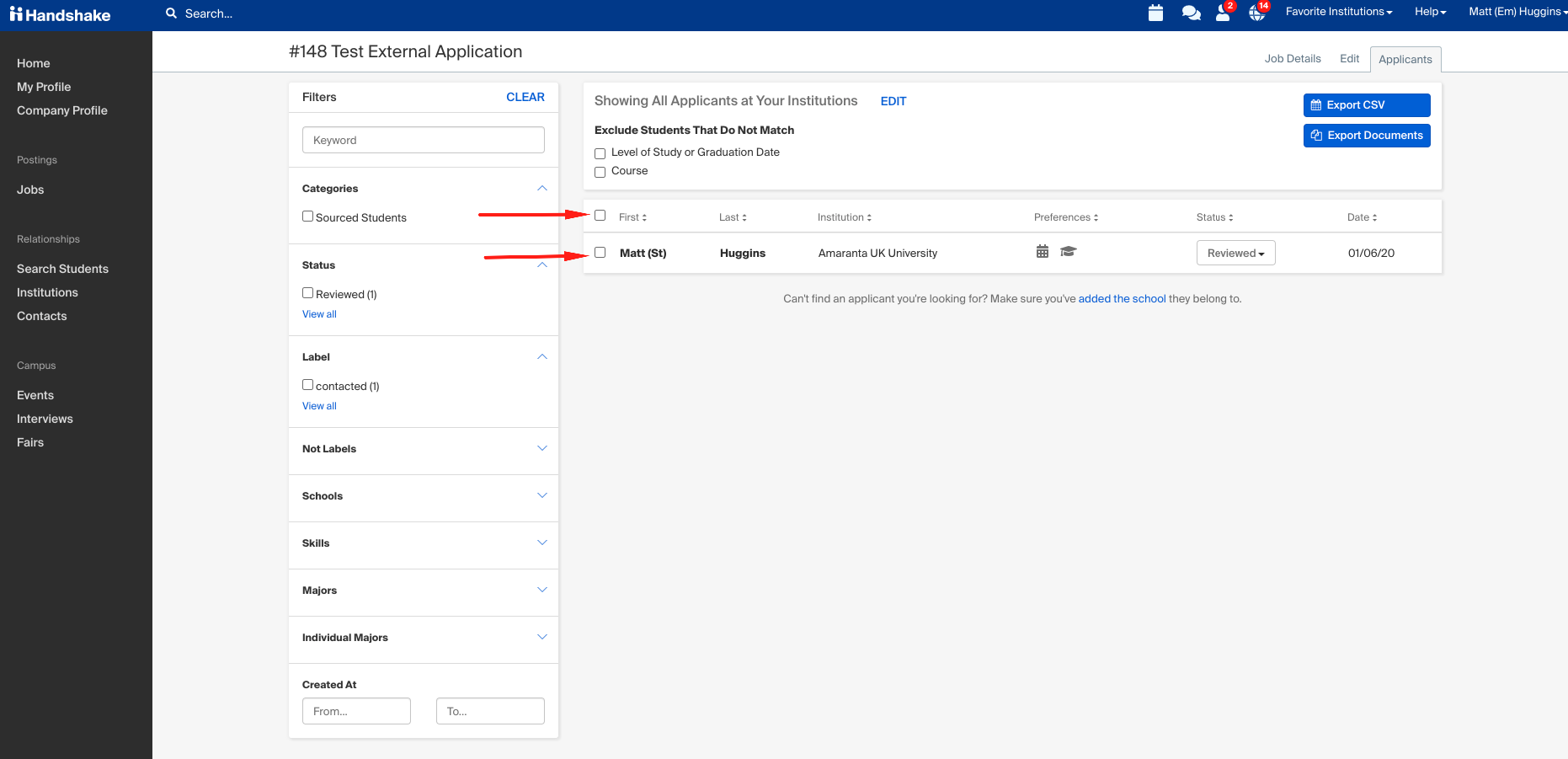 Once you have done this, you will have the option to Message Applicants, Download Applicant Packages or Download Applicants Data to CSV. There is also an option to Download Applicant Data into a Zip file in the More Actions section, along with options on labelling and more.
How To Send A Direct Message to Applicants In Handshake
Once you have selected the applicants you want to contact, you can message them by clicking on Message Applicants in the top toolbar: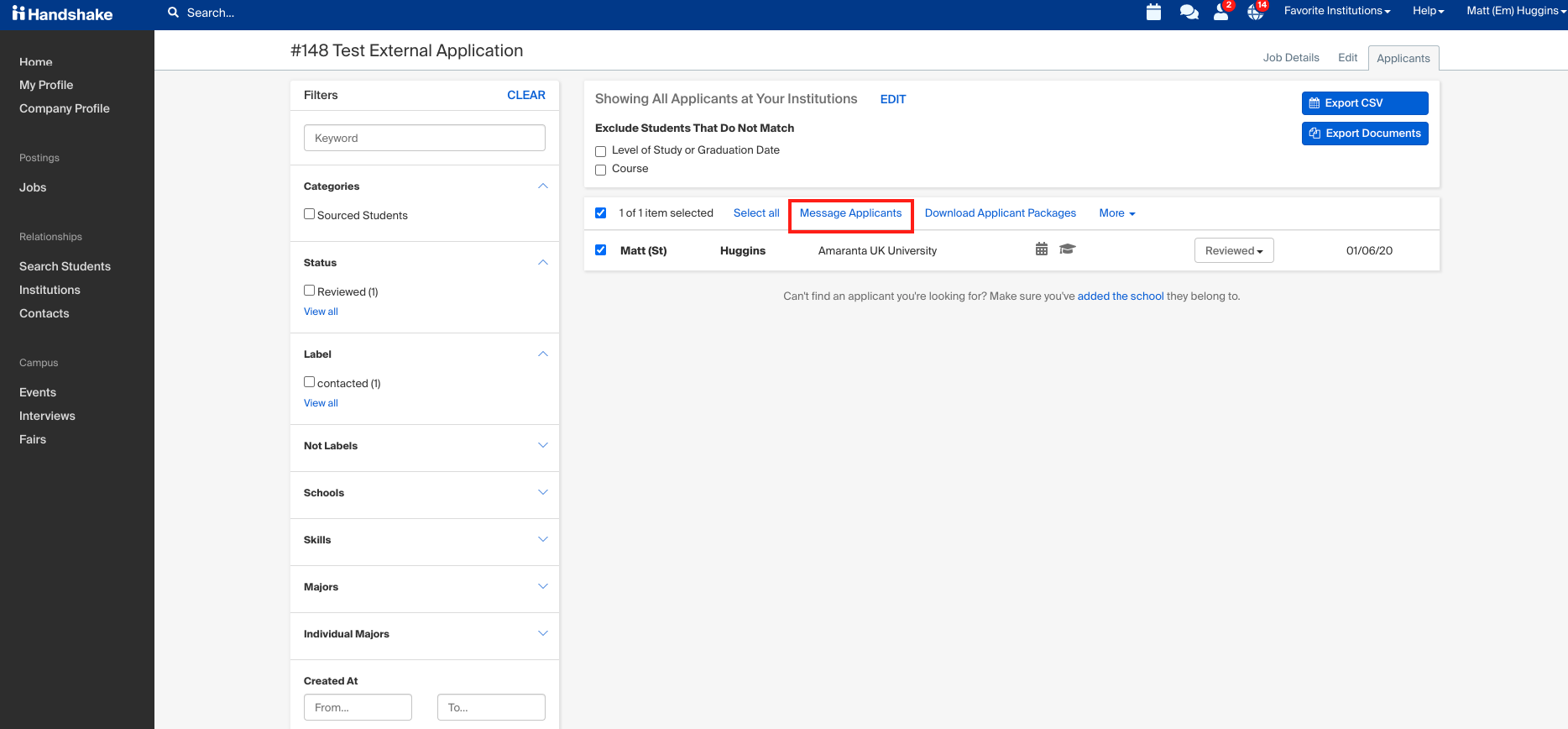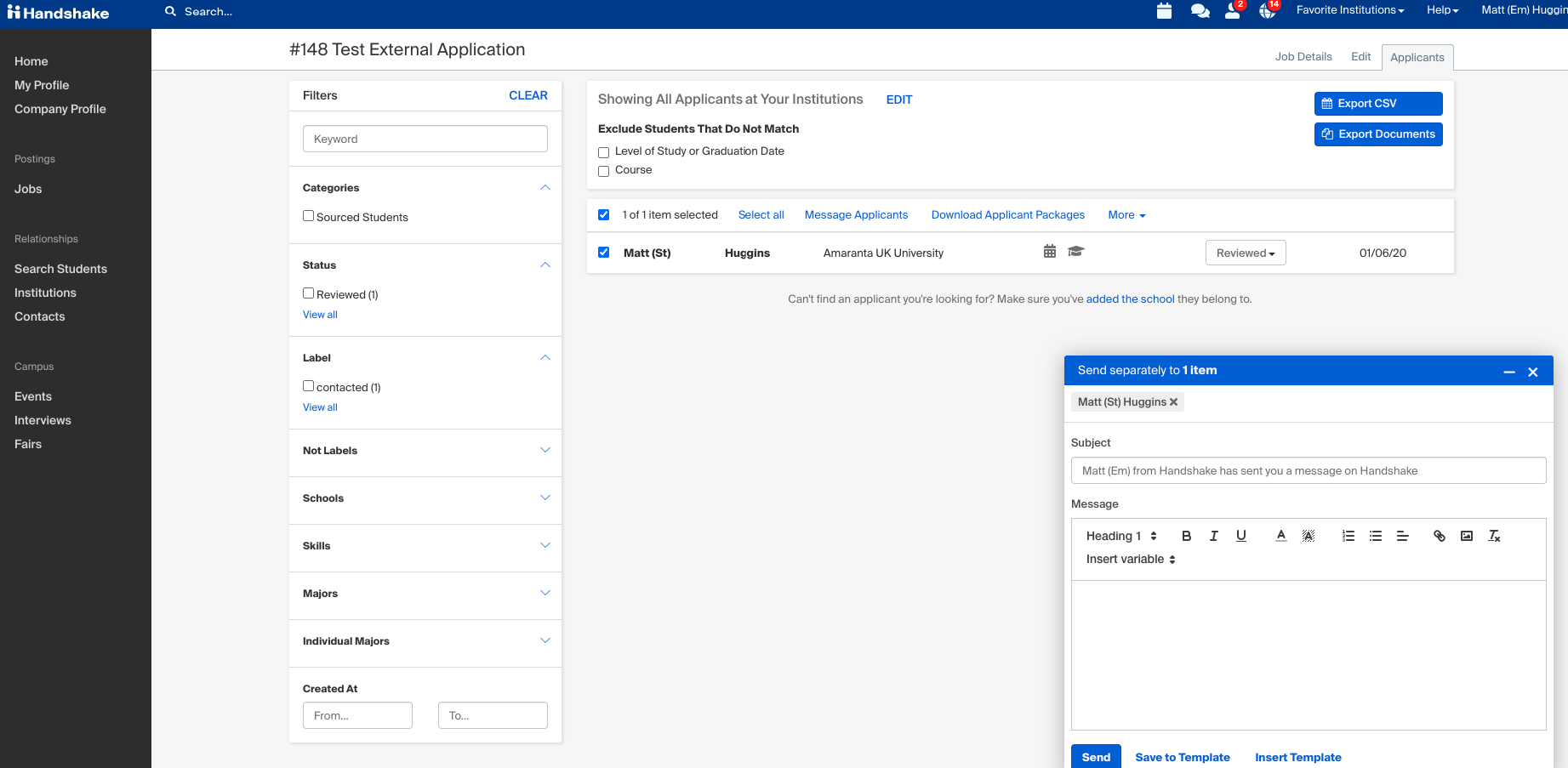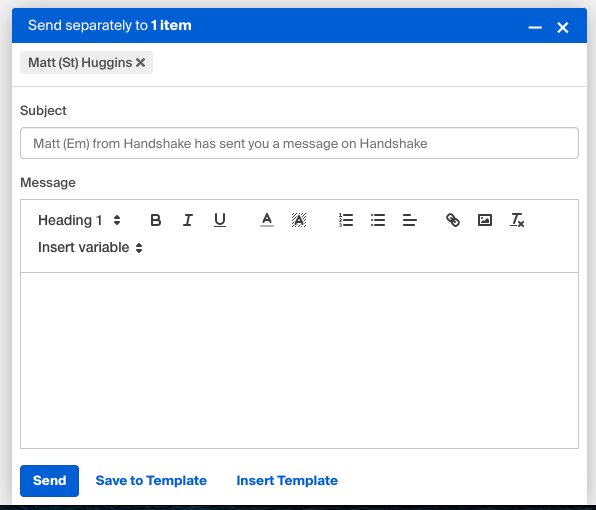 Any recipients of this message will be listed at the top of the message box.

Applicants will not be able to see any others listed as recipients when they receive your message.


Once your message is crafted, click on Send to send your message to those applicants.


After clicking send a popup box will appear, prompting you to confirm your message. Click on Confirm to send your message to the desired applicants.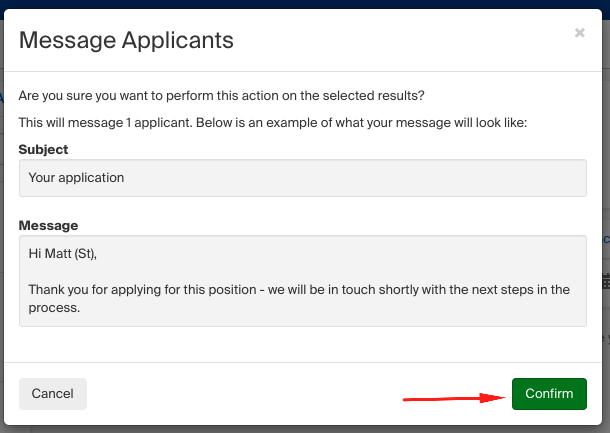 The message will send automatically, and you will receive a confirmation of the sent message towards the lower right of your screen

Here is an example of what the message looks like from the student's point of view:

How to Contact Applicants Outside of Handshake
Once you have selected which applicants you'd like to contact, begin by Clicking on Export CSV button towards the top right side of the page. This will allow you to download a spreadsheet of the Applicants information.


Tip: not selecting any of the applicants will download all of the applicants information from that job into the CSV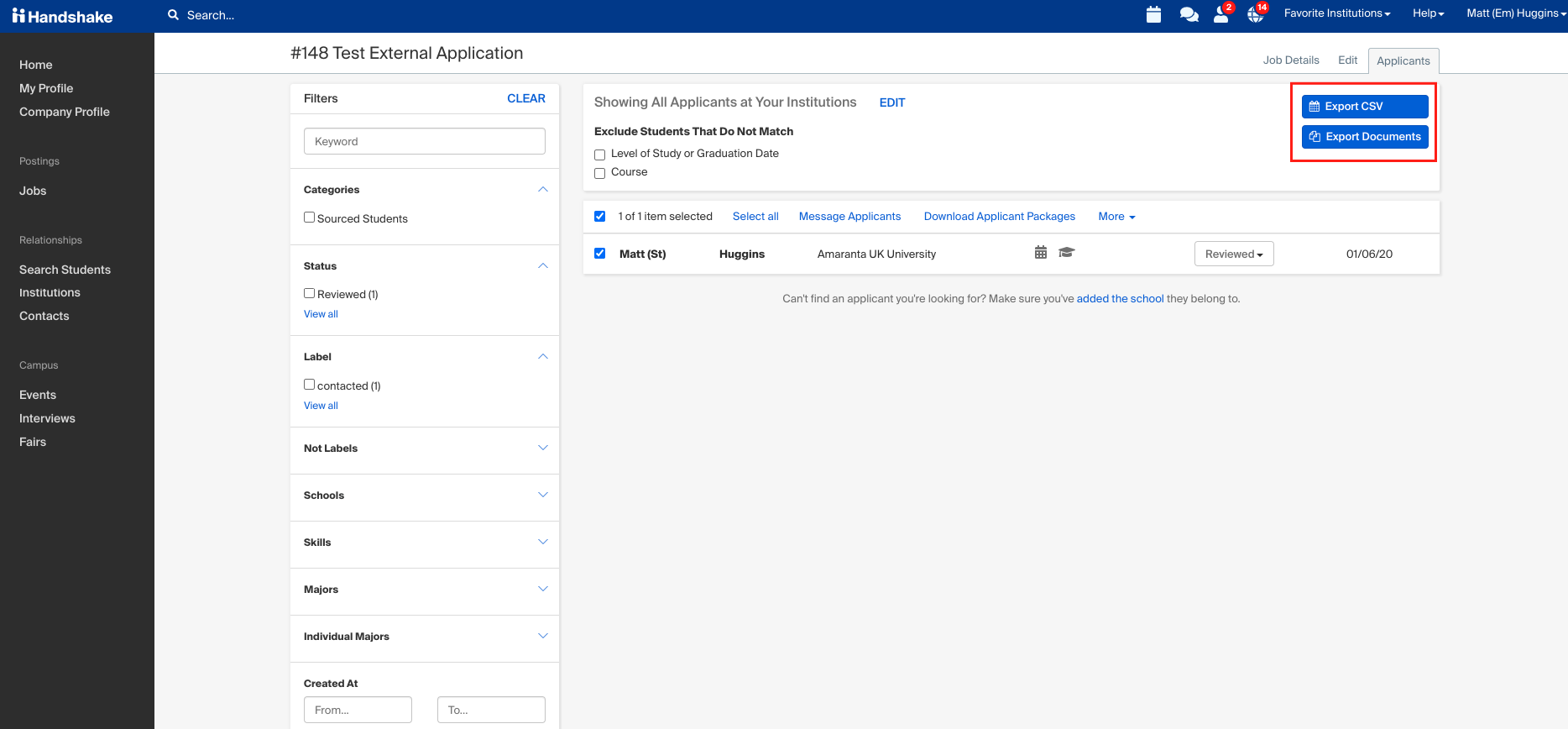 You can also click More from the top hand toolbar to perform this action by selecting Download Applicant Data to CSV from the dropdown menu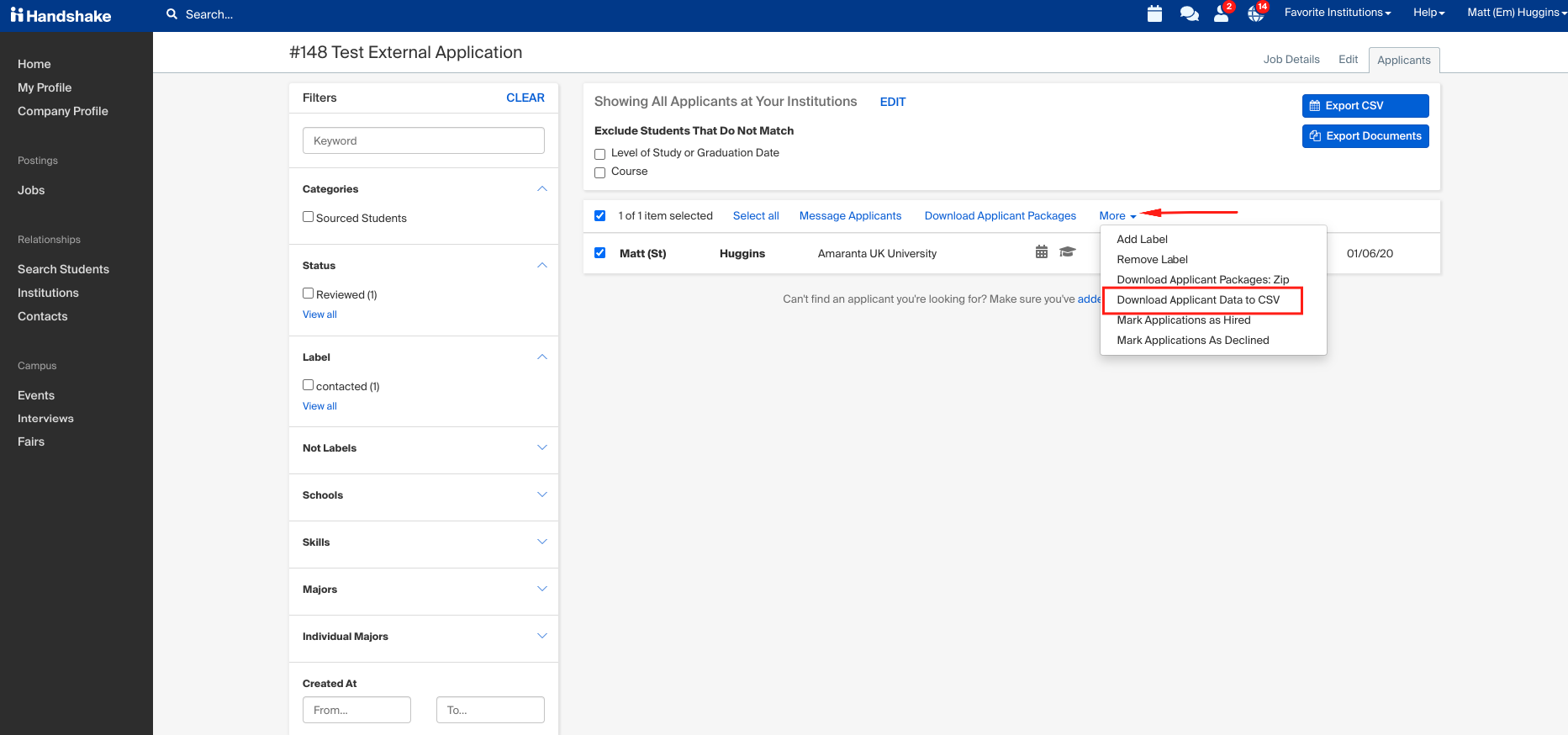 You will then be asked to confirm this action. Click on Confirm to download

You will be alerted that your download is building. This action can take a little longer if there are many applicants.


An email of this download file will also be sent to you, so you can close the window if you don't want to wait for the download to build at this time. Click on Close to do this.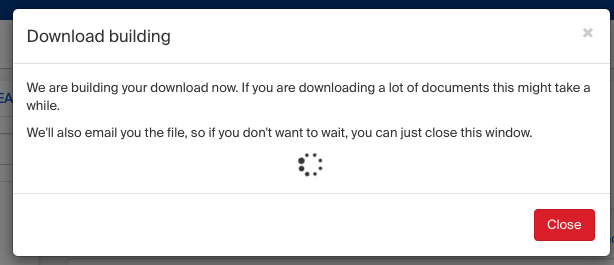 Once the CSV file is ready for you to view, click directly on the hyper link stating: "Your download is ready. Click here to retrieve the file." If you don't want to review this download now, you can click on Close to close out notification.

If you select the hyperlink to immediately view your download, depending on your browser, this should immediately download for you.

Example is using Google Chrome for web browser. We strongly recommend using Chrome or Firefox, not Internet Explorer as your web browser, if able.
Troubleshooting tip: If you're already using Chrome or Firefox, kindly try clearing your cache prior to logging back in to Handshake and try downloading again.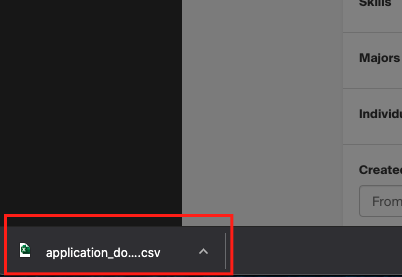 If you close out this notification, you can access the download from the email sent to you. Click on the Bulk Download link from your email to access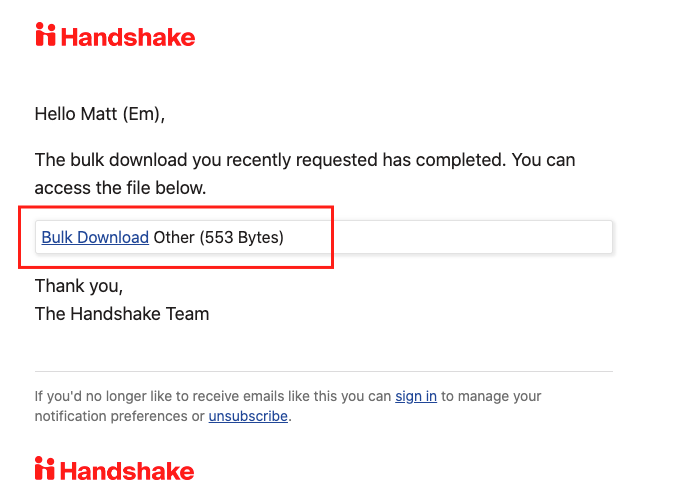 Once downloaded, you will be able to see all of the following applicant data on your CSV:



Application ID

Application Date

Application Status

Student ID

First Name

Last Name

Email

Fully Qualified?

Year

Institution

Primary College

Graduation Date
Courses
Applied To ID (Job ID)
Applied To Type (Job Type)
Applied To Name (Job Name)
Job Applied For (ID)
Job Applied For (Name)
Employer ID
Employer Name
Employer Division
Document IDs



With this information, you will be able to copy/paste the applicants email address into your own email client to contact the applicants directly outside of Handshake.