Handshake's virtual career fair features are designed to help foster connections between our higher education partners, students, and employers, and allow employers to continue (and expand) engagement with students beyond their typical list of institutions. In addition, these features allow career centres to facilitate, increase, and track engagement in Handshake.
Read more about virtual recruiting features on Handshake for Core (i.e. free) and Premium partners below.
Virtual Recruiting Feature Overview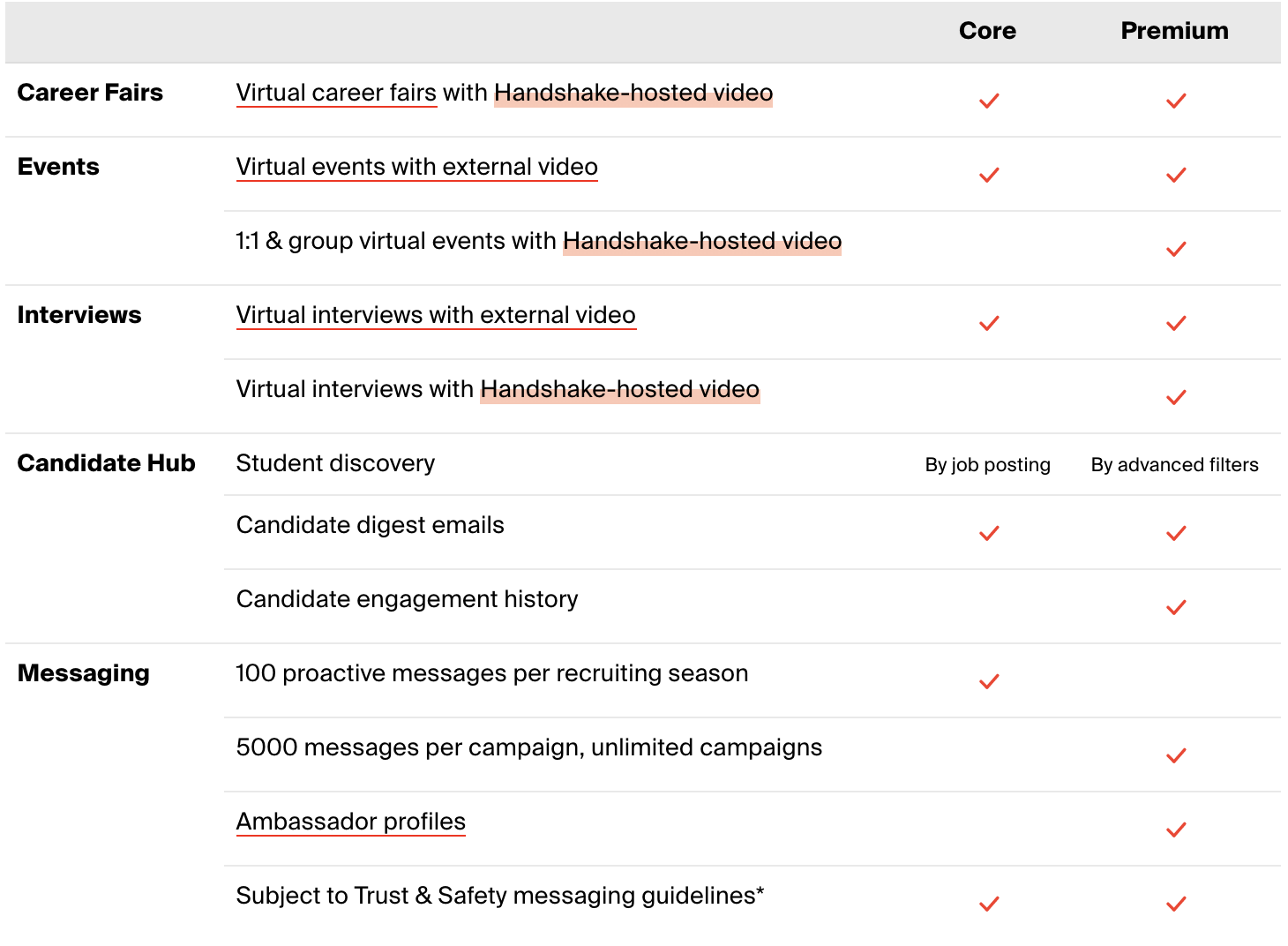 *Employers can only proactively search for and message new students when they post a job and it's approved at the institution. For additional details, refer to How to Send a Student a Message.
Virtual Recruiting Features Details
Virtual Career Fairs
Handshake's virtual career fair features are available to all employers to connect with students authentically. 
Schedule group meetings for up to 50 people to share company information and answer student questions live.
Offer qualified candidates 1:1s to meet directly with recruiters. 
Follow up with all students who attended a virtual session. 
Our virtual fairs feature video, audio, and text-based chat on Handshake, allowing participants to make a unique career-fair connection. Employers also have the option to host their group meetings via an external video provider if they'd like to expand the number of students who can attend group meetings. For more information, refer to Virtual Fairs in Handshake: A Guide for Employers.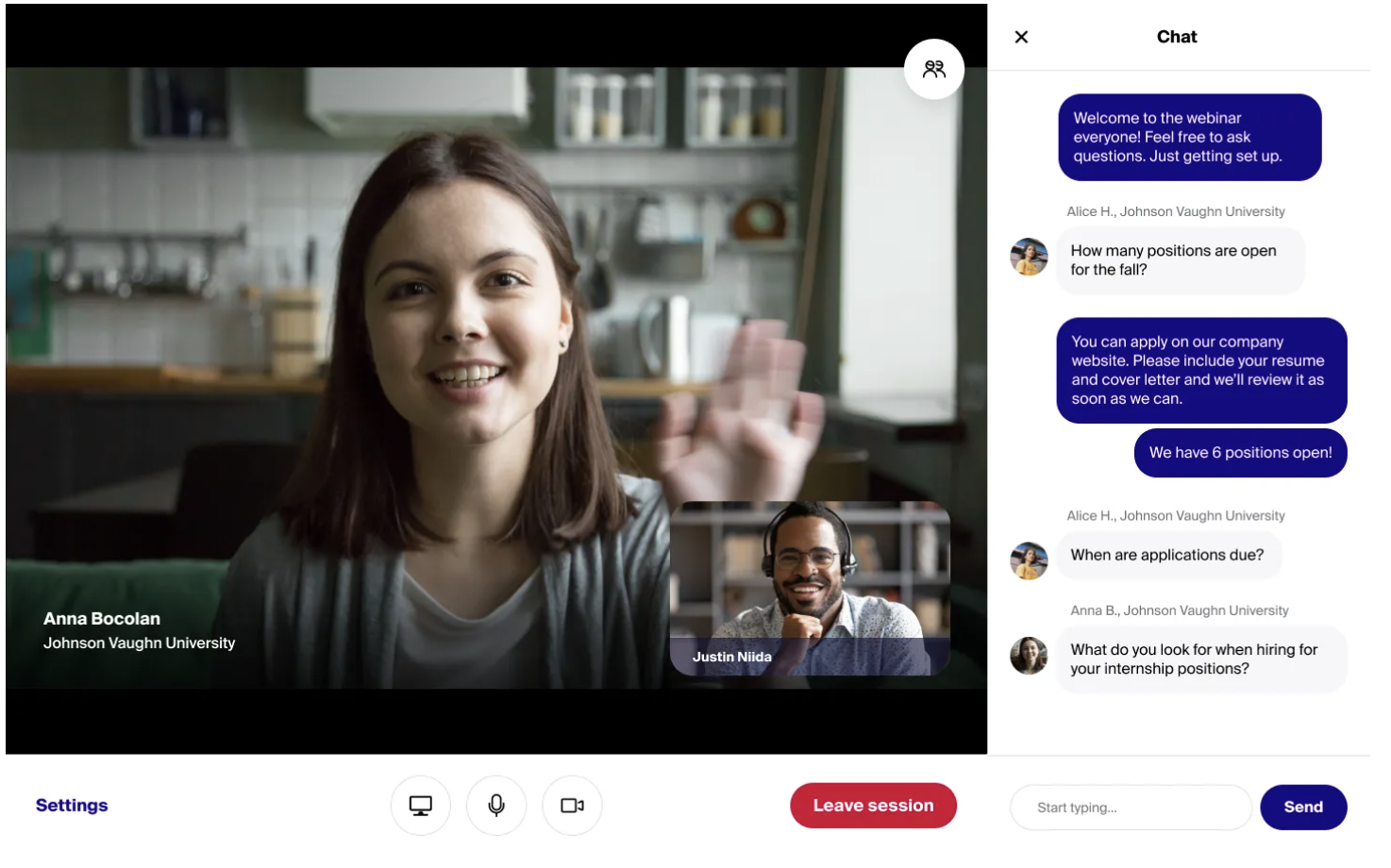 Events
All employers can promote virtual events they're hosting on an external video platform via Handshake. Premium partners are also able to host 1:1 and group virtual events with native video in Handshake, and can set qualifications for these virtual events to use their time with students most effectively - this Premium option also ensures that career services teams have an accurate count of the students who attended.
Interviews
All employers can manage and promote virtual interview schedules in Handshake with video hosted on an external platform. 
Unlocking Talent 
Employers in Handshake can access Job Matches, a resource that enables employers to discover more candidates that are a match for posted jobs based on their candidate preferences. Furthermore, employers can leverage Handshake's features to refine their candidate search based on tailored criteria, evaluate profiles of potential candidates, and further nurture prospects through curated messaging.
Handshake sends all employers candidate digest emails regularly to highlight new students they may like to connect with. Ultimately, this feature helps drive employers to engage with more students in the network. Check out Job Email Digests.
Premium partners have the added advantage of being able to view their engagement history with each student, providing valuable context for future conversations. When viewing a student's profile, Premium partners can easily see if the student has followed them, received messages from them, applied for a job, or attended an event.
Messaging
The new virtual recruiting landscape has made messaging an even more impactful way for employers to make a connection with students. Learn more about How Students Engage with Employer Messages.
Messaging on Handshake also yields 2-4x more student engagement than messaging on other career platforms. Students should be encouraged to complete their Handshake profiles to increase their chances of receiving a message—80% of students who fill out the career interests section of their profile get messaged.
As always, Core employers can send up to 100 proactive messages to students per recruiting season. They can also send unlimited messages to students who have historically engaged with them. Premium partners can create unlimited messaging campaigns targeting up to 5,000 students, and tag any teammate with the proper permissions to facilitate a more personal connection with students.