Handshake's virtual career fair features foster connections between our higher ed partners, students, and employers. While career fairs play a large part of employers' virtual recruiting strategy for the fall, it is also critical that we enable employers to run their entire virtual recruiting strategy through Handshake. This ensures that employers continue (and expand) engagement with students beyond their typical list of schools, and that career centres can facilitate, increase, and track engagement in Handshake.
Read on for an overview of virtual recruiting features that will be available for Core (i.e. free) and Premium employer partners on Handshake.
Virtual Recruiting Feature Overview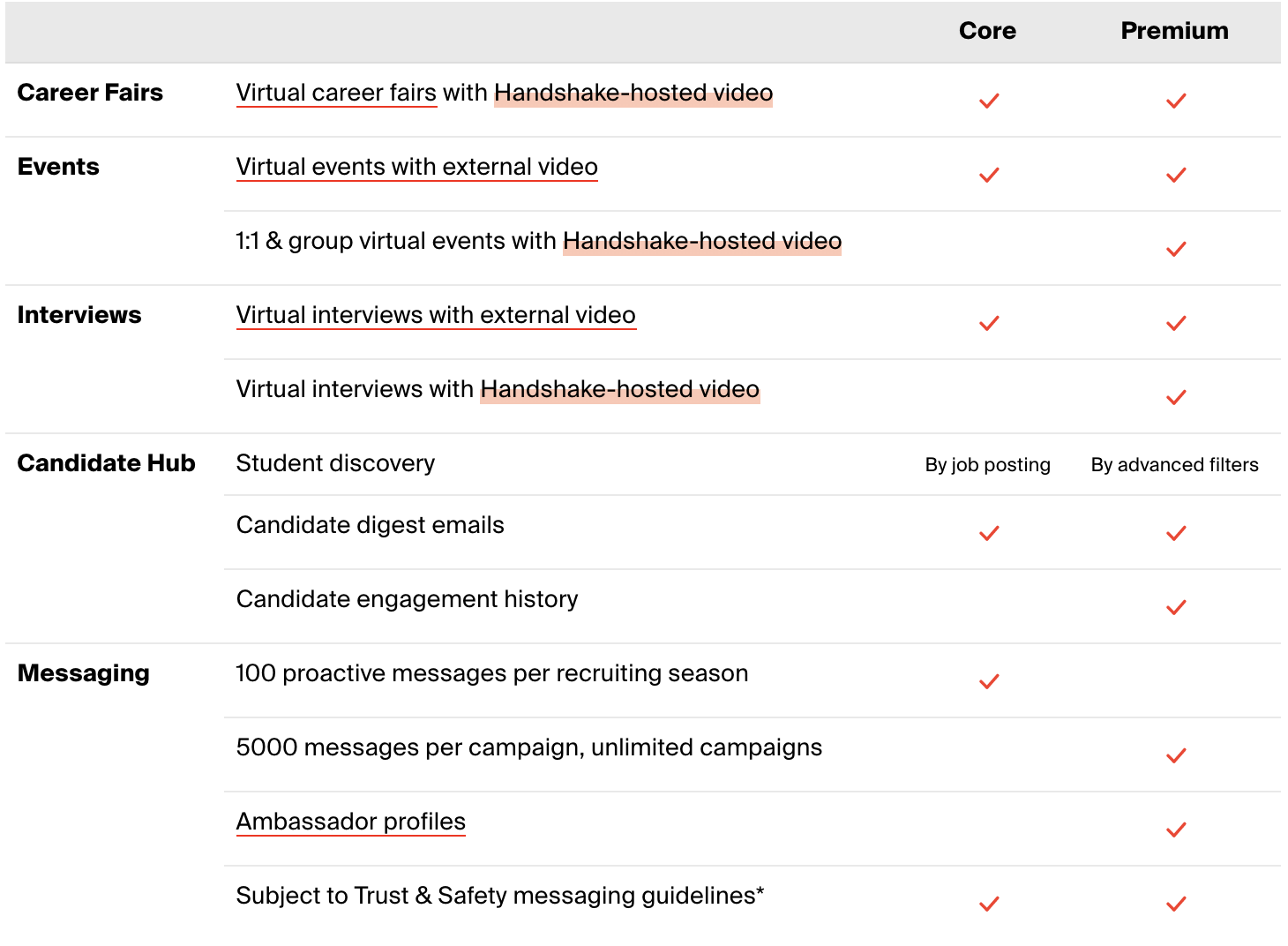 *Only employers with a trust score of 80+ can proactively search for and message new students. Employers who do not meet this threshold can only see and message students who have historically engaged with them.
Virtual Recruiting Features Details
Virtual Career Fairs
As a key aspect of their virtual recruiting strategy, Handshake's virtual career fair features are available to all employers to make authentic connections with students:
Schedule group meetings for up to 50 people to share company information and answer student questions live
Offer 1:1 meeting slots with recruiters to meet directly with qualified candidates
Our virtual fairs feature video, audio, and text-based chat hosted on Handshake, allowing participants to make a personal connection that is unique to career fairs. Employers also have the option to host their group meetings via an external video provider if they'd like to expand the number of students who can attend group meetings.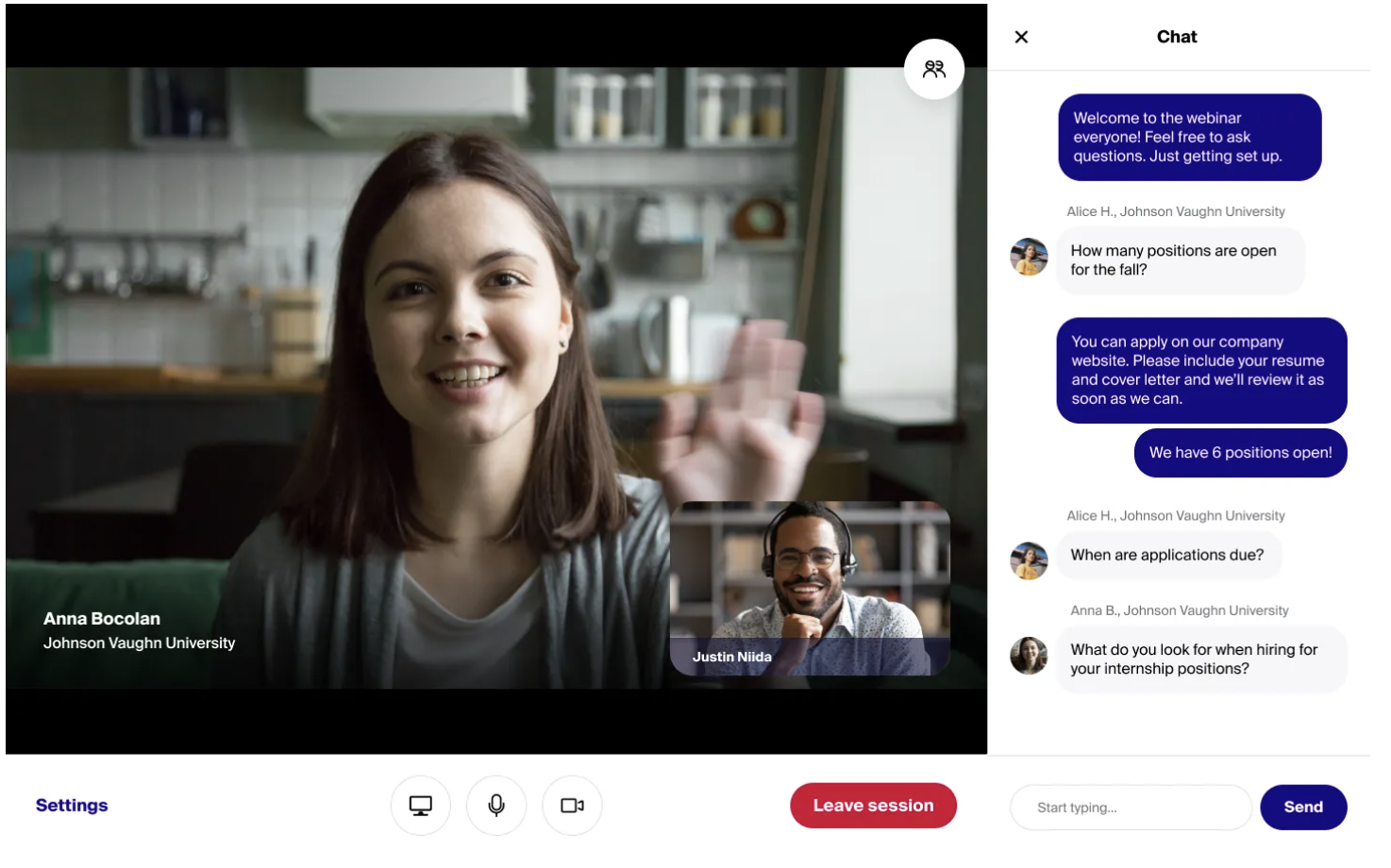 Events
All employers are able to promote virtual events they're hosting on an external video platform via Handshake. Premium employer partners are also able to host 1:1 and group virtual events with native video in Handshake, and can set qualifications for these virtual events to use their time with students most effectively. This Premium option also ensures that career services teams have an accurate count of the students who attended.
Interviews
All employers are able to manage and promote virtual interview schedules in Handshake with video hosted on an external platform. As with events, Premium employer partners are able to host virtual interviews with native built in Handshake.
Candidate Management
Handshake's new Candidate Hub will help employers discover great candidates based on their talent preferences. Employers using Core will be able to filter based on the course, school year, and preferences they've set in individual jobs. Premium employer partners will be able to use more advanced filters (like location preference, skills, and coursework) to organise their student applicant funnel.
We'll also send all employers candidate digest emails on a regular basis to highlight new students they might like to connect with. Ultimately, this new feature will drive employers to review more student profiles and engage with more students in the network.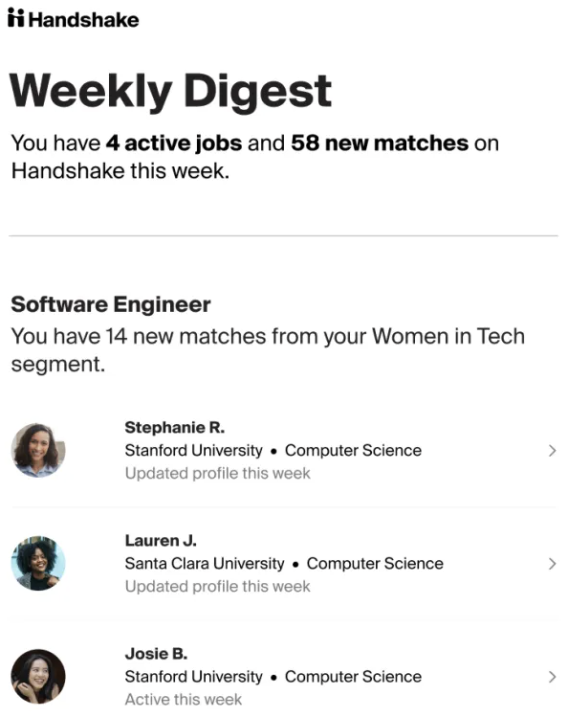 Please note that this screenshot is taken from our US site and there may be some differences in language from the UK platform.
As an added benefit, Premium employer partners will also be able to see their historical engagement with each student when viewing their profile to give even deeper context for each ensuing conversation, whether the student follows them, has gotten a message from them, has applied for a job, or attended an event.
Messaging
A few weeks into the onset of COVID-19, Handshake saw a 257% year over year increase in the number of proactive student messages sent by employers. The new virtual recruiting landscape has made messaging an even more impactful way for employers to make a connection with students. Messaging on Handshake also yields 2-4x more student engagement than messaging on other career platforms. Students should be encouraged to complete their Handshake profiles to increase their chances of receiving a message—80% of students who fill out the career interests section of their profile get messaged.
As always, employers using Core can send up to 100 proactive messages to students per recruiting season. They can also send unlimited messages to students who have historically engaged with them. Premium employer partners can create unlimited messaging campaigns targeting up to 5,000 students at once. They'll also be able to highlight virtual ambassadors in messages to facilitate a more personal connection with students.
For more information on Handshake Premium's virtual features for employers, check out this blog post.