This article will assist you in monitoring your Handshake virtual fairs employer and student engagement. Knowing this information can help you ensure that employers are supported and you're marketing the fair to students as efficiently as possible!
1. Navigate to the desired fair in Handshake by clicking Fairs from the left menu column, then selecting the fair.
2. From the fair overview page, you'll be able to see the number of registrations from employers that are both Pending and Approved.

3. Click on View Employers to see a list of registrations and additional details for each.
Note: Schedules are only able to be created on Approved registrations - if you aren't seeing a schedule created on an Approved registration, you can contact the fair registrant to complete that step. Here's a resource with more details for employers: Creating a Schedule for Virtual Fairs
There are new columns on this page that highlight the following:
Schedule Representatives (the number of representatives added on the employer's schedule)

Note: the maximum number of representatives per employer is 15.

Group Sessions (the number of group sessions this employer has created)

Note: the maximum number of group sessions presently is three (3) per employer.

Group Registrations (the number of students that have signed up for this employer's group session)

Students may sign up for as many group sessions as they like, as long as the times do not overlap

1:1 Sessions Filled (the number of students that have signed up for this employer's 1:1 sessions)

Students may only sign up for one 1:1 session per employer.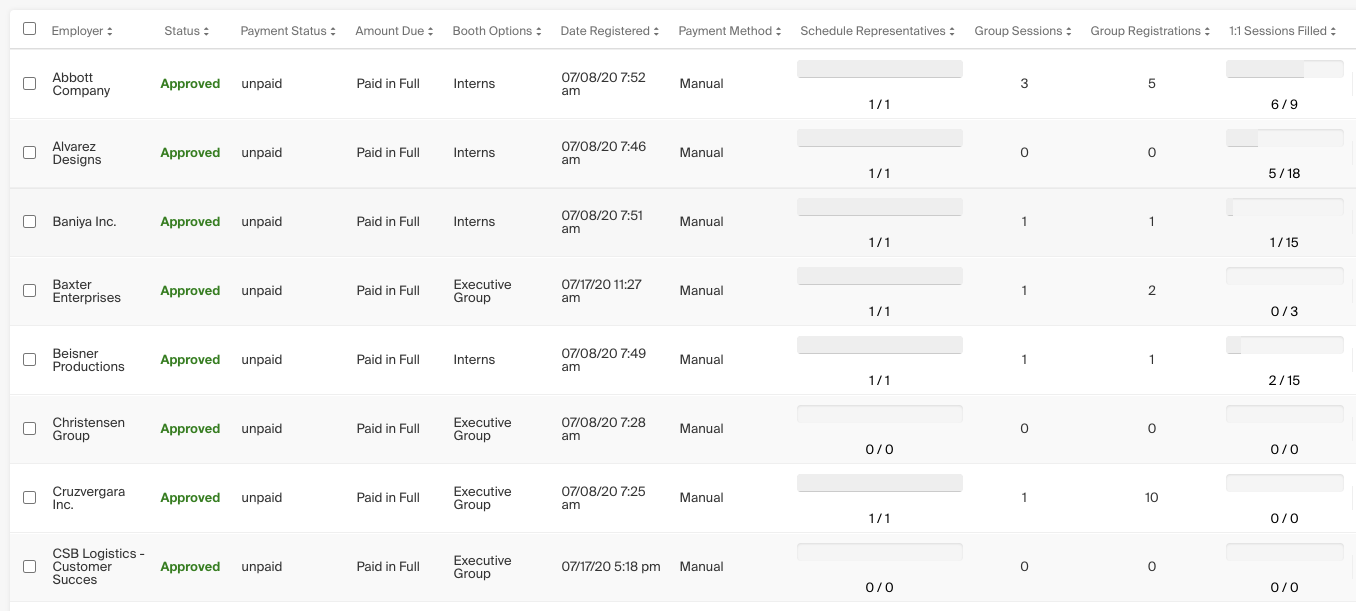 Coming soon: Our team is building a "last chance" email that'll be sent out if we see low session sign ups!