Journeys is a Handshake feature, initially for users in the UK only, that was implemented in the summer of 2021. Journeys allow career centres to organise actions for students to complete. Students can explore these activities and feel a sense of progress as they move through the process.
This will allow Career Services users to track and support students' career readiness in Handshake, and students will have institution-backed incentives to further engage with employers, students, and career services teams.
Enabling Journeys
In order to be able to view and set up Journeys, a Careers Services user will need to have both the Journeys and Show Labels on Students settings enabled in their permissions.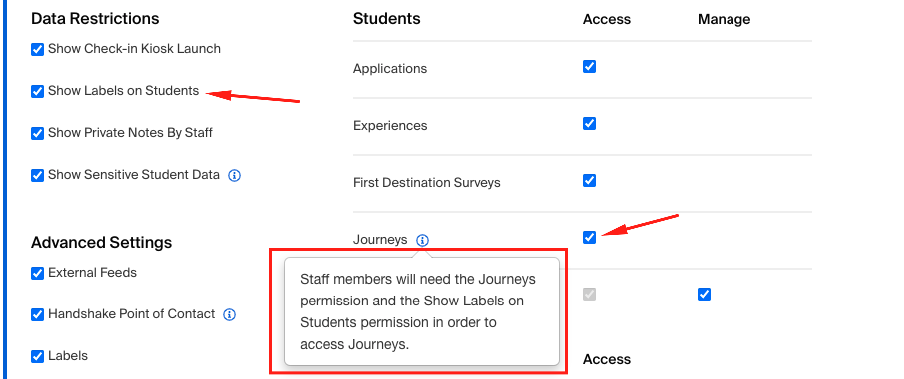 The Journeys option will then be available in the Students menu.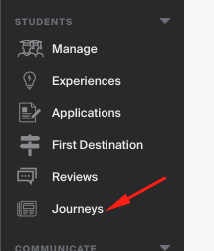 Creating a Journey
To create a new Journey, navigate to the Journeys page from the left hand navigation bar and click the blue button Create Journey.

There are four steps involved in creating a Journey:
Basic Info - add a Journey Name, description and image.
Note: When uploading images, we recommend ensuring that you use a high quality image that fits the 400 x 400 pixel recommendation. We advise against using rectangular/landscape aspect ratios as the image space is optimised for a square orientation.
Qualifications - add qualifications so only relevant students will see the Journey.
Goals - add specific goals for the Journey. A student will need to complete all goals within a Journey for a Journey to be fully complete. Refer to Journeys - Goal Creation and Management article for more information on Goals.
Review & Publish - check your settings and publish the Journey.
At any point during the creation of a Journey, progress can be saved by clicking the grey Save button in the upper right corner. The Journey is also automatically saved every time a CS user clicks the blue Next button within each stage. This is indicated by a green tick next to the text Autosave.
Managing existing Journeys
From the Journeys page, Careers Services users with the relevant permissions have the option to see Published, Archived and Draft Journeys by using the tabs at the top of the screen.

To see further information on any Journey, click on the relevant row. You'll then be able to see information on the students undertaking the specific Journey. To instead navigate directly to the Journey setup screen, click the blue pencil icon on the right side of the page.

Careers Services users can edit certain goal information after a Journey has been published. Goal name, description, and resource buttons are now editable even after goal is published. In addition, the order of Goals can also be adjusted. Refer to Journeys - Goal Creation and Management for more information.
Careers Services users can also edit a student's Journey, and complete goals on their behalf.
Monitoring student progress
To view which students are undertaking a Journey, simply select that Journey from the main Journey screen. Once selected, you can then click on any individual student to see their progress, or use the filter options on the left side to select and send an email to the relevant students - for example, those noted as being in the In Progress status.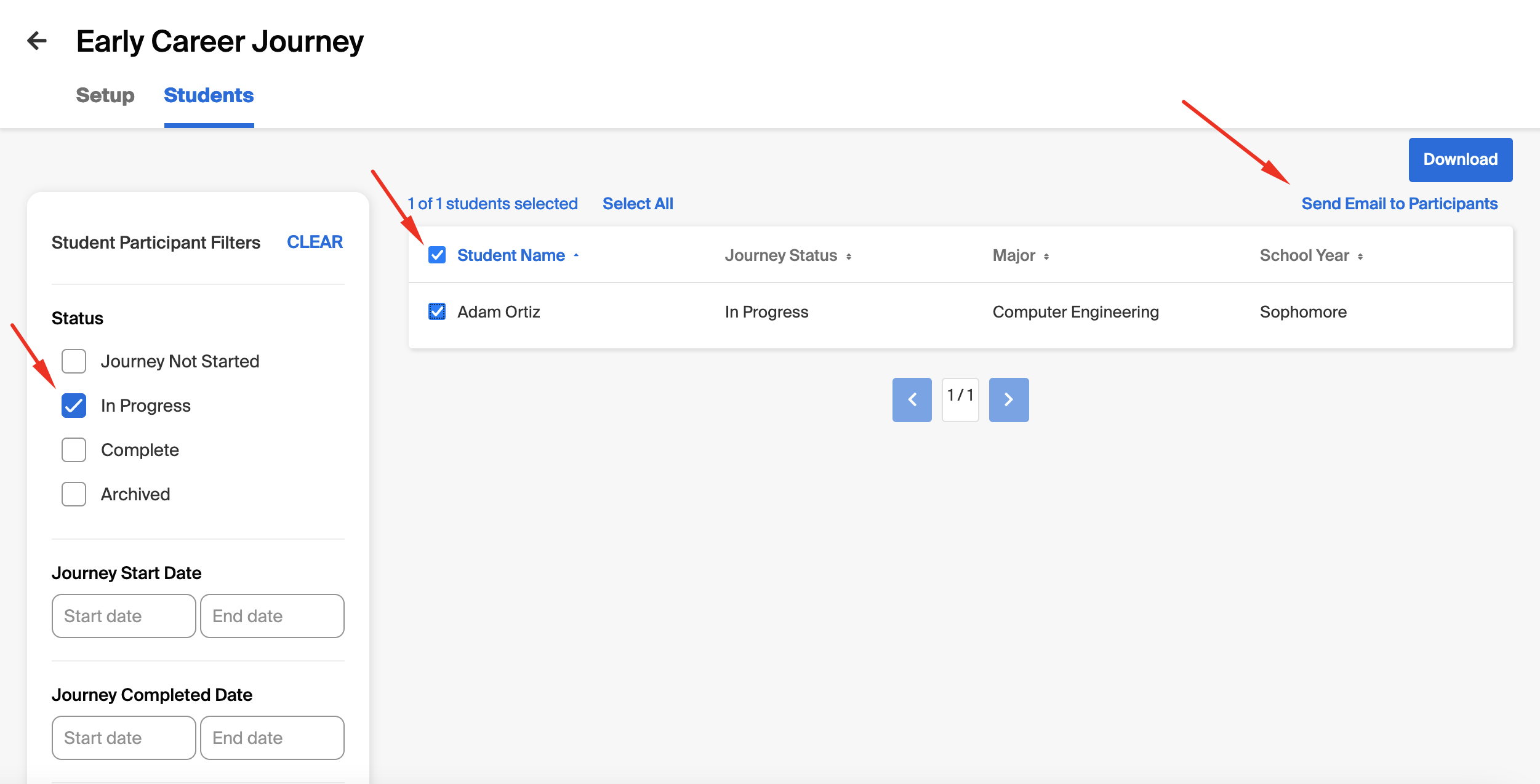 Please read Journeys - Monitoring Progress and Reporting for further information.