Journeys is a Handshake feature, initially for users in the UK only, that was implemented in the summer of 2021. Journeys allow career centres to organise actions for students to complete. Students can explore these activities and see a sense of progress as they move through the process.
This will allow Career Services (CS) users to track and support students' career readiness in Handshake, and students will have institution-backed incentives to further engage with employers, students, and career services teams.
How can I access Journeys?
In order to be able to view and set up Journeys, a CS user will need to have both the 'Journeys' and 'Show Labels on Students' settings enabled in their permissions: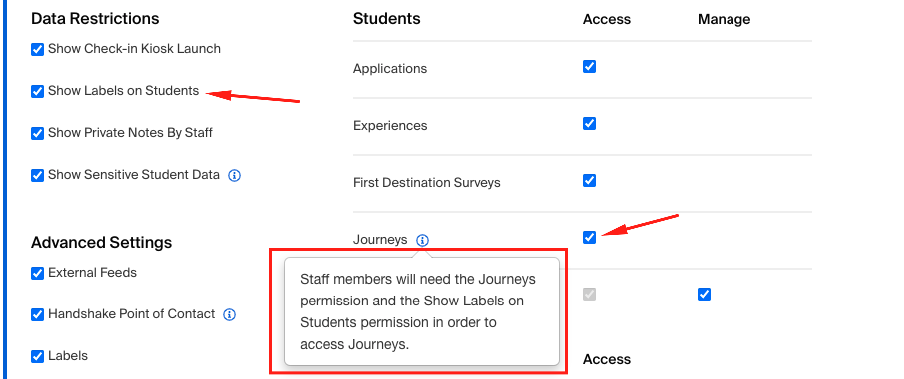 The Journeys option will then be available in the Students menu: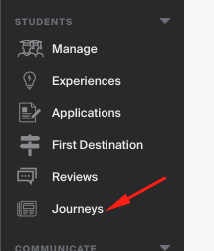 How do I create a Journey?
To create a new Journey, go to the Journey section and click on Create Journey:

There are four sections involved in creating a Journey:
Basic Info - add a Journey Name and description.
Qualifications - add qualifications so only relevant students will see the Journey.
Goals - add specific goals for the specific Journey (a student will need to complete all goals within a Journey for a Journey to be fully complete). Please see the Journeys - Goal Creation and Management article for much more information on Goals.
Review & Publish - check your settings and publish the Journey.
How do I manage existing Journeys?
From the Journeys page, CS users with the relevant permissions have the option to see Published and Draft Journeys by using the appropriate tab:

(as a CS user is creating a Journey, they can click 'Save as Draft' at any point - the Journey is also automatically saved every time a CS user clicks 'Next' within each stage).
(Journey goals will appear to students in the order in which they were originally created. However, in order for this to work as expected, all goals and their criteria should be created at once in the intended order. Therefore, we recommend users carefully map out their goals in advance before creating them in Handshake).
To see further information on any Journey, just click on the relevant row. You'll then be able to see information on the students undertaking the specific Journey (you can go directly to the settings for that Journey by using the small pencil icon):

Note that CS users can change qualifications for a Journey.
CS users can edit certain goal information after a Journey has been published. Goal name, description, and resource buttons are now edit-able even after goal is published
Note that CS users can edit a student's Journey, and complete goals on their behalf.
How can I check on Student Progress?
To view which students are undertaking any Journey, simply select that Journey from the main Journey screen. Once you've done so, you can then click on any individual student to see their progress, or use the various options to filter your list and send an email to the relevant students - for example, those noted as 'In Progress':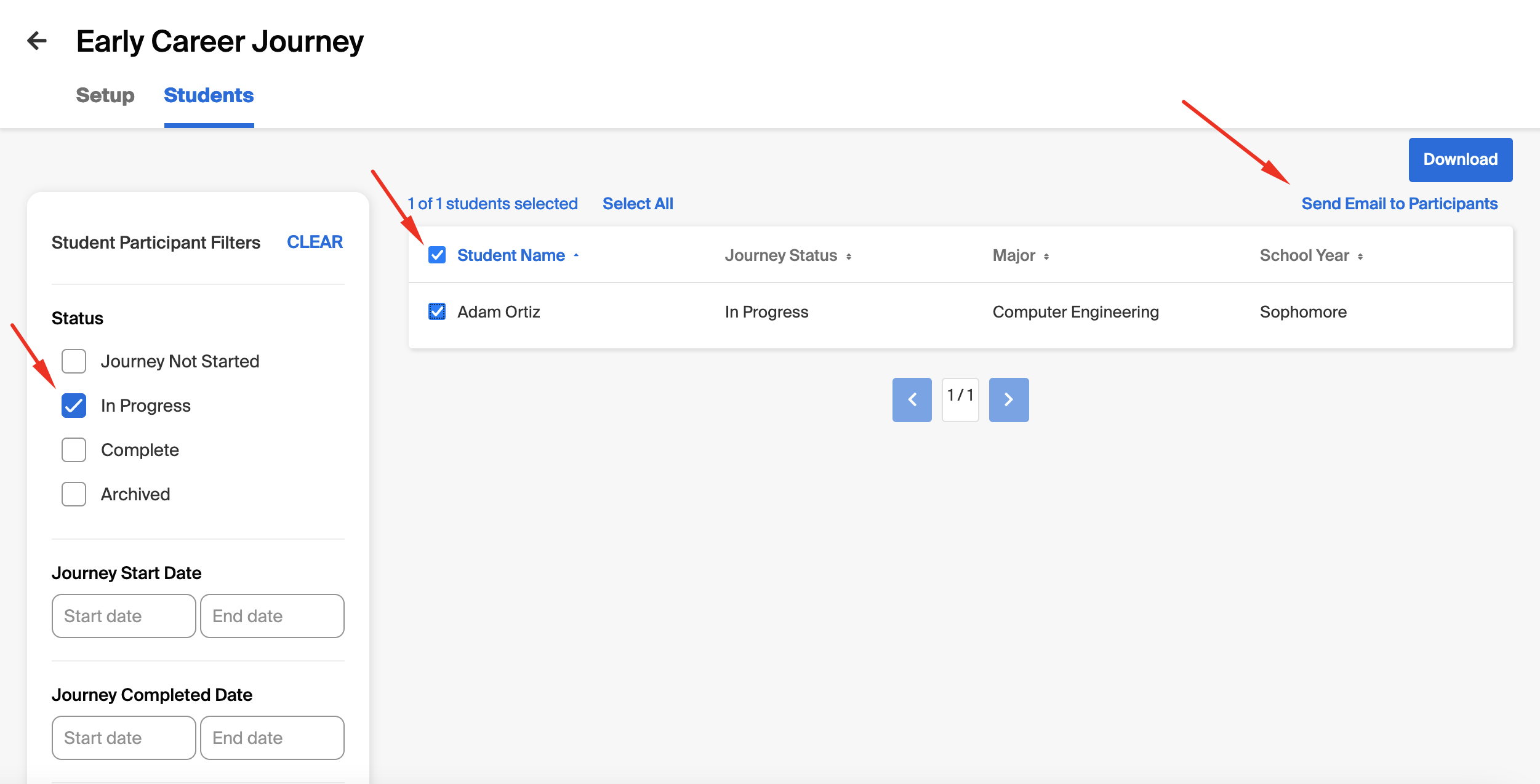 Please see the Journeys - Monitoring Progress and Reporting article for more information on this area.