Journeys is a Handshake feature, initially for users in the UK only, that was implemented in the summer of 2021. Journeys allow career centres to organise actions for students to complete. Students are able to explore and progress through these activities as they move through the process.
For more information on Journeys, please refer to Journeys - An Overview.
Journeys consist of Goals that include key components for tracking student activity. Students will need to complete all Goals within a Journey for a Journey to be fully complete.
What Goals are available?
Please refer to the relevant sections below for more details on available Goals, but the categories are as follows:
Any combination of Goals can be added to a Journey, and not all Goals need to be included.
Please note that CS users can add multiple versions of these Goal types (with the exception of the Handshake Profile Basics type).
Please note: Journey Goals will appear to students in the order in which they were originally created. Please refer to Goal Ordering to learn how to reorder Goals within a Journey.
How do I add Goals to a Journey?
Goals are added when the Journey is created, as below: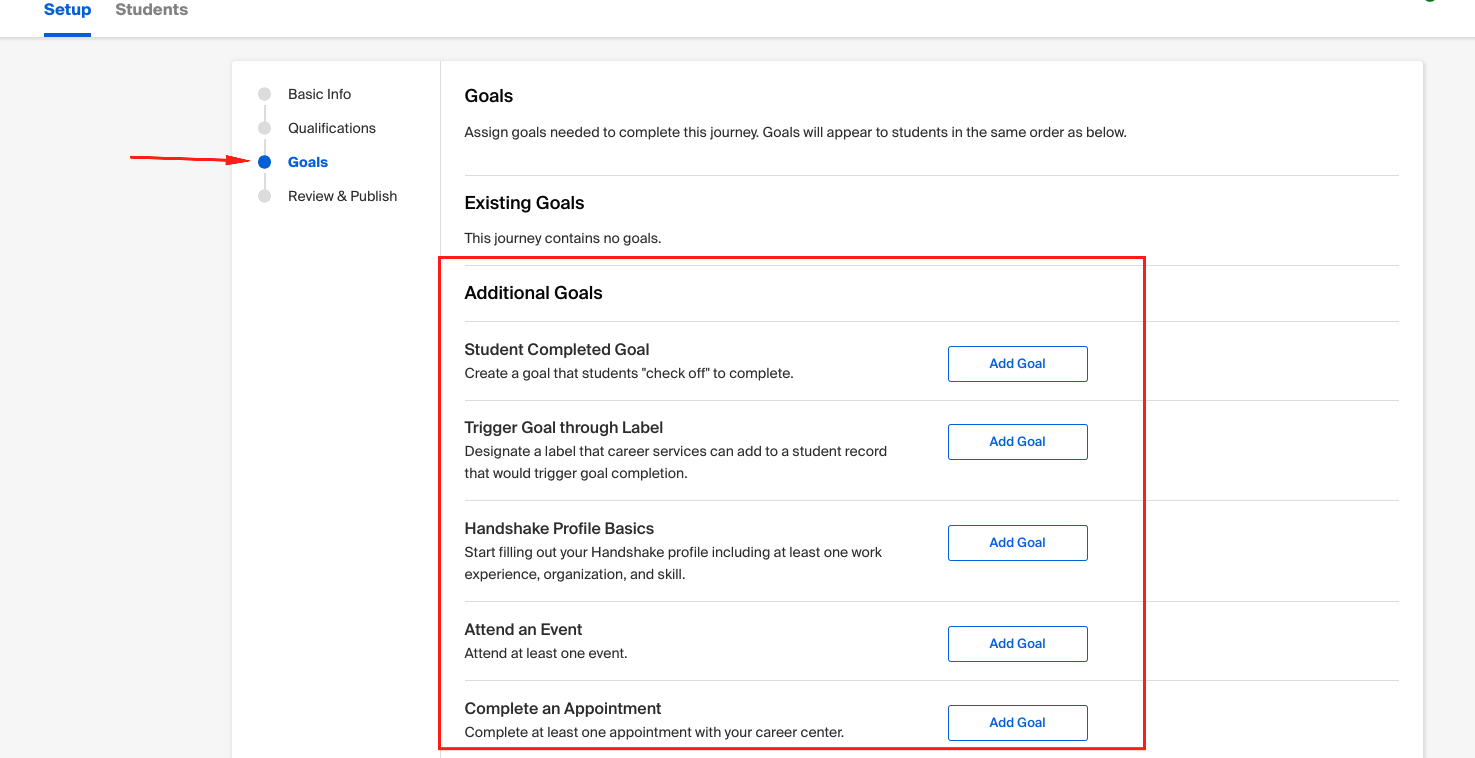 (CS users can edit certain Goal information after a Journey has been published. Goal name, description, and resource buttons are now editable even after the Goal is published)
To add an additional Goal, simply click on the blue button Add Goal. Once you've done so, you'll be invited to enter some additional information. Where appropriate, you'll also be able to add a relevant URL, resource link and links to the relevant sections in Handshake.
After a Goal has been added, users can click the Customise button next to the customisable Goals to change the criteria.
Users can also click a Remove Goal button next to any Goal to remove it from the Journey.

(note that Goals will appear in the order of most recently added at the top of the list).
Once all Goals have been set, you can move to the Review & Publish section of the setup.
Please note that Students will still have access to resource buttons even after a goal is completed.
What are the types of Goals?
Note: All Goals will be marked as complete even if the student completed the Goal before they started the Journey
Student Completed Goal
This Goal type is customisable and is designed for Goals that students will complete by clicking Mark as Complete next to the Goal

To set up this Goal type, just enter the name and a description

Optionally, you can also add a link to a Resource
Trigger Goal through Label
This Goal is completed when the relevant label is added to the student's profile in Handshake

Users can add a label directly to a student account or import a label on student accounts. Either approach will result in completing a label triggered goal.

Labels can also be added in bulk on the Manage Students page.
Labels can also be added via the survey completion method (for more information, refer to About Survey Completion Labels)

To set up this Goal type, just enter the name, a description, and the relevant label details

Optionally, you can also add a link to a Resource
Handshake Profile Basics
This Goal is not customisable. Students will need to fill out at least one work experience, one organisation, and one skill on their profile for this goal to be marked as complete

A user can only add this goal once

A resource button will appear for the student directing them to their Handshake profile
Attend an Event
In order to complete this Goal, students will have to have checked in to event(s) that meet the criteria of the Goal

To set up this Goal type, just enter the name, description, and the number of events required (refer to the screenshot below)

Optionally, you can also add labels on the relevant events (so only events with the matching label count towards the total).

Note:

All labels used are

Public labels. To learn more about using labels in Handshake, please see Institution Settings: Labels


Students will be directed towards specific events with these labels when clicking the blue button Go to Events. Students will only see events relevant to the specific Goal.

Example: The Goal requires students to attend three (3) workshops. The Goal label "workshop" would be applied to the Goal and to the relevant Events. Students would then be directed to a list of the labelled events. The students will need to check-in to the events to complete the Goal.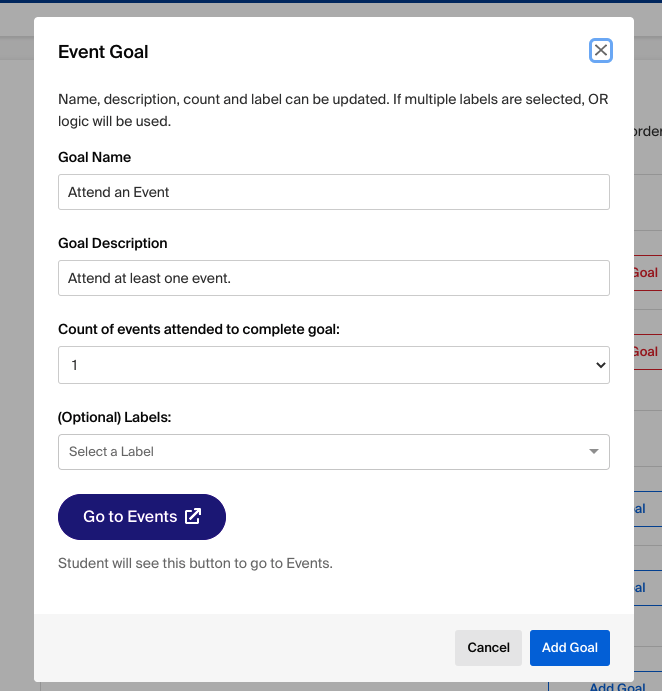 Complete an Appointment
In order to complete this Goal, the appointment will have to be completed by the career services user

To set up this Goal type, just enter the name, description, and the number of appointments required

Optionally, you can also add appointment types (so only the relevant appointment types count towards the total)
The ordering of Goals within a Journey can be changed by clicking and dragging the desired Goal up or down, depending on your preference. The order chosen here will be retained across all aspects of the platform, both on the Career Services side as well as the Student side. Goals can also be reordered in draft Journeys as well as published Journeys.