Follow the instructions below to create and send a new Targeted Email. For an overview of the Targeted Email tool and resources, checkout An Overview of Using Targeted Emails.
1. Click Emails from the left navigation bar, then click Create Email in the upper-right corner of the page.
2. Enter an Email Name. This name is not visible to recipients, but it will be visible to other Career Services users.
3. Choose a Layout, a Previous Email or a Handshake Template, then click Next. You'll be able to customise this email in the next step.
Layouts contain placeholders for your own content, with all basic building blocks pre-formatted–allowing you to "fill in the blanks".
Previous Emails allow you to copy email content from emails either previously sent or drafted.
Handshake Templates are ready-to-use content branded for you. Check out our gallery of Handshake Templates.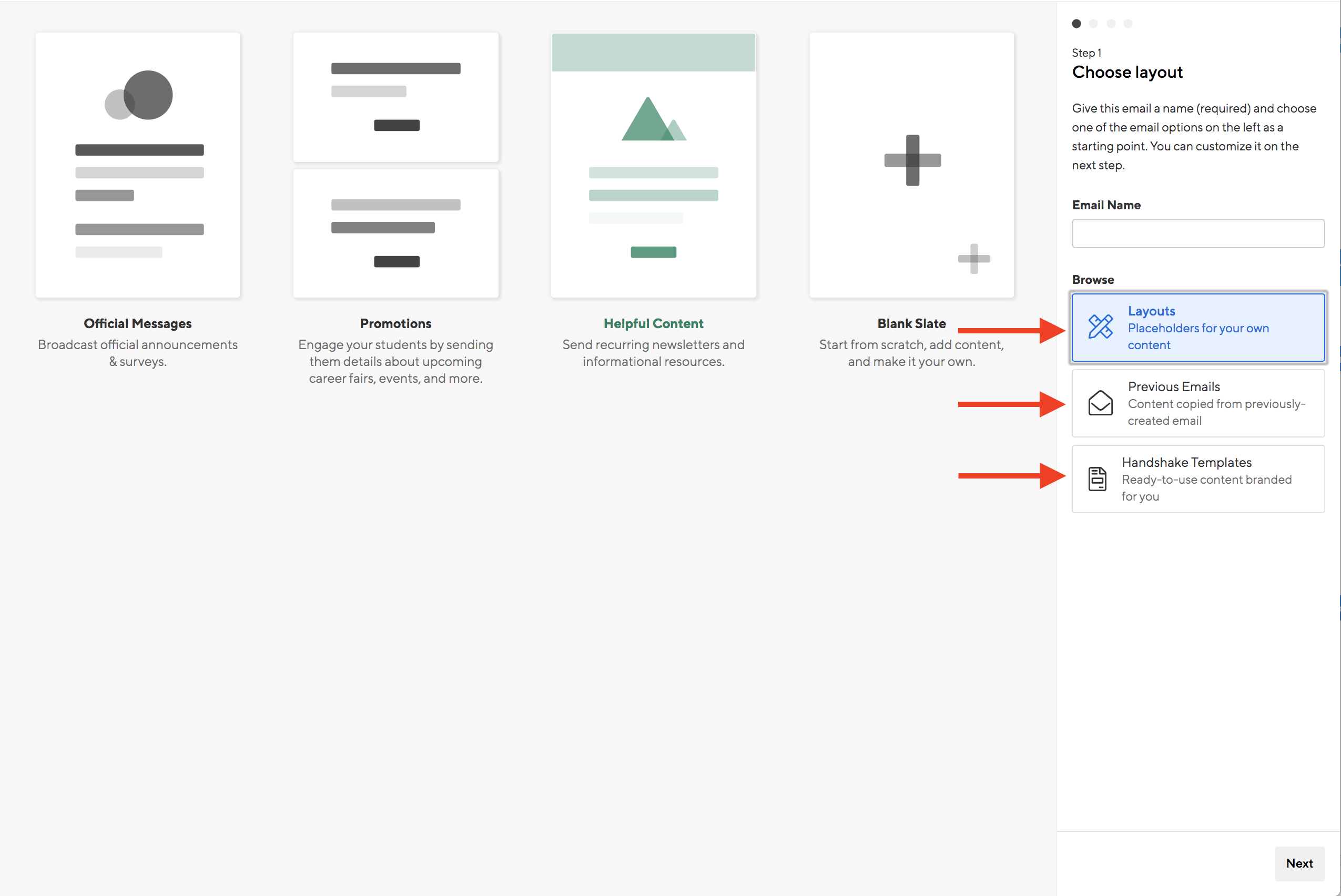 4. Edit the content of the email.
New feature highlight! You can rearrange email content sections via drag and drop.

To rearrange email content, hover your mouse pointer over the specific section until the section highlights with a light pink dotted line border, as shown in the example below - note the dotted pink line around the Call to Action button.
Click and hold on the section, then drag it up or down as desired. Release the section to place it.
The different content elements are included below. After customising the message, you can use Send Test Email in the upper-right corner of the email editor to send yourself a test email to preview.
New in May 2022! Our EDU Product Team has updated the UI for Handshake Content to improve functionality and provide a better user experience!
Primary Colour: this will set the button and Handshake Content icon colour in your email

Tip: use your institution hex code here to create consistency!

Basic Content

Text: use the text to add verbiage to the email

Tip: add mail merge fields to the email to make it personal, via the Insert variable drop-down. Preferred Name will use a student's preferred name or first name if they don't have a preferred name set:

Heading: enter Header Text for the top of the email or a section. You can adjust Size (Primary/Secondary) and Alignment (Left/Centre) as well.
Image: drag and drop a photo or choose an image to upload. Add alt-text below the upload, select the photo's maximum width, and choose the image alignment.

Tip: use the cropping tool when adding a banner to change the height of the image!

Button: enter Text to display on the button, then add the desired URL.

Tip: this feature is great for surveys!

Spacer/Divider: add space between content sections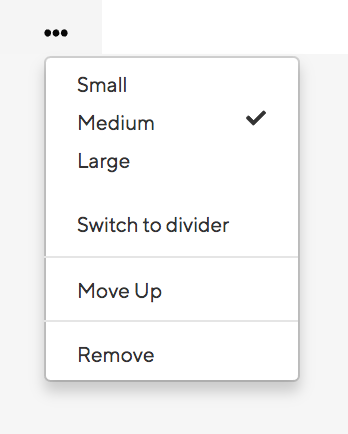 Handshake Content

Career Fair: select an approved career fair, and Handshake will add the following fields to the email:

Fair Name
Date
Location
brief highlight for employers participating

Event:

Select an approved event and Handshake will add the following event fields to the email:

Name
Date
Location
*Company name of participating employer, if applicable

Job:

Select an approved job and Handshake will add the following job details to the email:

Title
Employer name
Job Type
Employment Type
Location
Expiration Date (apply by)

Job Role: Select a job role and Handshake will add a description of the job role and a link to "Learn more" about that role in Handshake:

Attachments: Files that will be attached to the email, most file types will be accepted, but we recommend that you attach PDFs.
5. When you're ready to proceed, click Next, in the lower-right corner of the screen, then choose your student or contact recipients. At least one filter must be selected on this page, unless you've pre-selected recipients from another page in Handshake.
Note: In order to avoid any email send delays, we recommend to keep messaging targeted and scope email recipients to 10,000 recipients or fewer.
Example of selecting student recipients: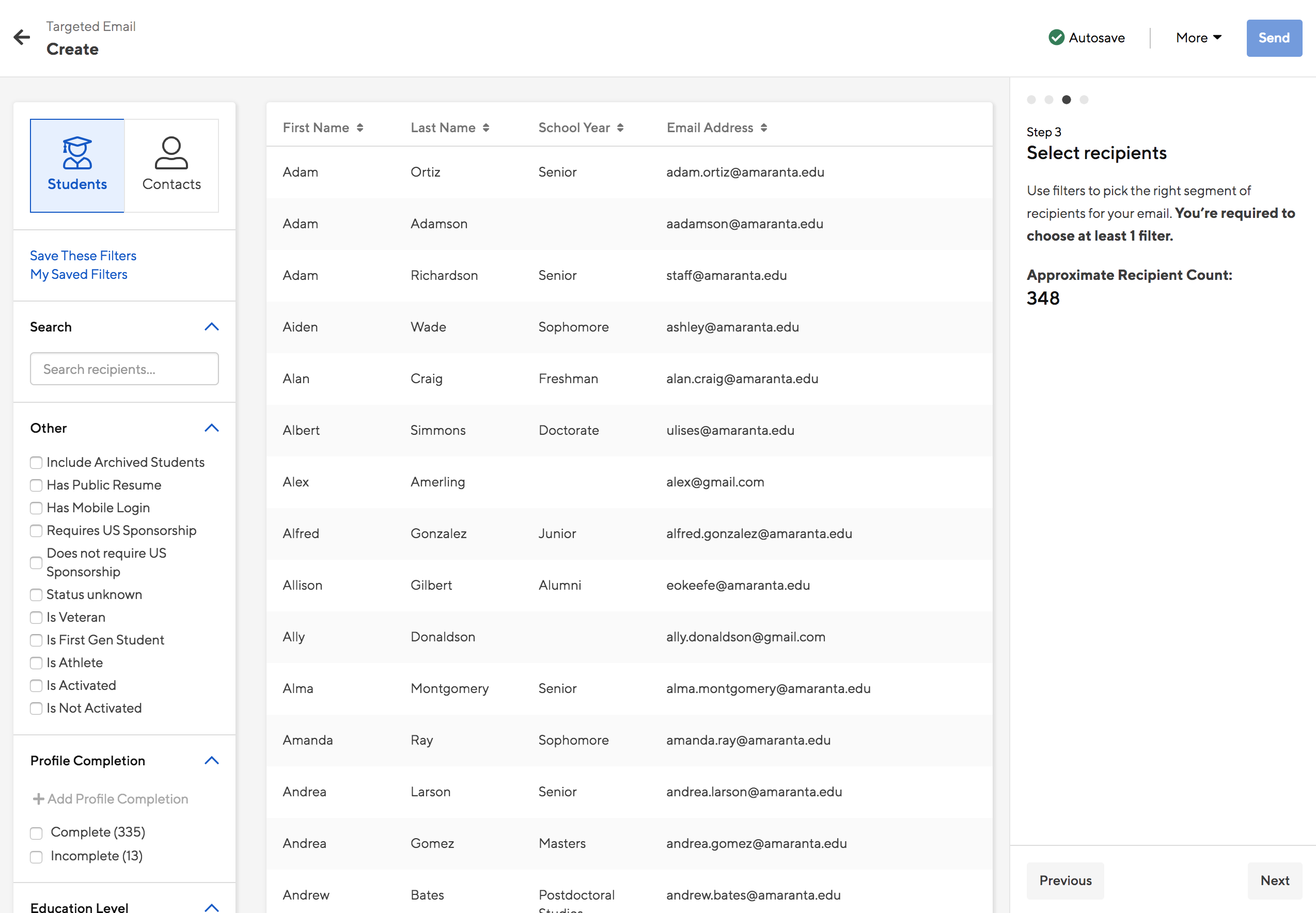 Example of selecting contact recipients: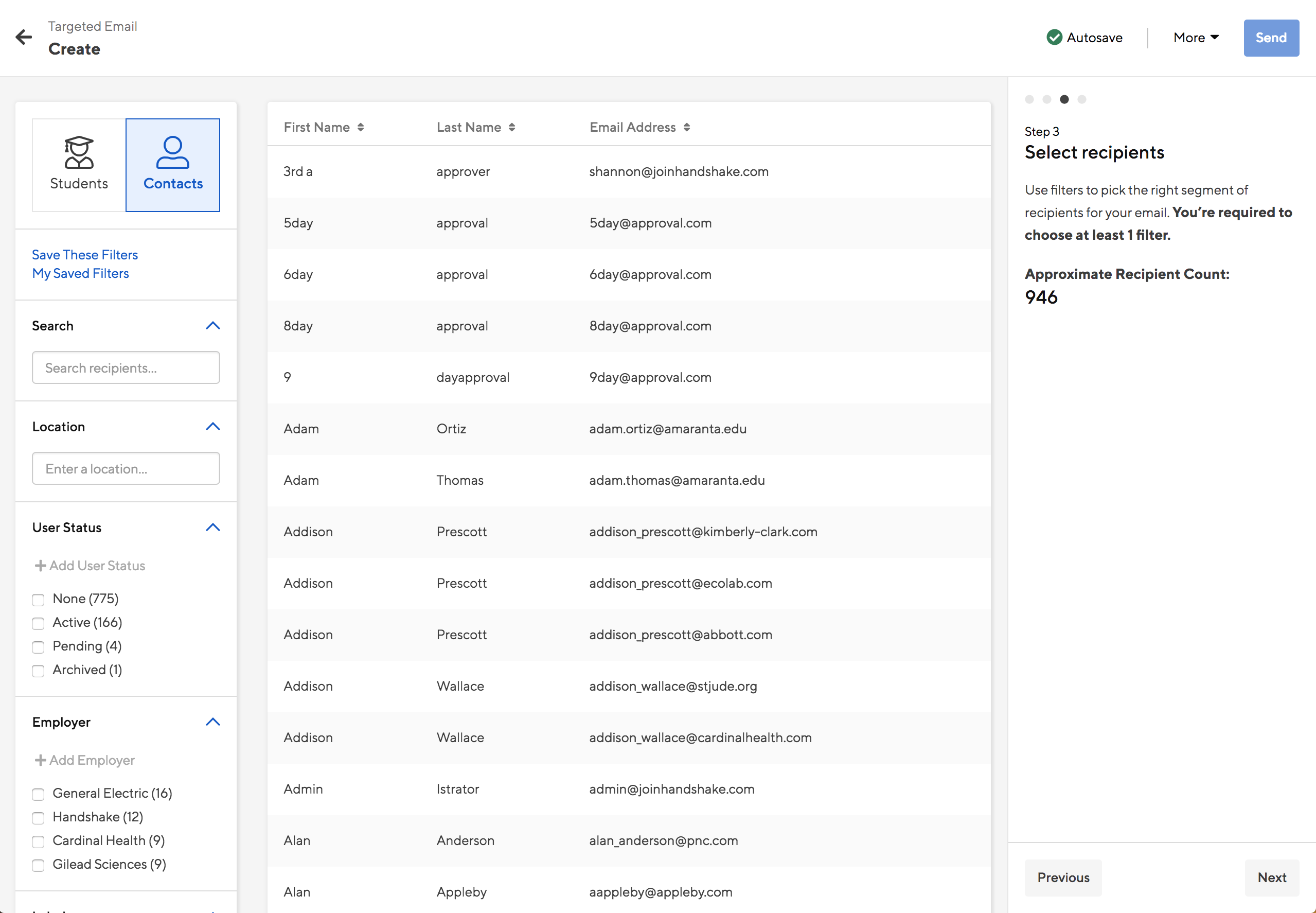 5. Click Next to proceed and finalise email details.
Subject

Tip: use students or contacts first name to increase open rates! (exact formatting required - refer to About Mail Merge Fields for more details)

Sender Name
Reply To Email
Carbon Copy Emails

Note: this will only send one copy of the email to CCs listed.

Campaign Name
Send Now or Send Later

If you choose to send later, select a date and time to send the email.

Note: unless your recipients are pre-selected based on email address (i.e. the email is created via Contacts or Manage Students), recipients will be identified at the time the email is scheduled to be sent. For example, if you select recipients based on Course, on the scheduled send date/time, the recipients are identified based on the Course selected on their profile at that date/time (which may differ from when the email was originally created).
6. Click Save Details to save your email draft. When you're ready to send the email, click Send (if sending now) or Schedule for DATE (if sending later) to queue the email.
Once the email sends, you can review the campaign's Performance Details.