Manage the Appointment Mediums your institution accepts in the Appointment Mediums section of Institution Settings. These are generally specific to your institution, save for the Virtual on Handshake option. Read more about Virtual Appointments on Handshake.
Click your name in the upper-right corner of Handshake, click Institution Settings, then click Appointment Mediums from the menu on the left of the page.
On this page, you can: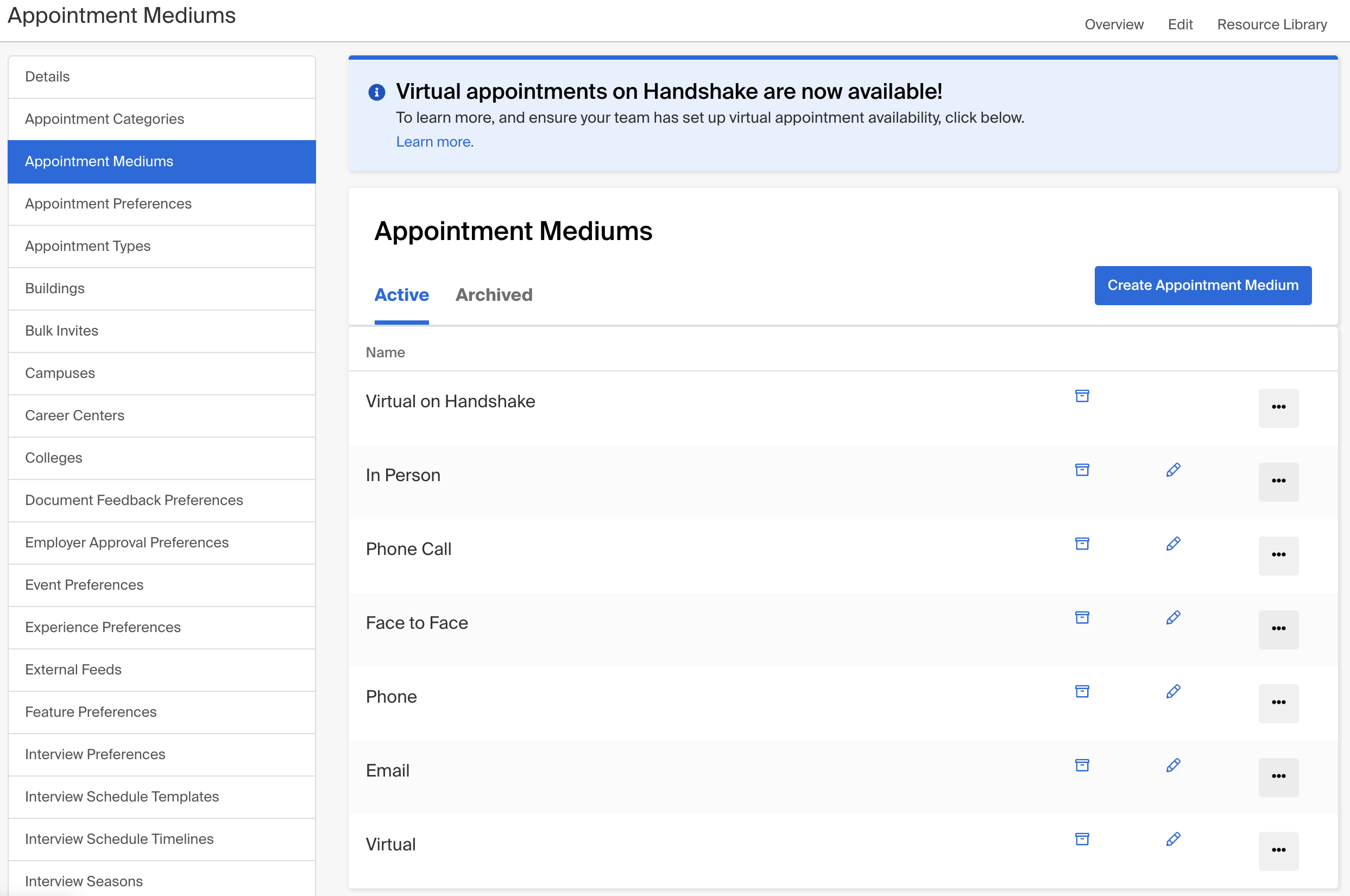 Add a medium
At the top of the page, click Create Appointment Medium.
In the popup that appears, enter the desired name for the medium. This is the name that will display to students when scheduling an appointment.
Click Save Appointment Medium to save the new medium.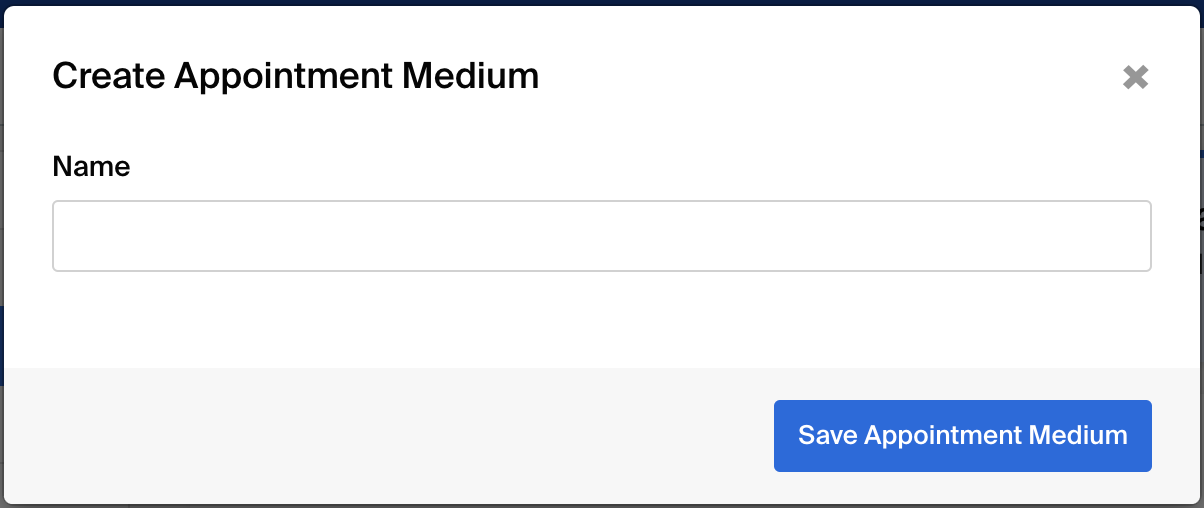 Note: If the entered name has already been used, an error will appear that says "Name has already been taken".
In order for students to select the medium, it must be in use with an "available" appointment block for at least one staff member. Read more about how to Configure Your Personal Appointment Availability (Appointment Blocks & Types).
Edit the medium name
To edit the name of the medium, click the pencil icon to the far right, next to the three dots menu.

Enter the desired name in the Name text field, then click Save Appointment Medium.
Reorder listed mediums
When students request an appointment, mediums are displayed to students in the order they appear on this page. If you'd like to change the display order, click the three dots menu to the far right, then select from:
Move Up (one row)
Move to Top
Move Down (one row)
Move to Bottom

Archive or unarchive a medium
If you'd like to archive a medium that's no longer in use, click the Archive (box) icon to the far right, next to the pencil icon.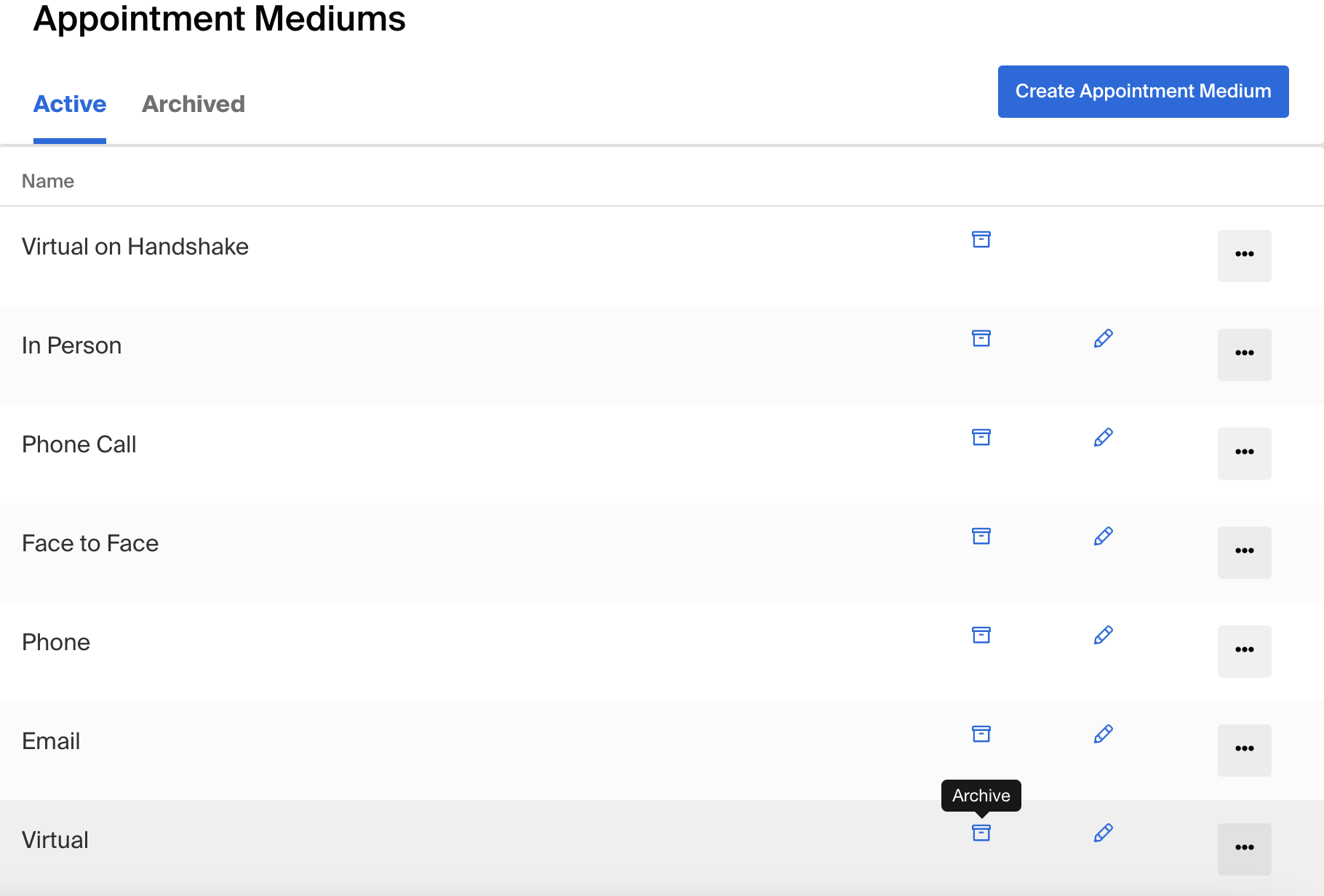 To unarchive a medium, click the Archived tab, to the right of "Active".
Click the Unarchive (box) icon to the far right for the medium you'd like to reactivate.

Delete a medium
To delete a medium, click the pencil icon to the far right, next to the three dots menu. In the popup that appears, click Delete, in the lower-left corner.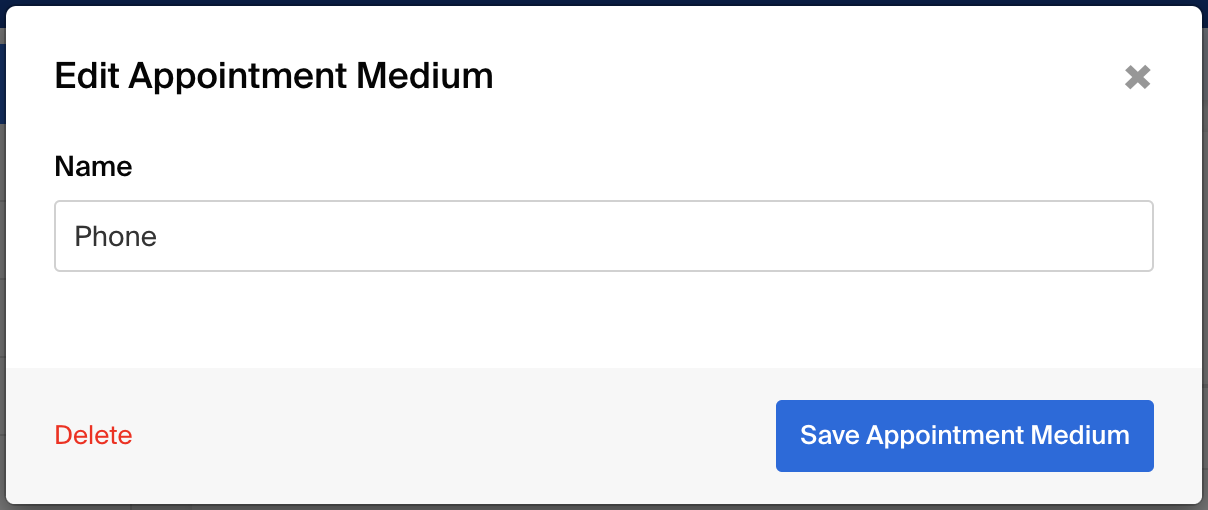 If you receive an error "Cannot delete record because dependent appointments exist", this indicates that there are appointments configured using this medium, and the medium will not be able to be deleted.
In order to delete the medium, you'll need to change the medium on existing appointments to another medium option.
Best Practice: If you'd like to leave past appointments as is, while preventing future appointments from being requested with the medium, use the Archive functionality (described above) instead!