Scheduled virtual appointments can now be conducted with integrated video on Handshake (that you'll recognise from virtual fairs). This free integration provides a seamless experience for Career Services and students, while eliminating extra steps like setting up dedicated Appointment Mediums, using external links for video, and navigating virtual appointment check-ins.
Note: Virtual appointments on Handshake will be free for all career-related advising. If you want to use virtual appointments for non-career related advising, please reach out to your relationship manager.
Activate the "Virtual on Handshake" Appointment Medium
To get started, navigate to your Institution Settings, then click Appointment Mediums from the left menu column. At the top of the page is a blue banner notifying users of this feature (and a link to this article!) - click Add "Virtual on Handshake" to add this option to your list of mediums.
Note: because this is a Handshake provided medium, the name cannot be changed.

Please note that this screenshot is taken from our US site and there may be some differences in language from the UK platform.
Once Virtual on Handshake is activated, you'll be able to add this medium to existing Appointment Blocks. When creating a new Appointment Block, this medium is included by default. For more information on managing your blocks, refer to Configure Your Personal Appointment Availability.
Hosting a Virtual Appointment
When a student requests an appointment with "Virtual on Handshake" as the medium, Career Services users will be able to identify this under the "Medium" section on the appointment overview page.
Once the appointment is approved, both the student and the Career Services user will have the "Start Video Appointment" button displayed on the Appointments page.
Note: This button will become active five minutes prior to the start time of the appointment.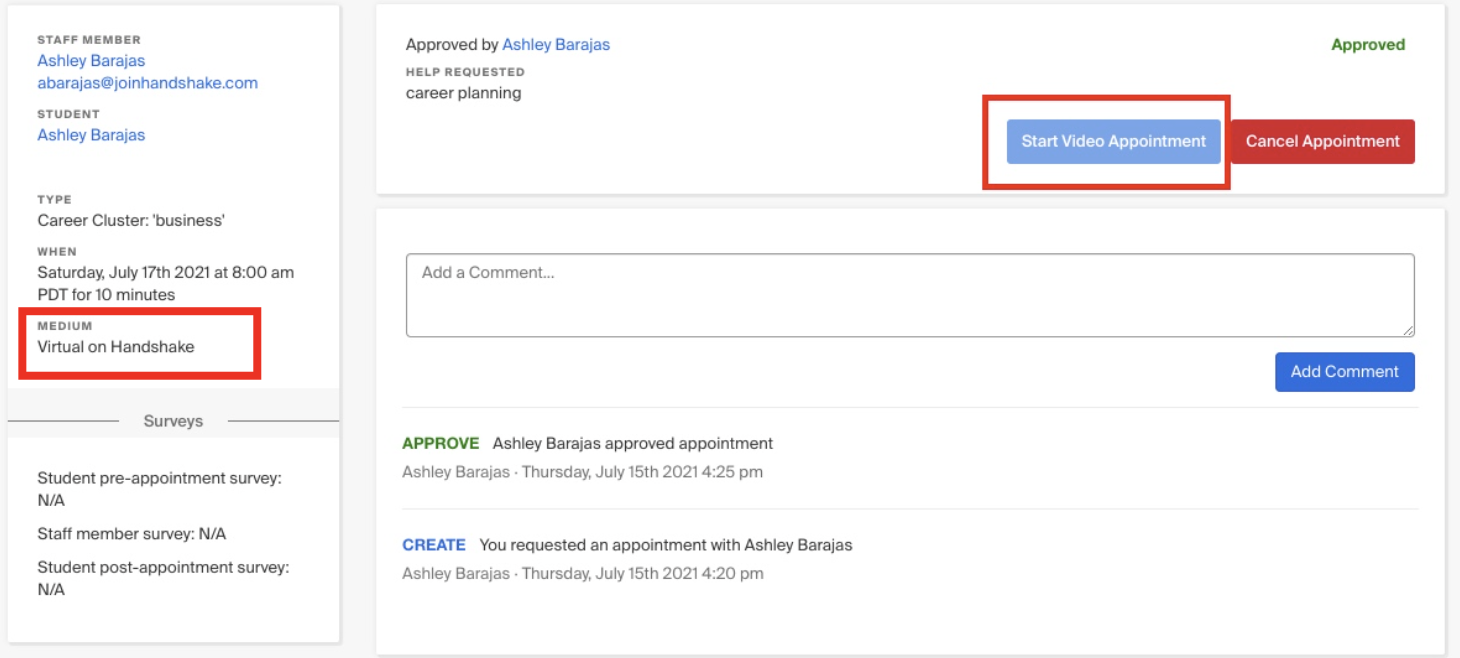 Please note that this screenshot is taken from our US site and there may be some differences in language from the UK platform.
Use the round buttons at the bottom of the screen to enable/disable audio, video, and screen-sharing. Make sure the video, sound, and screen-share work for you and the student.
For more information on using Handshake's integrated video, refer to Handshake Video Requirements & Troubleshooting.
Screen sharing during a Virtual Appointment
Handshake's integrated video allows for screen-sharing by hosts and any participants granted the authority to do so.
As the host, click Settings in the lower-left corner, then choose the Participants setting option. From there, a pop-up will appear in the centre of the screen with a checkbox for "Allow participants to share their screen"–check that box.
Note: Allowing participants to screen-share must be permitted each time during an appointment.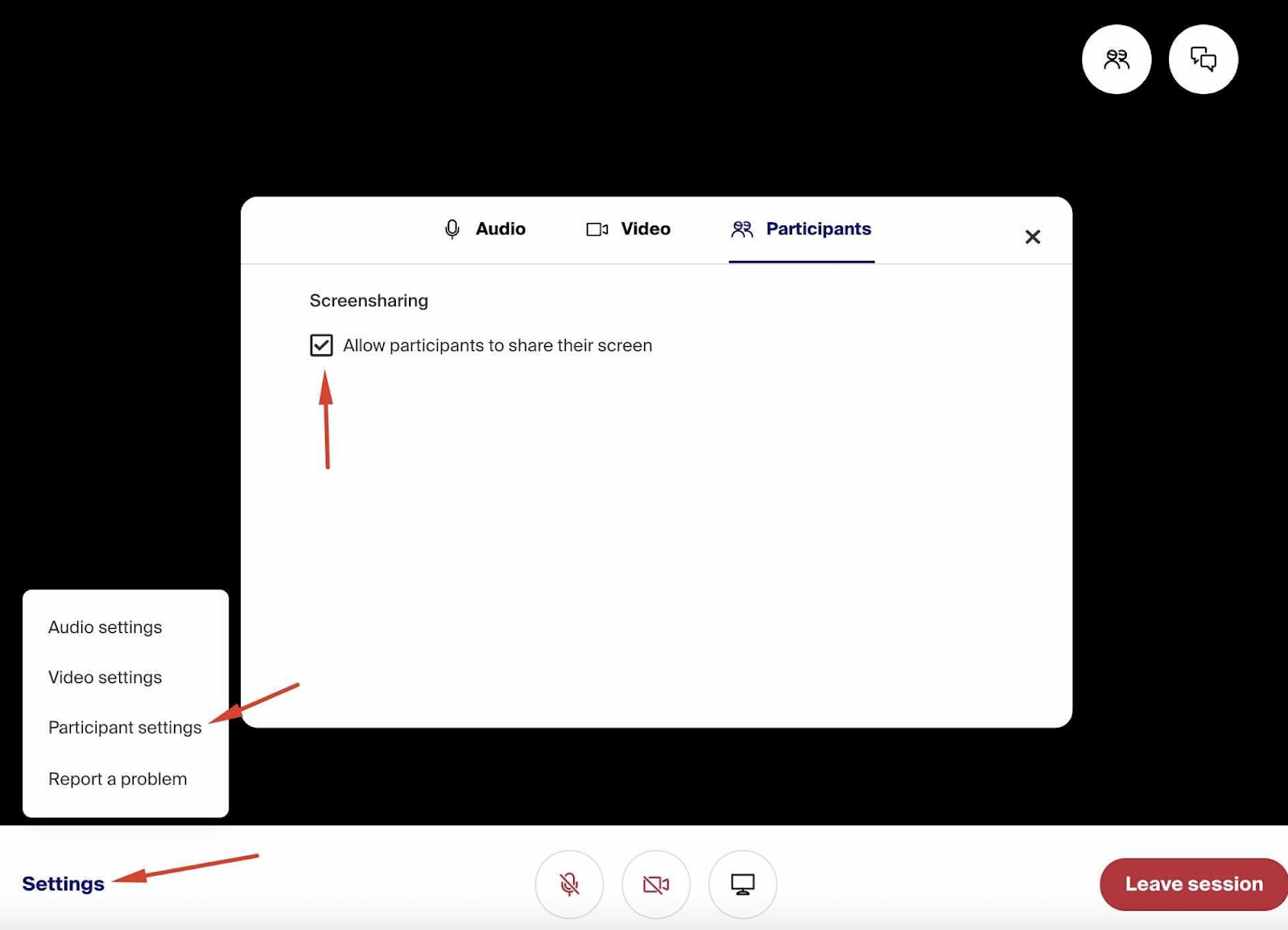 Important Considerations
For your career advisors:
Make sure to update office locations AND mediums in appointment blocks to remove other virtual links–office locations are still included in reminder emails.
Blank medium fields in appointment blocks - If career coaches have appointment blocks with blank medium fields, ALL Handshake mediums are available to students.

If a team is already offering a virtual medium and if they add the "Virtual on Handshake" medium, this may be confusing for students.

Coming soon!

Ability to archive appointment mediums - To help institution teams with cleaning up appointment medium offerings, we will soon be adding the ability to archive appointment mediums.
If you have any Appointment Types that may need to be updated, refer to Edit, Remove, or Archive an Appointment Type.
For your students:
When students schedule an appointment, the

Appointment medium

field defaults to blank–this prompts students to click the dropdown menu and discover the Virtual on Handshake medium.

Previously this field defaulted to the first listed medium.

Appointment notification emails remind the student that the appointment is virtual. An hour before the appointment, our final reminder email will include a button the student can click to log in and launch the appointment.

The Start My Appointment button will become active five minutes prior to the appointment start time.

Students will be marked as "checked in" upon clicking the link to join video for the appointment.

This will allow you to easily report on appointment attendance using our Pre-Built Reports for Appointments, just remember to filter on the appointment's medium and select "Virtual on Handshake".
Note: since students are checked-in upon joining video, QR codes are not provided for virtual appointments.

Mobile works on mobile web but currently not enabled in mobile app for the first version of this tool. We expect mobile web to be supported in the future.
Additional Resources
Handshake Video Test

can help your career advisors prepare their system settings and optimal video environment.
For the student experience: