Scheduled virtual appointments can now be conducted with integrated video on Handshake (that you'll recognise from virtual fairs). This free integration provides a seamless experience for Career Services and students, while eliminating extra steps like setting up dedicated Appointment Mediums, using external links for video, and navigating virtual appointment check-ins.
Note: Virtual appointments on Handshake are free for all career-related advising. If you want to use virtual appointments for non-career related advising, please contact your relationship manager.
Topics:
Activate the "Virtual on Handshake" Appointment Medium
To get started you may need to activate "Virtual on Handshake". Navigate to your Institution Settings, then click Appointment Mediums from the left menu column. At the top of the page is a blue banner notifying users of this feature (and a link to this article!) - click Add "Virtual on Handshake" to add this option to your list of mediums. 
Note: because this is a Handshake provided medium, the name cannot be changed.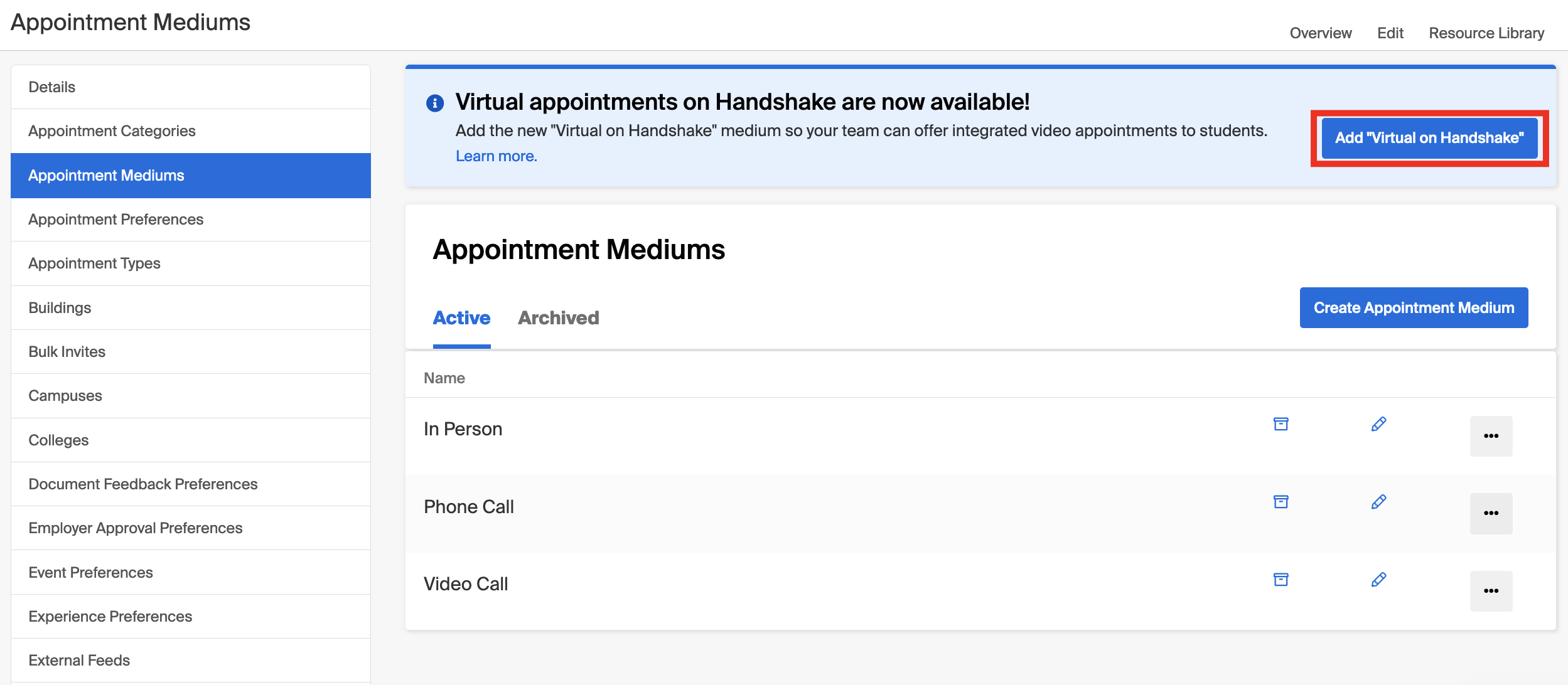 Once Virtual on Handshake is activated, you'll be able to add this medium to existing Appointment Blocks. When creating a new Appointment Block, this medium is included by default.
You may already have "Virtual on Handshake" activated for your institution. If this is the case, you will see the blue banner "Virtual appointments on Handshake are now available!"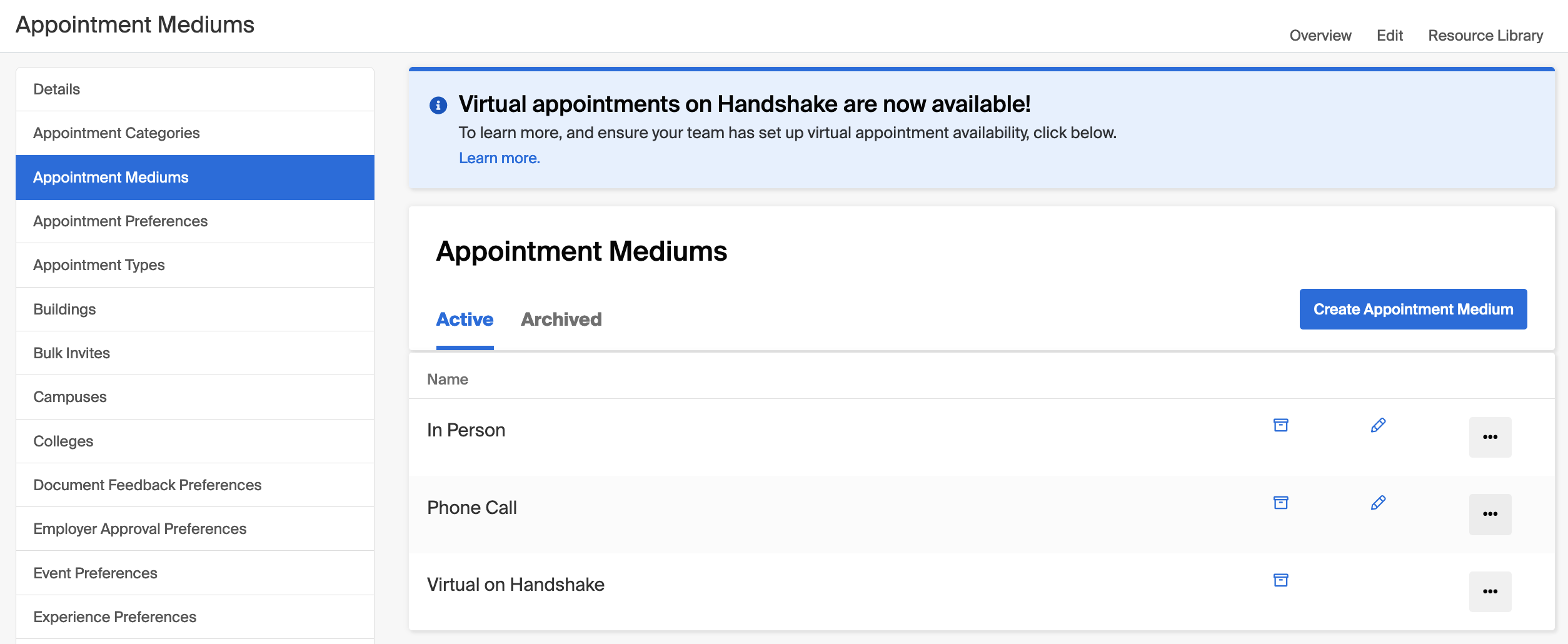 For more information on managing your blocks, refer to Configure Your Personal Appointment Availability.
Note: if you do not select a medium for your block(s), all mediums will be available to students!
Hosting a Virtual Appointment 
When a student requests an appointment with "Virtual on Handshake" as the medium, Career Services users will be able to identify this under the "Medium" section on the appointment overview page. 
Once the appointment is approved, both the student and the Career Services user will have the "Start Video Appointment" button displayed on the Appointments page. This button will become active five minutes prior to the start time of the appointment.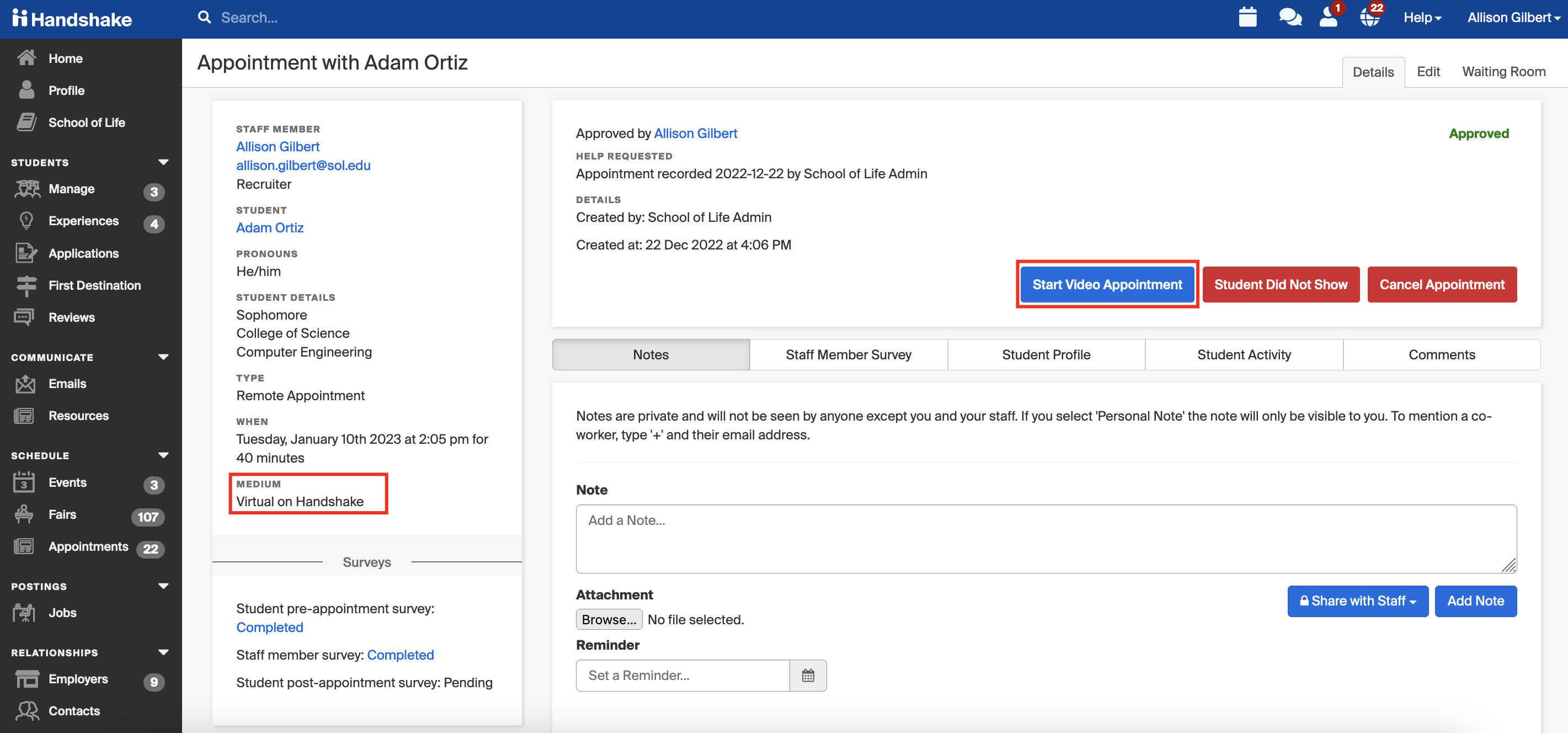 Use the round buttons at the bottom of the screen to enable/disable audio, video, and screen-sharing. Make sure the video, sound, and screen-share work for you and the student.  
Note: In Chrome, a blurred background is on by default. If you'd like to display your normal background instead, you can toggle this setting off in the upper-right corner of the video preview. 
Blurry background also works on Edge, however, Chrome is Handshake's recommendation for the smoothest experience with all of our features!
For more information on using Handshake's integrated video, refer to Handshake Video Requirements & Troubleshooting.
Note: virtual appointment recording is not supported. Our team is tracking this feedback, so if this is a feature your team needs, please submit your product feedback!
Start Video Appointment button details 
Button available for students: 5 minutes prior to scheduled appointment start time through the duration of the scheduled appointment or until the host clicks "Complete Appointment" (whichever comes first).
Button not available for students:

if the appointment is cancelled
if "Student Did Not Show" is clicked
if "Complete Appointment" is clicked 
after the appointment's scheduled end time

Button is only usable by the appointment's selected host - if a different career advisor is filling in, edit the appointment to select the appropriate career advisor. 
Screen sharing during a Virtual Appointment 
Handshake's integrated video allows for screen-sharing by hosts and any participants granted the authority to do so.
Mac system requirements for screen sharing
To share a screen or window on a Mac, you must give each specific browser or app permission.
1. Open System Preferences, then select Security & Privacy.
2. Click the lock in the lower-right corner to authenticate for changes.
3. Select the Privacy tab, select Screen Recording, then check the box for the desired browser.
If the browser is open when you change this setting, you must quit and reopen the browser for the changes to take effect.
Tip: for a smooth experience, make sure this permission is granted prior to your session start time!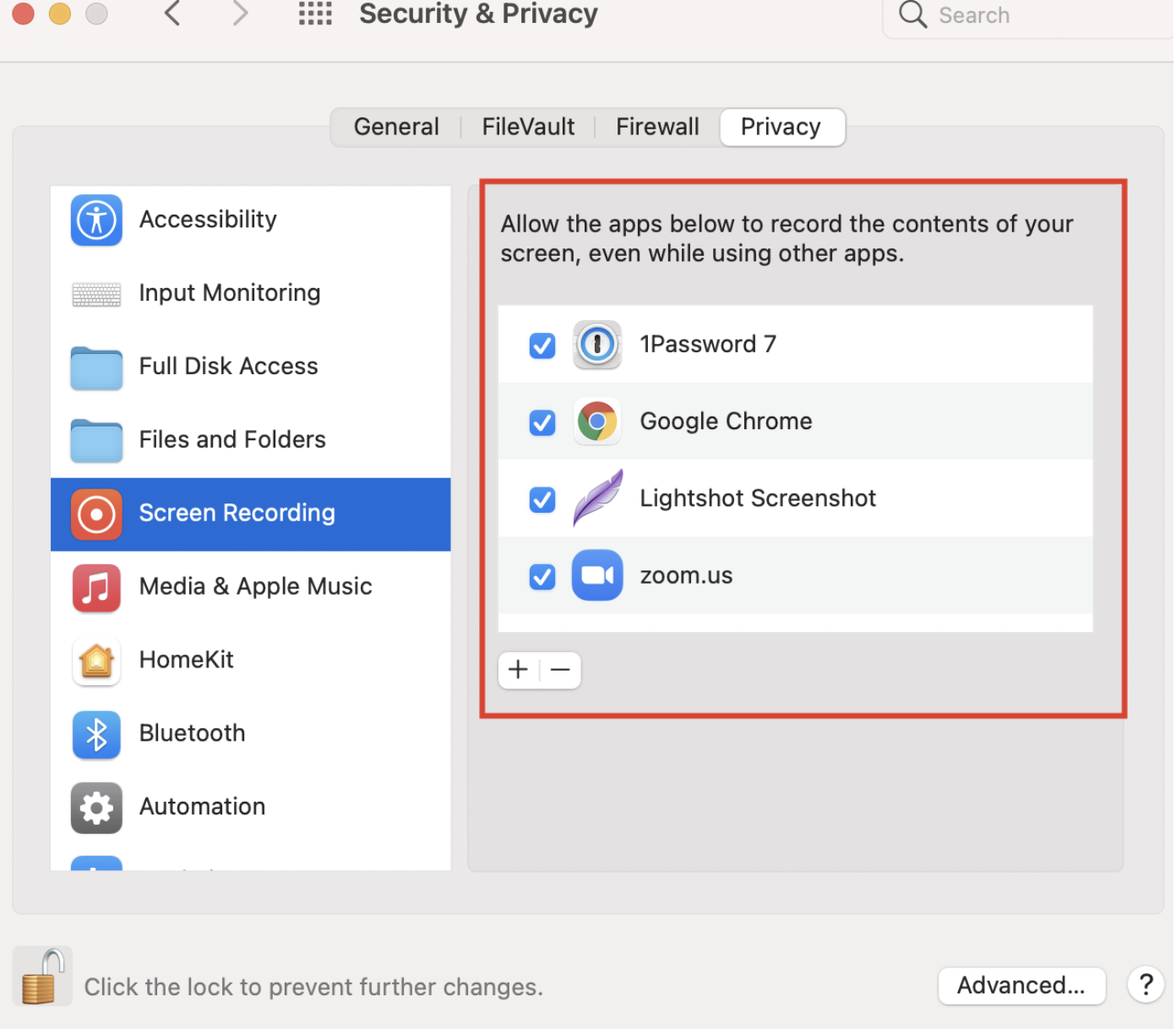 As the host, click Settings in the lower-left corner, then choose the Participants setting option. From there, a pop-up will appear in the centre of the screen with a checkbox for "Allow participants to share their screen" - check that box. 
Note: Allowing participants to screen-share must be permitted each time during an appointment.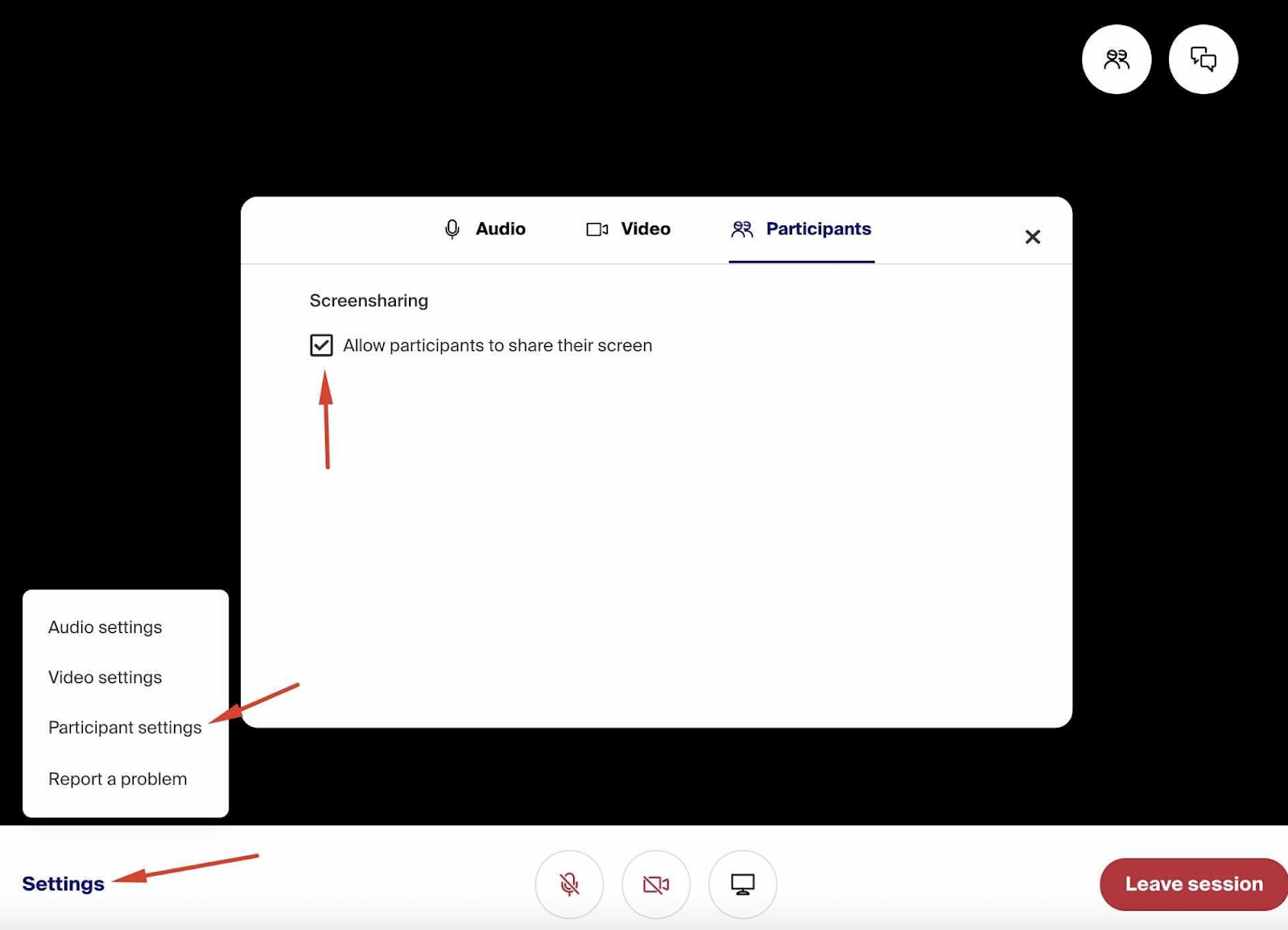 When a student shares their screen with a host, the student's video will show in the bottom-left  corner of the screen.
When a host shares their screen with a student, the host will need to open a separate window to still have access to the video.  
We recommend the window be opened on a different screen (if one is available) or resized to fit in your current screen.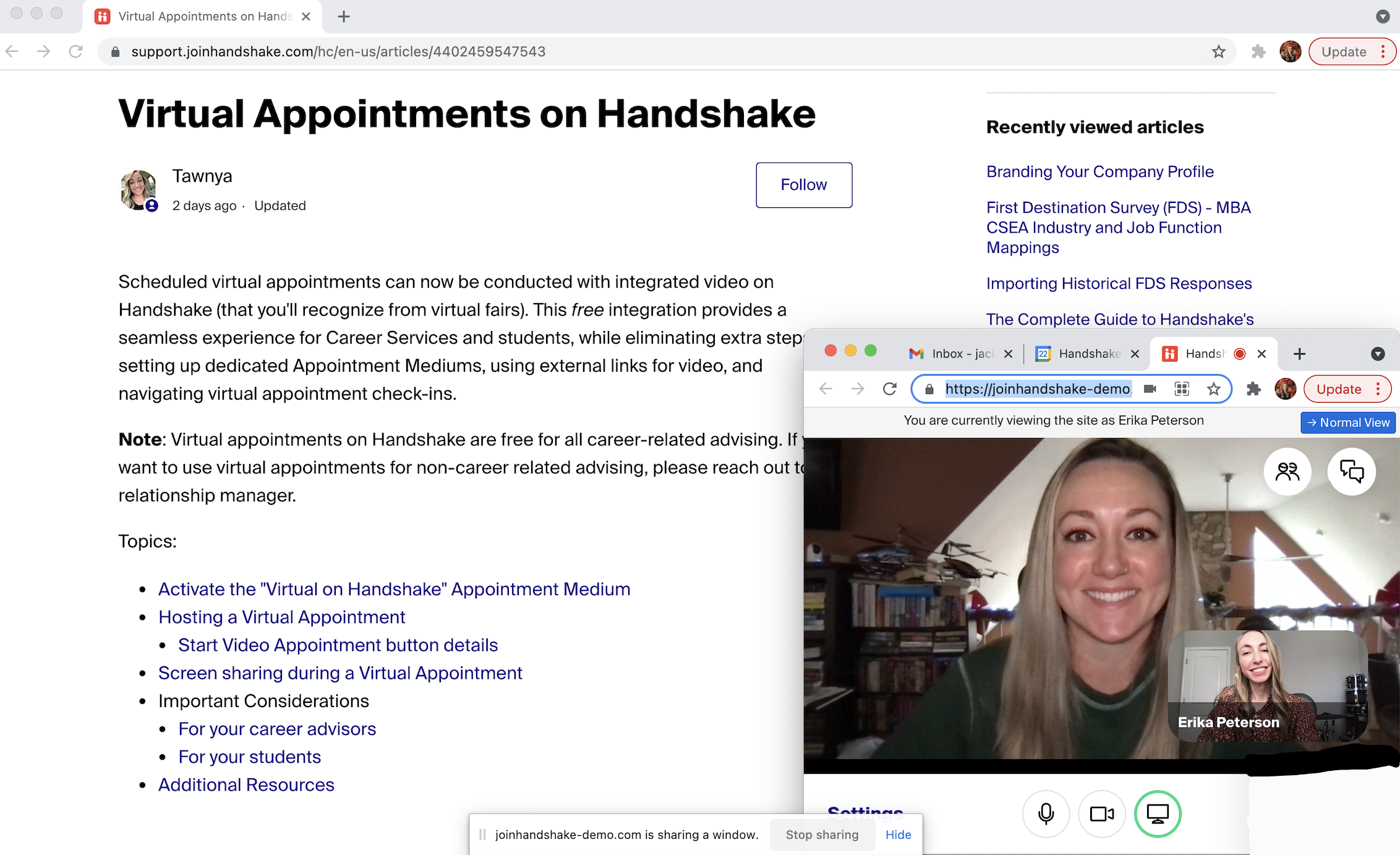 As a host, the green ring around the screen button will indicate that you are sharing your screen. If you are sharing a specific tab, a blue square will appear on that tab.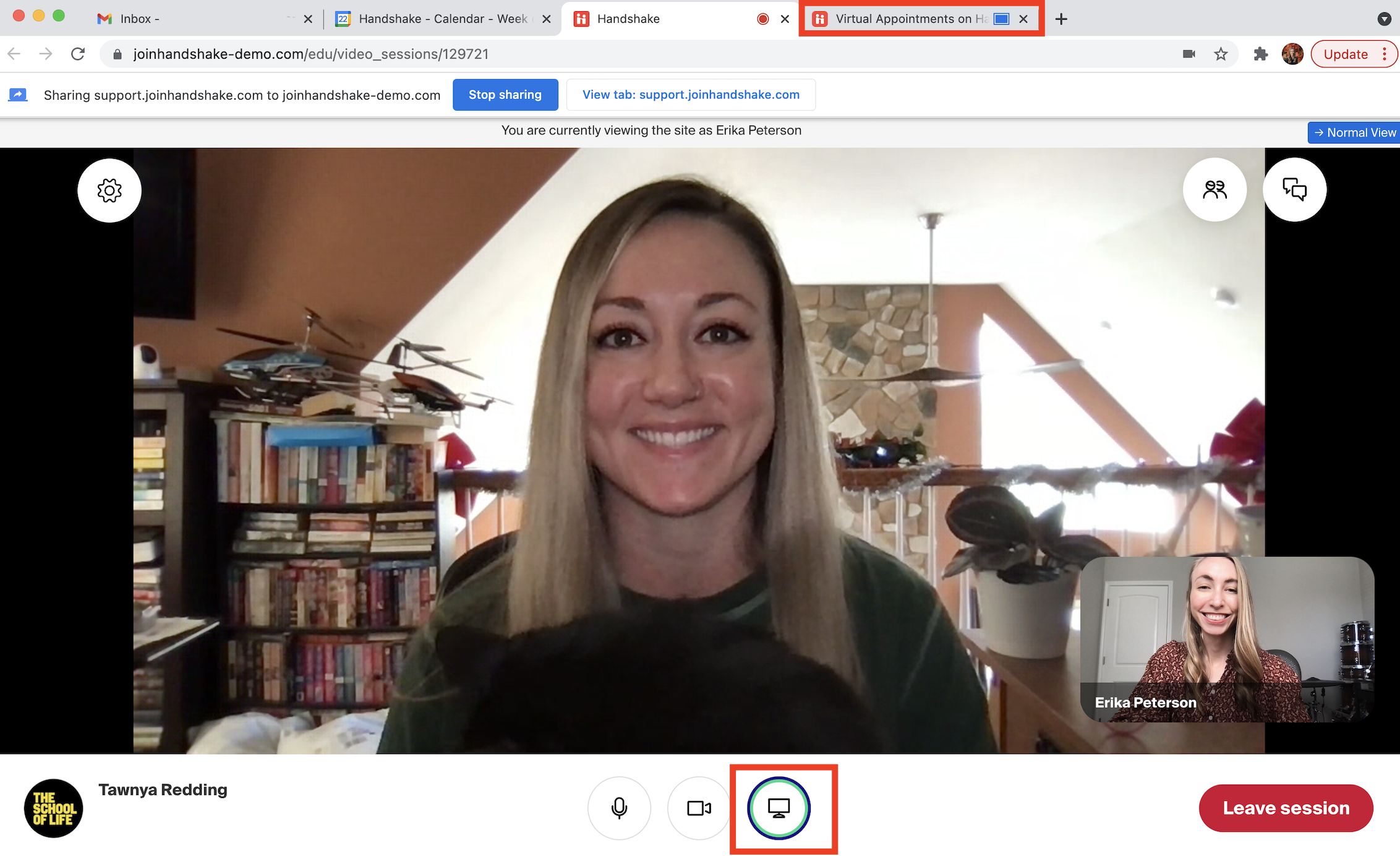 Virtual Appointment accessibility 
Our engineers test all updates with a screen reader to ensure users can tab through components on the screen. 

The process for requesting an interpreter for live transcription is the same for virtual appointments as for virtual fairs. For steps, refer to Requesting an Interpreter for Virtual Interactions.
If a student is using our video tool via an iOS device (iPhone X or newer), automatic closed captioning can be turned on. For an example of how to enable this setting, refer to Virtual Accessibility in Handshake.
We understand that this process does not cover all circumstances, and we are continuing to invest in improving accessibility. We recommend offering an alternative video platform for any user as needed. 
For example, since our video only focuses on the dominant speaker, we recommend using a different platform (like Zoom) for anyone who requests BSL interpreter support.
Keep track of all accessibility updates made on a monthly basis in Accessibility & VPAT. 
Important Considerations
For your career advisors:
Make sure to update office locations AND mediums in appointment blocks to remove other virtual links - office locations are still included in reminder emails.
Blank medium fields in appointment blocks - If career coaches have appointment blocks with blank medium fields, ALL Handshake mediums are available to students.

If a team is already offering a virtual medium and if they add the "Virtual on Handshake" medium, this may be confusing for students.

Ability to archive appointment mediums - To help university teams with cleaning up appointment medium offerings, we offer the ability to archive appointment mediums. Learn more in Institution Settings: Appointment Mediums.
If you have any Appointment Types that may need to be updated, refer to Institution Settings: Appointment Types.
For reporting purposes, when the career advisor clicks to Start Video Appointment, this is recorded as the appointment "start time". The appointment will be marked as "started" until the career advisor clicks "Complete Appointment", which records the end time. 
For your students: 
When students schedule an appointment, the Appointment medium field defaults to blank - this prompts students to click the dropdown menu and discover the Virtual on Handshake medium.

Previously this field defaulted to the first listed medium.

Appointment notification emails remind the student that the appointment is virtual. An hour before the appointment, our 

final reminder email

 will include a button the student can click to log in and launch the appointment.

The Start My Appointment button will become active five minutes prior to the appointment start time.
We do not include the office location in the reminder email if the Medium is Virtual on Handshake. 

Students will be marked as "checked in" upon clicking the link to join video for the appointment.

This will allow you to easily report on appointment attendance using our Pre-Built Reports for Appointments, just remember to filter on the appointment's medium and select "Virtual on Handshake".
Note: since students are checked-in upon joining video, QR codes are not provided for virtual appointments. 

Mobile works on mobile web. 

iOS: virtual appointments supported in iOS release 3.26.0 (make sure the app is up to date!)
Android: virtual appointments supported in release

3.1.1

(make sure the app is up to date!)

If a student is using our video tool via an iOS device, automatic closed captioning can be turned on in Safari. Tap the three dots in the upper-left corner, then tap the option to enable.
Additional Resources
Handshake Video Test can help your career advisors prepare their system settings and optimal video environment.
For the student experience: 
For training on virtual & in-person Appointments, register and take the course for free in our Handshake Academy.