Office Locations are used on Handshake so students can know where their scheduled appointments may take place. The location is set through a staff member's account settings, and a list of all office locations can be viewed in institution settings. We received feedback to provide an archive option for office locations and Handshake is proud to announce that office locations can now be archived!
Topics:
To learn more about setting up office locations, please refer to Best Practices: Offering In Person and Virtual Appointments.
Archiving an Office Location
Refer to the steps below to archive an office location:
1. Click on your name on the upper-right corner of the screen and select Institution Settings.
2. From the menu on the left-side of the page, select Office Locations.
3. A list of office locations for your institution will appear. Click the icon that features a box with an arrow pointing downwards inside of it to archive the office location.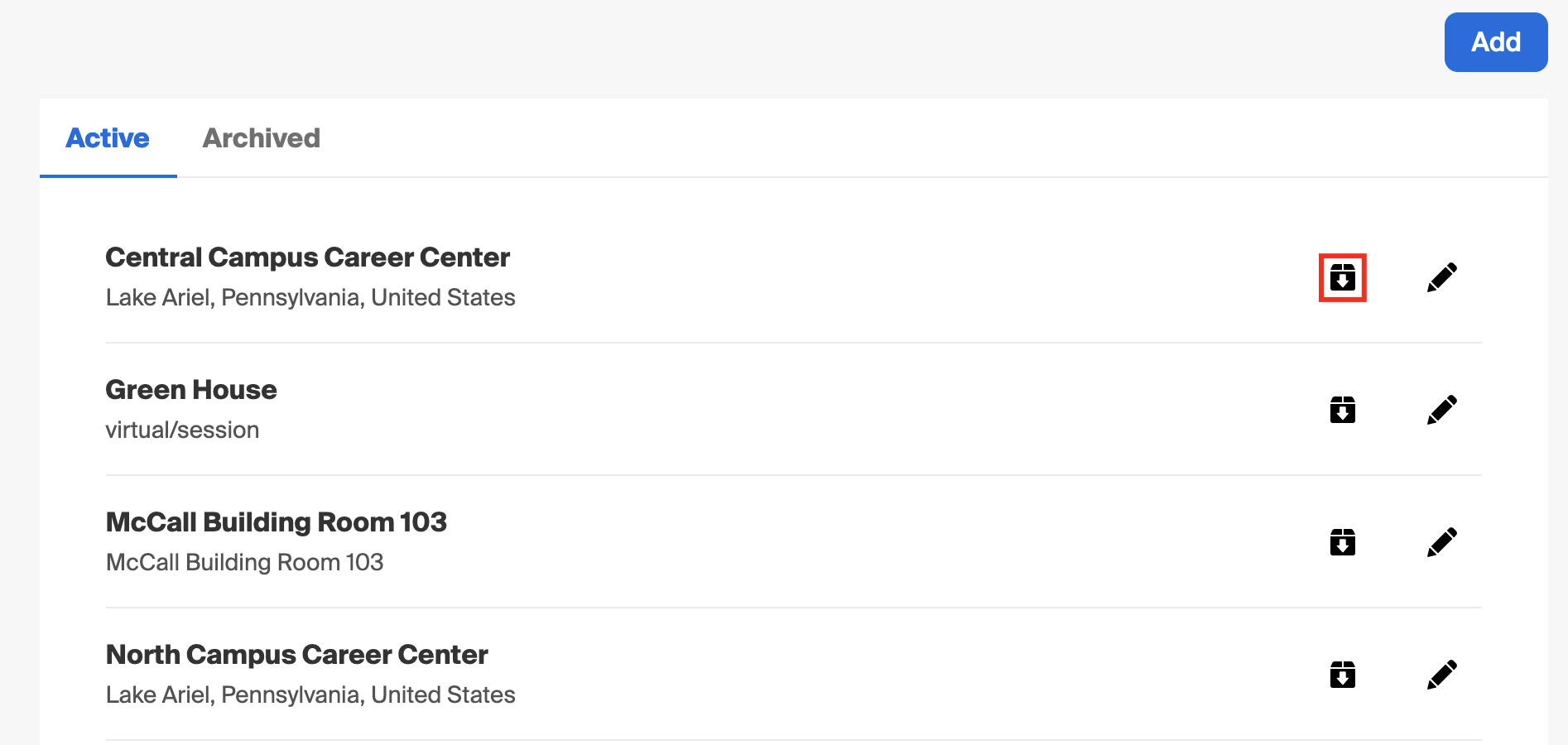 4. Click on the Archived tab for a list of archived office locations.

5. You can choose an office location to view, edit, or delete. You can also click the icon that features a box with an arrow pointing upwards inside of it to unarchive the office location.

Note: After an office location is archived it will no longer be selectable:
Under the

User Settings

for any staff member

When setting up a new appointment

When setting up a check-in kiosk for an appointment.
In order to use the office location again, it must be unarchived first.
FAQs
Q: What happens if my current office location becomes archived?
A: If your office location becomes archived, it'll no longer appear on your profile or in future appointments. The office location will still appear in past appointments to represent historical data. If you would like to select an office location, you can select a new office location under User Settings -> Personal Information.
Q: Can I archive and unarchive a fellow staff member's office location?
A: Yes, however, we recommend using discretion when archiving an office location that someone else might be using. Verify that they confirm the archival of their office location so that there isn't any confusion, then feel free to archive!
Q: Will I still be able to search for an archived office location in Handshake?
A: Much like other archived data on Handshake, you'll be able to report on and search for appointments with archived office locations. You can do so by using the Appointments template in Analytics and using the office location filter. The archived office location is also available in the appointments list page, under the office location filter.