The Two Way Calendar Sync will:
Pull scheduled Appointments from Handshake and place them into your designated University Calendar
Pull all "Busy" Appointments from your University Calendar and place a grey striped box during that scheduled time.

Two Way Calendar Sync will NOT:
Schedule Appointment Availability from your University Calendar
Display your unavailable times on the Calendar on the upper right-hand side of the screen

Why Can't I See My Appointments from Handshake In My University Calendar?
If you have given the system a full 24 hours to update your Appointments:
Start by reviewing your Calendar Settings:
Navigate to Profile
Select Account
Click on Calendar Settings
Make sure you have selected the proper calendar to sync your Appointments with.
Some users have multiple Calendars with the same name. Try going into your University Calendar and placing an asterisk or other symbol into the name of one of the Calendars. If you can differentiate between the two to ensure that you are synced correctly, move to the next step.
Try reauthorizing the sync.

Reach out to your IT team to make sure you have "Write" permissions for your calendar.
Have IT double check that you are signed into the proper server (Outlook/Office365/Exchange users only).
I can see my Appointments from Handshake in my University Calendar, but I can't see my Appointments from the University Calendar in Handshake. Why is this?
Only your "Busy" University Calendar Appointments will pull over into Handshake. Click into the appointment from the University Calendar view and make sure it is blocked off as busy: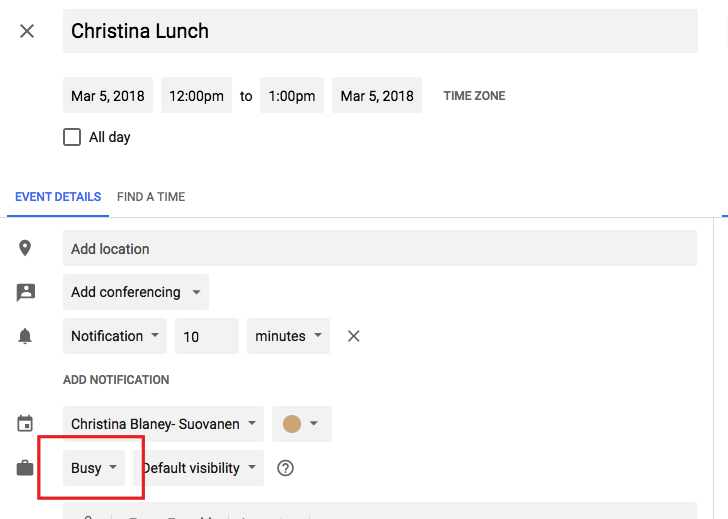 What does a scheduled appointment look like on my calendar?
Here's what the approved scheduled appointment will display on your calendar: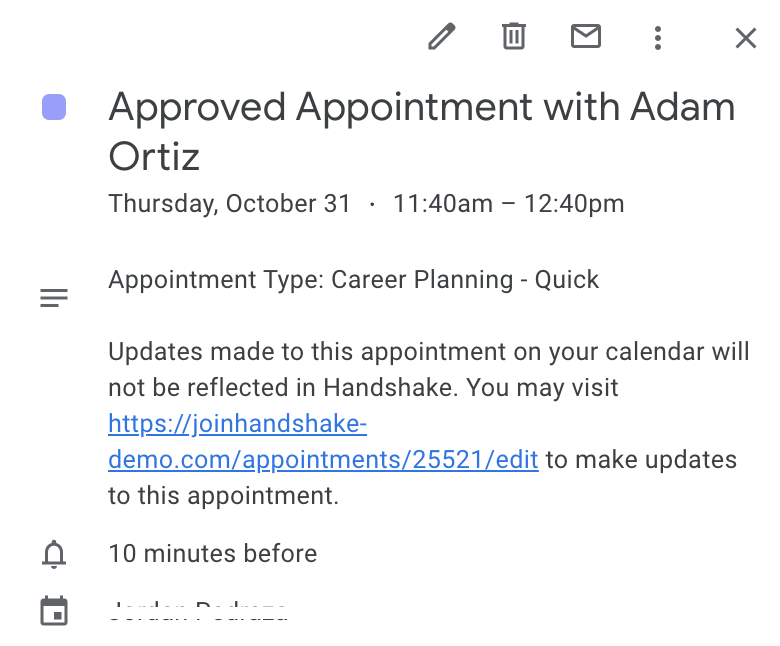 Can other staff members see my scheduled appointments on my university calendar?
This is based on your university calendar privacy/visibility settings. 
Please note: If your school uses two-factor authentication for your university calendar provider, this will block the two way sync through our service.