If you would like to sort interviews by using an employer label, Handshake has enabled this feature for you to do so!
You can also download a report and perform bulk actions using the employer label.
Filtering on an employer label
Click Interviews on the left navigation bar. This will load the Interviews overview page.
By default, you will be brought to the Requests tab of the overview page. Select the interview type in which you would like to filter on: Requests, Approved, Other, or All.
Within the header bar, click the drop-down arrow next to Filter, then click Label. If the employer label you would like to filter on is not shown, click All Options to access the available labels at your institution.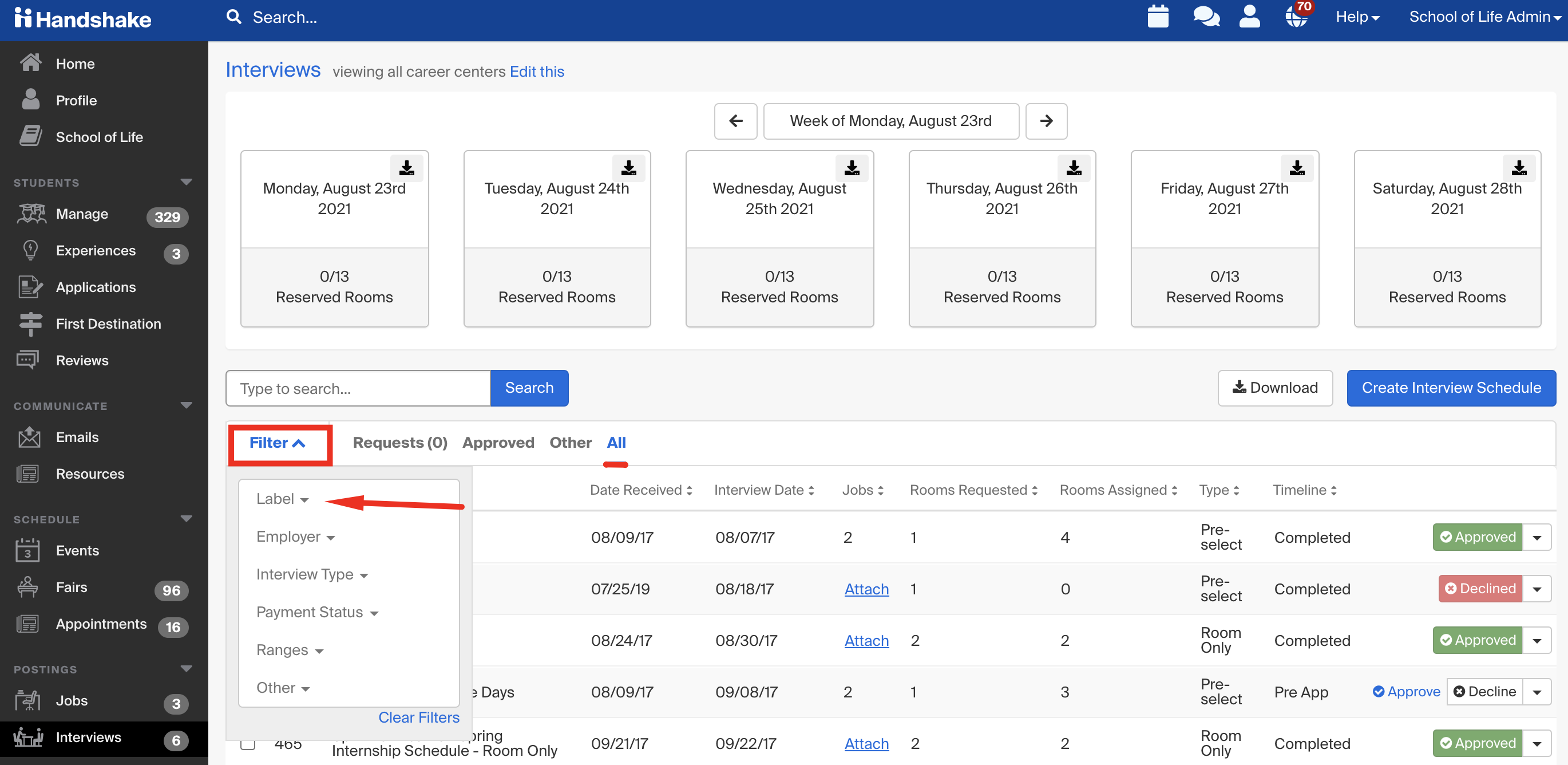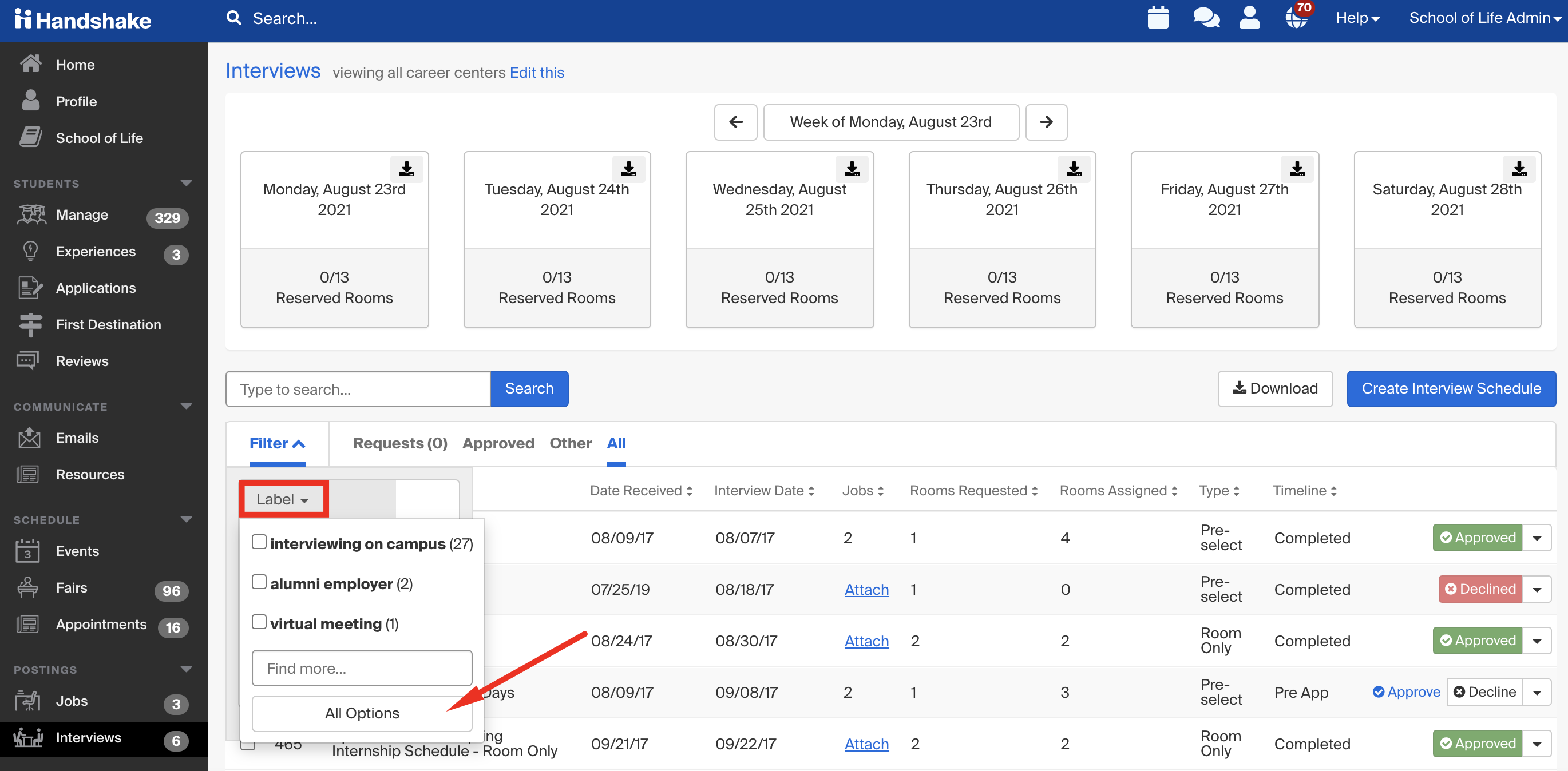 A pop-up will appear on the screen. Select the employer labels you would like to filter on and click Done.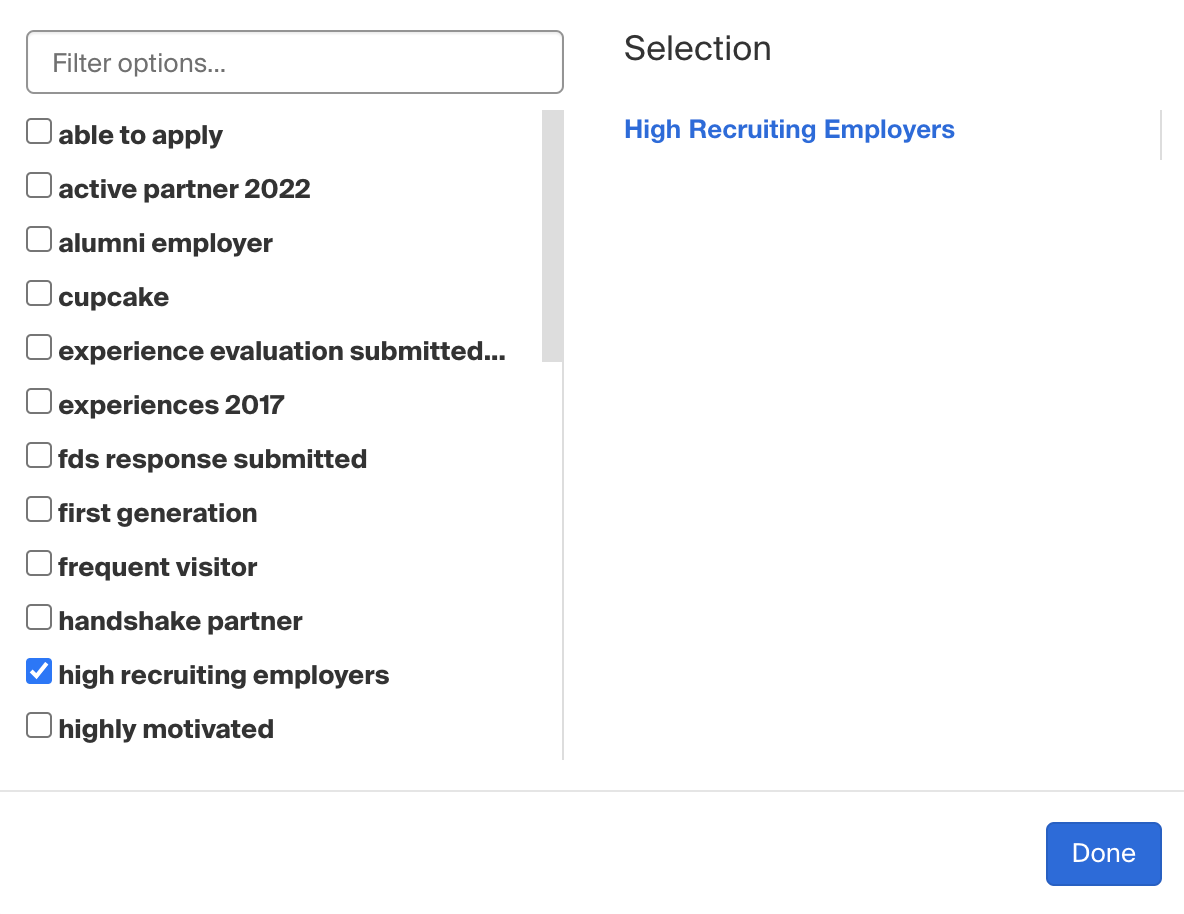 Once the employer label is selected, you can now view all interviews in Handshake within the specific label you have chosen and even download a report or take bulk actions.
Quick Download interview report
To download a report using the selected employer label, click the Download button on the right side of the page.
Note: The download will produce a report of all interviews included within the employer label.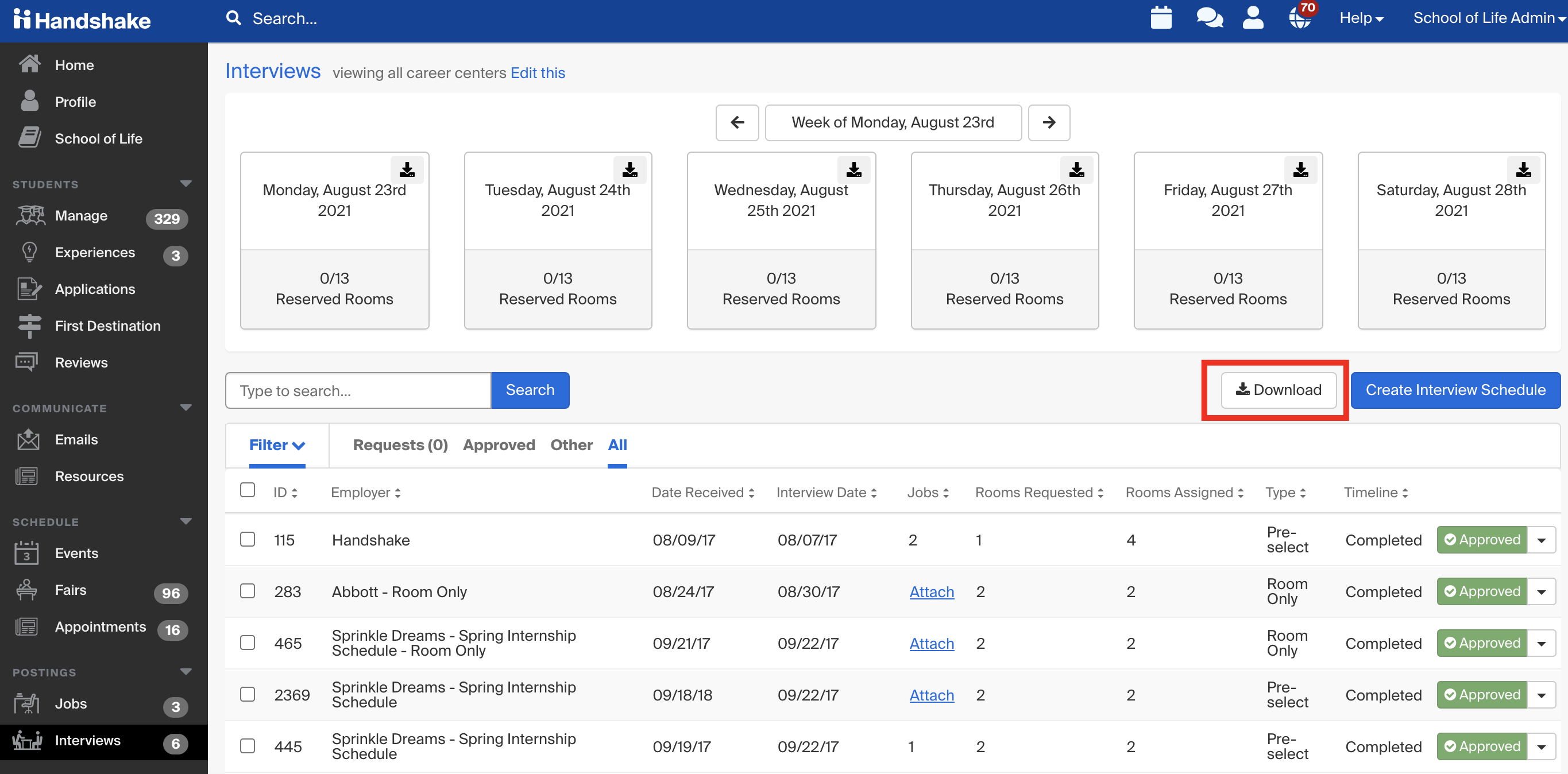 If you would like to download a report for specific interviews only, click the box next to the interviews you want to report on. Then click the Download button to produce a report for the selected interviews.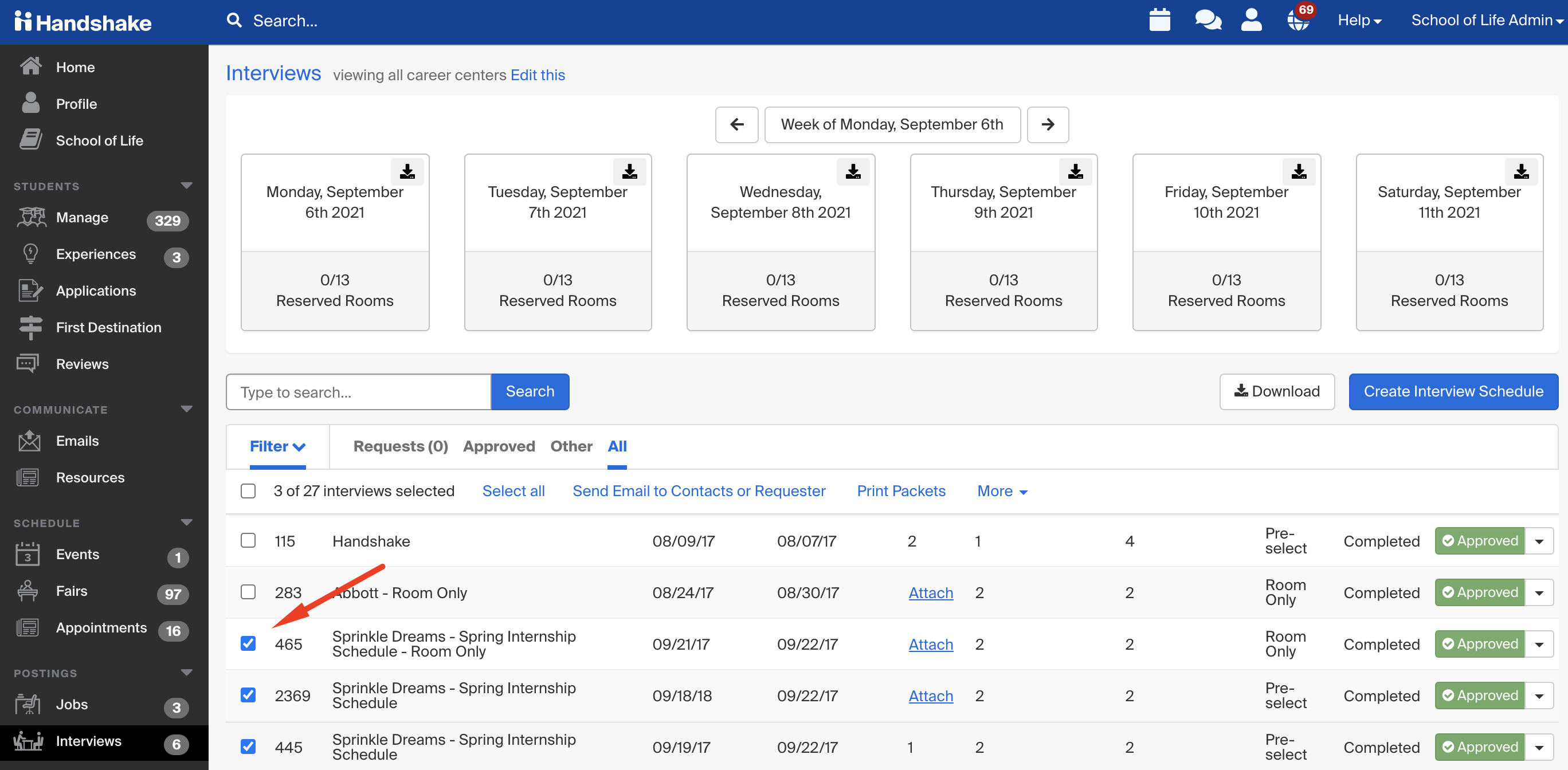 The following information will be included in the download:
ID
Identifier
Description
Employer
Job Titles
Status
Request Message
Response Date
Created at
Updated at
Created by First Name
Created by Last Name
Created by Email Address
Type
Apply Start
Apply End
Employer Deadline

Primary Signup Start

Alternative Signup Start

Signup End

Current Timeline Status

Interview Dates

Assigned Rooms

Rooms on Slots

Requested Room Count

Total slots

Slots taken

Contact First Names

Contact Last Names

Contact Emails

Phone Numbers

Amount Due

Amount Paid

Date Paid

Charge Session IDs

Total Applicants

Total Primary Selections

Total Alternate Selections
Bulk Actions using an employer label
To perform a bulk action using the selected employer label, start by putting a check mark next to the interviews you'd like to submit a bulk action for.
Note: Once you've checked one interview, you can click Select All from the header bar to check all interviews.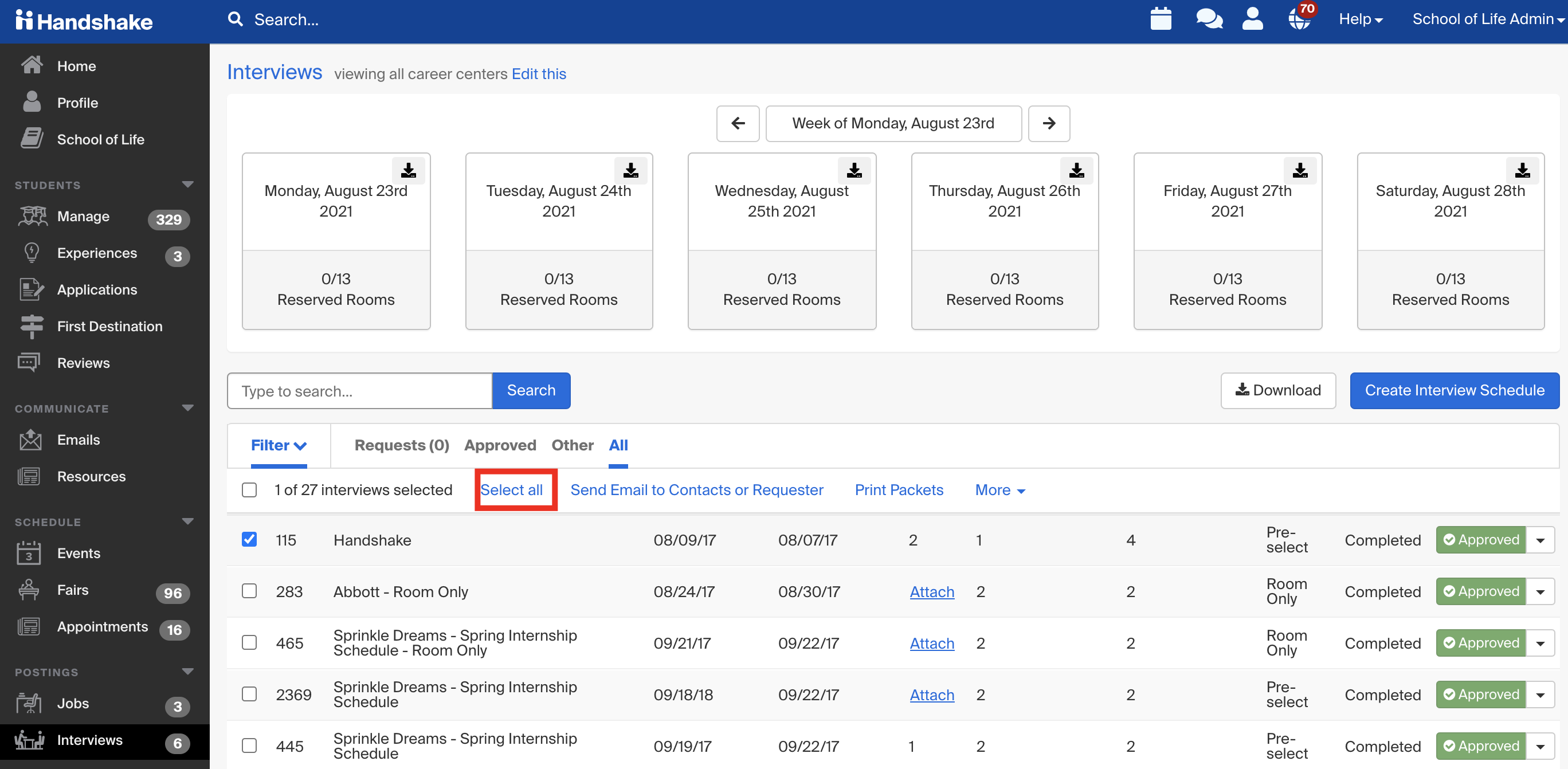 After the interviews are selected, click the following actions directly from the header bar to perform in bulk:
Send Email to Contacts or Requester: This will create a new email with the recipients set to the the Contacts of the interview, Requester, or Yourself via Handshake.
Print Packets: This will allow you to print an interview packet by Room, Employer, or Employer and Room. You can choose what is included in this printout:

Schedule Details
Contact Details
Required Documents

CV
Cover Letter
Transcript
Other Documents

Applicant Profiles
Click the More drop-down to:
Add Label: This will apply a label to the interviews
Remove Label: This will remove the existing label from the interview
Download Checkins to CSV: You'll be able to download the following information from the interviews:

Check-in Date
Student ID
Student First Name
Student Last Name
Student Email
Student Level of Study
Student Institution
Student Graduation Date
Courses
Interview ID
Interview Employer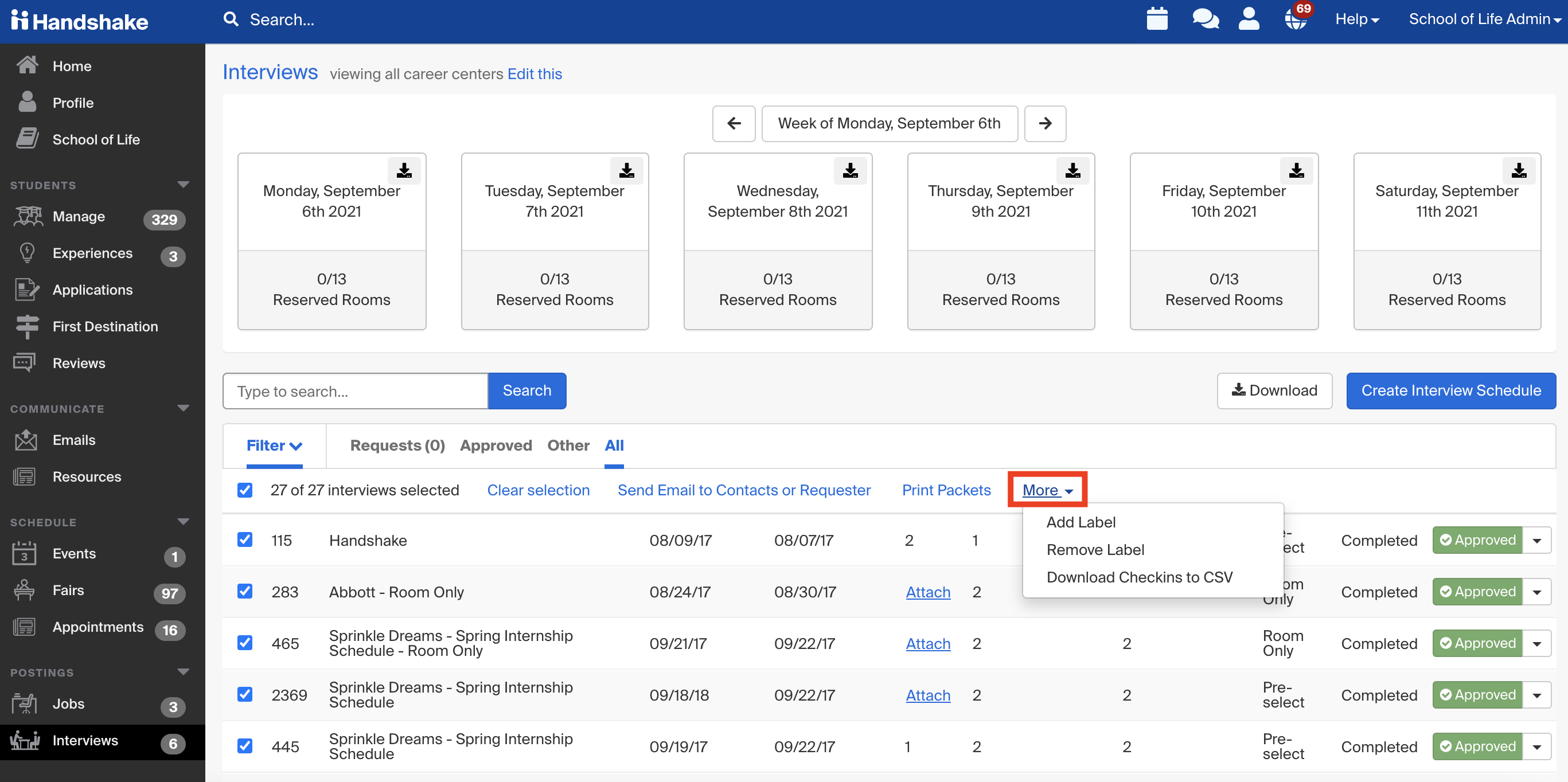 Additional Resources
To learn more about Interviews at your institution, check out the below articles!