How do I see the jobs that are attached to the schedules?
To clean up the interview list page and add additional important columns we now only show the number of jobs that are attached to a schedule. You can hover over the number of jobs to see the job titles.

What happened to saved searches?
Since saved searches were not widely used (only 50/7000 staff had them setup) we have removed the ability to save interview schedule searches.
How do I block out rooms for a particular date?
You can use the new date view at the top of the page to block out rooms for particular days. This means you can delete any test interview schedules you have created that are currently doing this.

Click the edit icon to change the number of available interview rooms for a particular day.

Example: if there are 0 rooms available on June 21st then you can change 47 to 0 and employers will not be able to request rooms on June 21st.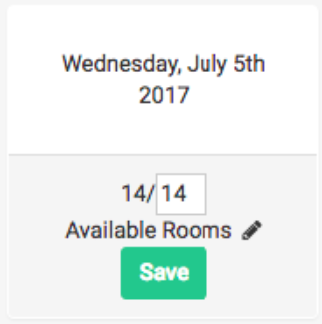 Where are the old filters?
In an effort to reduce the clicking that you have to do on the employer page we have reduced the number of filters displayed. We reviewed usage of filters on the interview list page for fall 2016 and we found that the most popular filters were:

Approval Status

Career Center

Timeline Status

Ranges (Interview Date)

Interview Type

Labels

We have consolidated the filters displayed based on this data and added an advanced filter section to make sure you can still filter by label, employer, payment status and interview date.
How do I filter to a particular career center?
Use the Career Center filter at the top of the page to filter to only your career center for room availability and requested interview schedules.
If you do not have multiple career centers setup then you will not see this option.
How do I see all approved interview schedules?
Clicking the Approved filter will default to showing all approved interview schedules. You can start to break this down by the timeline statuses by selecting a timeline status at the top of the screen.
Are interview and job dates connected?
When a job is attached to an interview schedule the Apply Start Date and the Apply End Date of the interview schedule will be synced to the Apply Start Date and the Expiration Date of the job. This will make sure that students can always apply to the attached jobs on an interview schedule.
Can I attach the same job to multiple interviews?
A job in Handshake can only be attached to one interview schedule at a time. This allows the job apply start and expiration date to line up with the interview schedule apply start and apply end date. If you are interested in having the same group of applicants on multiple schedules you can manually add them to an additional interview schedule using the direct apply option.
To attach a job to a schedule view this article.
What does this interview schedule associated job error message mean?
This interview schedule is currently configured to have students apply through the associated jobs but there are no approved jobs associated with this interview schedule. Students will not be able to apply until at least one approved job is associated with this schedule.
This message means that an interview schedule has been requested with an associated job but the employer did not yet attach the job or it is not yet approved at your institution. To verify that this is the case you will want to review this article on how to attach a job to an interview schedule.
What can an employer change on an approved interview schedule?
If an employer edits an interview schedule that is already approved they can change a few things:
Their listed contacts
The interview schedule description
The interview schedule identifier
Add/remove/edit jobs

They CANNOT change
Interview dates, template and timeline selections
When can a student take a slot or leave a slot?
Taking a slot
Students can take a slot if they pass qualifications. They can do that during a schedule's sign up period:
For open schedules, this is from the apply start date to the apply end date. Students that don't meet qualifications will be marked as not fully qualified and have to be marked "primary" to take a slot.
For preselect schedules, students can only sign up between 'primary sign up start' and 'signup end' if they are marked as a primary. For alternates the dates are 'alternate sign up start' and 'sign up end'. Students not marked as a primary or alternate cannot take a slot.
Leaving a slot
Students can only leave a slot if they still pass qualifications. Students that were manually added overriding qualifications or who no longer meet qualifications must have their career center remove them - this is to avoid a student accidentally leaving and trying to take a new slot, but not being able to get back on the schedule.
Students can only leave during the schedule's sign up period:
For open schedules, students can leave a slot up until the apply end date
For preselect schedules, students can leave a slot up until the signup end date.
How can I create a direct apply interview schedule?
Direct apply interview schedules have been removed from Handshake, we now recommend that you create a job posting to be associated with your interview schedules. Example Job Posting: Fall 2018 Mock Interview
Can I configure a rolling signup for multi-day pre-select interviews?
No. If you need to have students use acontinuous to sign up after the first day of interview schedules, then you will actually want to build out the following days in separate interview schedules. The reason for this is that students are not able to sign up after that "signup end date". You can manually add students into slots, but if you expect a large amount to be added, we recommend manually building out into new interview schedules and emailing all applicants to remind them to select a slot.