If you're looking to download applicant resumes or what is frequently referred to as a 'resume book', you can do so yourself from your Handshake account!
To access your applicants on Handshake, you'll want to first select the particular Job or Interview you're interested in to access the direct list of students that have applied.
Select the applicants you'd like to perform this action for by checking the boxes next to their names individually, or selecting the top most check box to highlight all.
Once you've selected your applicants, click on Download Applicant Packages from the top hand toolbar

Check all the types of documents from these applicants you'd like to include in your Applicant Package and then click Next...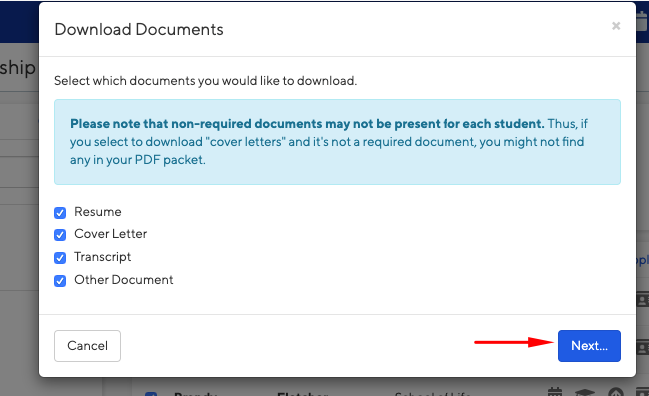 From here, click confirm if you'd like to download the Applicant Package and then the Download will start to build.

Once it has finished, click directly on retrieve the file to view the download immediately
OR, you can also click on Close to close this notification out and receive the Applicant Packages in your Email.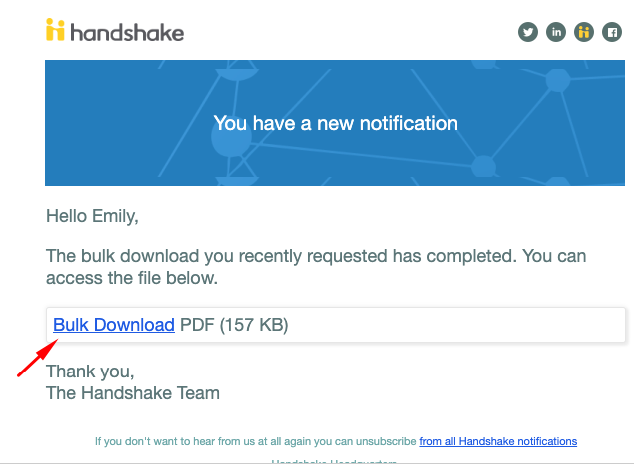 Note: Application packages will include a cover page that lists a students name, email address, school, school year and major sorted by student last name
Troubleshooting Tip:
We strongly recommend using Chrome or Firefox, not Internet Explorer as your web browser, if able. If you're already using Chrome or Firefox, kindly try clearing your web browser's cache prior to logging back in to Handshake and try downloading again.