Interview groups are a great way to collectively group numbers of students together. After interview groups are created, you can add students to the relevant groups and assign them interview slots.
Students will not be notified when they are added to an interview group.
Tip: consider using a room name or interviewer name as an interview group to keep your schedule organized.
Adding applicants to an Interview Group
1. Click On-Campus Interviews from the left navigation bar, and then click directly on the name of the interview you wish to view.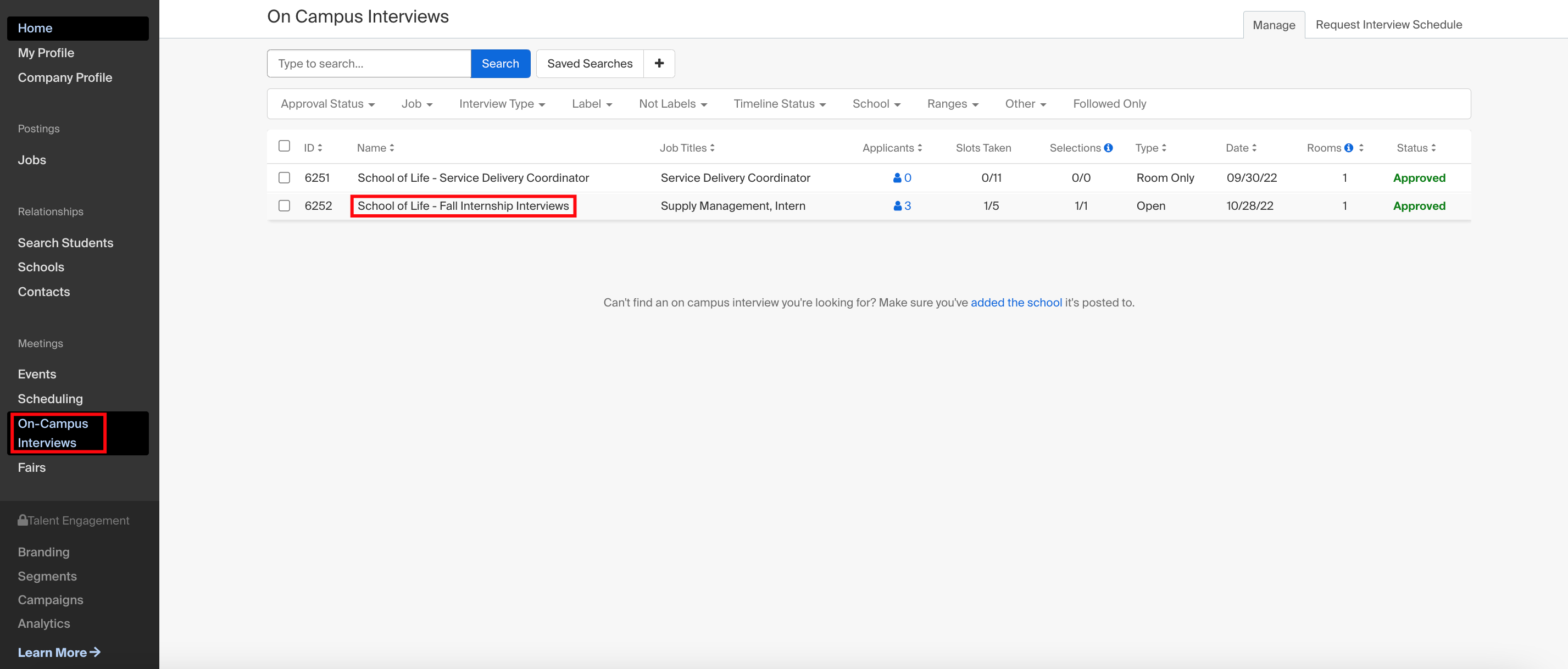 2. Click Review Applicants towards the top middle of the page.

3. From here, check the boxes next to the students you wish to add to the interview group, click More from the top toolbar, and then select Add Students to Interview Group from the dropdown menu.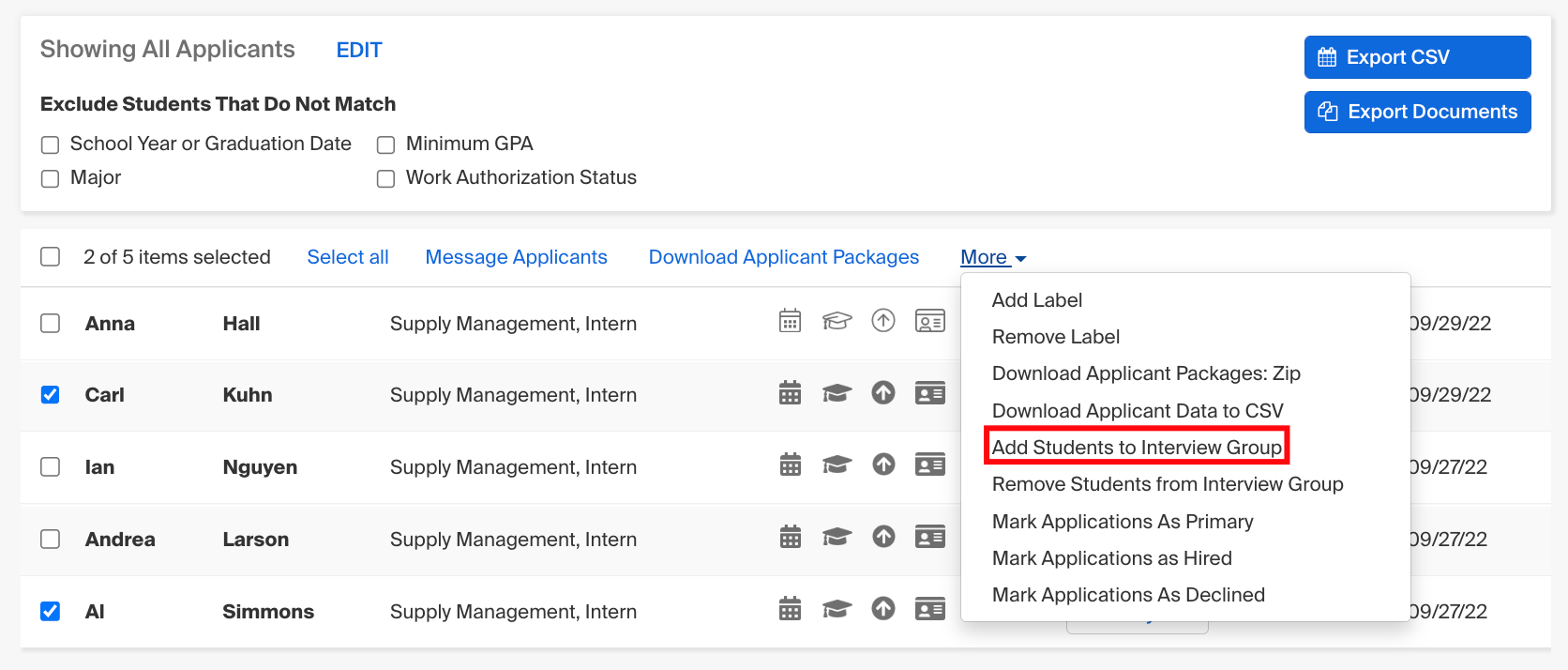 4. In the popup modal, select the Interview Group you'd like to add the students to.
If you've created an interview in the past, click the drop-down menu to find and select it.
If you need to create one, click Create New Group, enter the Interview Group name in the textbox, and then click Save.

5. Click Add to add this Interview Group to your selected students.
6. A prompt to confirm the selected action will appear. Click Confirm to proceed.

7. A confirmation will appear in the lower-right corner of the screen that reads "Successfully added students to the interview group (name)".
The interview group will be listed next to the applicants selected on the interview schedule.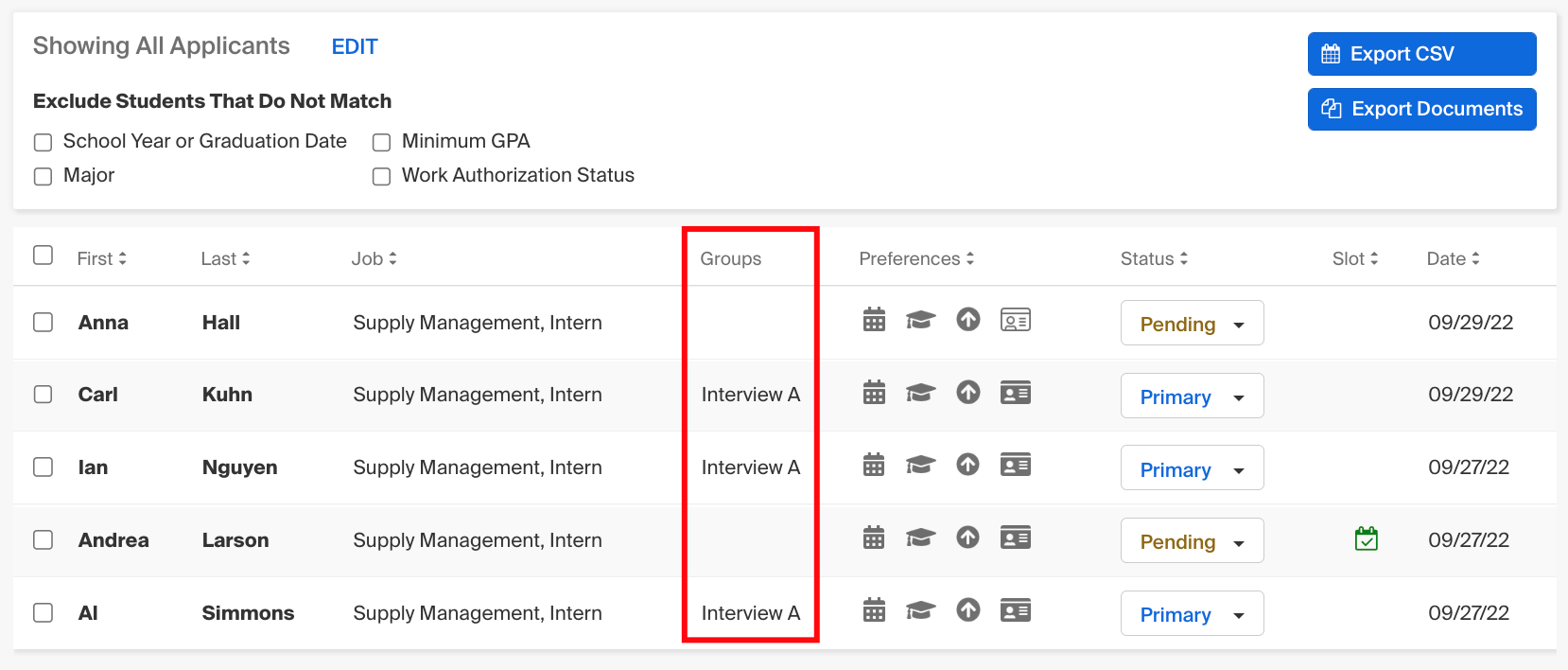 Assigning interview slots
As soon as students are added to the interview group, you will need to assign slots for that group.
1. Click Interview Details in the upper right corner of the page.

2. From here, select which slots you'd like that group of students to be able to take, or check the topmost checkbox to select all time slots, and then click the blue button Bulk Edits Slots.

3. In the popup modal, complete the Jobs and Interview Groups field. All other fields are optional.
Jobs and Interview Groups

Select Interview Group created. You may also select jobs to associate with this interview slot. Only students who have applied to these jobs will be able to take this slot.

Interviewer

Type the name of the interviewer in the textbox provided

Unavailable? (select one)

Available
Unavailable

Select this if these slots should be treated as unavailable (for example, a lunch break). If this is selected, students will not be able to take these slots.

Checked in?

Checked in

Check this box to manually set the students as Checked In.

Not Checked in
4. Click the blue button Save in the lower right corner of the modal to save your changes.
Once slots are finalized, students assigned to that interview group will be able to take a slot.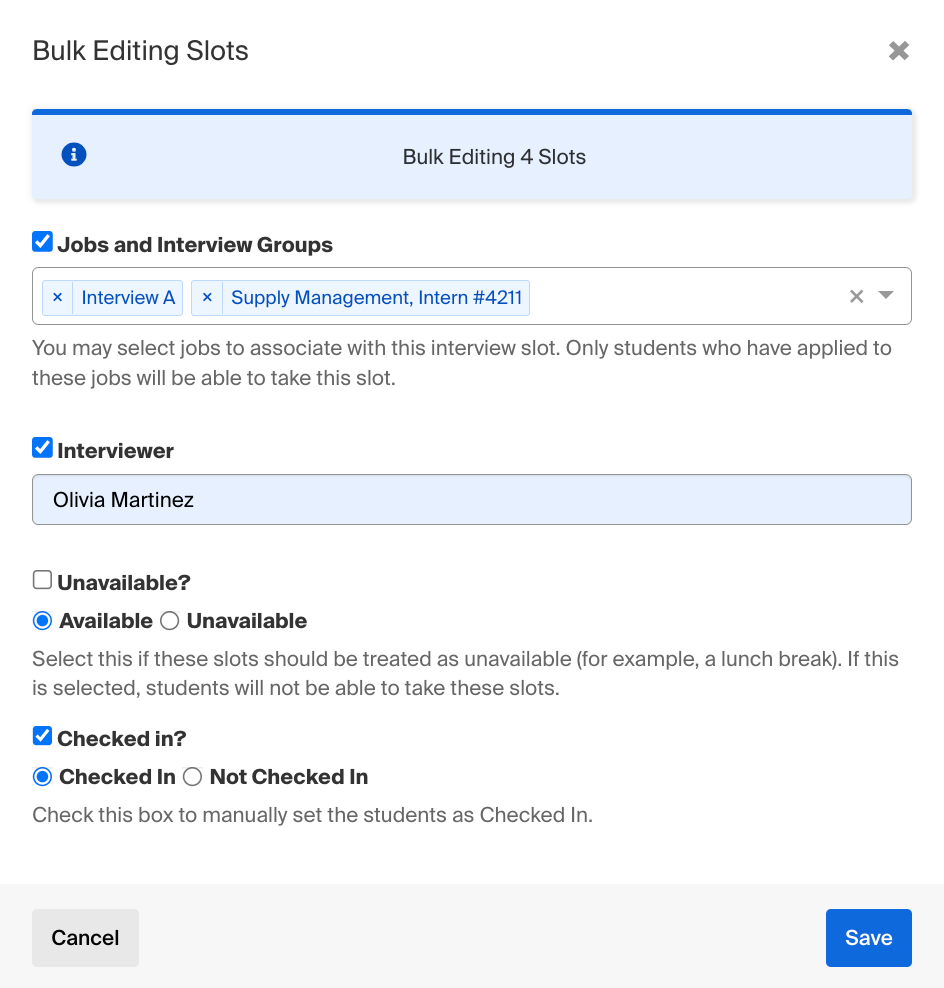 Learn more about Managing Interview Schedule Applicants.