Handshake will always provide you with a list of applicants (if you choose to collect applications in Handshake) or a list of candidates who clicked the link to your external job posting (if you chose to direct candidates to your ATS to apply).
For an overview of managing applicants, check out the Job Applicant Management Guide.
To begin, select the relevant job or interview to access the list of applicants, then navigate to the Applicants page.
Jobs
On the job overview page, click on the Applicants tab.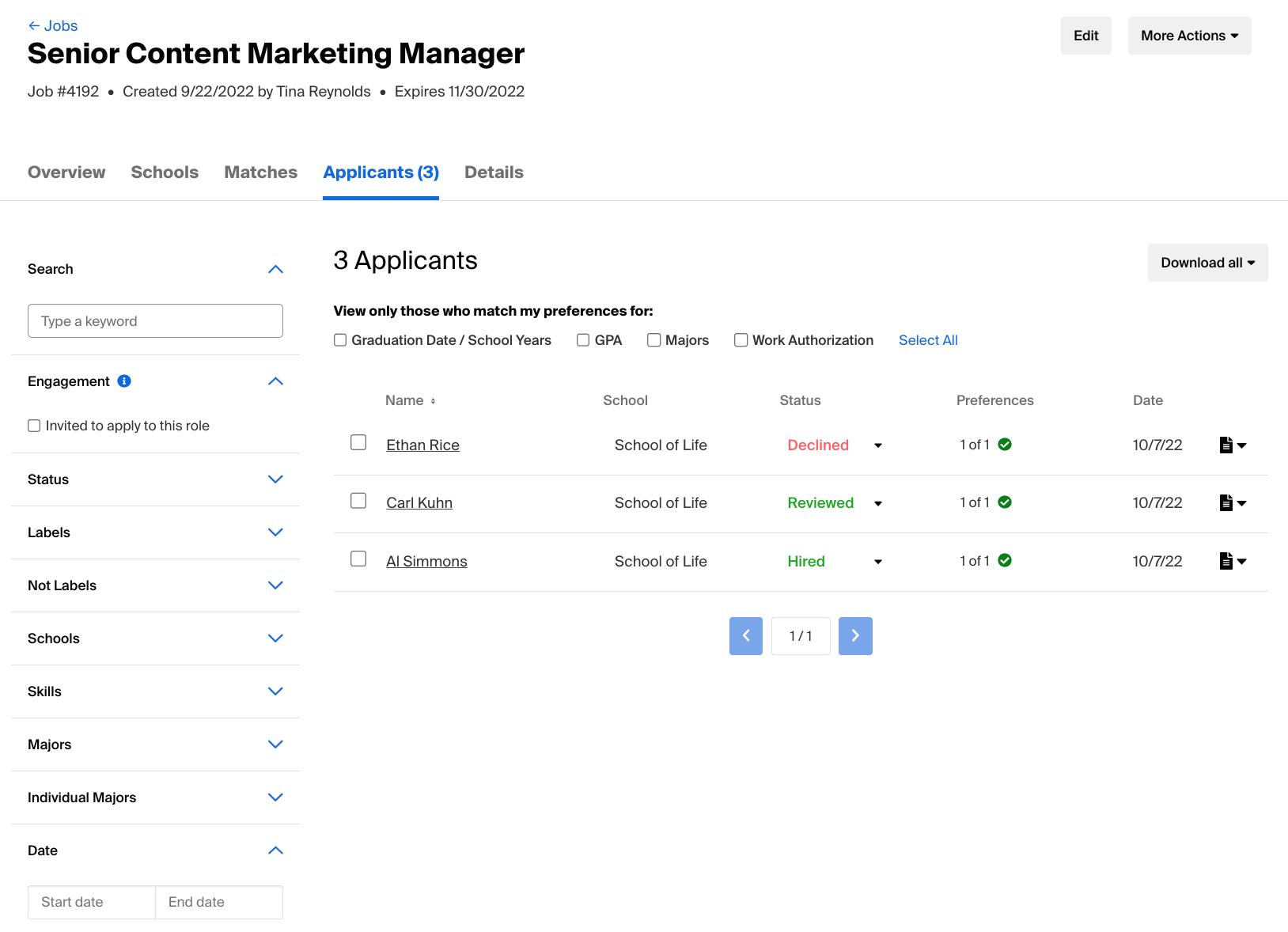 You may use the filters on the left sidebar to narrow and customize your search results.
You can filter applicants by:
Engagement

This filter returns any applicants who received a message with this job attached.

Status
Labels
Not Labels
Schools
Skills
Majors
Individual Majors
Date
To view only those who match your preferences, select the desired preferences in the top toolbar.
Graduation Date/School Years
GPA
Major
Work Authorization
Click directly on the name of the applicant to view their profile. Learn more about Viewing Student Profiles.
Interviews
On the On-Campus Interview page, click the person icon with a number next to it under Applicants.

Alternatively, you can also click on Review Applicants from the interview overview page.

Click on the applicant name to view the applicant's profile. The profile contains the following information:
Applied to: name of job the candidate applied for
Status: application status (Pending, Hired, Declined, Primary, Alternate)
Application date: the date the application was created
Created by: the name of the user that created the application
For status considerations, check out Managing Applicant Status.
Preferences
If you've specified preferences, the number of preferences that the candidate meets will be shown in the Preferences column as "X of Y". If the candidate meets all selected preferences, a green check mark symbol will display to either the right of the numbers, or below the selected preference text.
Hover over the indicated value or icon for details on which preferences the candidate meets and doesn't meet.
Jobs

Interviews

View Application Documents (PDF)
Jobs
From the list of applicants, click the paper icon to the far right in the applicant row. A list of the applicant's attached documents will appear in a dropdown.
Click on the desired document name to open a PDF version of the document in a new browser tab.
Note: the icon will only display if the applicant submitted a document(s).

Interviews
Click directly on the applicant's name to open their profile, and then click on the Documents tab.

Click on the drop down arrow next to the Select Document field to select the document you'd like to view. The document will display on the page. To download the document, click the blue button Download Document.