Important Note: If you applied to the job externally (through the employer's provided URL), and answered "yes" when prompted "Did you complete your application?", there is not a way to then withdraw your Handshake application. If the application needs to be removed, please reach out to your school's Career Center, providing a direct link to the job and name of the job you'd like to be withdrawn from.
If you would like to withdraw your other active applications you can review these steps.
1. Click Jobs in the top menu bar, and then click Applications.

2. Click on the job that you would like to withdraw your application from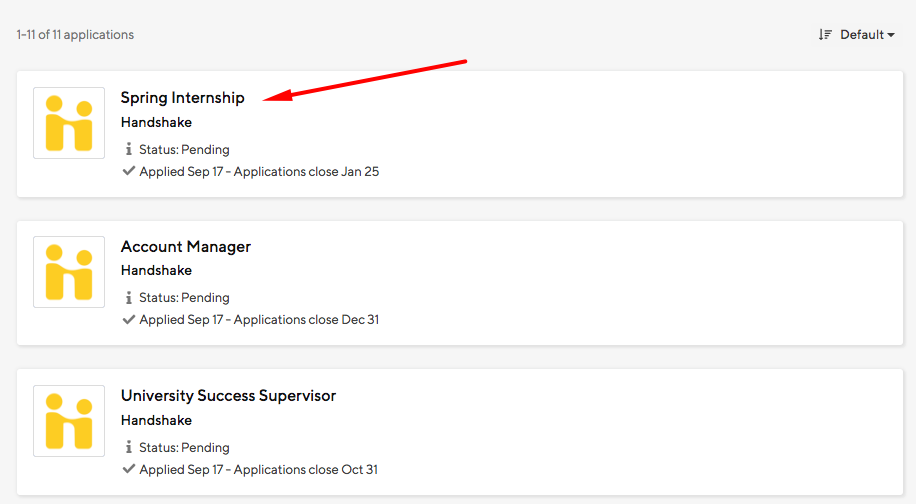 If your application is connected to an interview schedule, and the status has been changed to primary, alternate, hired or declined you will not be able to withdraw your application and you will see the message below:
"Reach out to your career center by visiting your university home page on Handshake and request that your application is withdrawn."
If your application status is still pending then you can withdraw your application by clicking withdraw your application on Handshake

This will bring up a confirmation message that lists the job you are withdrawing your application from as well as any interview schedules that may be associated with that job

Click Withdraw to confirm that you would like to withdraw your application from the job and all associated interview schedules
If you would like to apply to this position again you can click Apply on the job overview page, as long as the job posting is still active and has not yet expired.
If the job required you to apply externally, you will be asked by Handshake if you did this. Clicking 'no' will withdraw you from the job posting altogether.

If you click 'yes', you'll see the following screen, and will not be able to withdraw in Handshake, as your application is external. You will need to reach out to the employer in order to withdraw your application at this point.