Peer Messaging gives students and alumni the ability to make their Handshake profiles visible to other students and alumni across Handshake schools and to message them! This feature is aimed at giving you an even greater ability to connect with and learn from your peers.
In order to send and receive messages from other students and alumni in Handshake, you must have your profile privacy set to Community. For more information on privacy options and steps to update, please refer to Profile Privacy Options in Handshake.
Note: while the student homepage layout has updated, you can still access the Student Community via the Explore Students page by navigating to your homepage, then typing "/students" at the end of URL, or just click on this link: https://app.joinhandshake.com/students
Sending a Message
When it comes to finding a peer to message, you have several options. If you use the Explore Students page, referenced above, you'll be able to search for students and alumni based on attributes like previous employers they've worked with, student organizations they've been involved in, or major.
You'll also find students and alumni you can message throughout Handshake:
Anyone with a public profile who indicates they previously worked for a particular employer will show up on that employer's profile page in Handshake.

If you click to view that student/alumni's profile, a blue Message button will be under their profile if they're open to messaging.

You can identify students and alumni who have published a Review about their experience working for a company.

A gray Message button will be on the Review if that student/alumni is open to messaging.

You can identify students and alumni who asked or answered a question via Handshake's Q&A feature.

A gray Message button will be on the question or answer if that student/alumni is open to messaging.
Before you can start composing your first message, we ask that you agree to our content guidelines:
Be professional and career focused
Use appropriate and respectful language
Understand that messages may be moderated by your school and/or Handshake
To agree, put a check next to each guideline, then click Ok to proceed.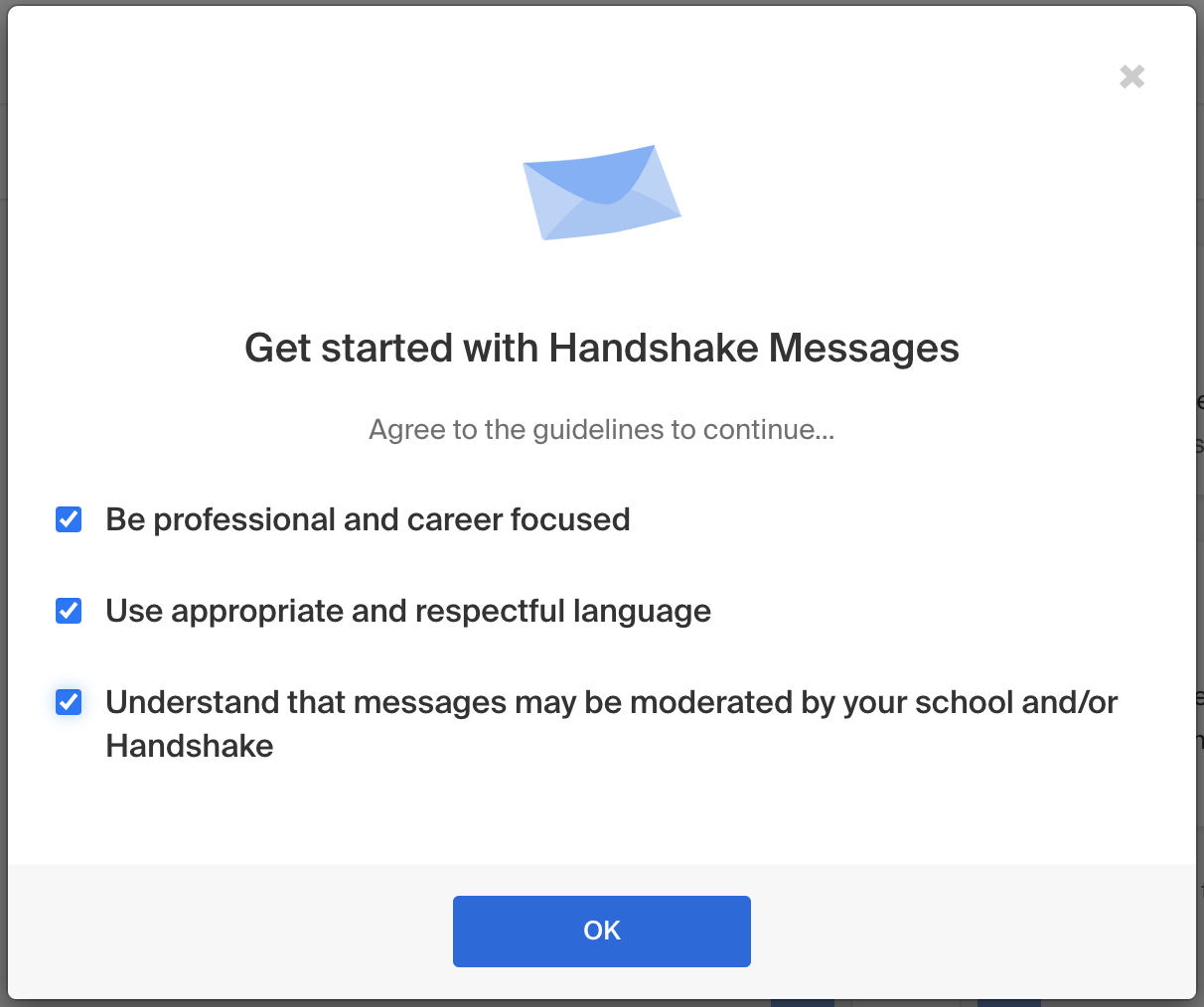 Next, we'll ask you to indicate what you're interested in messaging about:
Professional Experience

Ask what it's like to work for a particular company.

Education Recommendations

Ask about a grad school program you're interested in.

Resume Advice

Ask about how you can best highlight your unique experiences when crafting your resume.

Interview Advice

Ask about how you can best prepare for an upcoming interview.

Reviews or Q&A

Ask a follow up question about a Review or a Q&A question that was answered.

Other career related topic

Ask something else related to your career search.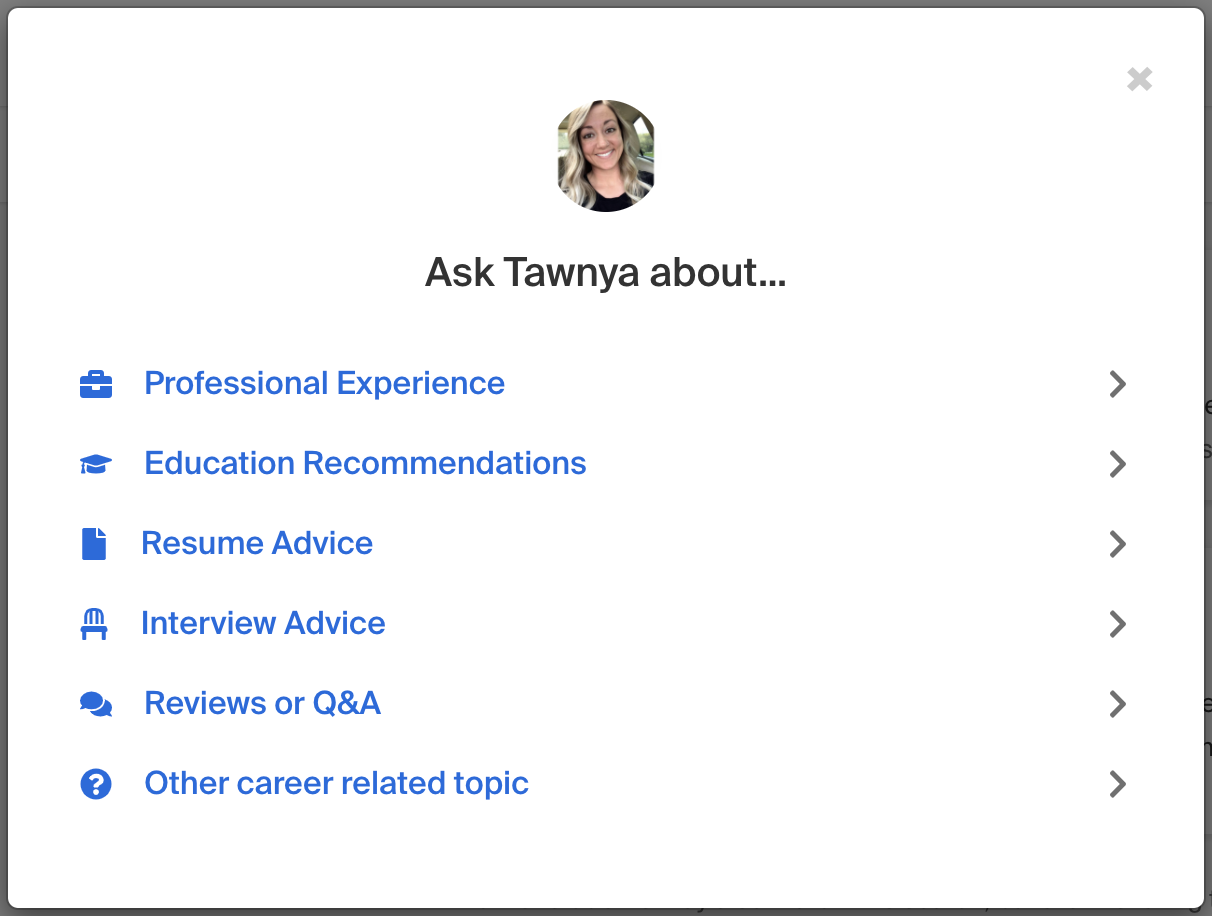 Once you've selected your topic, you'll be able to craft your message. Handshake will provide you with a template to get you started –– just fill in the "blanks". If you'd prefer to customize the full message, click clear all and write your own message at the bottom of the prompt.
Once you're happy with your message, click Send!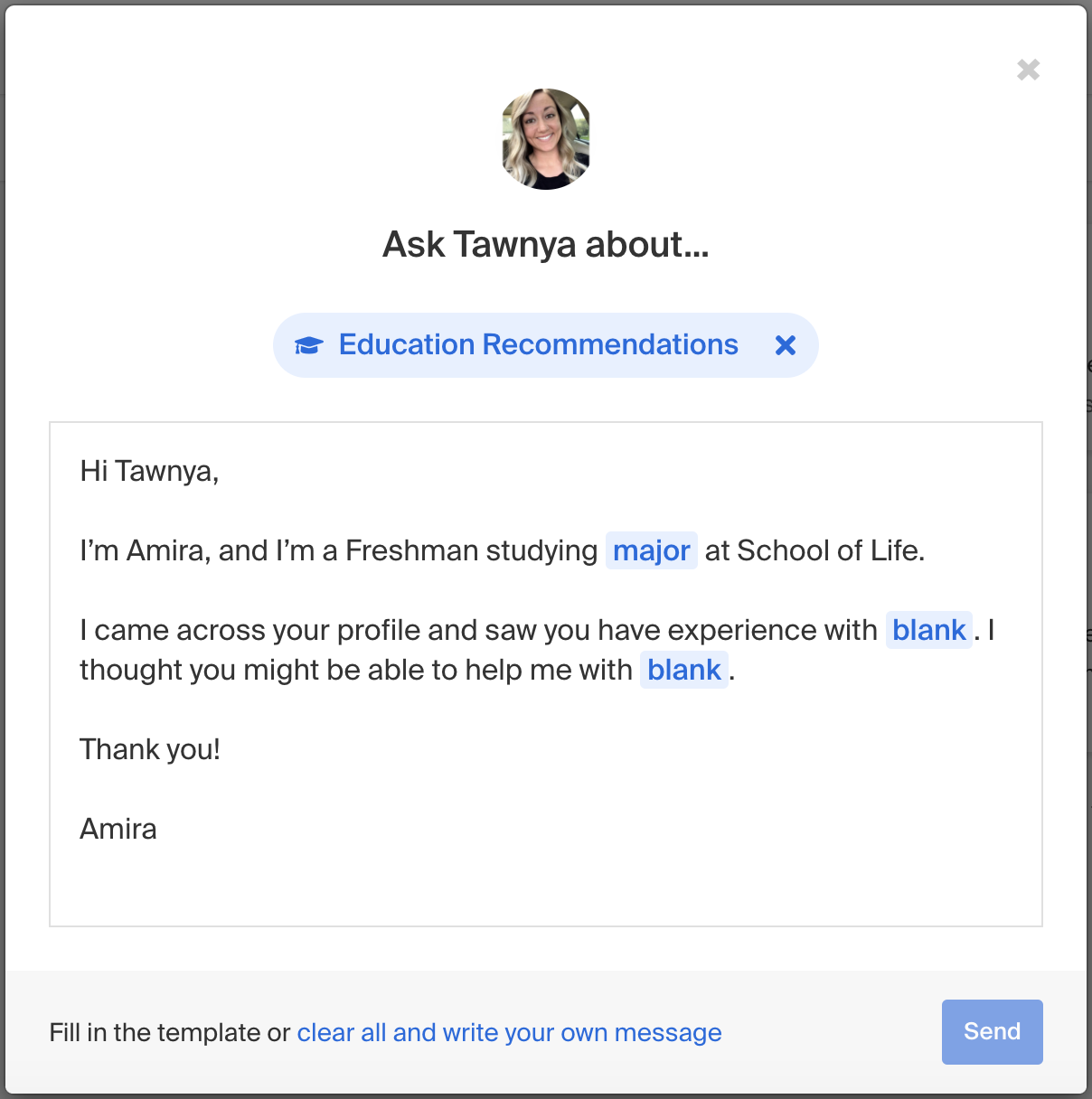 A confirmation will indicate your message has been sent successfully.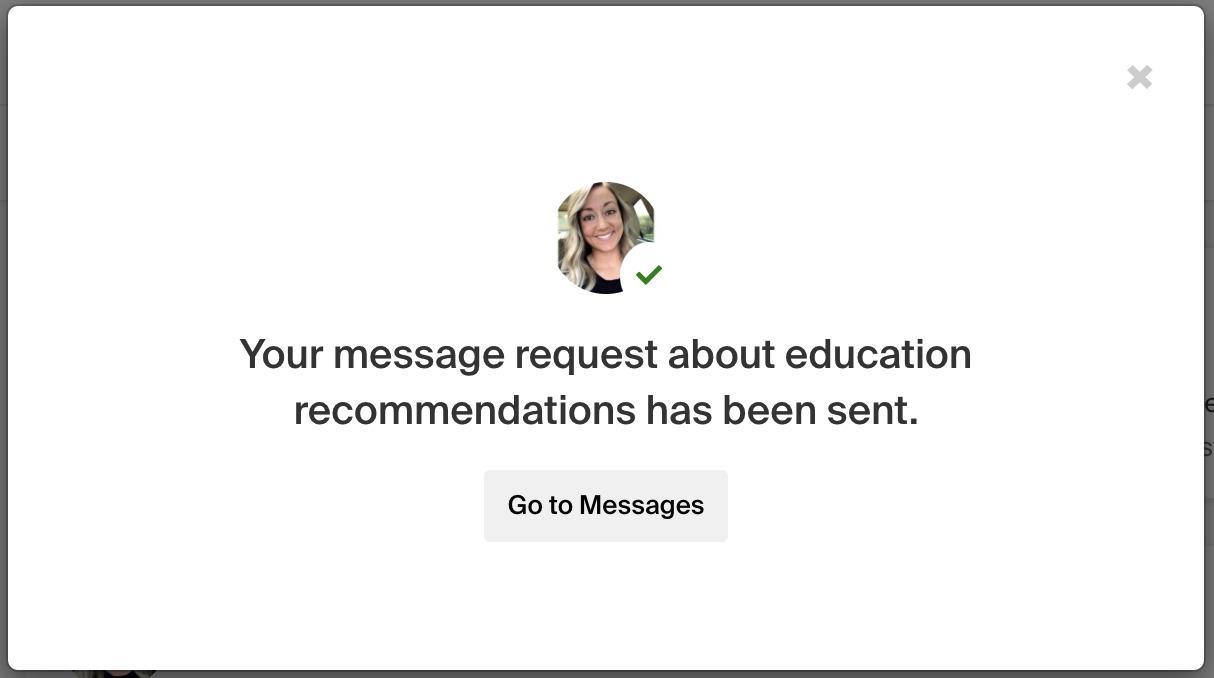 You can go to Messages to view the sent message.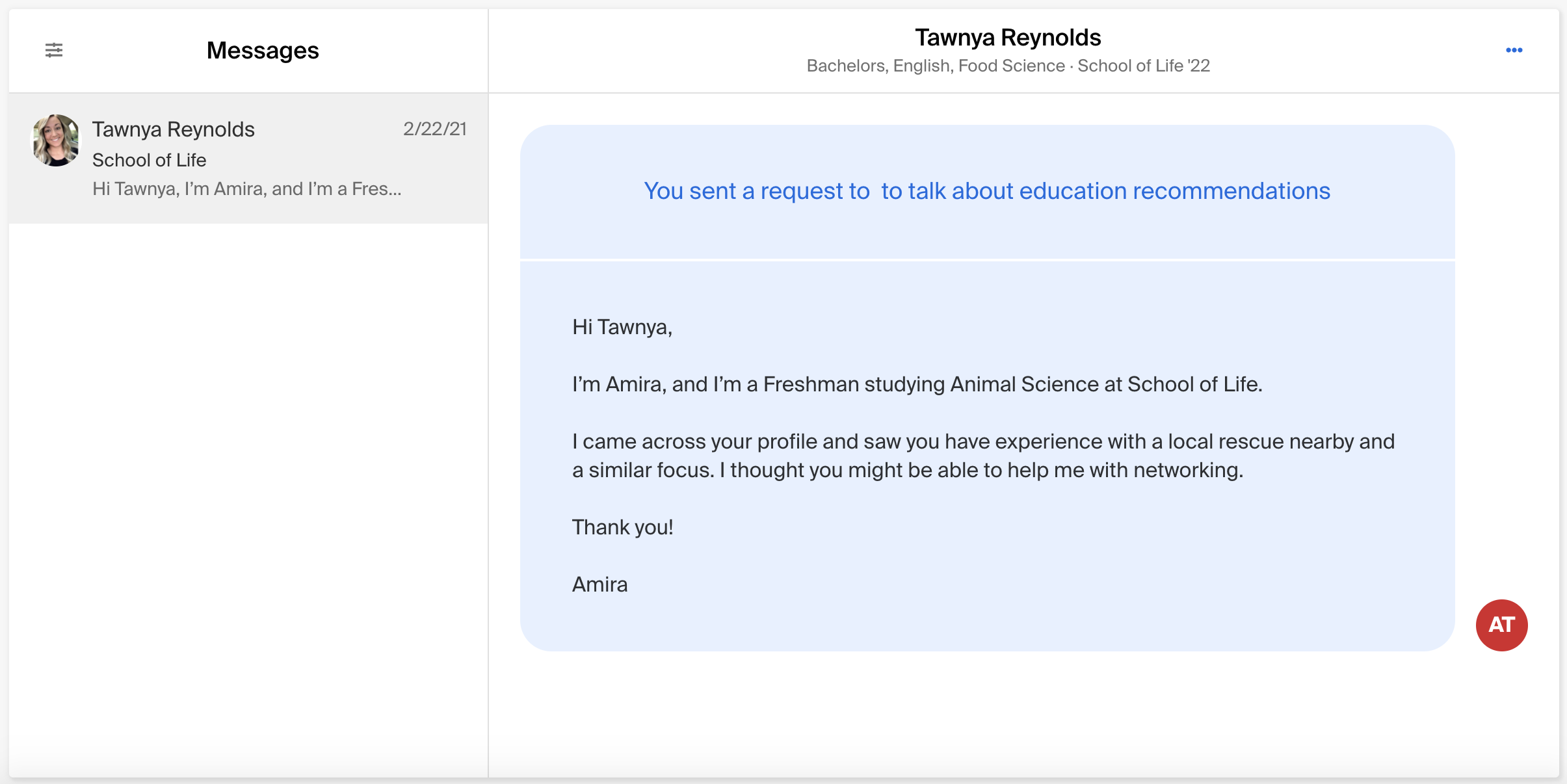 The person you sent a message to will have to accept your message in order to reply. You'll get a notification from Handshake when they write back!
Responding to Messages
When other students or alumni reach out to you, you'll get an email notification from Handshake.
If someone reaches out to you, you will have the option to allow or decline their message.
Allow: If you accept, you'll be able to respond.
Decline: If you decline, you'll get a prompt to tell us why you're declining.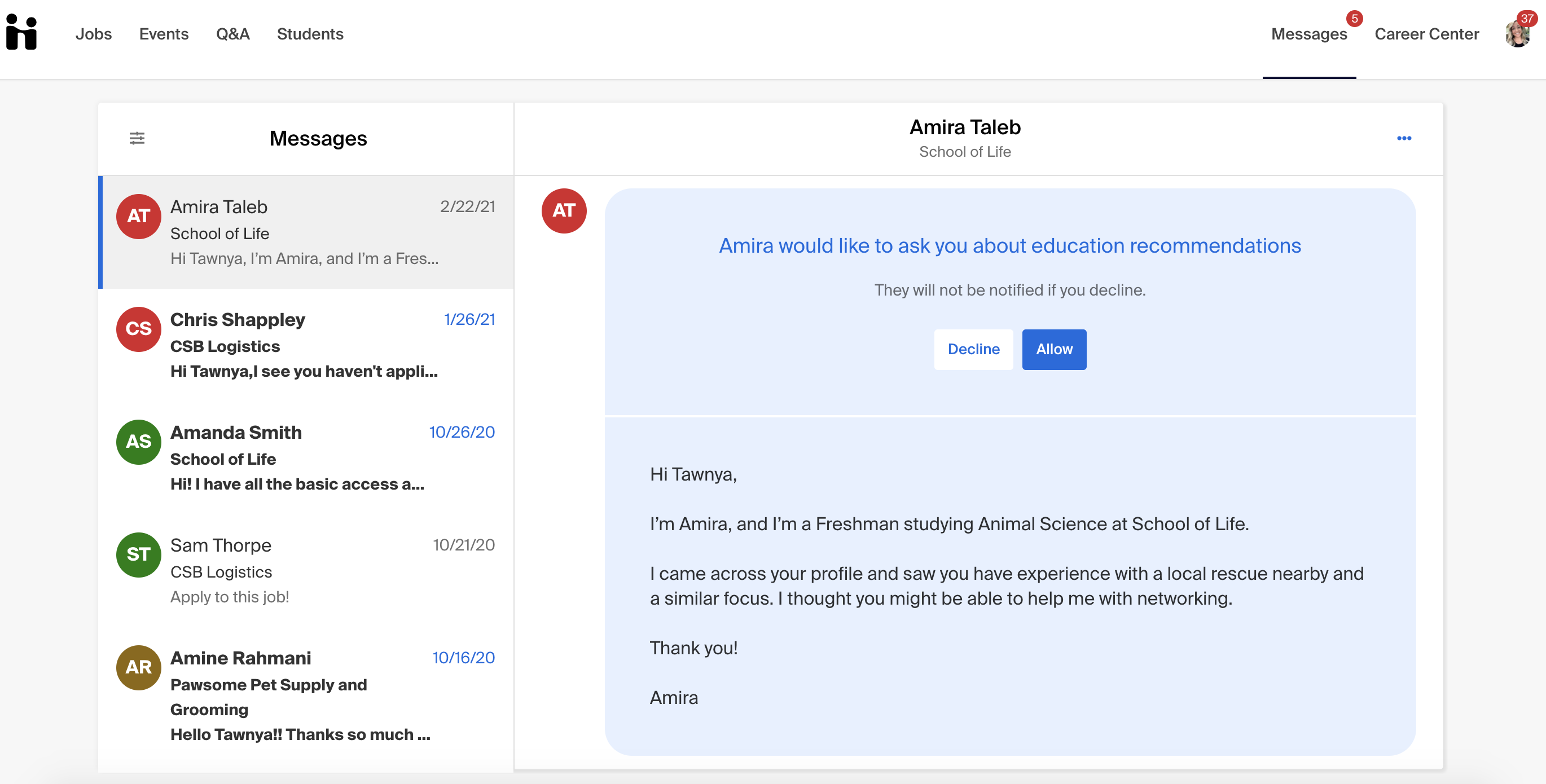 After accepting a message request, click the three dots in the upper-right corner of the messaging page, for the option to flag a message for violating Handshake's messaging guidelines.
Flagging a message will stop the other person from messaging you. The conversation will then be reviewed and moderated by Handshake. Your school may also be looped in if appropriate.