The Employers page in Handshake is designed to help improve and speed up the process of employer approvals for your staff, detailed below.
Employer Approval Status Tabs
Employer approvals (accessible via Employers in the left navigation bar) are organized into status tabs to save you time. The default status tab is the Pending tab for increased approval review and processing speed.
Click on Approved, In Progress, or Declined to display relevant employers for each status.
When you close this page, the tab you are on when it closes is the tab it will reopen to next time you access it.
Quickly Vet Pending Employers
On the Pending status tab, columns of employer approval information are listed directly in the results table to help you get a more a complete idea of the employer requesting approval, without having to click into the company profile:
Name
Trust Score
# of Approvals
# of Declines
Website
Requested
Approve Employer?
Yellow Triangle

The Yellow Triangle icon indicates there are additional details we think you should be aware of, which include:

an unconfirmed email address - this indicates that there is an employer staff member that has not verified their email address.
non-matching email domain - a non-matching email domain could be for a number of reasons, but we want you to be aware of this with the potential for fraud. Some scammers will use a lower case "L" in place of an "i" (i.e., @happyllfe.com (potentially fraudulent domain) vs @happylife.com (non-fraudulent domain).
no job postings - a lack of job postings could mean that the employer is new to Handshake; however, if the employer has been on Handshake for a while and not had any job postings, this could raise concerns, which is when the employer approval request will show up in this column for review.
the employer has at least one flag - flags are either our legacy flags, or indicates a job or user has been suspended from Handshake (in the new flagging system)

View More Information for Declined Employers
To review previously declined employers, click on the Declined status tab, and the reasons selected and any additional details provided on the pop-up notice will appear in the Reason For Declining column.

Tip: you can also report on these decline reasons in Analytics via the Employer template. Selections are listed under the Employer Approvals heading.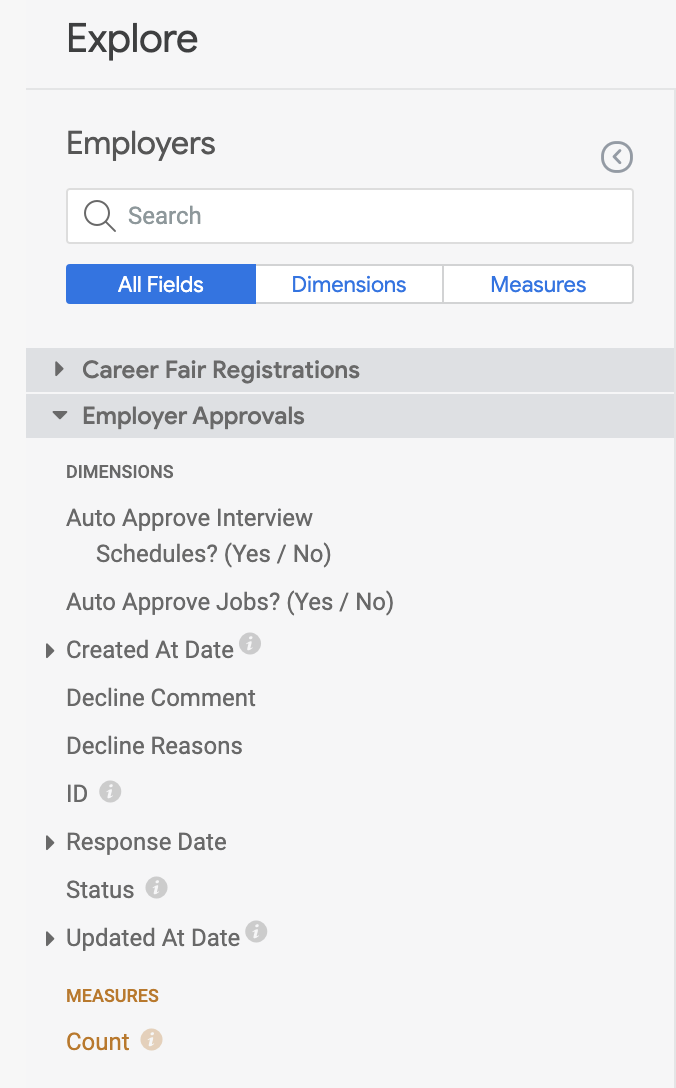 Search Filters
Filters are available on each status tab and can be found on the left of each page:
Search
Trust Score
Industry
Location
Label
Not Label
Size
Type
Assigned To
Other
"Other" Filters
In addition to the default filters, there are also "Other" filters available for each status tab.
Has Document Download Permission
Flagged Employers
Alumni Work at Employer
Posted On Campus Jobs
Premium Employer
Fortune 500 Employer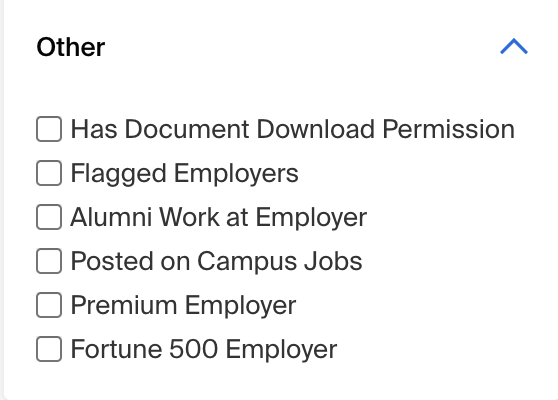 Create a Saved Search
Handshake makes it easy to save search criteria so the search can be run again in the future. If you would like to setup a saved search, please review the Create a Saved Search article to enable and apply saved search filters.
Once created, a new filter called "My Saved Filters" will appear below "Save These Filters" on the left column of the Employer Approvals page.