This resource provides step-by-step instructions to help you process employer requests to connect at your institution in Handshake.
For additional best practices, refer to Best Practices: Employer Approvals and Best Practices: Tips for Vetting Employers on Handshake.
Tip: If the screenshots below do not look familiar, you may still be on the legacy view. If you'd like to update, click on the green "Update Available" button in the upper-left of the Manage Employers page!

To approve or decline employers who have requested approval at your school, follow these steps:

1. Determine which employers are requesting approval (employers with a status of pending have requested, but not yet received, approval from your school). The simplest way to do this is:
Click on

Employers

on the left hand navigation bar to

be directed to the Manage Employers page, which defaults to Pending Employers.

Note: The number to the right of

Employers indicates the number of requests pending.
Alternatively, you can:
Click on Home in the left hand navigation bar to be taken to your home page; the right side of your homepage highlights items needing your attention.
Scroll down to find Employer Approvals and how many employers are waiting for approval.
Click on the link next to the number to be directed to a list of employers with pending status.
2. Once you've used one of these methods to determine which employers are awaiting approval from your school, you're ready to determine whether or not to grant approval to each employer.
Handshake displays information to help you make this decision:

Trust Score: a number assigned based on employer engagement in Handshake
Approvals: how many schools have approved this employer to date
Declines: how many schools have declined this employer
Website: for quick reference, instead of having to go to the company profile
Date Requested: when the employer requested access to your school

Hover over this icon to see other relevant information, such as an unconfirmed email, a non-matching domain, no job postings yet, etc.

If you'd like to contact the employer directly to discuss their approval request, go to the employer's profile and locate the Contact Information section on the left side.
Tip: Use the three dots on the far right to quickly Email Employer Contacts, Add or Remove Labels, Edit Roles, Assign (the employer) to Me, or Set to In Progress:


3. Now that you've evaluated the pending employer, you're ready to approve/decline the request. Use the Yes/No buttons to Approve/Decline:

When you decline an employer, you'll be prompted to submit a reason (optional) for the decline: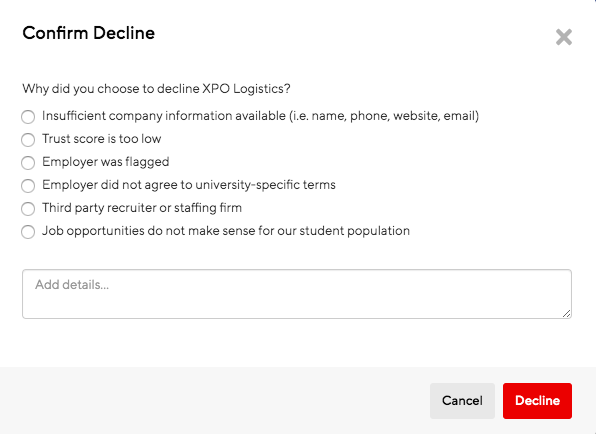 Adding this detail helps your colleagues be aware of concerns, as well as helping us at Handshake better understand what's important to you.
If you do not wish to enter a reason, click Decline.
To approve or decline more than one employer at a time:
Check

the

checkbox

to the left of all of the employers you would like to approve. This will cause bulk actions to appear.
Click More, then click Approve Employers

. After making your selection, a confirmation dialog box will load requesting to confirm your task.

After confirming, refresh your screen to view the remaining list of pending employers. Those that were approved have been removed from this list.
Repeat the previous three steps for all employers you'd like to decline (this time checking the checkbox to the left of all employers you'd like to decline, and selecting

Decline Employers).
Tip: You can also use the bulk actions menu to remove a label, or add/remove roles.
To approve or decline employers from the company profile:
Click

on the

employer name

from the list.
Click

the appropriate status and

click

on

Save Approved/Save Declined

at the bottom.
Industry best practices:
Aside from the Trust Score and the number of approvals, you should also note the email address attached to the staff members at the company requesting approval. Our new "extra details" (yellow triangle) will help you answer these questions:
Is the email domain a generic one (gmail, hotmail, outlook, etc.)?
Is the email domain one that nearly matches the company name, but may have an extra word in it (for example, @mcdonaldsmail.com instead of @mcdonalds.com)?
Another tipoff that a company may not be legitimate is the company details:
Is the location of the company legitimately a business address, or does it pull up a residential home or an empty lot in a Google search?
Does the website actually work? Does the domain match that of the email address?
Using this information can help you make an informed choice when approving or declining an employer.