When employers choose to collect applications outside of Handshake, the posting will have a red button Apply Externally, as shown in step 1.
1. Click Apply Externally to start your application–you will have to submit the application on the external site in order to fully apply.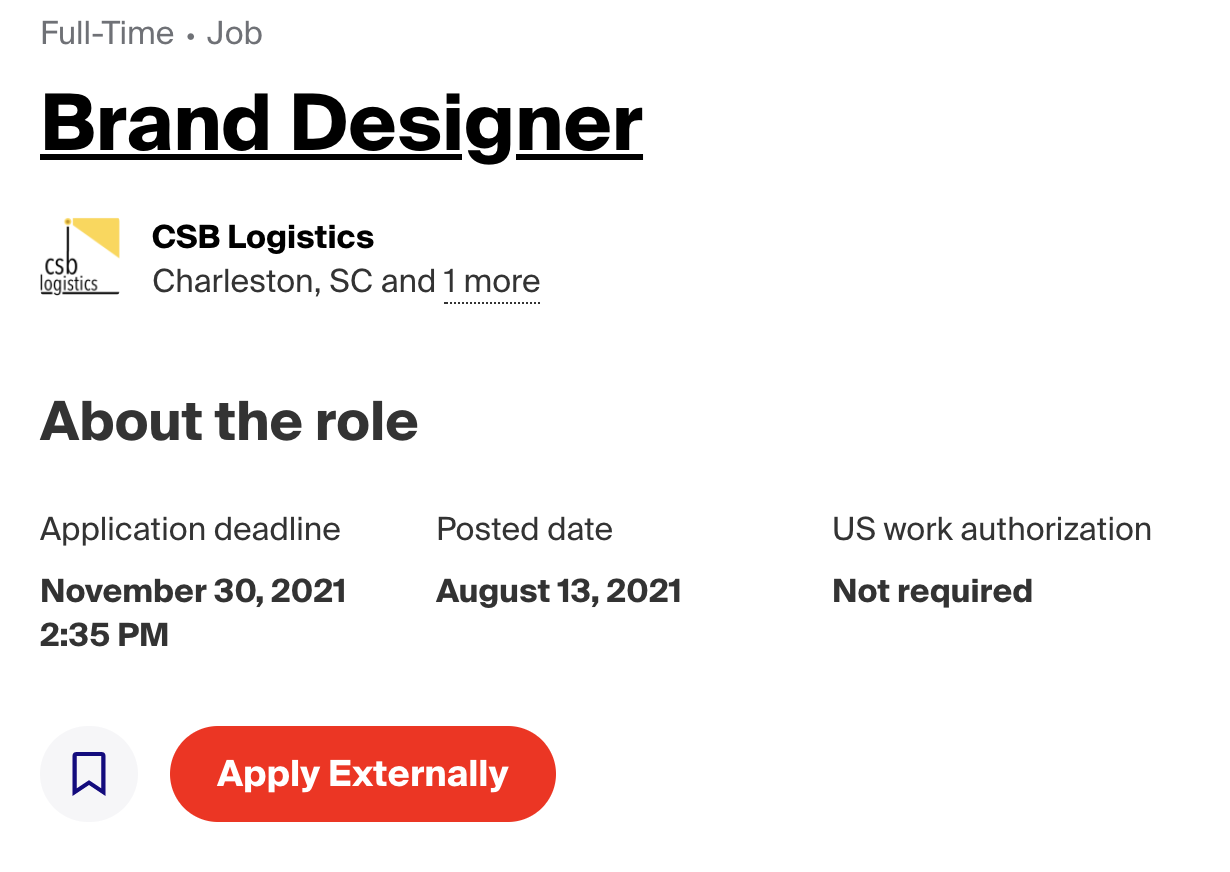 2. When you click Apply Externally, if a popup appears in Handshake, this indicates the employer has added an additional step in the application process. If no popup appears in Handshake, proceed to step 3.
Refer to the popup for which of three possible actions is needed in Step 1, detailed below, then click the green button Step 2: External Application:
Step 1: Review Employer Instructions

"Additional Instructions: COMPANY NAME has provided the following instructions for applying externally:"

CUSTOM MESSAGE FROM EMPLOYER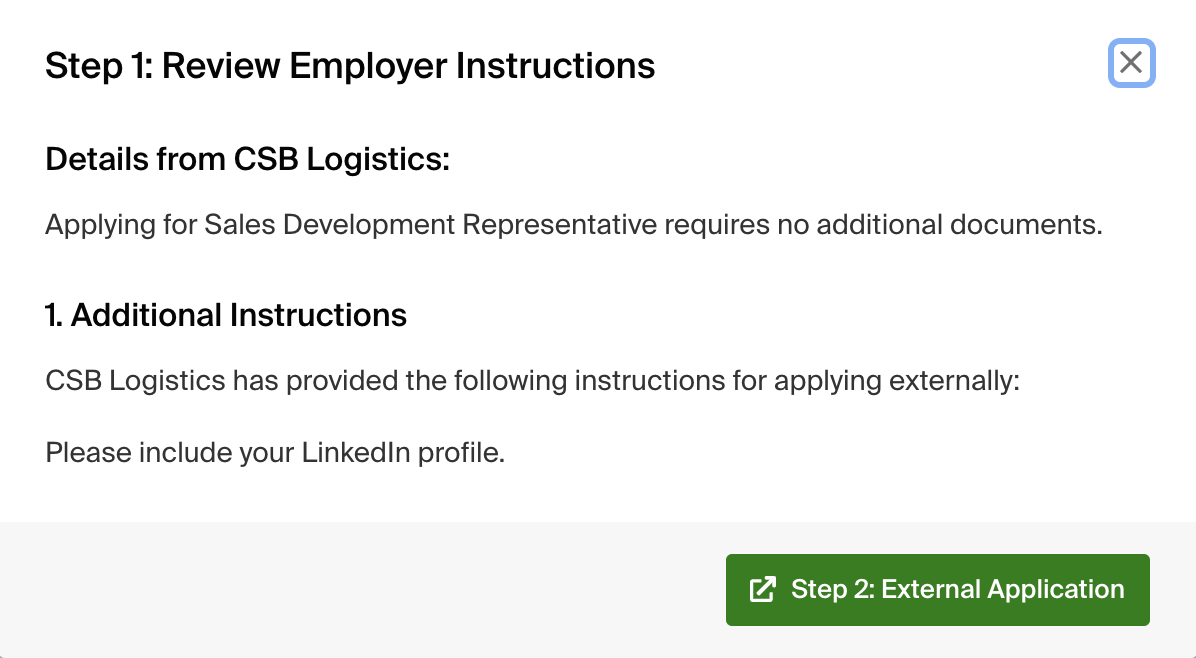 Step 1: Submit Documents on Handshake

Details on required Document(s) are provided in this space. Select your document via one of the following:

Click the dropdown menu to select from all uploaded documents.
Click the blue button Upload New to choose a new file from your computer.
Click on the name of one of the two most recent document uploads to your account, displayed below "Recently Added".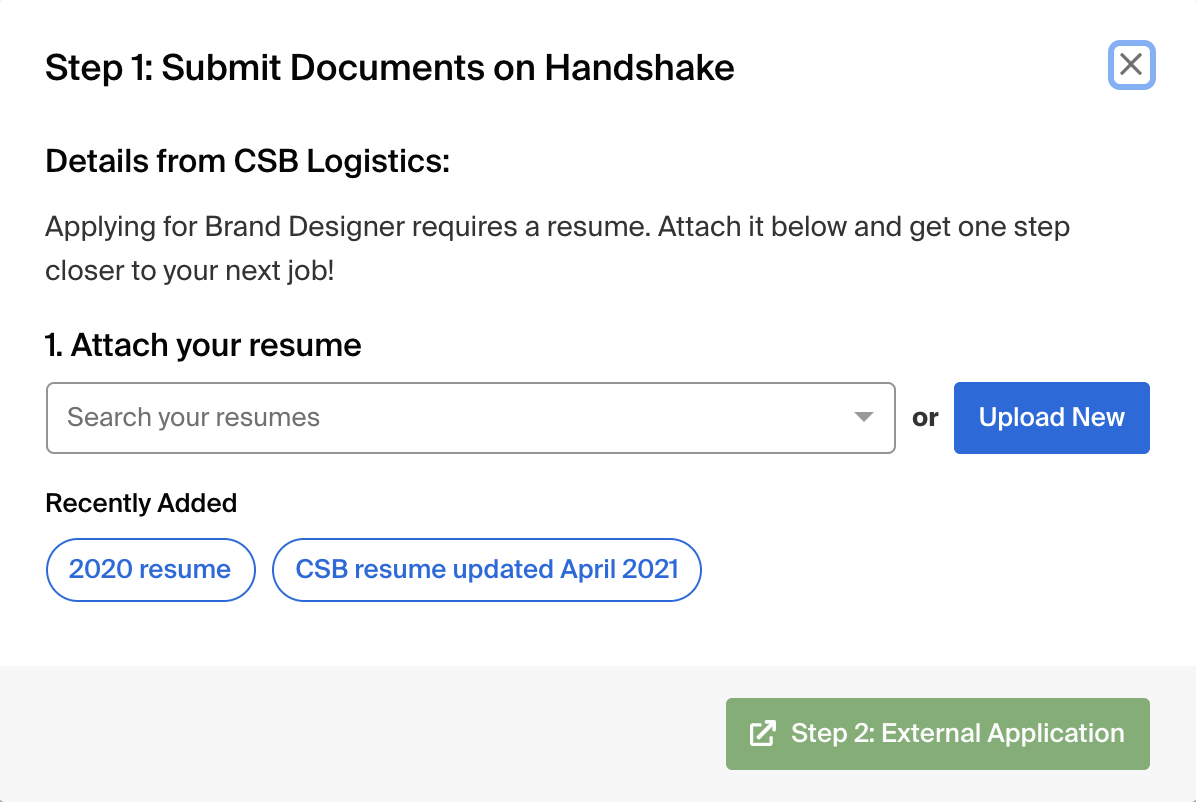 Step 1: Complete Pre-Application Questions

CUSTOM QUESTIONS FROM EMPLOYER (if questions are listed, enter your responses in the provided text field on the popup)

3. A new browser window or tab will open with the designated application link. You'll need to follow the instructions on this site in order to fully submit your application.
For any questions related to this application, you'll need to reach out to the employer directly, as Handshake does not have access to the external site.
Troubleshooting Tip: if the link does not open, check if your browser has a popup blocker enabled. If so, allow popups from the site, then try again by clicking the blue link External Application, which appears in place of the Apply Externally button (as shown in step 4).
4. In Handshake, the job posting will be added to "My Jobs" (accessible from the Account Icon menu), with the application status of Pending, however, Handshake cannot track your activity on the external site to confirm if the application was submitted.
Because of this, the job posting will update with the question "Did you finish your application?".
Click the gray button for YES / NO as appropriate.
if No, the button "Apply Externally" will reappear on the posting, and the job will be removed from "My Jobs" / re-added to the Jobs list.
if Yes, the text will change to "Application Submitted".
If you need to withdraw an application that has been submitted externally, refer to the first section in Withdraw an Application in Handshake.