Differences Between a Virtual and Physical Fair Setup
Functionality
Virtual - Facilitated in Handshake
In Person or Virtual - Facilitated Externally
Multiple Sessions

1 session supported

(you can create multiple virtual fairs for the same date)
Unlimited
Session Length
Up to 6 hours
Unlimited
Charges Per Additional Representative &

Included Representatives per Registration Type

No additional charges supported

since scheduling happens outside of the registration process and is limited to 100 representatives per company

Included representatives and charges per additional representatives are custom per registration type
Student Registration End Date

Is equal to the fair end date so students can continue to register and join sessions throughout the virtual fair

(similar to walking in day of)
Custom per fair
Nametag printing, student registration limit, physical location, booth map
Inactive on registration form
Active on registration form
Divisions

Registration per division is not supported

(single registration per company)

Registration per division is supported

(multiple registrations per company)
Creating a New Virtual Fair
A virtual fair is a great way to engage students and employers in a remote environment. In Handshake, we provide flexibility in creating and hosting virtual fairs, either hosted in Handshake or externally, while tracking registrations and data for reporting purposes.
Click Fairs on the left navigation bar to get started. You'll be taken to the Fairs overview page where you'll see any career fairs your school has already created. Click New Career Fair in the upper-right corner of the page to begin.
If your institution is planning to host both in-person and virtual fairs, check out our resource Best Practices: Hybrid Fairs!
Basic Information
Career Fair Name

Career Fair Logo (refer to our image size guide)
Career center (this will only appear if you have more than one career center configured for fairs)
Point of Contact for Students (select from an existing contact or create a new one)
Status (once published, it will be visible to students and employers)

Location
The fair must be set to Virtual and facilitated in Handshake for employers to be able to set schedules.
Is this career fair in-person or virtual? (select one)
Is this career fair facilitated on Handshake? (select one - if no, "This virtual career fair is facilitated on another site, but students and employers can discover and RSVP through Handshake.")
Student Registration Link (if external)
Location (inactive field - for in person fairs only)

Dates and Times
Virtual fairs will be limited to one session and six hours to reduce scheduling complexity. If you would like to run a multi day fair, you can use the duplicate option to quickly create multiple fairs.
Time Zone

Student RSVP Limit (not selectable for virtual fairs)
Start Time & End Time (virtual fairs cannot exceed 6 hours - you will receive an error message if you select more than 6 hours)

Tip: we recommend a 3 hour fair!

Focus Area (If your career fair has several dates and times, you can add a focus area for each. For example: Engineering Students, Companies Hiring Designers, etc.)
Industry focus

(select employer industries that you would like to represented at the fair, if you are not sure select All)
Booth Map (not selectable for virtual fairs)
Add new date and time (not selectable for virtual fairs)

If you create or edit a fair that has both a

Virtual fair type

and the

Facilitated in Handshake

selected, the "Add new date and time" button will be disabled.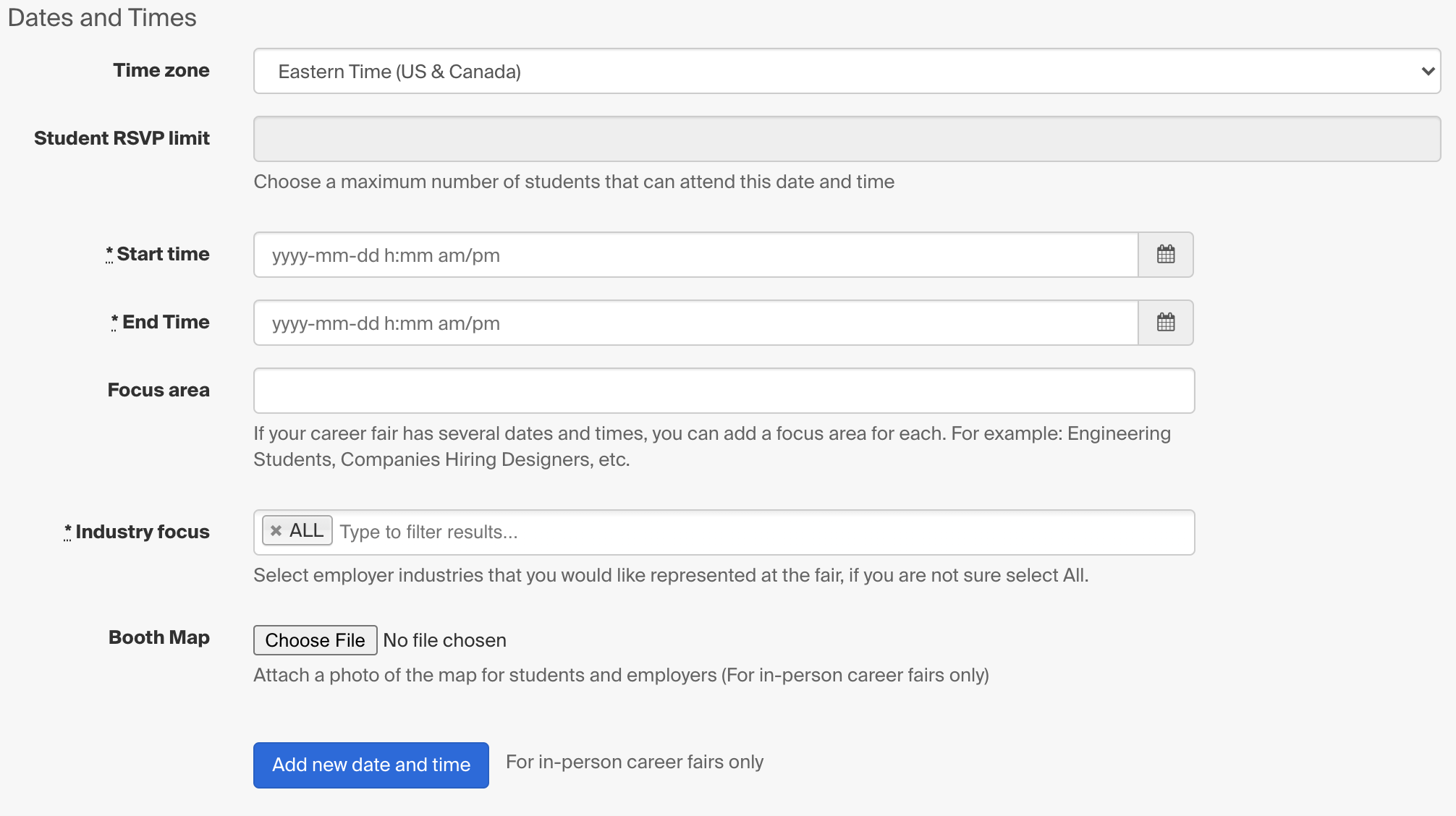 Student Information
Workflow considerations: If you'd like to allow students from other schools to attend, you can check the appropriate box, however, students will not see the fair as discoverable unless you invite another school!
Allow students from other schools to attend

Career fair is invite only

Student registration start and end dates and times

Estimated student attendance

(The number of students that you expect to register for this career fair)
Student registration survey (Select a survey you'd like students to complete as part of registration. If you don't see the survey you want to include, create it by clicking the word here.)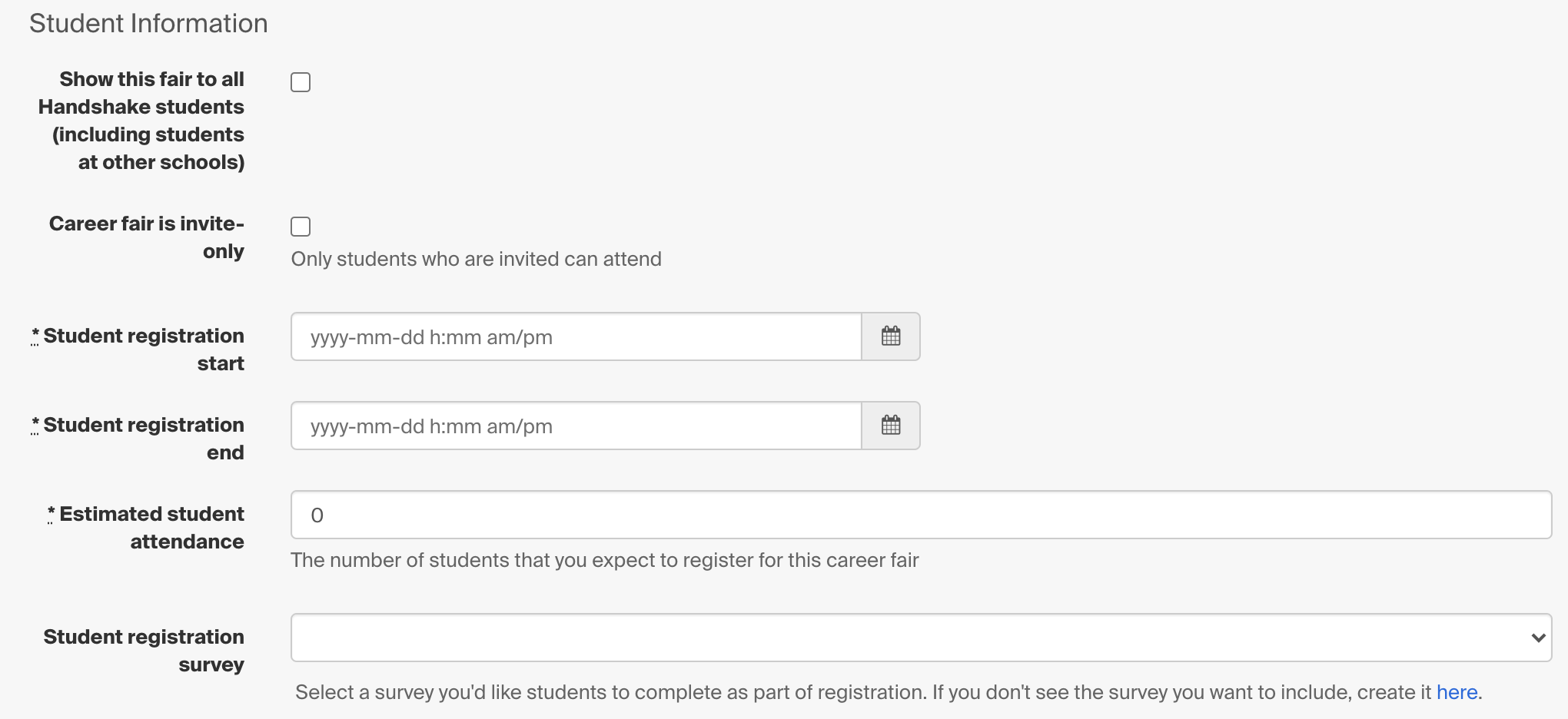 Employer Information
Hide this career fair from employers (Employers won't be able to discover this career fair unless you create and share a preview link with them)

Employer registration start and end dates and times

Estimated employer registrations

(The number of employers you expect to register for this fair)
Employer instructions (shown to employers on the registration page, not visible to students)
Employer payment methods (payments do have to be enabled at your school in order to select Credit Card)
Payment Instructions (These instructions are sent in the employer invoice notification email and also appear on the employer invoice if you allow "Other" as a payment method)

Approve employers before invoicing

Employer refund policy

Employer description

Allow all majors (Check this if you want employers to specify that they accept all majors on registration)
Choose majors (if you want to restrict majors employers can select from)
Employer registration survey (Select a survey you'd like employers to complete as part of registration, or create a new survey if needed.)
Survey title (This title appears as the heading for your employer registration survey. If you leave this field blank, the title will default to "Extra Questions.")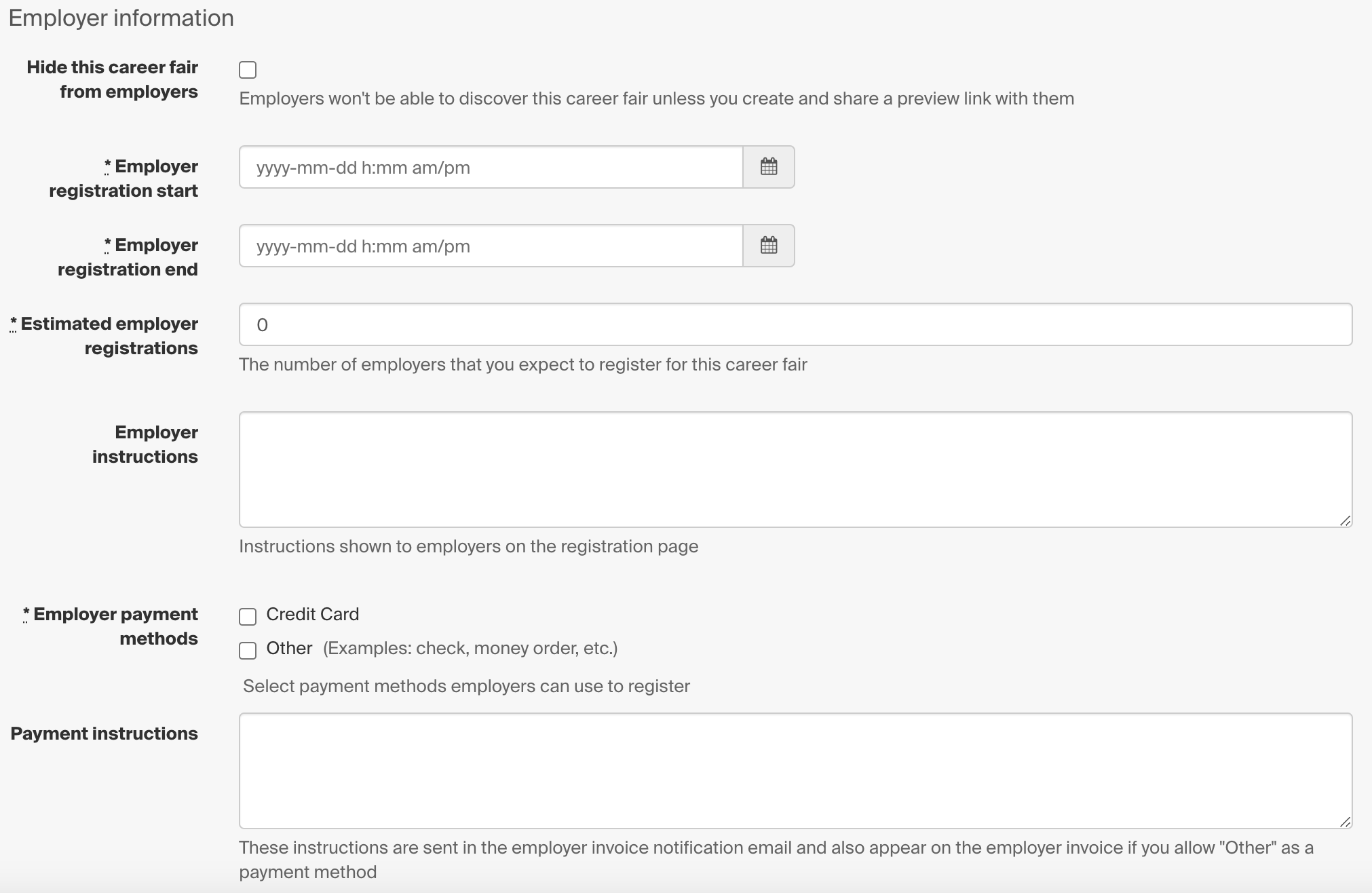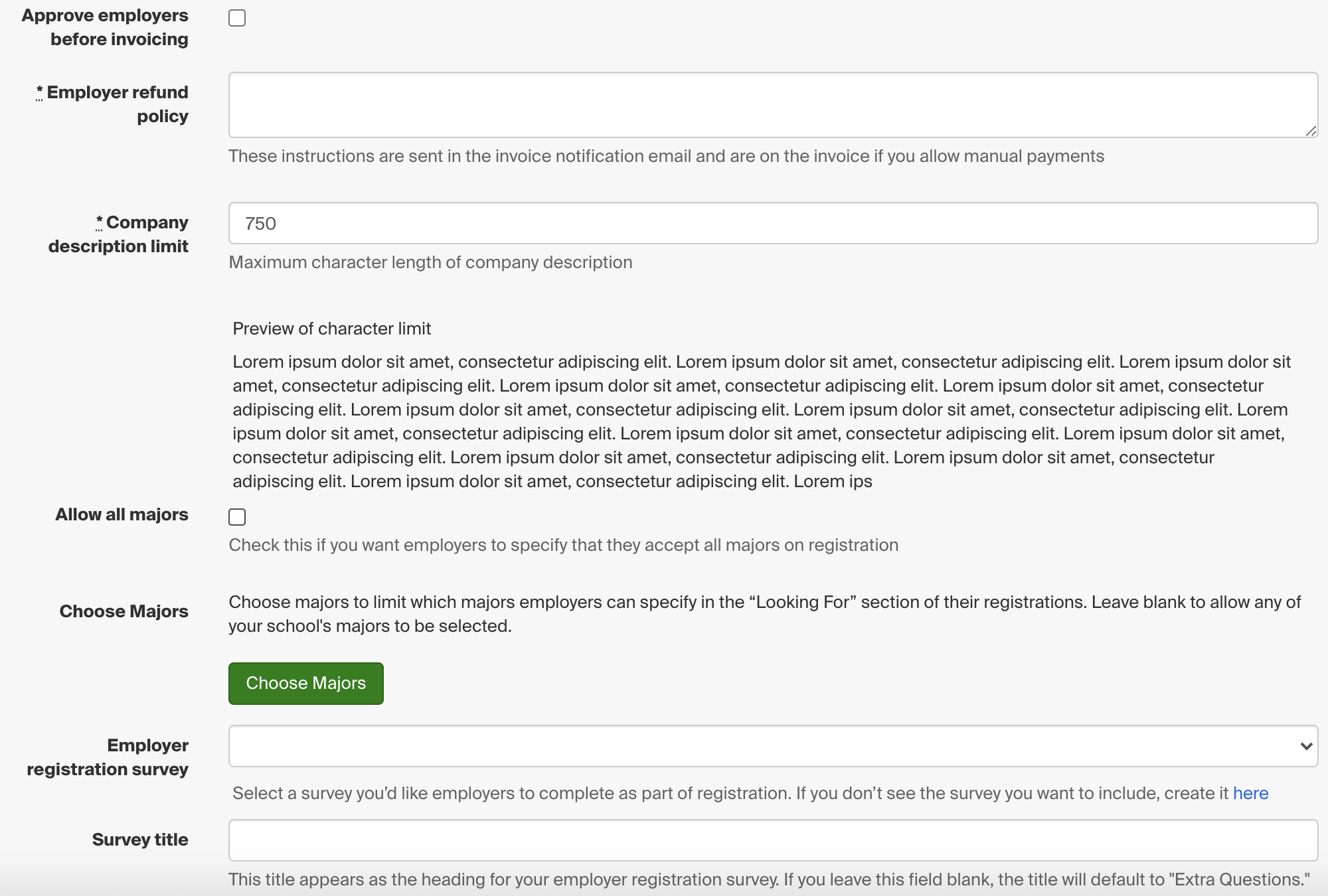 Messaging
Student description (The career fair description that is shown to students)
Student welcome message (Emailed to students after they register for this career fair)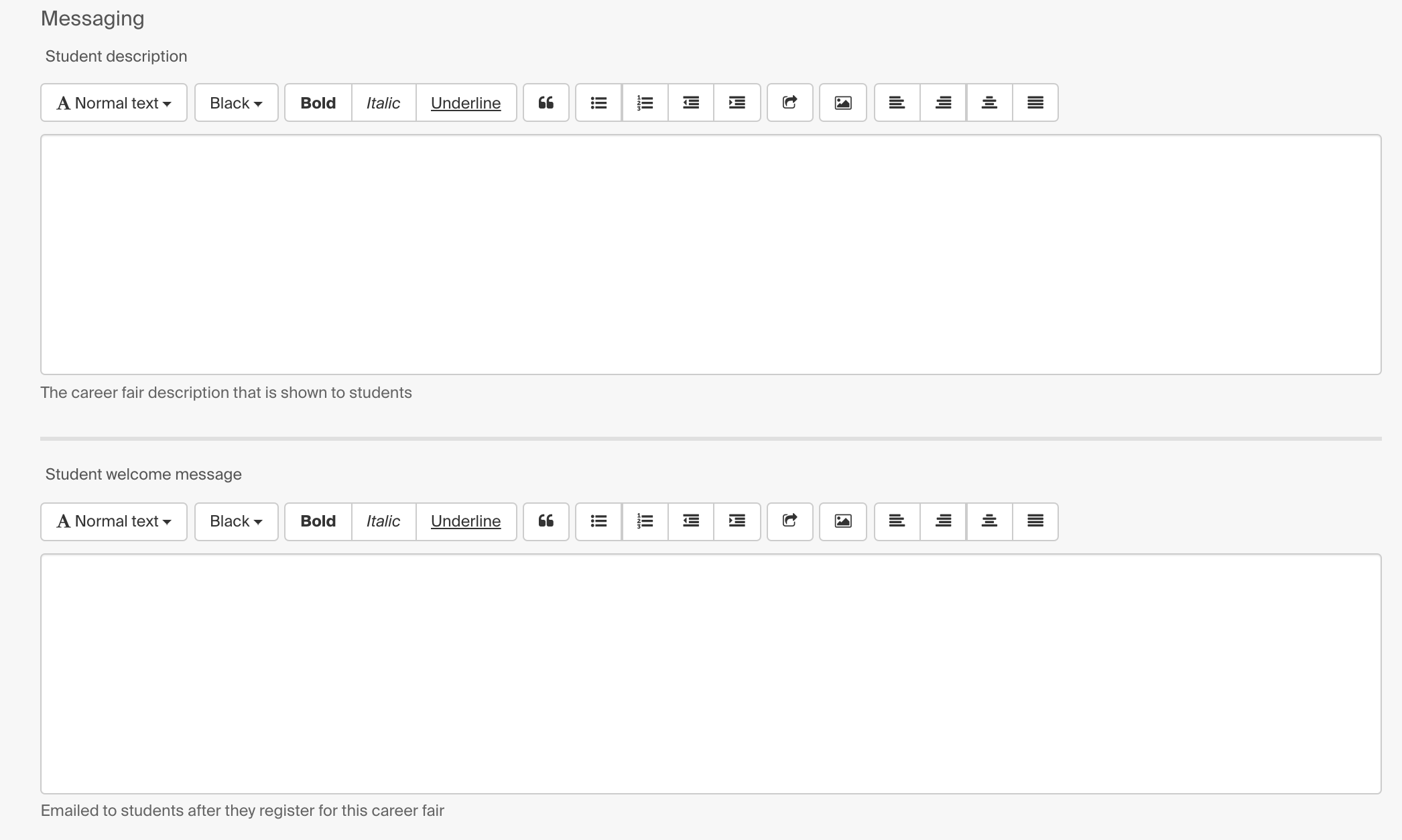 Employer description (The career fair description that is shown to employers)
Employer welcome message (Emailed to employers after you approve their career fair registration)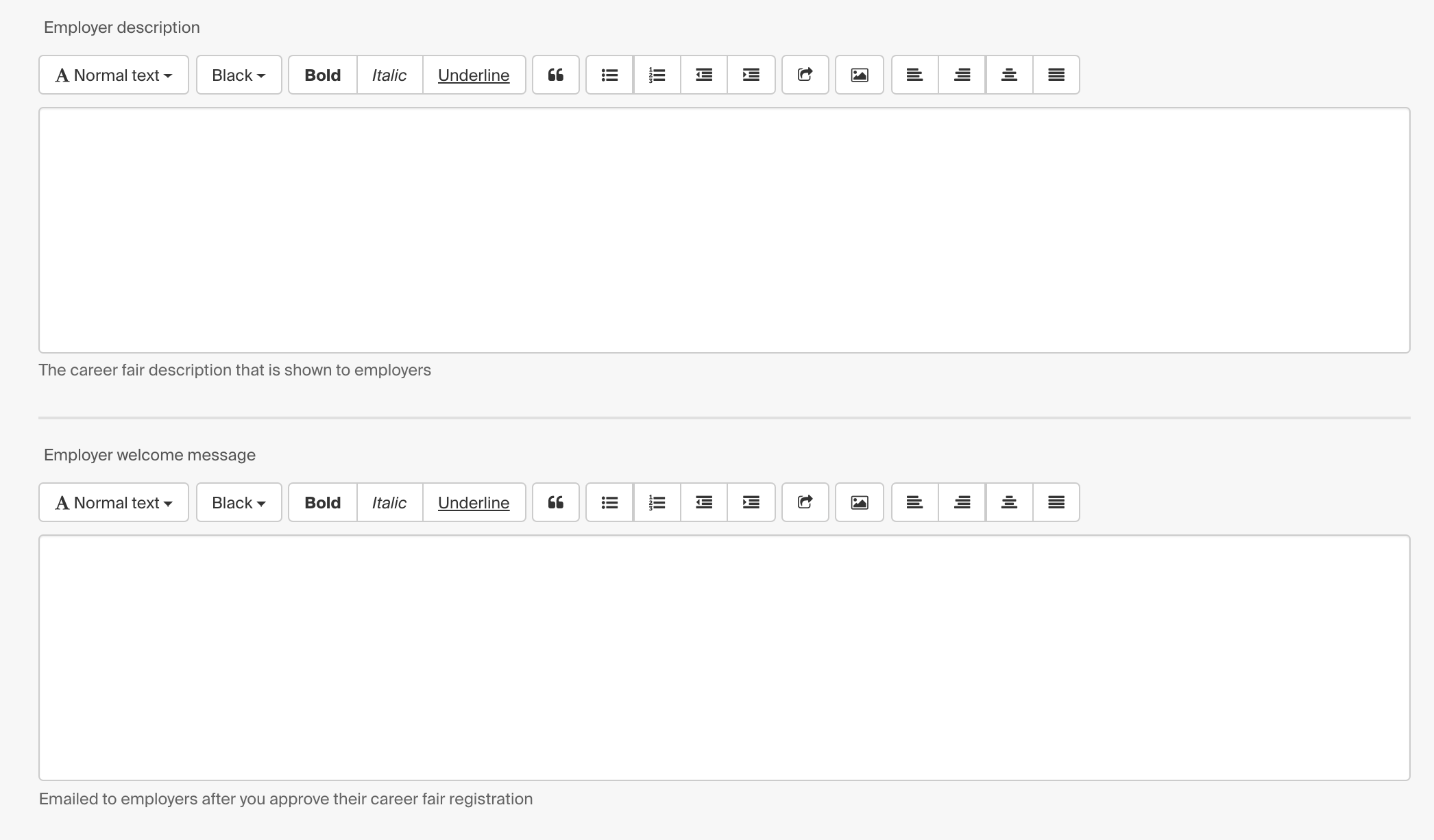 Default invoice message (Use this template to invoice a registered employer - you will be able to add a custom message when sending the invoice as well)

Additional Information
The fields for Name tag printing and Name tag XML are inactive for virtual fairs.

When you're finished, click the green Create Fair button in the lower-right corner of your page to save your new fair!
Next Steps: Configure Details
At this point, you've created the basic structure of your career fair. Now it's time to configure additional details of your fair.
When the fair has been created, you'll be taken to a page where you can edit the basics you just created and add more details. The default view will be on the Details tab, and you can use the boxes on the left side of the page to navigate:

Transitioning a Physical Fair to Virtual
Note: Physical fairs cannot transition to virtual if it is within 3 weeks of the fair date.
FAQs
We are hearing that employers would be more likely to participate in a virtual event if it is on a smaller more targeted scale. Is this true?
Handshake does recommend smaller, industry-focused events. In addition, we are hearing from employers that they are interested in these types of interaction as well.
Can we support graduate school events, volunteer opportunities, and student organization events through your virtual fair feature?
If these types of organizations have Handshake profiles and job postings then yes, you can support these types of events in Handshake.

Two important notes to keep in mind: the language in the product will be oriented to fairs and we will not be creating specific fair types for graduate school, volunteer, or student organizations.

Also, please keep in mind that non-career related fairs might make your video usage exceed typical fair use. If you plan on supporting non-career center fairs, please let your Relationship Manager know.
How many virtual fairs or events can a school run at the same time?
Handshake supports hosting multiple fairs at the same time. There is no capacity limit of fairs per day.
I see an error about too many virtual sessions or too long of a limit, but I'm not ready to adjust those yet. What can I do?
Change the fair to facilitated outside of Handshake so you can save other updates. Then when you're ready to adjust your sessions you can switch the host type back to virtual.
Is there an end date timeline for employer registrants to consider? i.e. two weeks in advance of the date to allow time for booth set up, etc.?
Since employers will need to setup a schedule we recommend that you close employer registration 3 weeks prior to the career fair.