If you would like to delete your Handshake account, there are two ways to do so:
Important: if your university has partnered with Handshake, you should contact your university's Career Centre directly to inform them of your deletion. Most partner institutions sync data from their student information system to Handshake as a service provider. When an account is deleted from Handshake, but not updated in the student information system, the next time the institution runs the sync, the account will be re-created (but defaulted to an unactivated account: fully private and not shared with anyone).
Initiate via mobile app
Currently, account deletions can only be completed via iOS devices. If you currently have the Handshake app downloaded on your iOS device, follow the process below to delete your account. Otherwise, skip to Partner with Handshake's Support Team to proceed with your deletion.
1. Click the Account icon, located in the bottom right corner of the screen, then click Account Settings.
2. Click the Delete account button, located under Log out.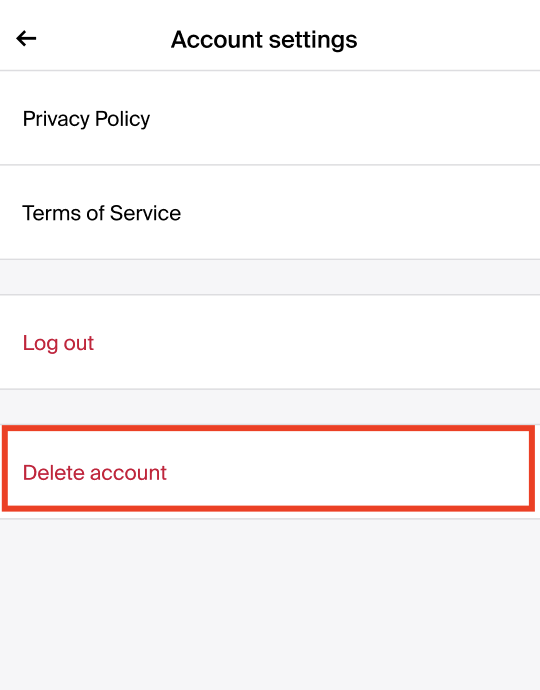 2. Within the popup, confirm that you would like to proceed with the deletion process by clicking the Continue button.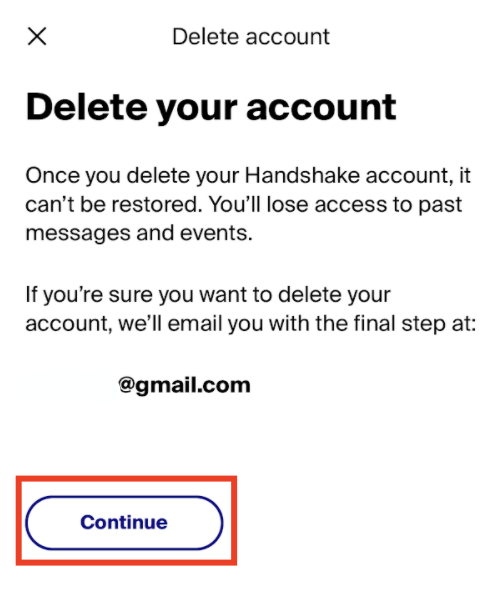 Note: once you delete you Handshake account, it can't be restored. You'll lose access to past messages and events.
3. A confirmation email for the deletion will be sent to your email address. If you are not receiving the confirmation email, refer to Troubleshooting Missing Confirmation Email and then click the Resend email button.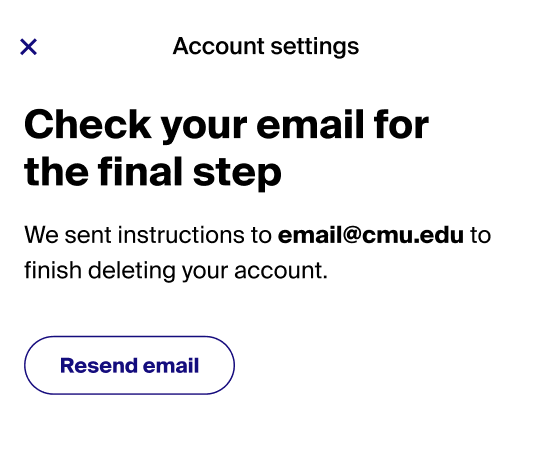 4. Go to your inbox and locate the email sent from Handshake. Click the red Delete Handshake account button, located at the bottom of the following email:
From: Handshake <mailer.joinhandshake.com>
Subject: Deleting your Handshake account
Message: "Final Step to Delete your Handshake account
Hi [NAME],
To delete the Handshake account associated with [EMAIL], confirm below below. This action can't be undone.
If you don't recognise this request or need help, please reach out to support@joinhandshake.co.uk.
Thanks,
The Handshake Team"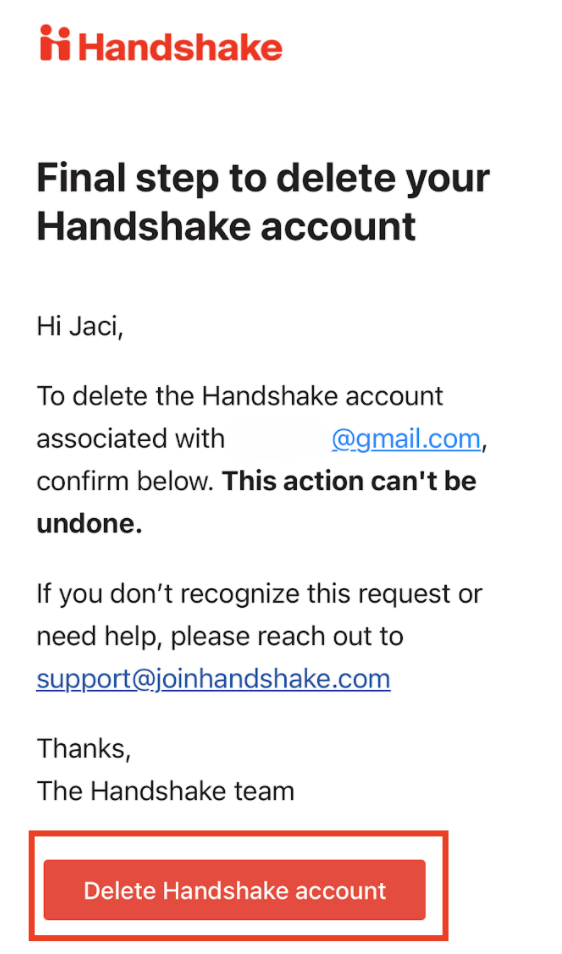 5. Once confirmed, you will be directed back to the mobile app. Handshake will indicate that we've received your request, and are working on deleting your account.
Note: this takes a couple minutes.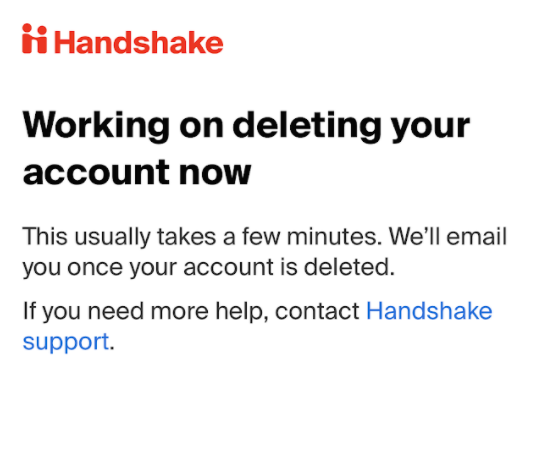 6. Upon completion of the deletion, a final email will be sent to your inbox with the below email:
From: Handshake <mailer.joinhandshake.com>
Subject: Your account was deleted
Message: "Your account was deleted
Even though this breaks our heart a little, we successfully deleted your account.
Please note your institution may automatically create accounts for students. You can reach out to your Career Services Centre to confirm your account is deleted on their end."
Partner with Handshake's Support Team
To request a deletion, uses the process below.
1. Submit a ticket indicating you'd like your account to be deleted.
2. When the request is received, our team will respond to acknowledge the request and confirm intent to delete the account.**
3. Once you confirm you'd like to delete the account, our team will confirm applicable Data Privacy Rights. After a short processing period, we remove all personal and identifying data from the profile, search results, and user directories, then archive it within our system, unless required otherwise by your institution (if they've partnered with us).
Note: To confirm your account information does not re-sync, we recommend to followup with your institution's Career Services centre and request they remove your information from their student sync.
*** Our team may first attempt to help you update your account settings to accommodate common concerns resulting in deletion requests – providing these steps enables you to still enjoy the benefits of a Handshake account. Some common concerns and corresponding resources are listed below:
not currently looking for a job or internship
concerns about account/data privacy
desire to change settings for notifications/emails received