With Handshake's curated, targeted audience, you can significantly increase the visibility of your job postings and attract a larger pool of highly qualified and interested candidates.
For select jobs that have not yet been promoted, Handshake will create an audience of students who align with the job requirements and are likely to be interested in the job.
Premium features are for Handshake Premium accounts only. For more information, please check out this resource.
Note: this feature is only available to Recruiter (Sourcer) users connected to a Premium account.
Notification
Depending on your preferences, Handshake will notify you via notification or email when an audience is created for your job, and prompt you to create a campaign.
Explore your Default Notification Preferences (Employers).
The email will read:
From: Handshake <handshake@m.joinhandshake.co.uk
Subject: "Boost engagement on your job with a campaign"
Body:
Get more views and applications for this job with a message to students - without the work of creating a segment. We automatically made an audience of the best-fit students likely to be interested in the job. All you have to do is schedule the campaign.
Job details
Name of company, industry
Job title, salary, location, employment type
[Learn more about campaigns] button.
[Create this campaign] button."
Click the button Create this campaign to login to Handshake and create and schedule this campaign.
Tip: we recommend signing in to your account before you click the 'Create this campaign' button in the email.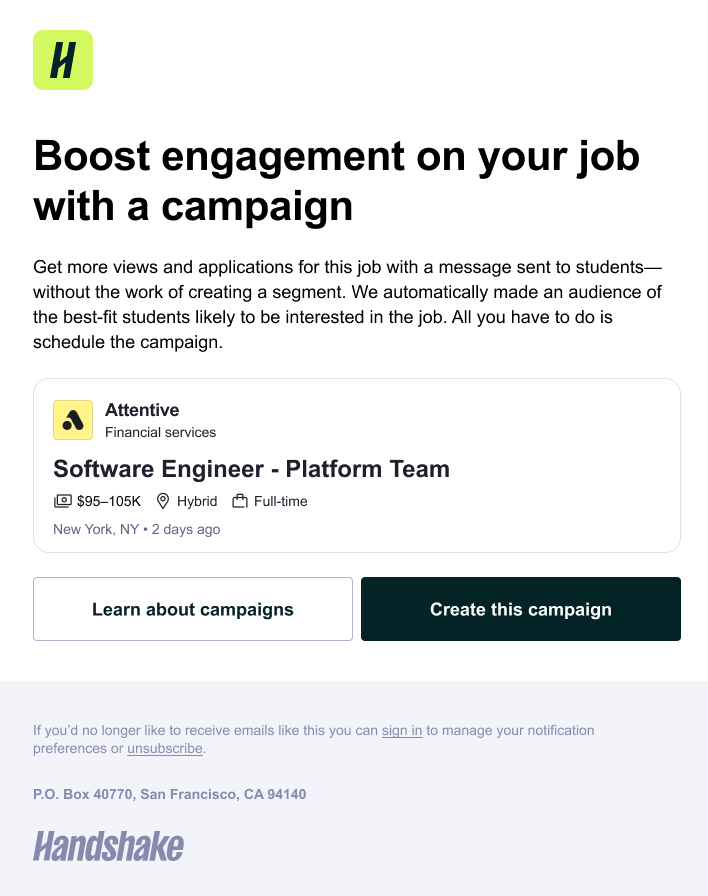 Create campaign
Once the button Create this campaign is clicked, you will be directed to the campaign setup form.
The field Related job is pre-populated with the job referenced in the email and the field Send to segment is pre-populated with the audience that Handshake configured for the job.
Note: the pre-configured segment cannot be combined with any other job.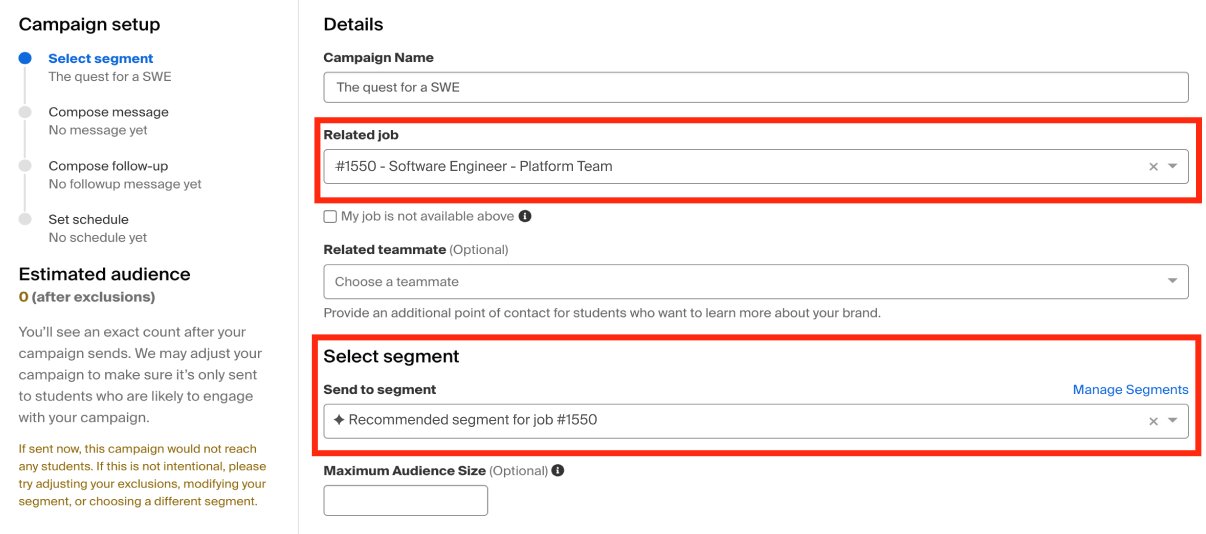 To finish creating the campaign, refer to the second section in Campaigns: Create and Manage a Campaign.