A segment is a filtered group of students you can use to create a campaign or identify job matches. A campaign is a message you'll send to these selected students, often about a job posting or event.
Learn more about Campaigns: Create and Manage a Campaign.
Premium features are for Handshake Premium accounts only. For more information, please check out this resource.
Build a segment
1. Click on Segments from the left navigation bar. The page will list active segments created by yourself and other teammates.
Segment Columns:
Name: the name of the segment
Date Created: the date the segment was created
Count: the number of students within the Segment
Institutions: how many institutions are included in the Segment
Owner: the creator of the segment
Icons:

Envelope: create a campaign directly from that segment
Pencil: edit segment
Paper: duplicate segment
Trash

Bin: archive segment
2. Click the blue button Create Segment in the upper-right corner of the page to build your own.

Use the filters to identify the subset of students you'd like to include. The right side of the page will display a dynamic query as you add filters - as you choose more filters, the number of students included will typically decrease.
Note: segments are fluid, meaning students can move in and out of segments as their profiles change. As an example, if a student's course or level of study changes on their Handshake profile, they will no longer be included in that segment.
The current filters in Segments include:
Institutions
Handshake Open

Students in the Handshake Open Network attend institutions who have not directly purchased and partnered with Handshake.

Profile Keyword
Course Group

Course Group consolidates courses across institutions into a common taxonomy.

Course Keywords
Course Category

STEM
TEM Only
Liberal Arts

Graduation and Class Standing

I'm looking for

(select one)

New Grad Hires
Intern Hires
Recent Grad Hires
Custom

(choose a custom graduation date range)

Organisations/Extracurriculars
Job Role Interests
Student Industry Interests
Student Job Seeking Interests
Achievements & Accolades
Student Location Preferences
Current Location
Skills & Experience

(i.e. Desired Skills, Coursework, Work Experience)
Underrepresented Groups

Note: if you select an underrepresented group filter, you must select at least one other filter to populate results - these filters may not be used alone.
3. After selecting all desired filters, enter a segment name in the upper-right corner of the page, then click the blue button Save Segment.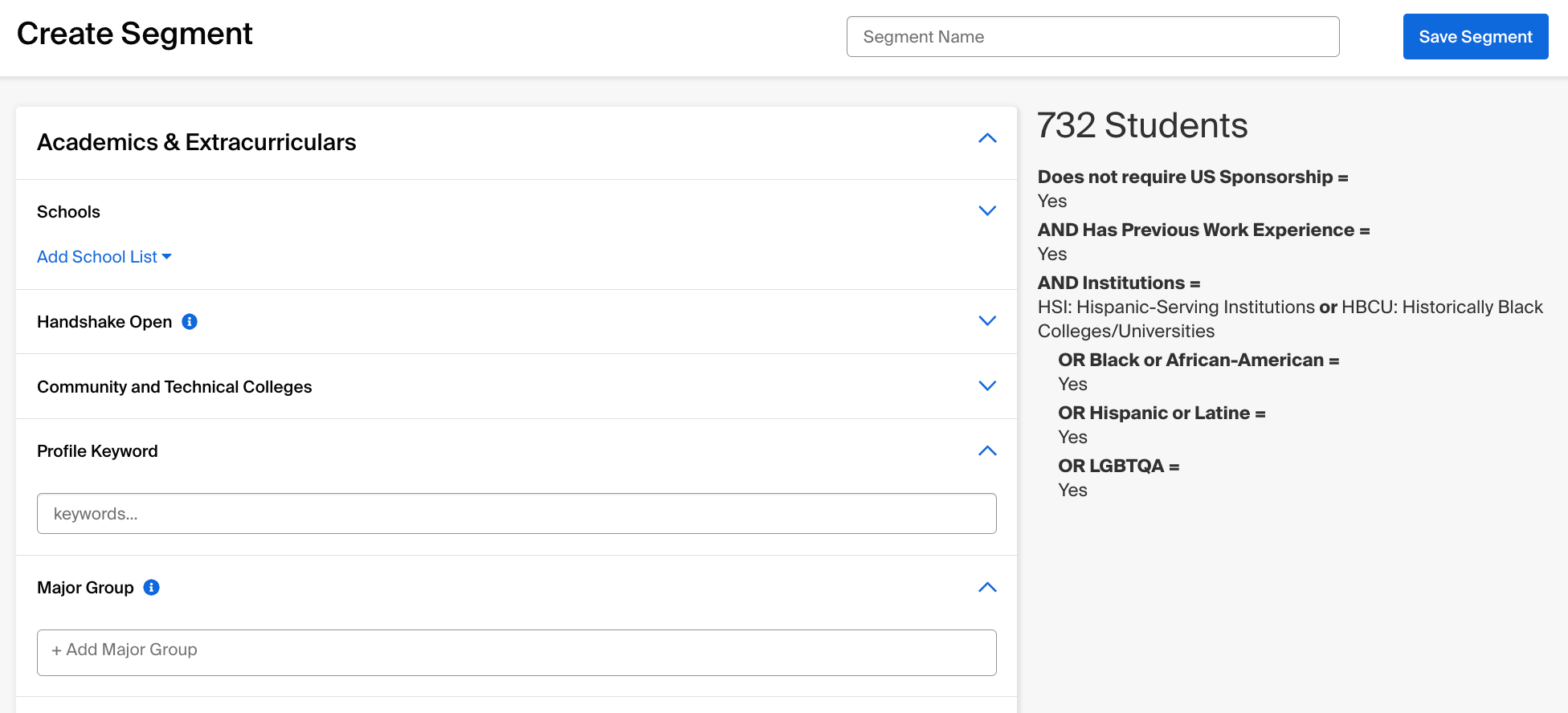 4. From here, you will be taken directly back to the Segments overview page. Your new segment will appear at the top. You may also use the search box on this page to locate your segment.