Individual career services users need to designate blocks of time to indicate when they are available for scheduled appointments, and which appointment types they offer during those times.
Settings can be determined after the necessary appointment settings have been configured in your Institution. Refer to Appointments System Setup Checklist and Testing Guide for more information.
Choose Your Appointment Types
Go to your User Settings in Handshake by clicking your name in the upper-right corner of the screen, then clicking User Settings from the dropdown.
From the menu on the left of the page, click Appointment Types. This will load a list of available types configured for your institution.
To allow students to request a specific appointment type with you, click the green button Add, located to the far-right of the appointment type name.
If a type has been added by mistake, or you are no longer accepting a certain type, click Remove, the red button in place of Add, to remove the type from your availability.
If you can't find an appointment type as expected, go to your Institution's Settings, then click Appointment Types to add a new appointment type or edit an existing one.
Note: Your Career Service Centre likely has a policy around adding and editing appointment types. Please make sure you understand that policy before making changes to available Appointment Types within your Institution Settings.
Create Your Appointment Blocks
After you've selected the appropriate Appointment Types, you'll need to create appointment blocks to show students when you're available to meet with them.
Note: Appointment Blocks may be configured in your User Settings or Calendar.
Access blocks via user settings
1. Click Appointment Blocks from the menu on the left of the page to create new or manage existing blocks.

To add a new appointment, click

Add Appointment Block

in the upper-right corner of the page, then fill in the information on the page that loads:

Repeating?

- check this box if you'd like the block to repeat on a weekly basis, leave it unchecked if this is a one-time block
Day of week

- select the day of the week the block is for

Blocks may only be created on a per-day basis, so if you need time for more than one day of the week, you'd need to create an individual block for each day.

Unavailable?

- check this box if you'd like the block to be unavailable for students to request

For example, you may want to create a 15 minute "unavailable" block in the middle of a four-hour Appointment Block as a way to ensure a break

Drop-in?

- check this box if you want to accept drop-in appointments during this block

If the block is marked as a drop-in, students will not be able to request appointments during this time.

Appointment mediums

- to limit the available mediums for this block, select the desired medium(s) from the menu. If left blank, all appointment mediums for your institution will be available for students during the block.

For example, if you would like to limit your Monday blocks to phone appointments, you can do that by defining the corresponding Appointment Medium in this field.

Appointment Types

- all types you've added in your user settings will be listed by default. You may remove types from this field, or if you're editing an existing block, you may add new types.

In the example screenshot below, an appointment type that was archived has been unarchived, so to remove it, I'd click the X to the left of the word "ARCHIVED".

Start Time

- the time the block should begin, when students may choose to attend an appointment
End Time

- the time the block should end, which is the designated close time when students may schedule an appointment

Tip: make sure your available blocks are sufficient length to support the appointment types you've added. For example, if you've added an appointment type that is 45 minutes, but your available block is only 40 minutes, students will not be able to schedule appointments with you during that time.

Start Date

- the date that this block becomes "active", when students may schedule appointments
End Date

- the date this block becomes inactive, when students will no longer be able to schedule appointments during this time

Note: End date must be no more than 9 months from the start date. If it is more than 9 months, an error will appear and the block will not save.

Timezone

- the timezone you are hosting appointments in

If you are hosting appointments for students in other timezones, it's important that your block setting reflects 'your' timezone. Handshake will translate the timezone as needed based on the student's system settings.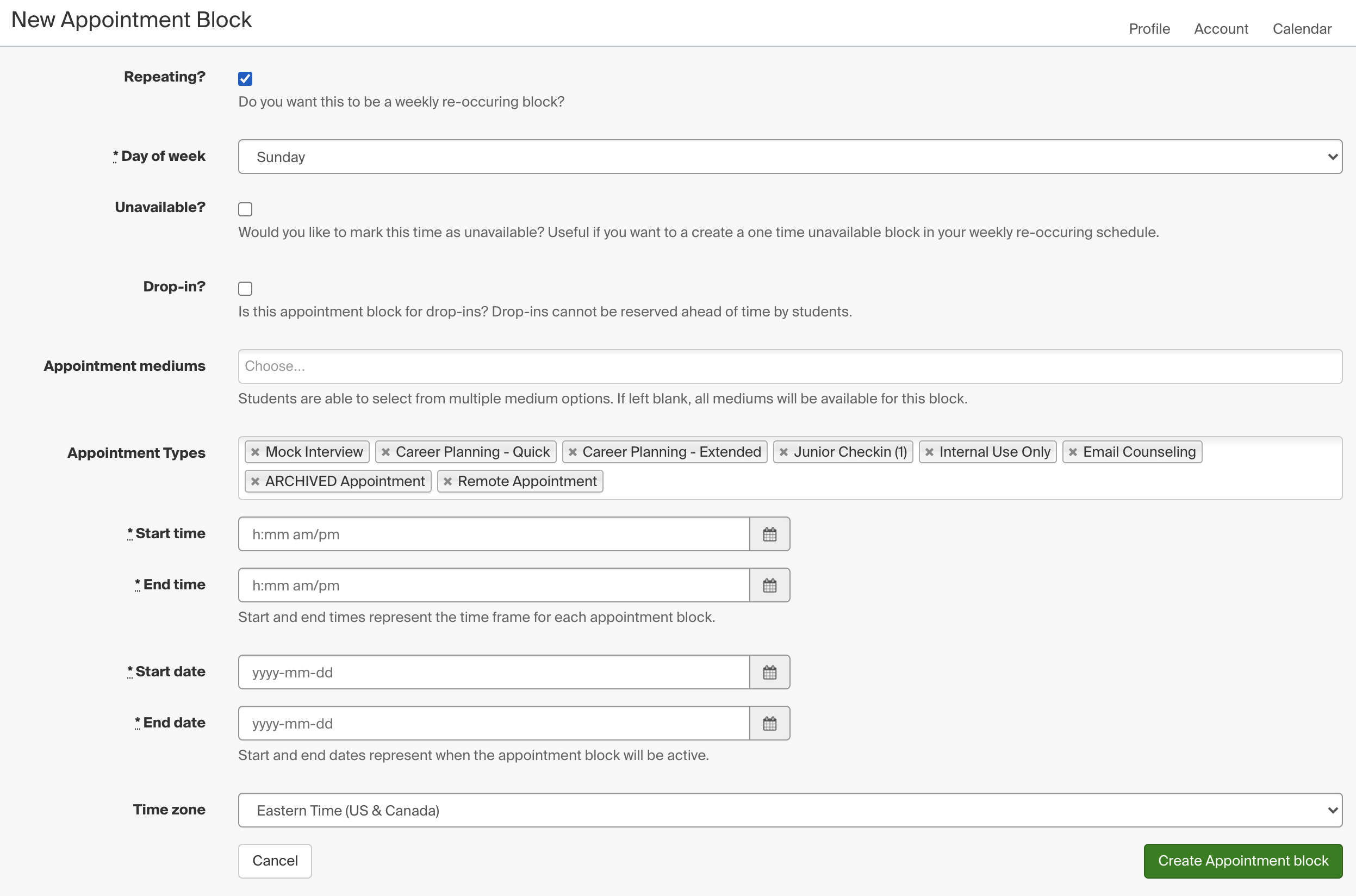 To edit an existing block, click the grey button Edit, located to the left of the appointment block name, then update the information as desired.
Create blocks from Calendar
1. Click Appointments from the left navigation bar in Handshake, then click the Calendar tab in the upper-right corner of the page.
2. All staff members for your institution are included by default. To reduce the columns displayed, click Staff Members in the upper-left corner of the page, then uncheck any users you'd like to remove from view.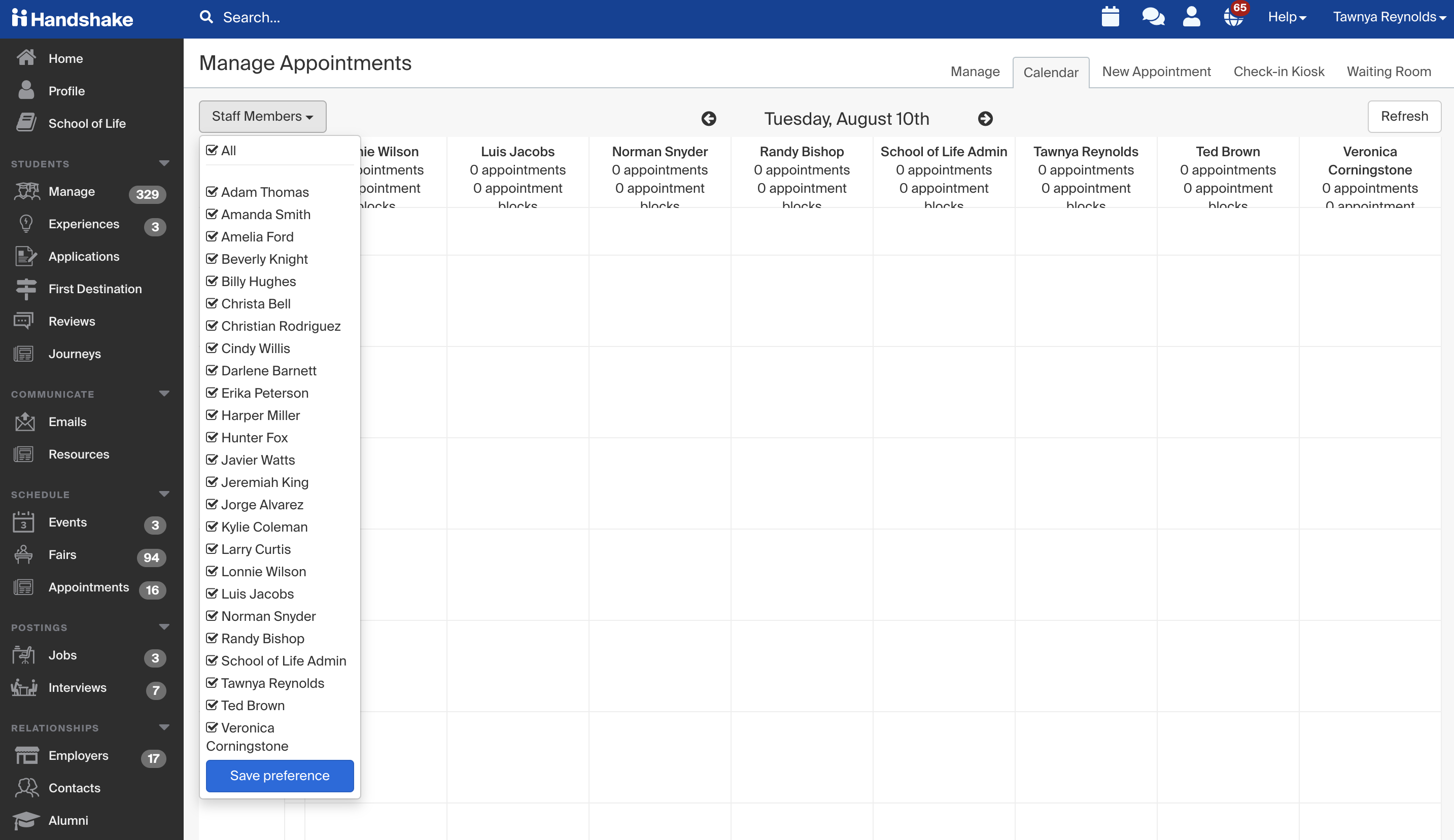 3. Locate the appropriate column for you (or your colleague, if you're adding a block on someone's behalf), then click in the column to generate the creation popup.
4. The popup will load to Create Appointment–click the tab Create Appointment Block to the right, then fill in the block details.
For more information on each field, refer to the User Settings instructions above.
Unavailable?
Start & End dates / times

(defaults based on the date at the top of the calendar and 'where' you clicked in the column - times displayed to the far left)
Appointment Medium
Appointment Types

Note: all appointment types that the selected user has added in their User Settings will be added by default.

Drop-in?
Repeating?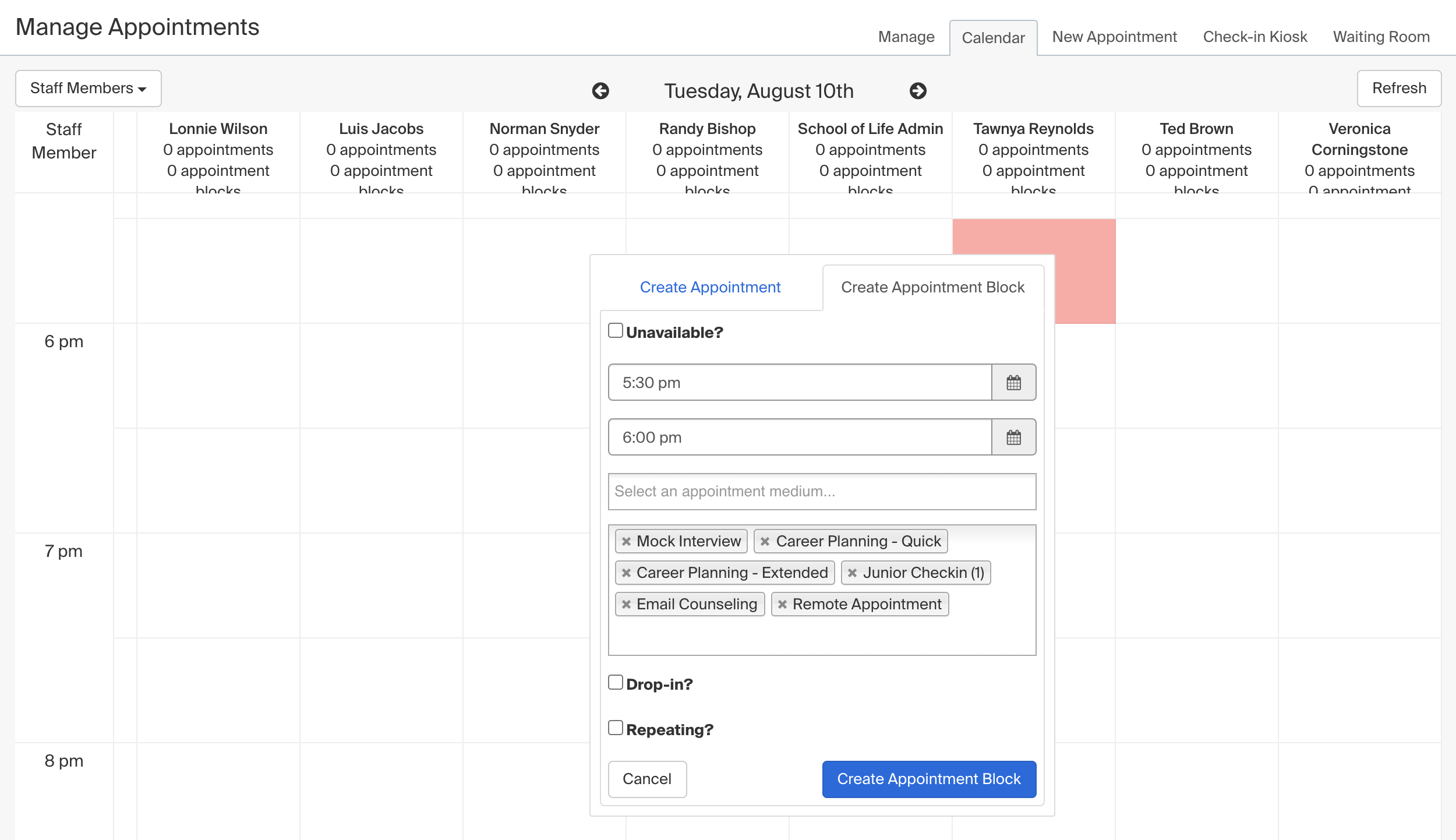 5. Click the blue button Create Appointment Block to save the block.
Additional Considerations
If you have two available blocks scheduled at the same time, they will cancel each other out and make you appear unavailable.
We recommend ensuring you're setup to receive notifications for upcoming appointments via User Settings > Notification Preferences > Appointments and select Email and/or Notification for "Upcoming Appointments", as well as any other Appointment notification you'd like.
If you're using Handshake's two-way calendar sync, unavailable blocks

(events marked as 'busy')

from your work calendar are automatically populated as unavailable in Handshake.