Ready to apply for a job or internship in Handshake? Follow the steps below to get familiar with job postings in Handshake and submit your application!
1. Access the job you'd like to apply for via Jobs or Saved.
Click Jobs in the upper-left corner of the Handshake screen, next to the Handshake logo.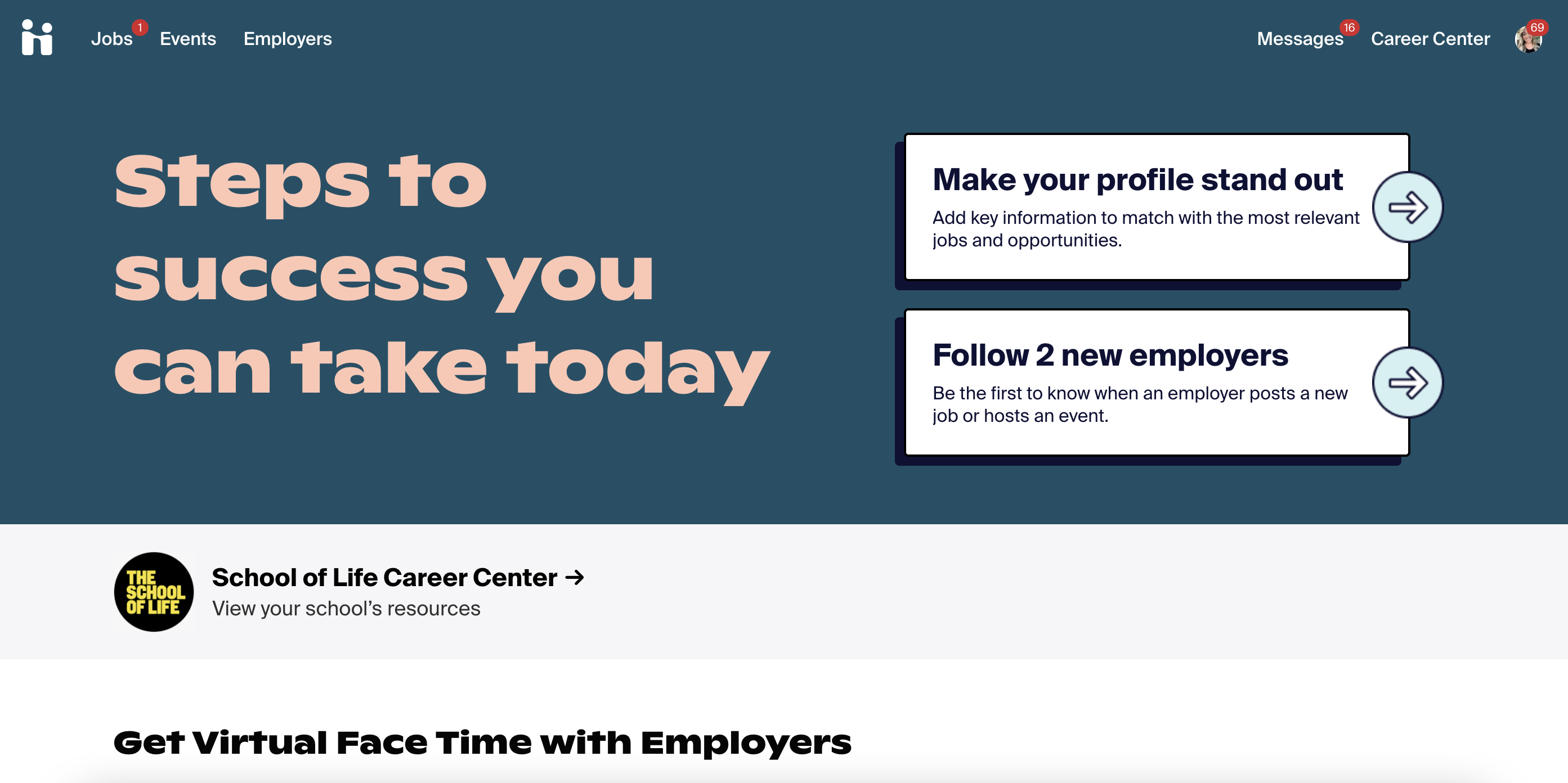 The Jobs default page will load – on the left of the page are jobs approved at your institution. Click on a job to load more details on-screen.
Under the heading "About the role" are key details, including:
Application Deadline

Take note of this deadline if you plan to apply to the job at a later date! Save the job by clicking the bookmark icon - this provides an automated reminder to apply prior to the deadline. Refer to My Saved Jobs in Handshake for additional information.

options for contacting the employer, if they are open to receiving messages or scheduling a virtual info chat about the role
upcoming events

If the employer is attending a career fair or hosting an event at your institution, the details will be displayed on the job posting. Click on the name of the event to be directed to the registration page.

For more information about registering for an in-person career fair and virtual fair, refer to:
Learn more about registering for an employer hosted event in Registering for an Event.

candidate preferences selected by the employer

Preference matching is based on information in your Handshake profile. If this is incorrect, learn how to make updates:

reviews about working for this company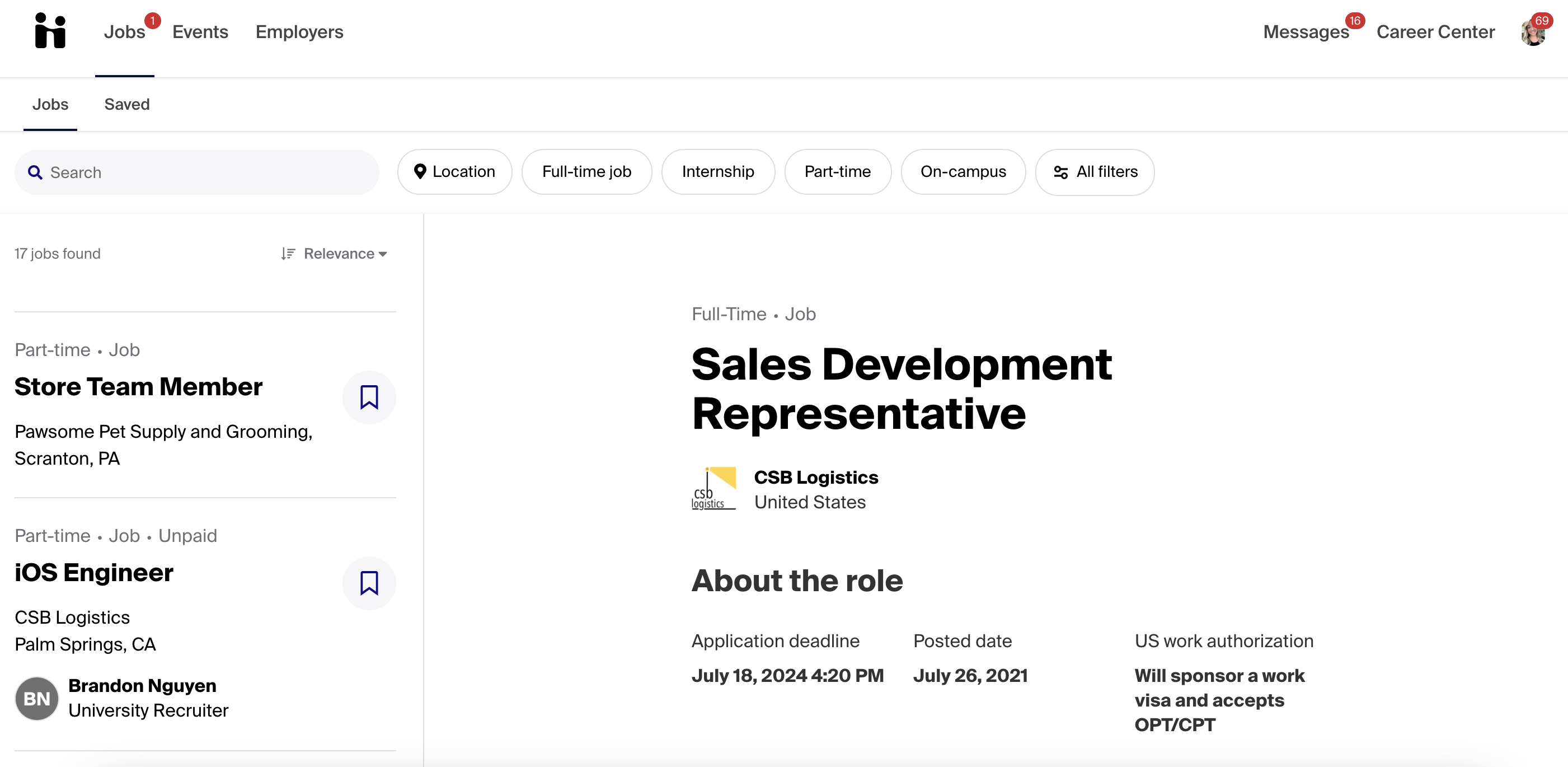 2. Click on Quick Apply, Apply Externally, or Apply as applicable for that particular job.
Quick Apply indicates:
you meet all employer preferences and either:

there is no document required.
there is only one document required (a CV), and you have at least one approved or pending resume uploaded.
Read more about this in Jobs: Quick Apply in Handshake.
Apply Externally indicates the employer is using an external site to collect applications. Additional action is required outside of Handshake to complete your application.
Read more about the next steps in Jobs: Apply Externally.
Apply appears if one or more of the following are true:
if you do not meet all of the employer preferences
if at least one document is required and you do not have any documents uploaded
if more than one document is required
if you are accessing a job via Saved that has an external application.
3. Select your CV or other document(s), complete any additional required actions, and Submit Application.
After clicking Apply, a pop-up will appear with details about the application.
If a document is required, you can either 1) select from all existing documents by clicking the dropdown menu, 2) choose one of your two most Recently Added documents, or 3) upload a new document at this time by clicking Upload New.
If a document is not required, the popup will confirm no additional documents are required.

Example with a profile that doesn't match employer preference (Apply):
Click the green button
Submit Application
in the lower-right corner of the popup. When your application has been submitted successfully, an email confirmation is sent. For more information, check out
Application Submitted: Email Confirmation
.