Employers in Handshake may choose to host virtual info chats with students to share more information about a role, company, or team. While this flow is similar to employer-hosted meetings, there are some key differences, such as length and how you can sign up.
For details specific to other employer-hosted meeting types, please refer to Attending Employer Hosted Meetings.
Virtual chats include one employer and one student per session and are:
scheduled for 15 minutes each.
hosted via integrated video on Handshake.
Opportunities to sign up for a virtual chat are promoted on job postings and in messages received from employers. Employers may also add you to a scheduled virtual chat.
💡Note
: in order to participate, profile privacy must be set to either Community or Employers. If your profile is marked Private, you'll be prompted to update the setting when signing up for a meeting. For more details, refer to
Profile Privacy Options in Handshake
.
Virtual Info Chats via Jobs
When reviewing jobs, the recruiter's name, profile photo or icon, and job title are displayed with posting info in the left column if they have chosen to receive messages and/or host virtual chats.
Click on the job posting to review contact options:
Find a time: this button is displayed if a virtual chat schedule is attached to the job posting
Send a message: this button is displayed if the recruiter has chosen to receive messages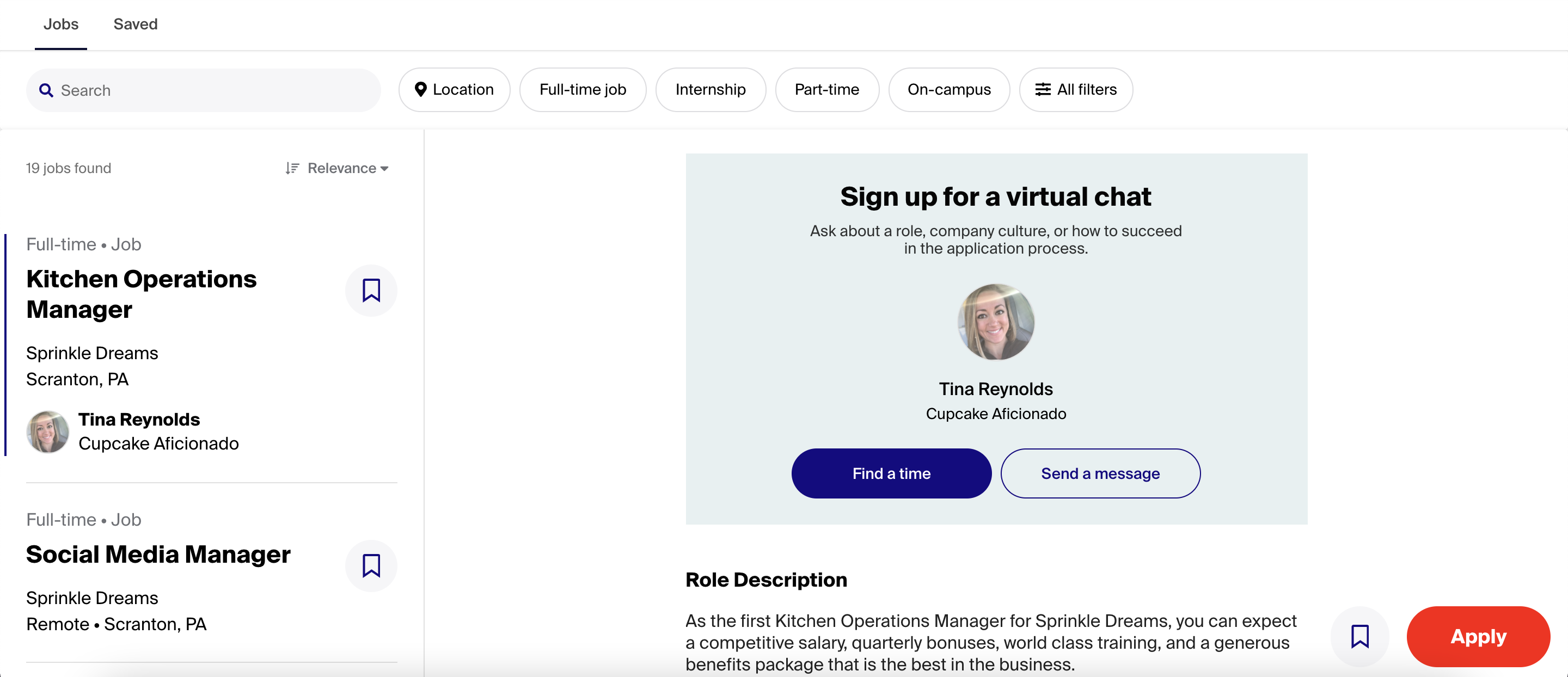 Virtual Info Chats via Messages
Employers may share their availability with you via messages – to sign up for a meeting, click the blue button Find a time.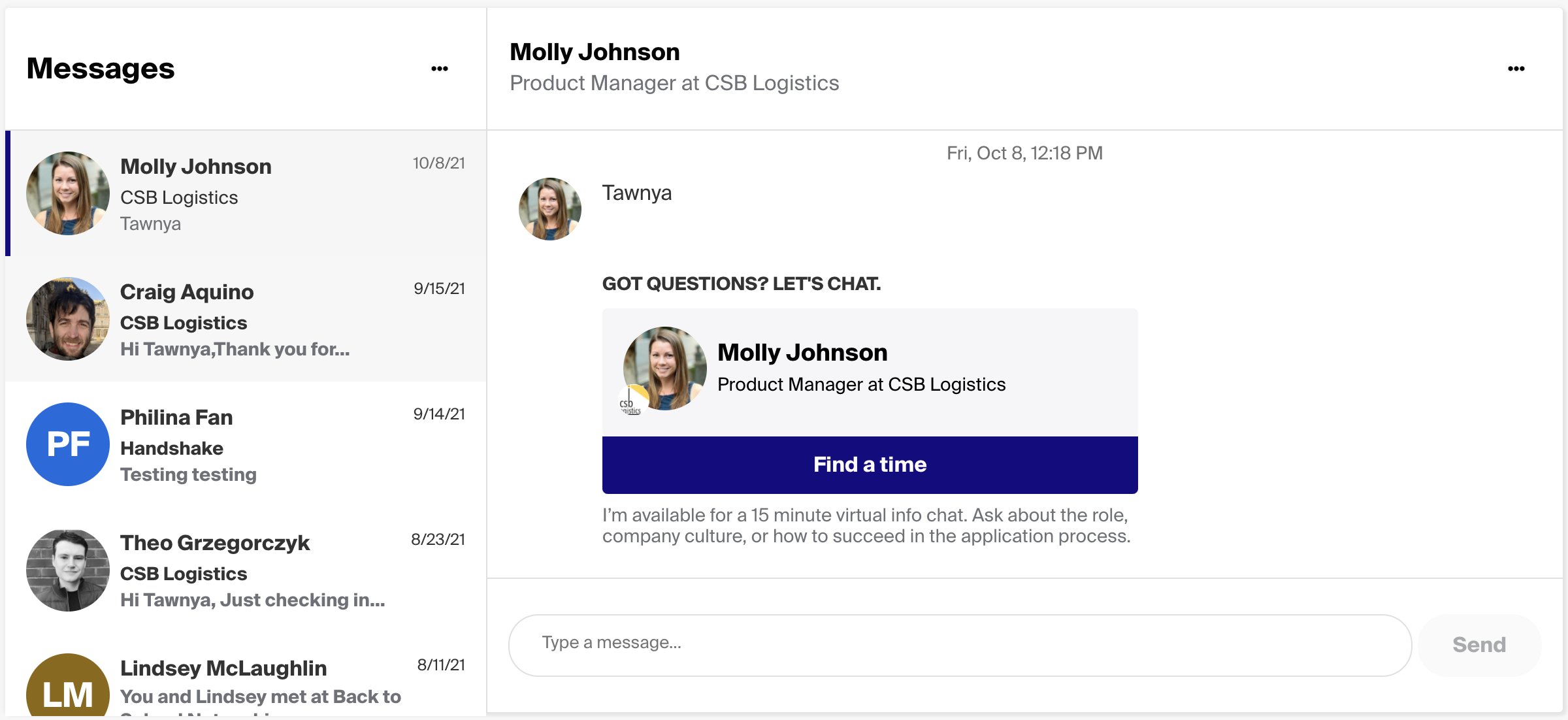 In the pop-up that appears, select the desired day and time for your meeting, then click Schedule Chat in the lower-left corner.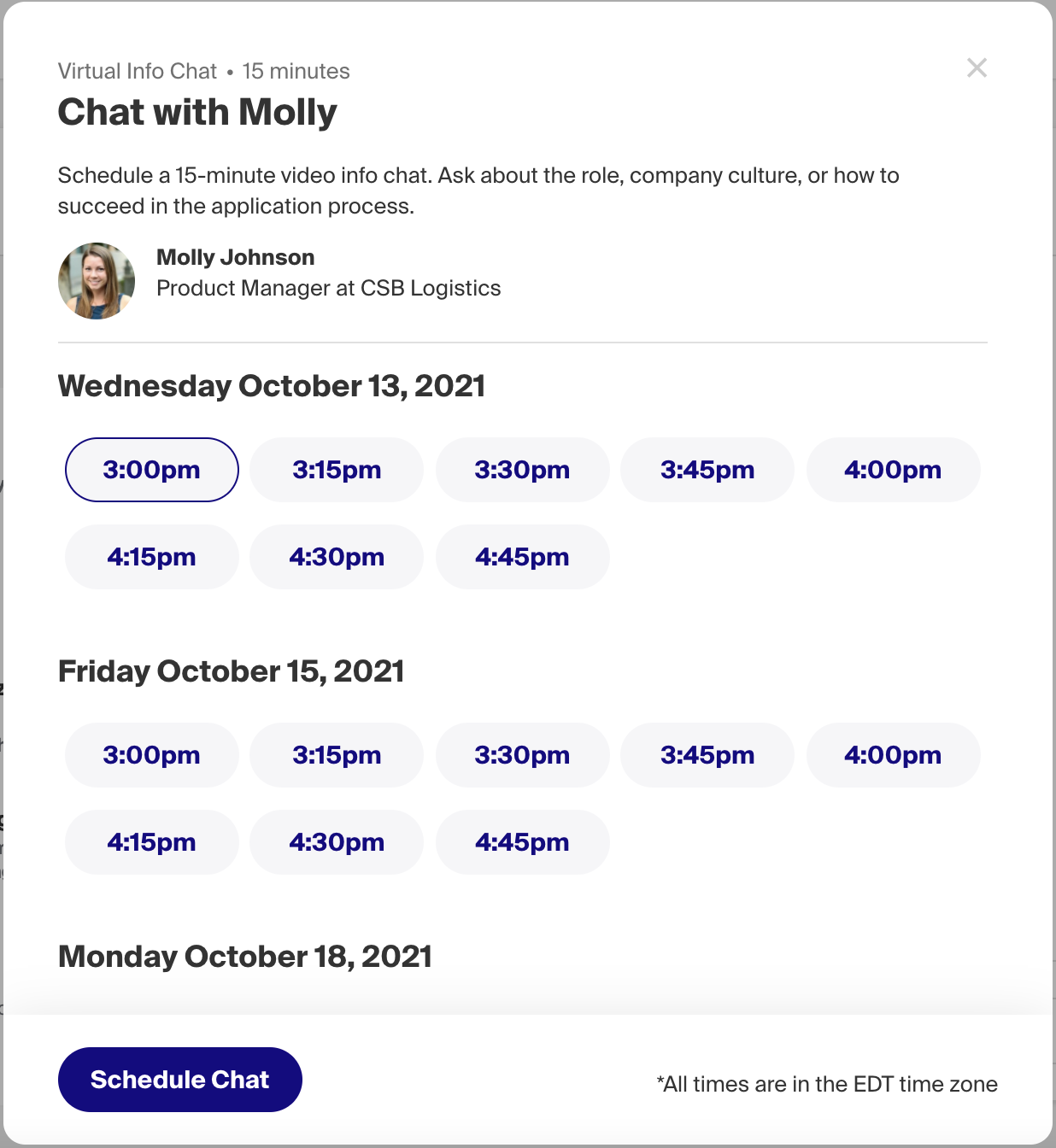 A scheduling confirmation will appear in the lower-right corner of the screen, and your selections are reflected in the message thread.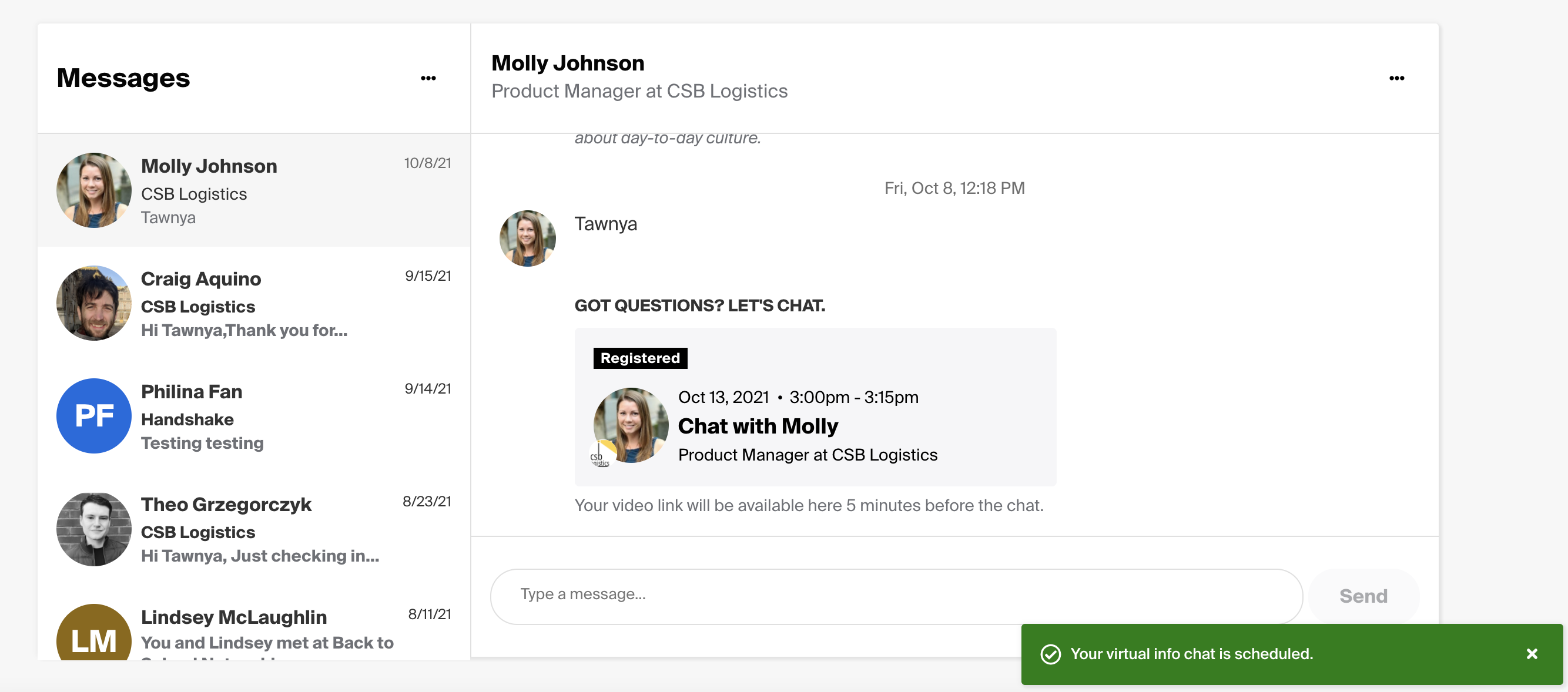 Virtual Info Chats via Employer Invite
When an employer invites you to a specific time, a notification email will be sent to you with details for date, time, and who scheduled the virtual chat. Click the button Manage meetings in the email to access the Employer Meetings page.
For specific details and an example of this email, check out Employer-hosted Meeting and Virtual Chat Emails (for Students & Alumni).
You can review all of your scheduled virtual chats and launch a scheduled meeting from the Employer Meetings page. Access this page by clicking on:
the selected date and time in the message details (if you signed up via a message).

your account icon in the upper-right corner of the screen, then clicking

My Meetings

.

the red button in the email received:

Manage meetings

(notification of employer invite)
Go to my meetings

(signup confirmation)
The Join video button will be grey until 5 minutes prior to the scheduled start time (as shown in the example image below) – at 5 minutes till, the button will activate and turn dark blue – click Join video to launch a new tab with the video.