With thousands of employers posting jobs on the platform, Handshake is a powerful tool for your internship and job search needs! Taking time to understand Handshake's search functionality will help you identify the best jobs for you. This article provides strategies and tips to help strengthen your search skills. 
💡Note: only jobs posted to your institution will be available to you. If a job isn't posted to your institution, or you don't meet the requirements, you won't have access to the job. 
Click Jobs on the left navigation menu — this will load the Jobs default page.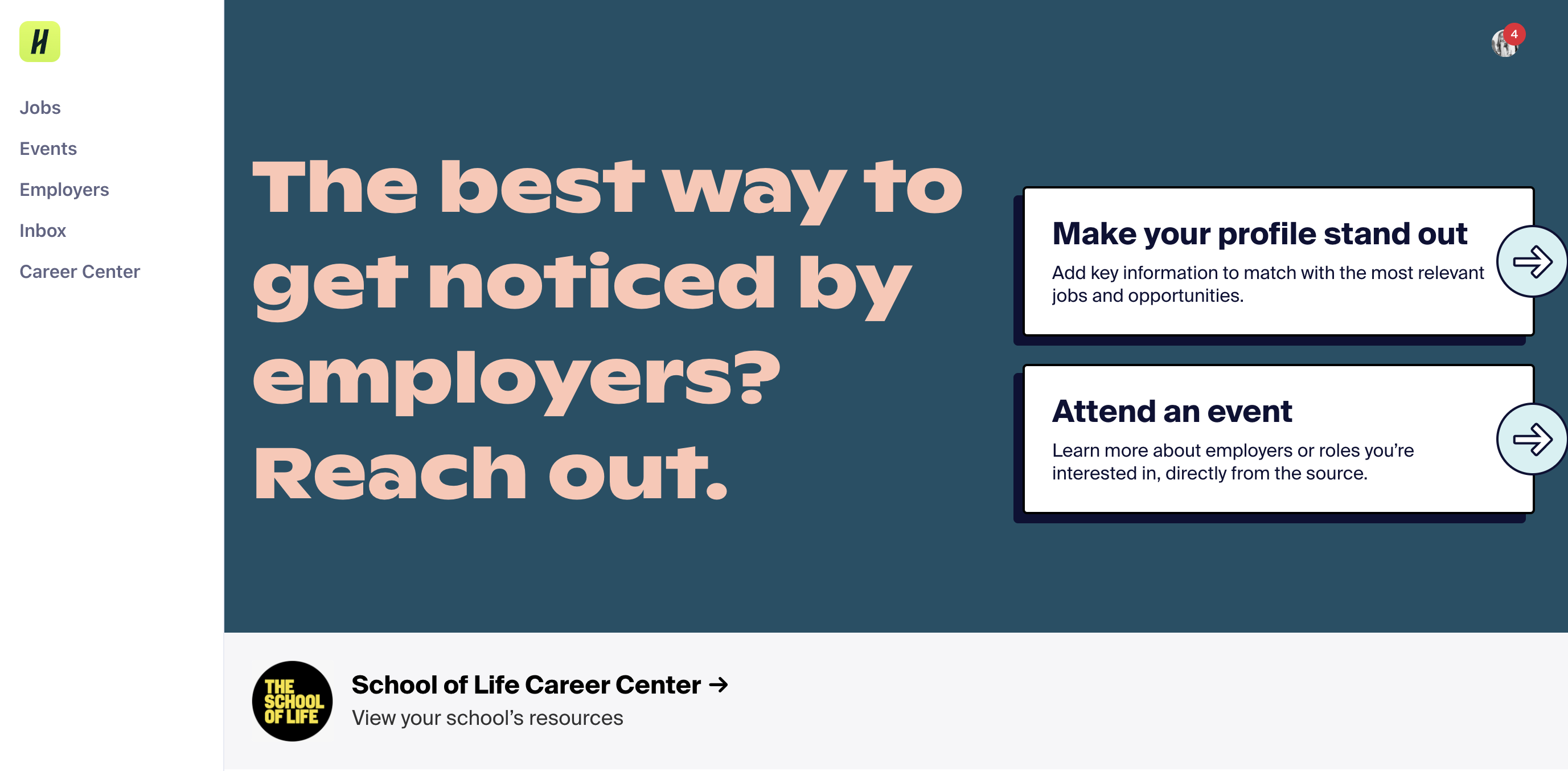 On the left of the page are jobs approved at your institution — use the following methods to identify the most relevant jobs and narrow down your search:
Search bar: search for jobs based on keywords, job titles, job ids, or by employer.  
Institution Collections: find jobs curated specifically for your institution by your career services department.
Location: find jobs in a particular city, by postcode or country.

Note: the location filter defaults to a 50 mile radius. Use the slider to move the dot across the line to change the radius, left to decrease and right to increase the mileage. 

On-site/remote: filter on jobs that are in-person, work from home, or hybrid (both in-person and from home).
Full-time job: browse available full-time positions.
Internship: browse internships.
Part-time: browse available part-time positions.
Results using the above search filters are displayed immediately on the left side of the page.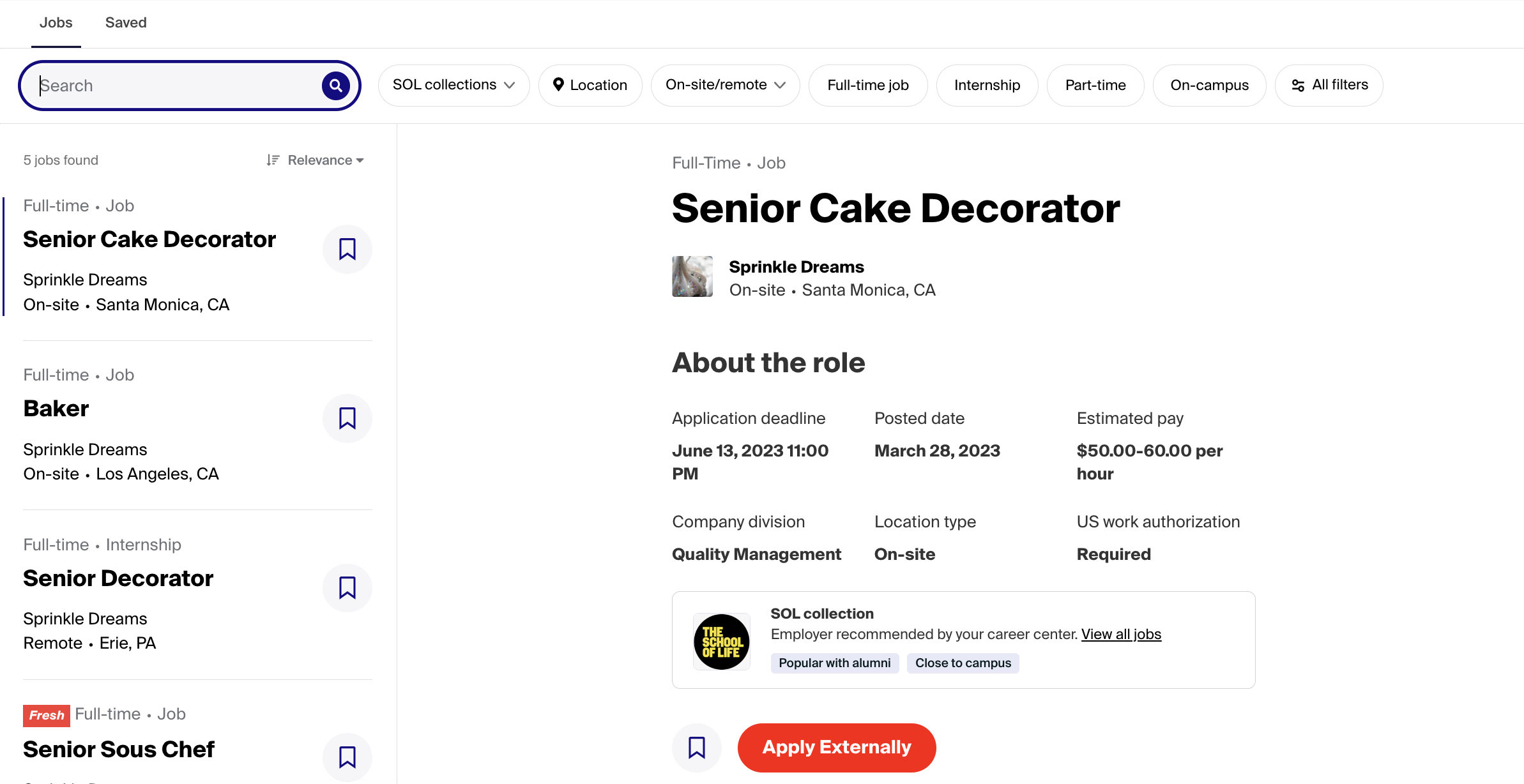 All Filters: access even more search filters to narrow your search!  

Job types

Full-time
Part-time
Job
Internship 
On-campus
+ More

Experiential Learning
Fellowship
Volunteer

Interviewing on campus

Pay

Paid (displays jobs marked as "paid" by the employer) 
Unpaid
Includes estimated pay (check box to display jobs that include a pay listed) 

On-site/remote

On-site: work in person
Remote: work from home
Hybrid: w

ork both in person and from home

Recommended for you

New for you
Popular in your course
Based on your interests

Curated by your institution

Depending on your institution, you may have access to the following collections:

Close to campus
Great for internships
Popular with alumni
Invests in diversity 
Creates social impact
Great for your <course group>
Hires international students
Hidden gems 
Hires from our institution

Employer Contacts

Check the box to explore employers that are open to messaging. Learn more about messaging employers on an active job posting in Messaging Employers in Handshake.

Job role
Industry
Employers
Course
Employer preferences

Note: some employers may choose to add applicant preferences to their job postings. Check the box to search for jobs that you meet all employer preferences for, or click the down arrow to expand the list and choose individual preferences.

Course
Level of Study
Graduation Date

Labelled by your institution
Employer Groups
Once you've added all the desired search criteria, click Show Results in the lower-right corner of the All filters pop-up. If you'd like to clear your search results and start over, click Clear in the lower-left corner of the pop-up.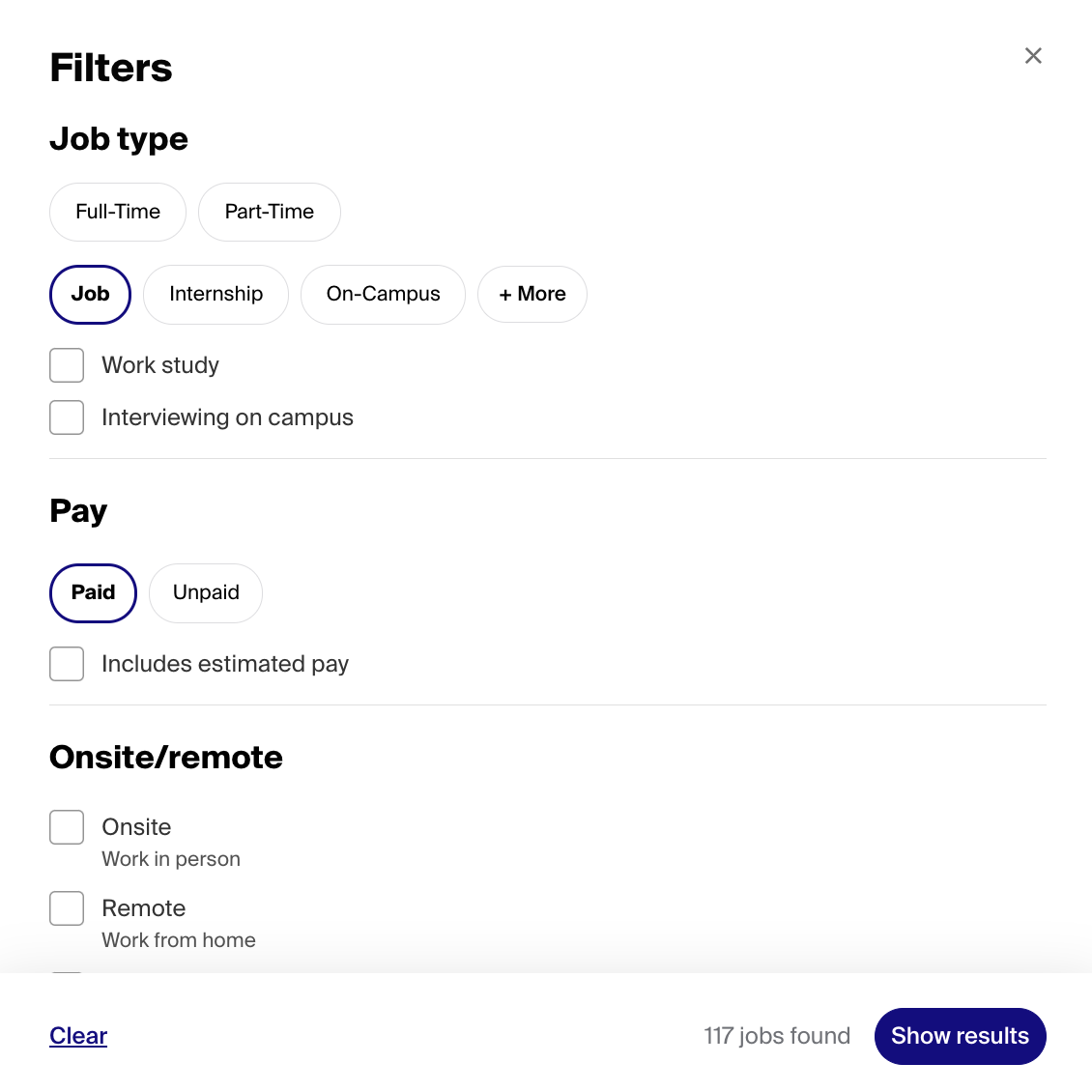 Jobs that match your search criteria are listed on the left side of the page. Click on any job of interest to learn more about the position!
For a breakdown of the content displayed on the jobs overview page, check out Apply for a Job in Handshake!
Another great way to continue your search for jobs and internships is to create a saved search and set job alerts. You can learn how to use saved job search and alerts by checking out the following resources: 
Ready to apply?! Apply for a Job in Handshake elaborates on job posting content and application methods!