When Handshake Premium partners share a public event, candidates without a Handshake account are able to register for the event as a guest - this ensures accurate attendance tracking, as well as enabling employers to followup with all attendees via the event RSVP list.
Prior to being added to the RSVP list, candidates registering as a guest agree to Handshake's terms of service and privacy policy and confirm their email address is valid, however, this process does not create a standard user account in Handshake.
As a result, the process to followup with these candidates is slightly different from messaging a candidate with a Handshake student profile.
Please note: Premium features are for Handshake Premium accounts only. For more information, please check out this resource.
Identifying a candidate without a Handshake profile
In an event's RSVP list, these candidates are identified via an icon to the right of their name. The icon resembles a person's silhouette with a line through it, as shown in the example below: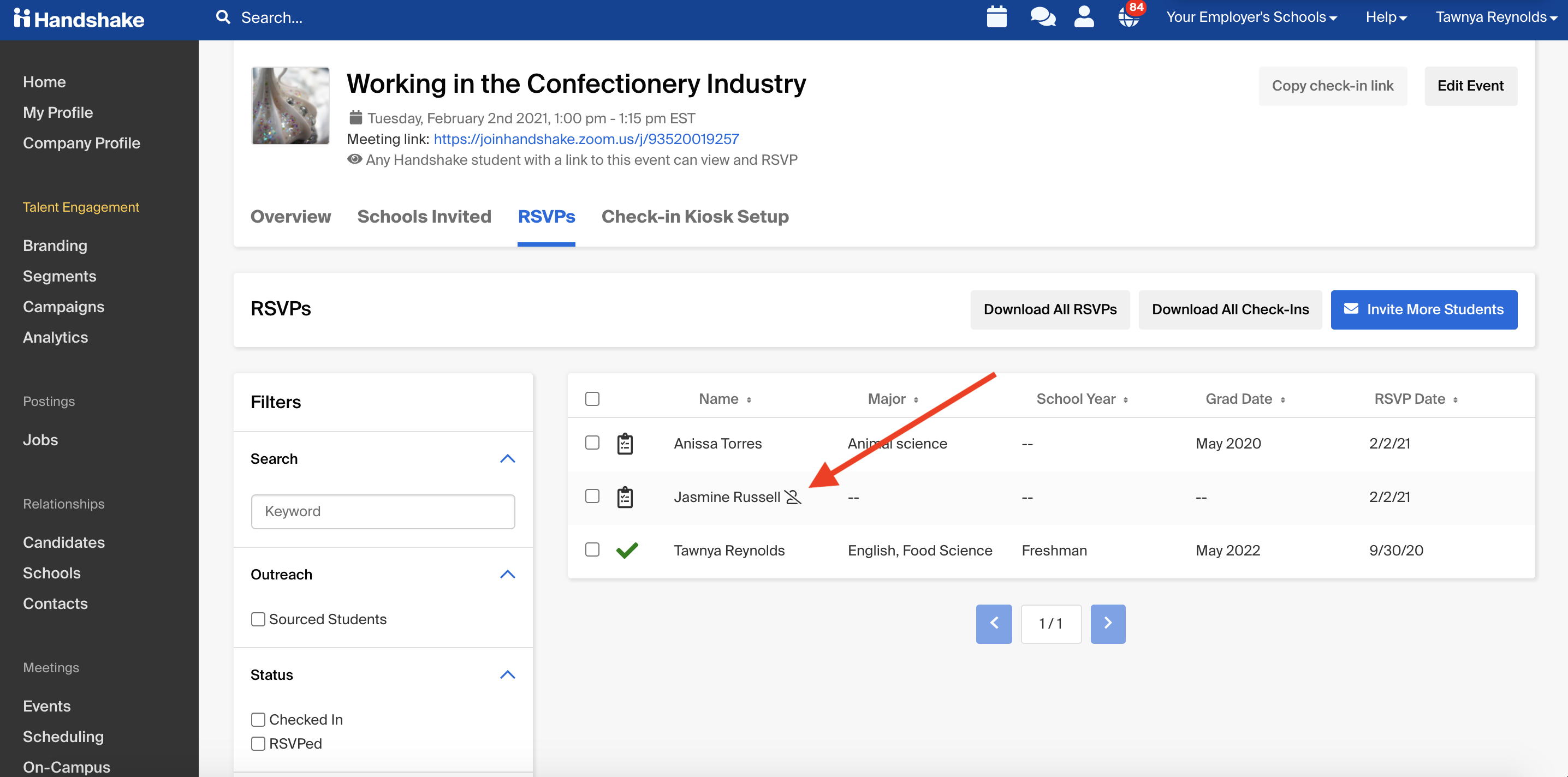 When you hover your mouse over this icon, a message will appear that reads, "Candidate doesn't have an available Handshake profile".
In the RSVP list, you may also notice that Course, Level of Study, and Grad Date are blank for these candidates.
Using the Handshake Profile filter
You can use the Handshake Profile filter, at the bottom of the filters list on the left of the page, to identify candidates with Profile Available or No Profile.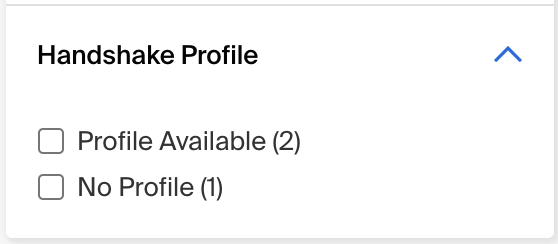 Messaging a candidate without a Handshake profile
When employers send a message to these candidates via Handshake, the message is sent as an email to the address the candidate used when registering.
Candidates will not be able to respond to the message via Handshake, however, there is a global setting that enables recipients to respond to your employer email address. For more information on this setting, please refer to Company Settings: Global Settings.
1. To send a message, put a check next to each candidate name you'd like to message, then click the bulk action Message, located at the top of the RSVPs table.

2. An alert will appear indicating some selected candidates don't have Handshake profiles and will receive your message as an email, along with some reminders:
Handshake link access: these candidates may not be able to access Handshake links to jobs or events.
Reply limitations: these candidates can't respond to your message through Handshake (but you can include your email address in the message if you'd like).
Note: All other candidates will receive your message in their Handshake inbox.
You can send separate messages to candidates with profiles and those without, using the Handshake Profile filter to narrow results.
If you'd like to proceed, click Write message.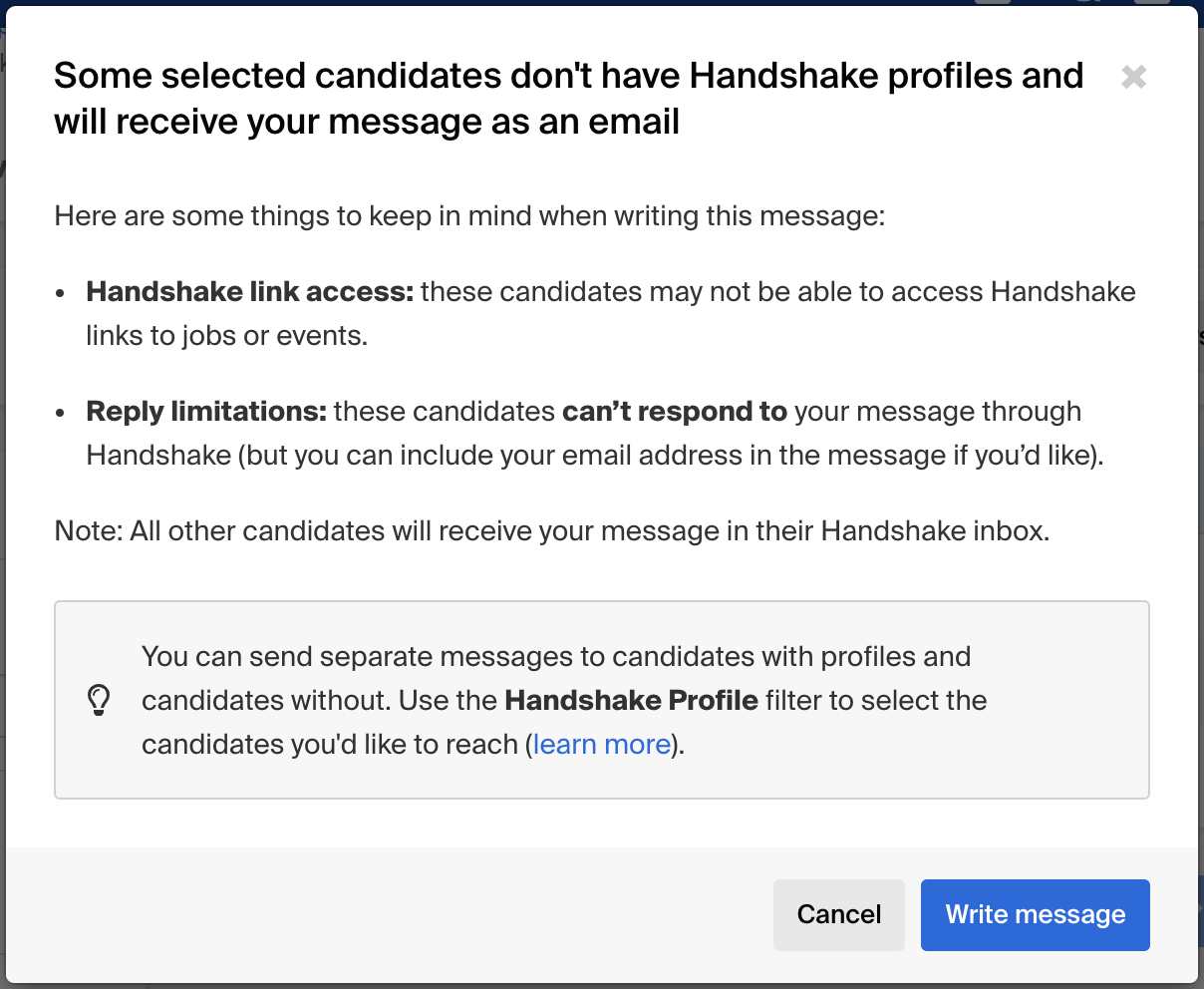 3. Compose your message as normal, then click Send.
4. A confirmation will appear with an example of how your message will appear for recipients. Click Confirm to send the message.
Here's an example of how the message will appear for these candidates: