Templates allow your office to define a process for the different types of internships on your campus.
To create a new Experience Template
There are two ways to access the option to create a new template:
Via School Settings:
Click on your name in the upper-right corner of the screen, then click Institution Settings.
From the menu on the left of the page, click

Experience Preferences.
Click

Browse Templates, then click

Create Template

in the upper-right corner of the page.
Via Experiences overview page:
Navigate to the

Experiences

tab from the left menu column in Handshake.

In the upper-right corner of the page, click

Edit Templates.

In the upper-right corner of the page that loads, click

Create Template.
Note: If your view looks different, it's possible you're using the legacy version of experiences –– you may either choose to switch to the updated experiences workflow, or you can use the instructions for the legacy view.
Details
Template Name:

this should be a descriptive name for the internship that will help the student identify which option to pick

Applicable Terms for This Experience

:

select if this internship should be available for all terms or only specific terms

Best Practice:

use

All active terms

if this is an ongoing internship program so you don't have to edit it each term

Student Request Survey: the custom questions you would like students to answer when they request an experience (for more information on surveys, refer to the article Creating and Testing Surveys)
Reviewer Response Time:

the number of days each reviewer has to approve the Experience once the approval process is started

Message for Reviewers Asked to Approve:

custom message that reviewers will see when they receive an approval request

Message for Approved Students:

custom message that students will see when their Experience is approved
Attachments
Drag and drop a file to the box with a dotted outline, or click Upload File to pick a file from your computer. Adding an attachment is optional!
Add any relevant attachments that students and approvers should see as a part of the Experience process

Example attachments: Experience Process Overview, Internship Guidelines, Internship Best Practices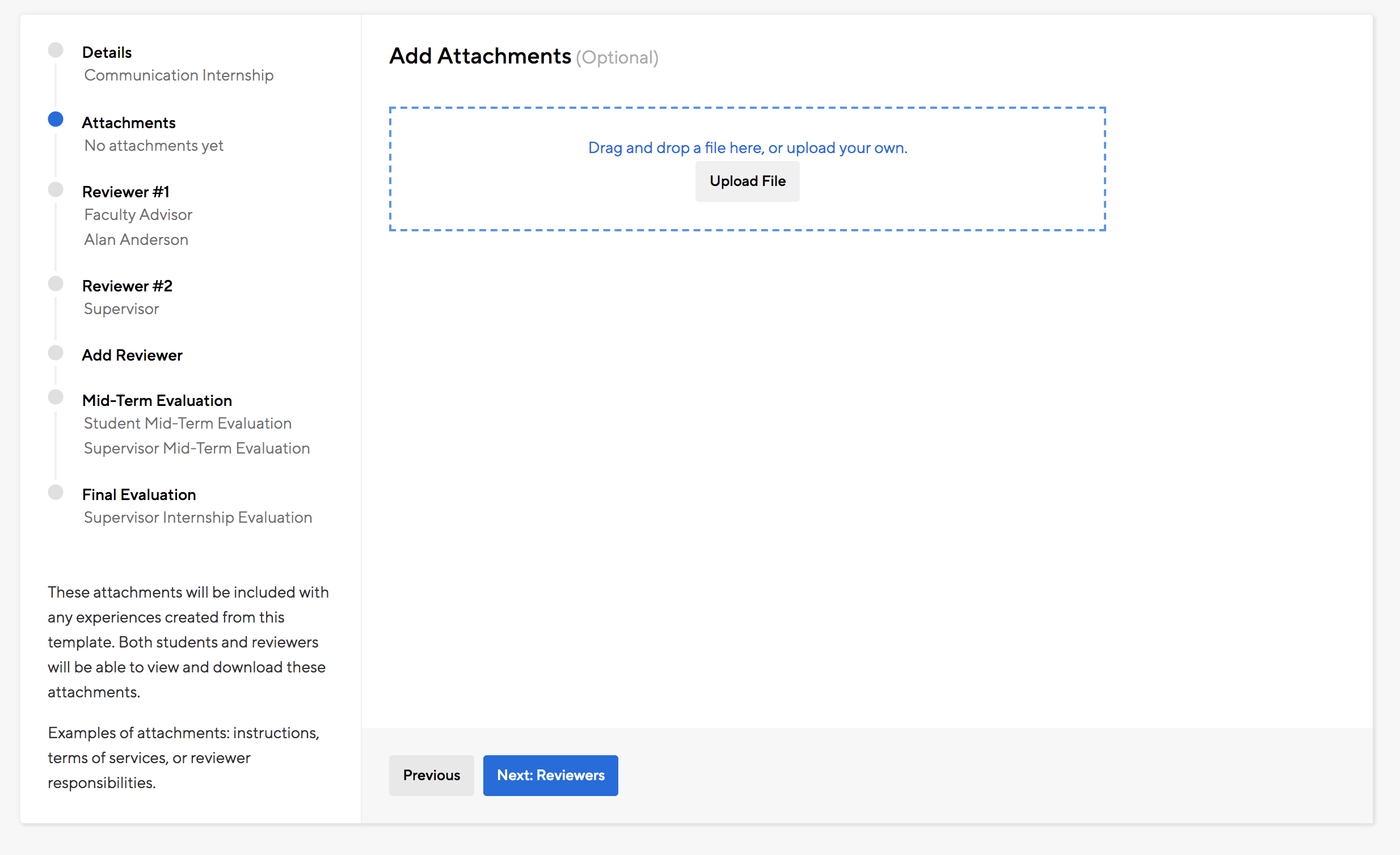 Reviewers
Note: Reviewers are contacts that may not have Handshake accounts that are a part of the approval or evaluation process
Add reviewers in the order that they should approve the experience
Reviewer Title

Reviewer is a school contact - select an existing contact at your school in the

Reviewer Name

field

Examples: Faculty Department Head, Dean, Registrar Contact

Reviewer contact info will be provided by the student - ask the student to enter the details for this reviewer (check the box to enable)

Examples: Faculty Advisor, Site Supervisor

Send approval requests

Approval Request Survey - This reviewer will receive an email prompt with instructions for approving requests for these experiences

Send evaluation requests

This reviewer will receive an email prompt with instructions for evaluating any student approved for this type of experience
Note: This setting must be checked in order for the reviewer to receive any evaluation request, whether or not they are automated or you are sending manually.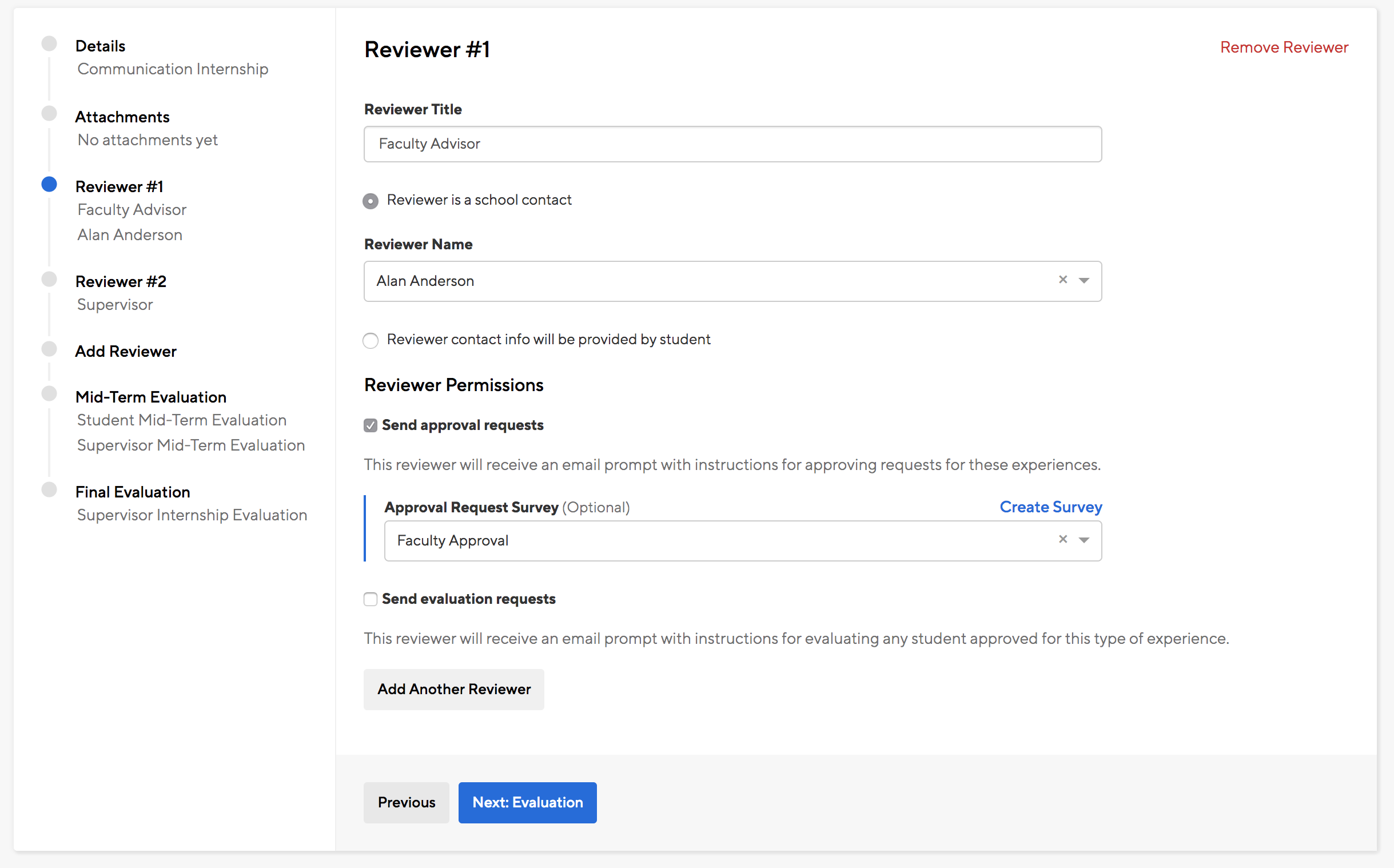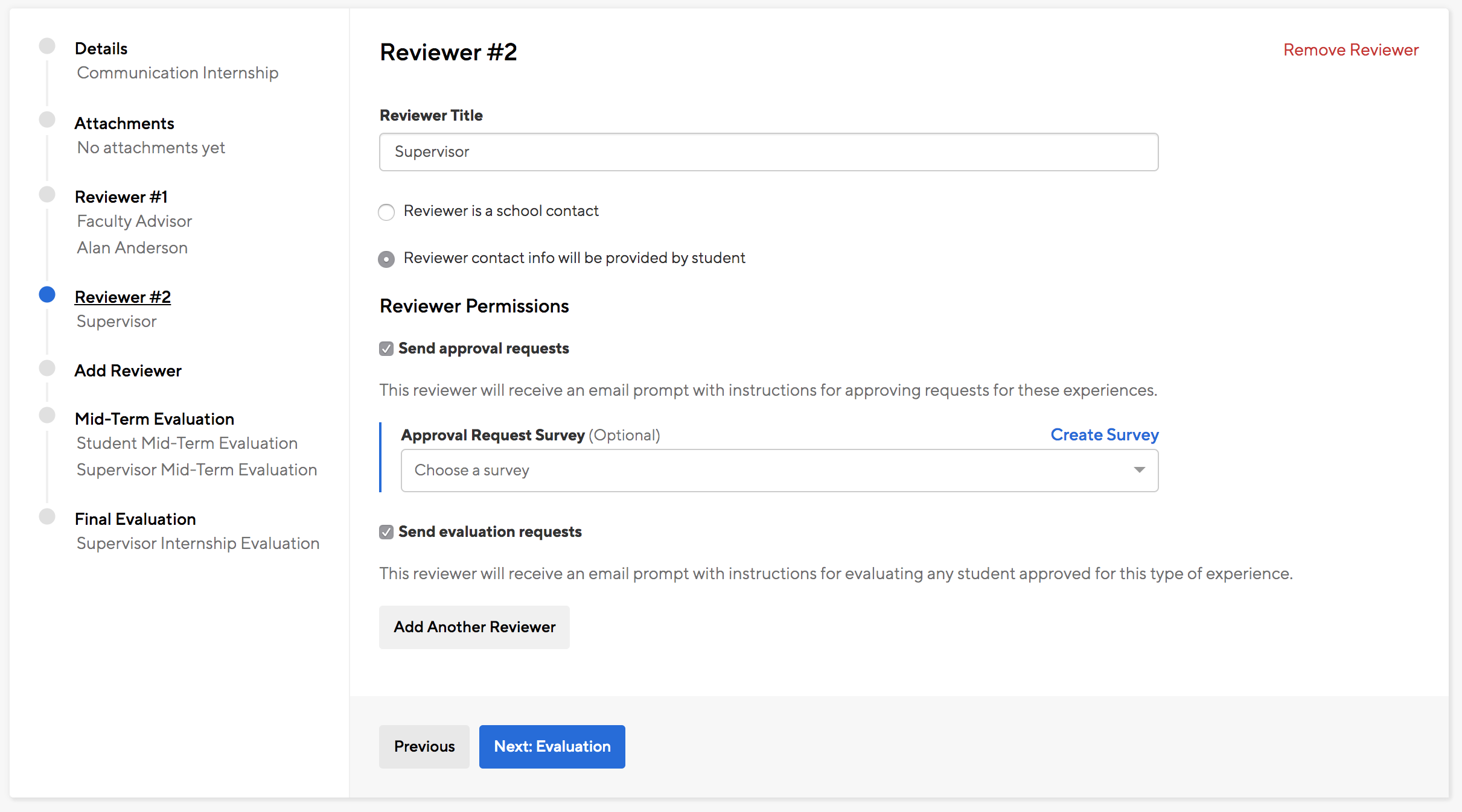 Mid-Term Evaluation (optional)
Send mid-term evaluation survey(s)

- check this box if you would like to have the mid-term survey automatically sent to Students, Reviewers (who have the Send Evaluations option selected), or both half way through the term

leave this box unchecked if you wish to send the evaluation manually to reviewers.

sending manually allows you to choose which survey will be sent at that time.

Survey send date - business days before mid-term date

- the number of days before the Mid-Term date that the Evaluation request(s) will be sent

You can send manual reminders about evaluations at any time!

Evaluation emails are only sent on business days

Reminder emails for mid term evaluations will be send 3 days and 24 hours before the mid term date

Note:

Student Mid-term Survey

- the additional questions that you would like to ask students in the mid-term evaluation

Reviewer Mid-term Survey

- the additional questions that you would like to ask Reviewers in the mid-term evaluation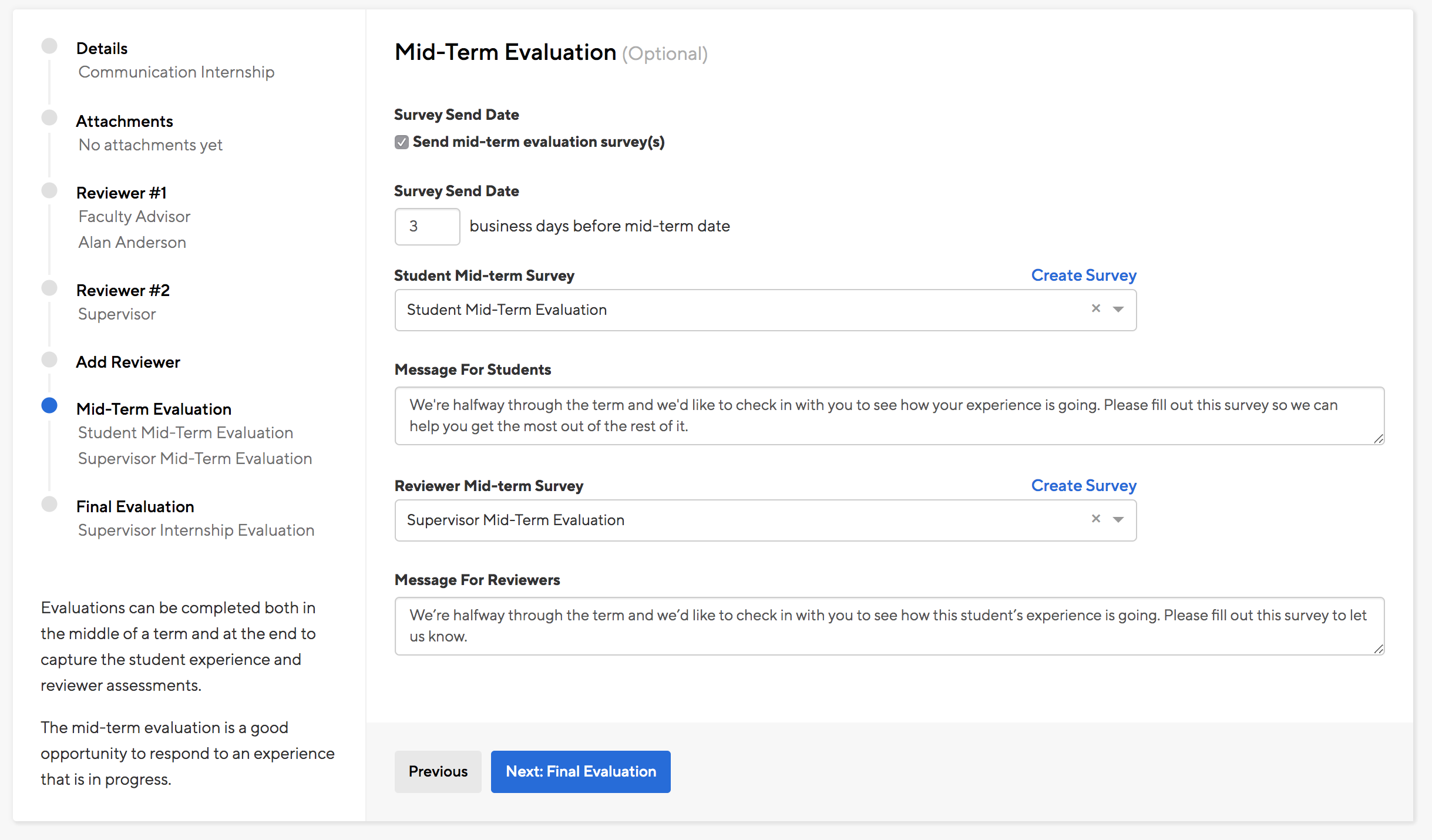 Final Evaluation (optional)
Send final evaluation survey(s)

-

check this box if you are interested in surveying Students, Reviewers (who have the Send Evaluations option selected), or both at the end of the term

leave this box unchecked if you wish to send the final evaluation manually

sending manually allows you to choose which survey will be sent at that time.

Survey send date - business days before end of term -

the number of days before the Term End date that the Evaluation request(s) will be sent

Reminder emails for final evaluations will be send 3 days and 24 hours before the term end date

Student Final Survey - the additional questions that you would like to ask students in the final evaluation
Reviewer Final Survey - the additional questions that you would like to ask Reviewers in the final evaluation