Please note: Premium features are for Handshake Premium accounts only. For more information, please check out this resource .
Value
Cleaned up data, and improved coverage for all School Year / Graduation Date data. E.g. you won't see Seniors who have already graduated!

New "Degree Type" field (instead of grouping Degrees with School Years).

Make it easy to select a Graduating Class, instead of having to manually calculate Grad Date in your head.

Plus, smart defaults for recommended Class of / Degree types based on your hiring needs
Functionality
Part 1: Data Enhancements
School Year Data Cleanup:

Improved School Year data - we now auto-migrate students who have already graduated to 'alumni' status, even if the institution doesn't do this automatically in their sync.

Grad Date Coverage Improvements:

We now include student-added grad dates, if the institution has not imported grad date in their sync. This has greatly increased the overall coverage for Segment numbers!
Part 2: Segment UX Improvements (Degree Types, Class Of, Smart Defaults)
Start by telling us what types of talent you're looking for

Once selected, we'll default to the settings that make sense for your needs
For the first time, we show "Class Of" & "Degree Type" options, instead of just School Years

You can still easily pick Undergrad Years - for example, choose Freshmen by selecting 'Class of 2023 + Bachelors Degree'

But for the first time you can also make selections for additional degree types - like Masters students graduating in the Class of 2020 - without having to use our date-picker and manually calculate back grad date ranges.

If you select a default - like "New Grad Hires" we'll have smart selections (e.g. Class of 2020, Bachelors)

But you can always choose "Custom"

Or adjust the filters at any time, even after selecting a default
We rotate 'Class Of' labels once per year (on July 1st), so they will always make sense for the current School Year.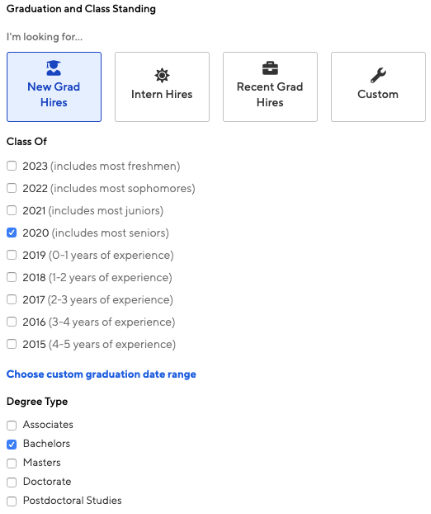 Add a Custom Grad Date Range
You'll notice you can still use a custom grad date range if you need to (e.g. if you need students who graduate on a very specific date)

You can also select "Custom" if you want to start from scratch.

Migration of old Segments
Grad Date Range:

any past Segments that have a grad date range will be migrated to retain their grad date range

Mapping School Years --> Class Of / Degree Types:

all institution years will also be retained - they'll just be updated to reflect the new Class Of / Degree Types. Exact mapping below
| | | |
| --- | --- | --- |
| School Year (Old Segments) | New "Class Of" | New "Degree Type" |
| Freshmen | 2023 (includes most freshmen) | Bachelors |
| Sophomores | 2022 (includes most sophomores) | Bachelors |
| Juniors | 2021 (includes most juniors) | Bachelors |
| Seniors | 2020 (includes most seniors) | Bachelors |
| Masters | -- | Masters |
| Doctorate | -- | Doctorate |
| Postdoctoral Studies | -- | Postdoctoral Studies |
| Alumni | Class of 2019, 2018, 2017, 2016, 2015 (0-5 years of experience) | Bachelors, Masters |
Example 1 (Undergrads):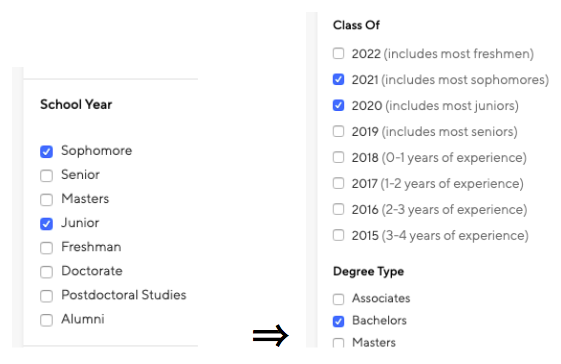 Example 2 (Masters / PhDs):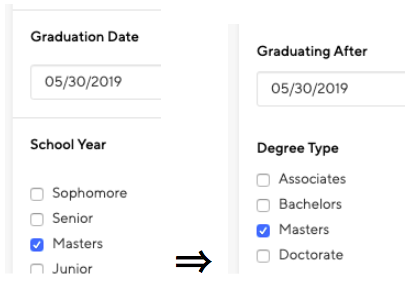 Example 3 (Alumni):