Job postings may only be requested at schools that have approved your company as a connection and granted your company the Post Jobs role.  
If you're unable to post a job to a school that's already approved you, refer to Why can't I post jobs at a school that's already approved me?. 
Job posting approval process
It typically takes 1-5 business days for a school to approve an employer and their job postings.
If there is no status change within that time frame, or if you have any questions, you can follow up with the school by leaving a comment on the job posting. Learn more about How to View Comments on a Job Posting.
If you'd prefer to contact the Career Services department at the school directly, search for and click on the school's name in the search bar, which is located at the top-left of the page.

Their contact information will be located to the left of their profile page in the Contact Information section.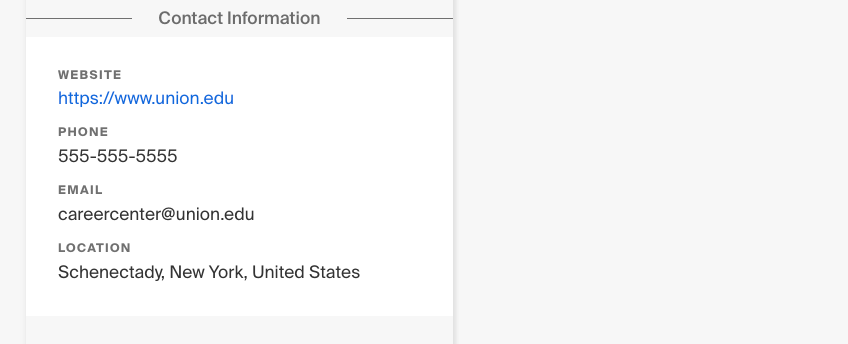 Job activity statuses
Job postings are considered active if they have one of the following statuses: 
Pending: if a posting is pending, this indicates it has been requested successfully at the school and has not yet been processed
In progress: this status indicates the school is reviewing the posting, and may require additional information. 
Approved: these postings are visible to students at the school it was approved by based on the job's open date.  
Jobs are considered inactive if they are either:
Closed: these postings have been previously approved at a school, and the close date has passed.
Not Posted: Newly created jobs that have only been saved and never posted to a school.
Posting edits and related outcomes
You can make edits to a job at any time, although the outcomes may vary depending on the job status.
Pending or In progress: any changes made while the posting is pending will not impact the status or request date, and the posting will remain "Pending" or "In progress" until the school processes the request.
Approved

: updating the job's application open and/or close dates will reset the posting to pending, and the posting will need to be approved again by each school requested.

All other edits to the job outside the application open and close dates will not impact the posting's approval status, and saved changes will be reflected at all approved schools.

Closed: renewing a closed job posting will resubmit the posting to the impacted school(s) for approval. 
Additional Resources