This article will teach you how to create an effective profile for your company on Handshake.
Your company profile is an extremely important tool because it gives you the opportunity to tell students about your company, and why they'd want to work there!
If you have not registered for Handshake yet, you'll first need to create a user account before you can complete the steps in this article. To learn more about how to create a user account, please read: How to Create a User Account, Join a Company, and Connect with Schools.

Important notes before you begin
We recommend first selecting keep me logged in when logging into Handshake before you begin creating a new company profile.
If this is not selected, there is a chance that your page may time out, resulting in an unresponsive page when you try to save your newly created company. If this happens, you will need to log out out and start over.
If you do not see the Create New Company button, or your company already has a Handshake profile, but needs to create additional profiles for different locations or divisions, please contact our Support Team for further assistance.

Creating a New Company Profile
Once you have registered for your Handshake user account and are on Step 3 of 4 - Join Your Company, start by using the search box located in the middle of the screen to see if your company's profile already exists on Handshake.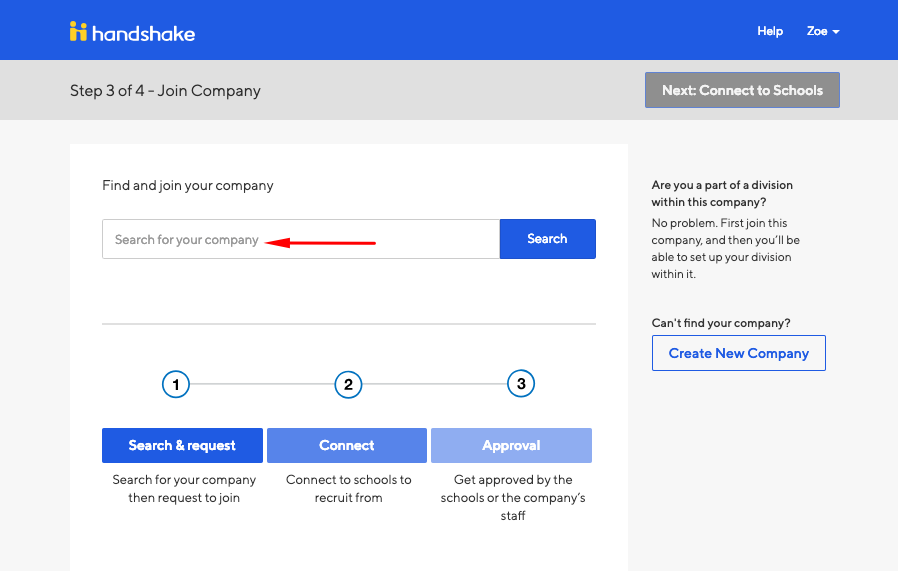 If your company doesn't appear in the search results, click the Create New Company button, located on the right side of the screen.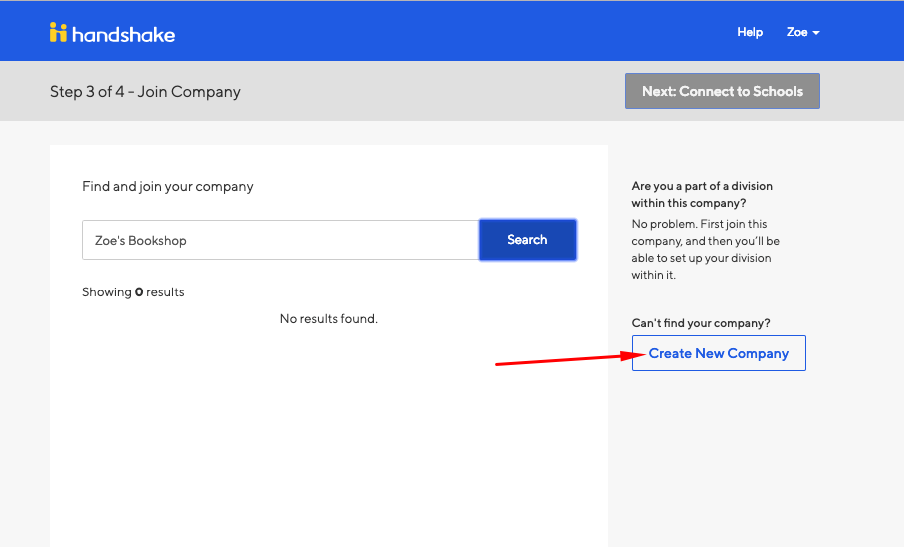 If you are not seeing the Create New Company button, please contact Support to have them open a domain space for you to create a new company with your domain.

You will be taken to a page where you can fill out all of your company's information. The following fields are required to create a company profile on Handshake:
Company Name
Industry
Website
Location


Note: Handshake uses a Third Party company called MapBox for locations. If you are unable to locate your company's specific address, try using just the city and state, and we recommend submitting feedback to MapBox here: https://www.mapbox.com/geocoder-feedback/ 

Description
Company Size
Please take heed to fill out this information as fully and accurately as possible.
As your company's profile will need to be approved by the Schools you wish to connect with on Handshake, it's very important to include matching and working information to have the best chances to be approved by Universities. Things such as a non-working website, mismatching images, or mismatching email domains (for example) could result in your account being temporarily suspended.
Adding Your Company's Logo and Branding Images
Company Logo:
Click

Add a logo.

Click

Upload New Image.

Select the logo image you'd like to use from your computer files.

Please keep in mind that a 1:1 (width to height) ratio is best for your logo with a minimum size of 150x150 and maximum size of 400x400.

Click

Select image.
Click Save.
Branding Image:
Click

Add a branding image.

Click

Upload New Image.

Select the branding logo image you'd like to use from your computer files.

Please keep in mind that a ratio between 4:1 and 5:1 (width to height) is best for your branding image with a minimum size of 1200x300 and a maximum size of 2000x500.


Pro-tip: Don't repeat your logo in your banner image. You logo will be shown with your banner image. Try to pick an image that shows off who's there, where you are, or what you do.

Click

Select image.
Click Save.
Finish creating your company profile
Once all information is added, Click Create New Company at the bottom of this page. You will then be taken to Step 4 of 4 - Connect with Schools to select which schools you'd like to connect with (see point #3 on this article for more info).

Helpful Tip: If you're the Owner of the company profile, you can go back and edit your company information at any time by following the steps in How to Edit Your Company Profile.