Handshake has redesigned the on-boarding experience for new students to better set them up for success. This new experience not only looks brighter and cleaner, but it will also help you to showcase your skills and experience to employers.
1. Claiming accounts in Handshake is how we allow students to decide to share their information publicly to employers and other students in the network. Whether a student decides to become public in Handshake is entirely their decision and is also a decision they can easily change later.
When you click that you want employers to be able to find and view your profile, you are consenting to the section of our terms of service and claiming your own account. By doing so, you take ownership of the FERPA data and choose to share it.
Here is how it works in the system.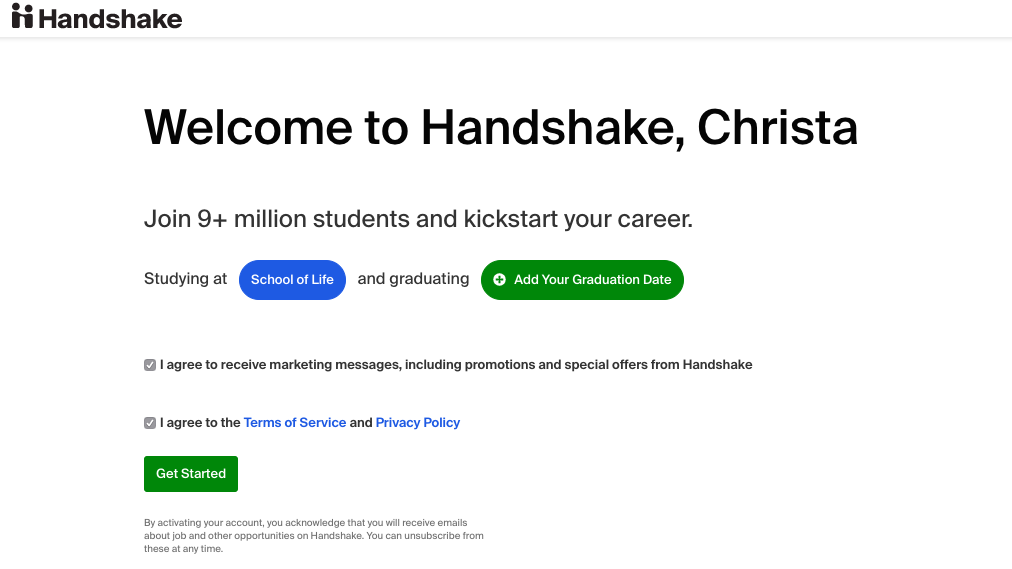 2. Upon agreeing to the Terms of Service and Privacy Policy, students are presented with the profile visibility options.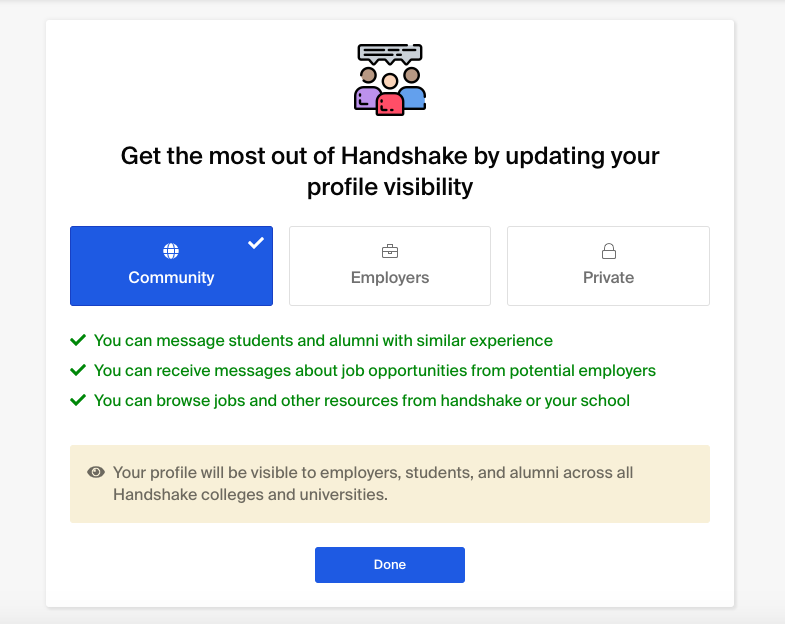 3. Gender & Pronouns (we provide type ahead suggestions based on common answers, but this field will allow for other entries as well)
The tool tip provided for each entry includes the following text:

Gender: Handshake promotes a representative workforce for all. Gender identification is just one aspect of a student's profile that employers consider when building relationships with students. Other considerations include, but aren't limited to skills, coursework, and interests. Learn more
Pronouns: Pronouns help everyone on Handshake addrss each other in an inclusive, respectful way. They may be shared with employers and other students, depending on the visibility settings you choose. Learn more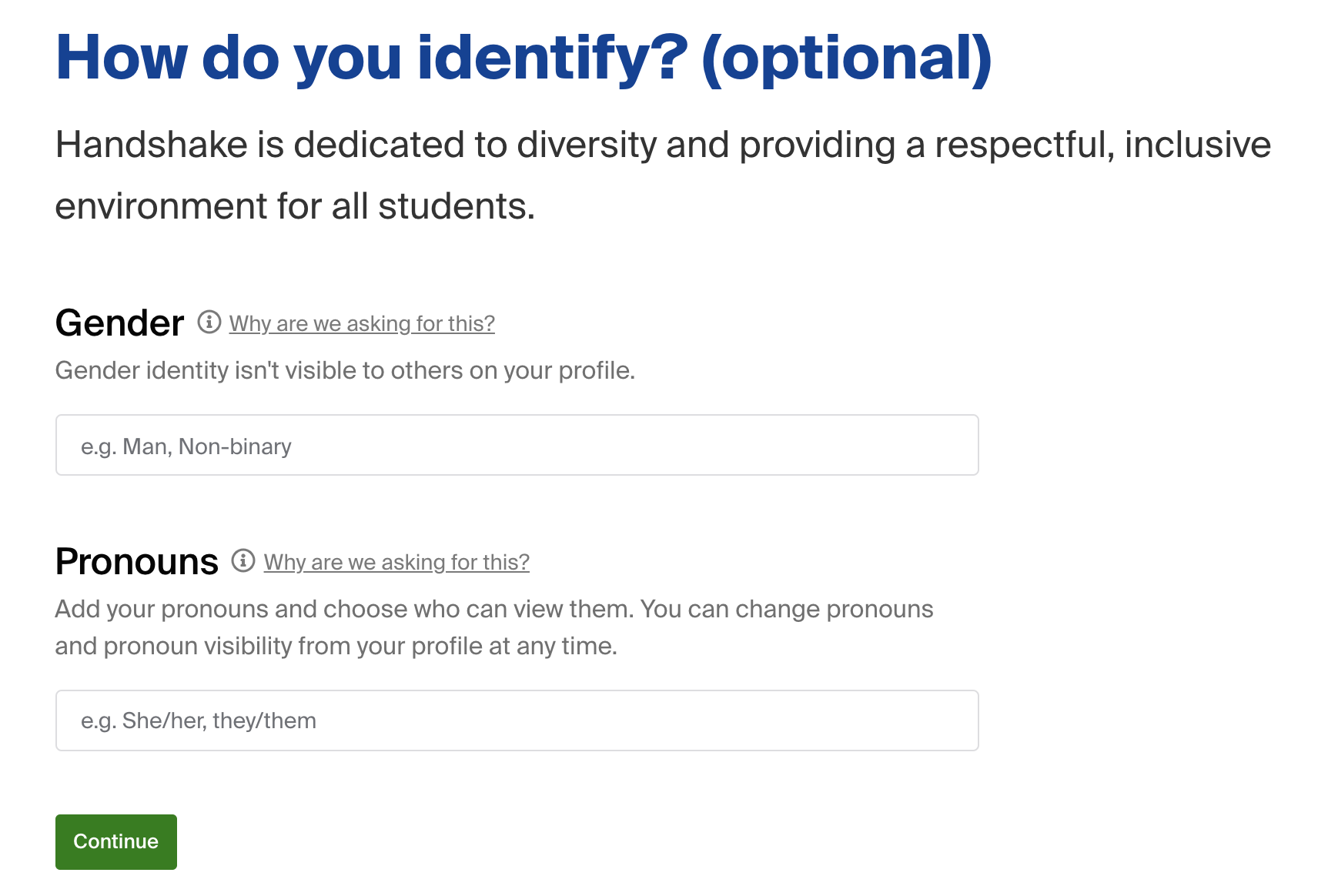 If you choose to enter your pronouns, you'll be prompted to display your pronouns to employers or other students. You may choose either or both options.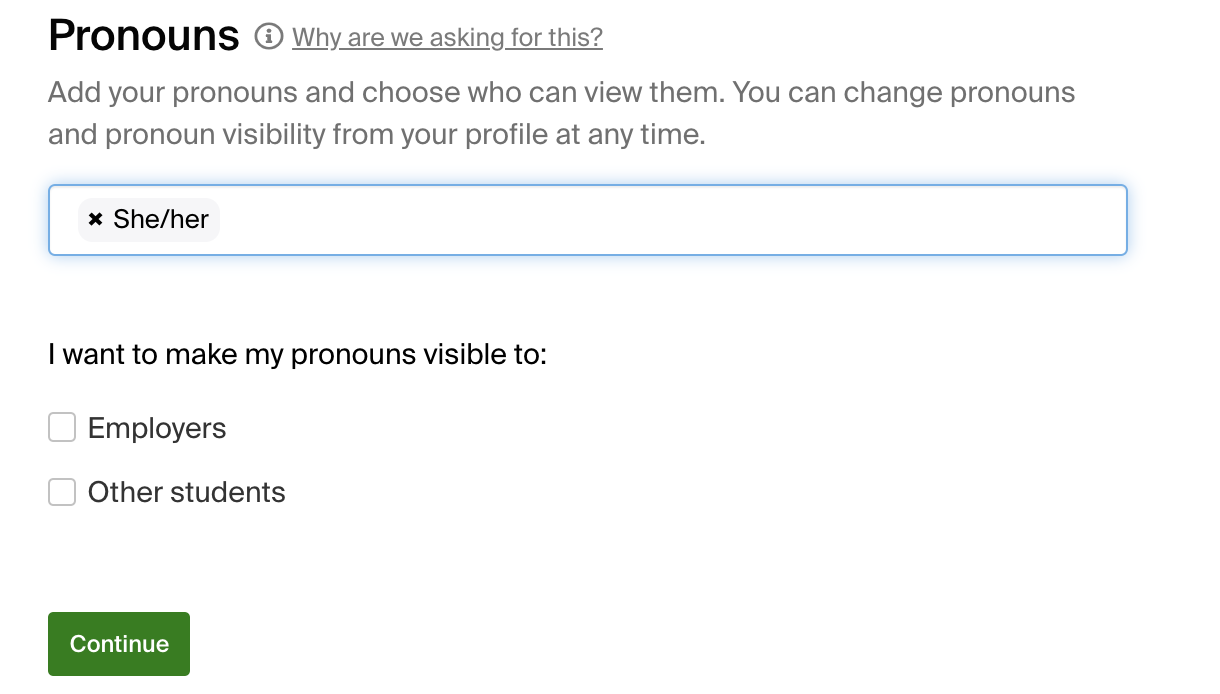 4. Demographic information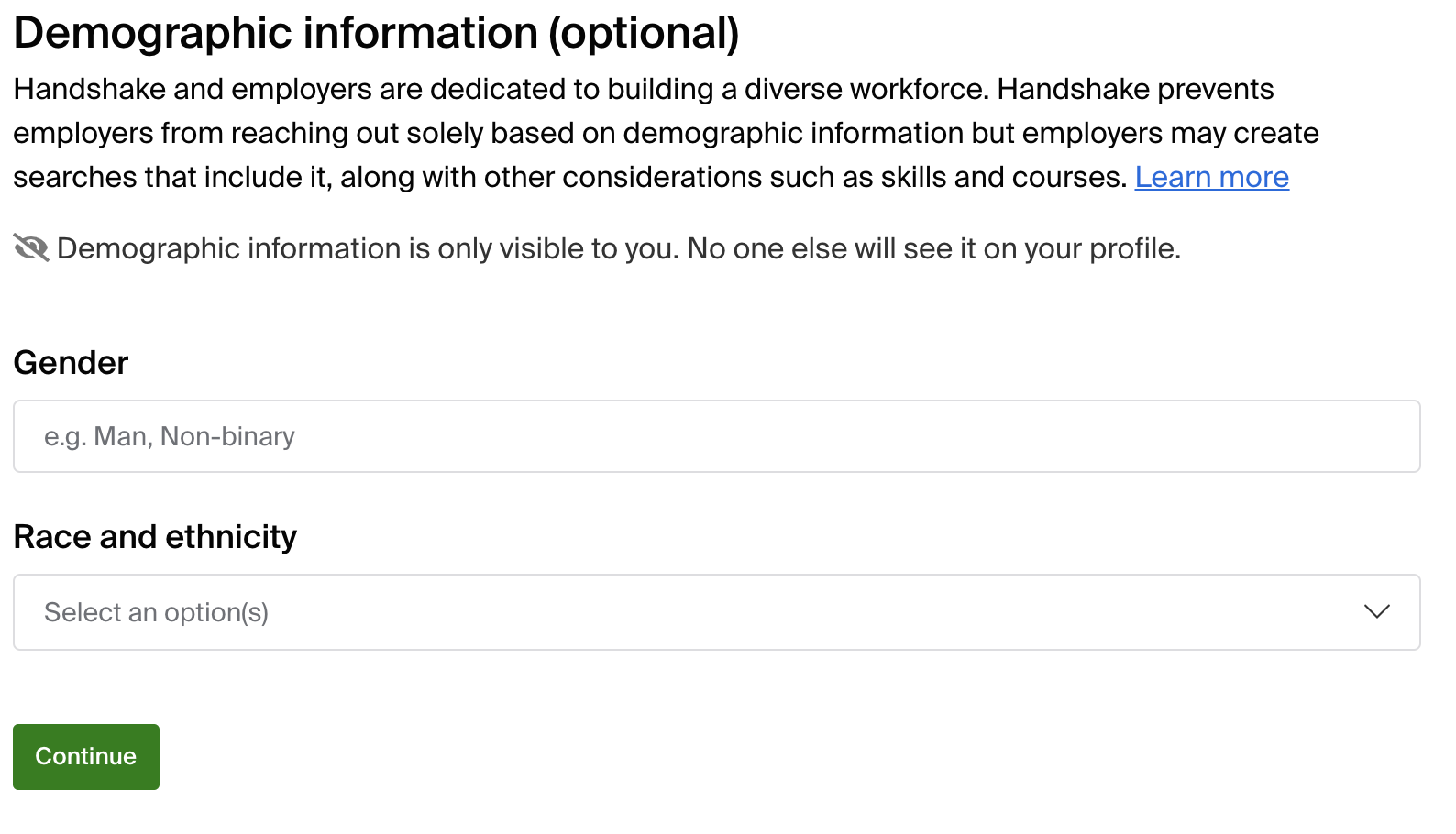 5. Employment options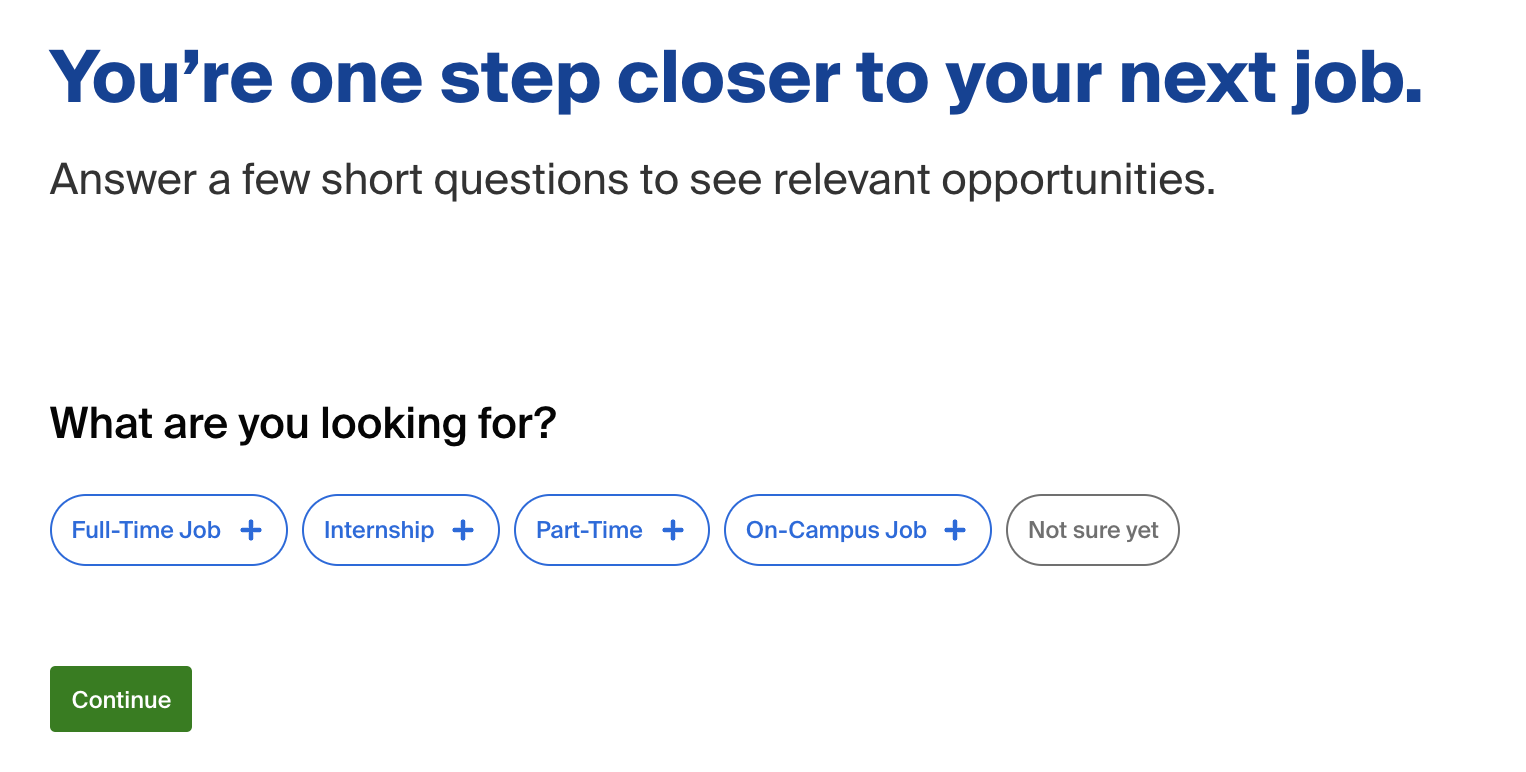 6. Location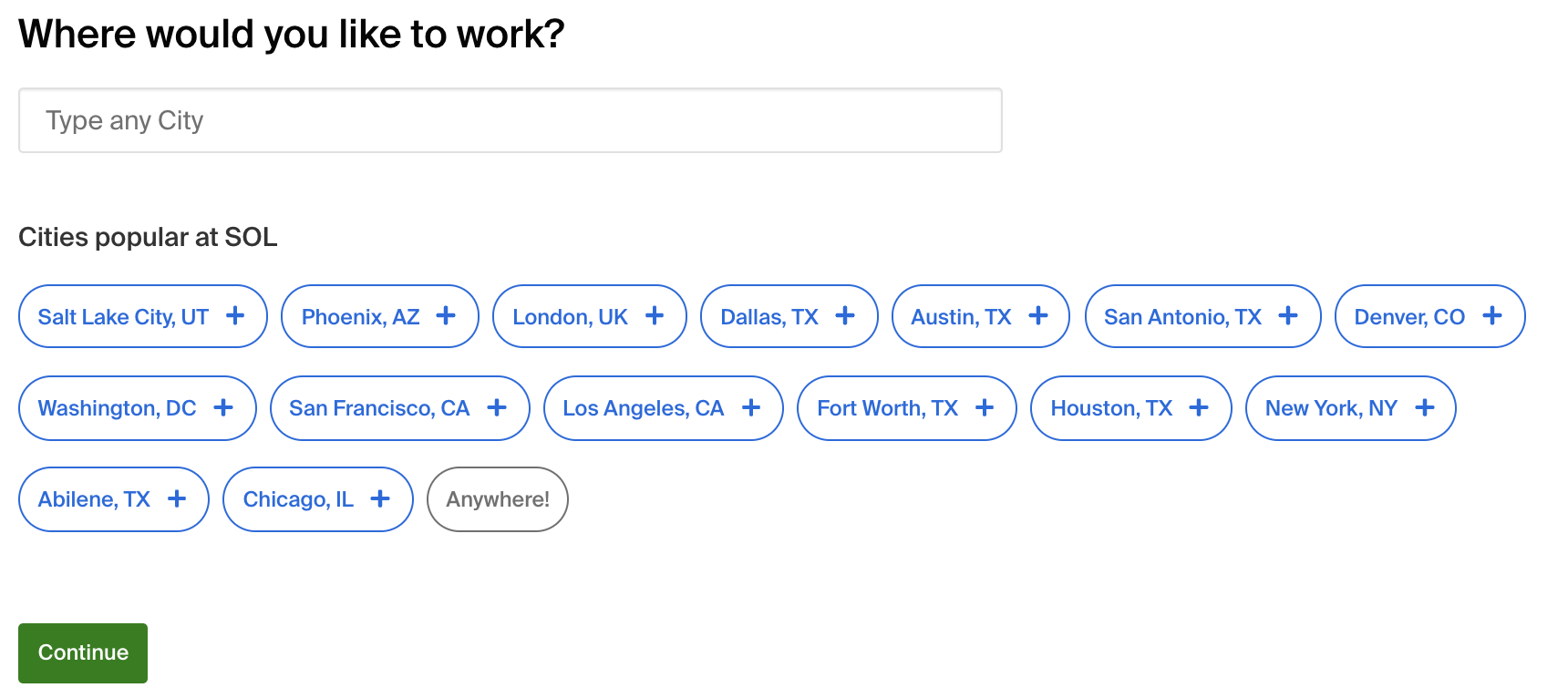 7. Industries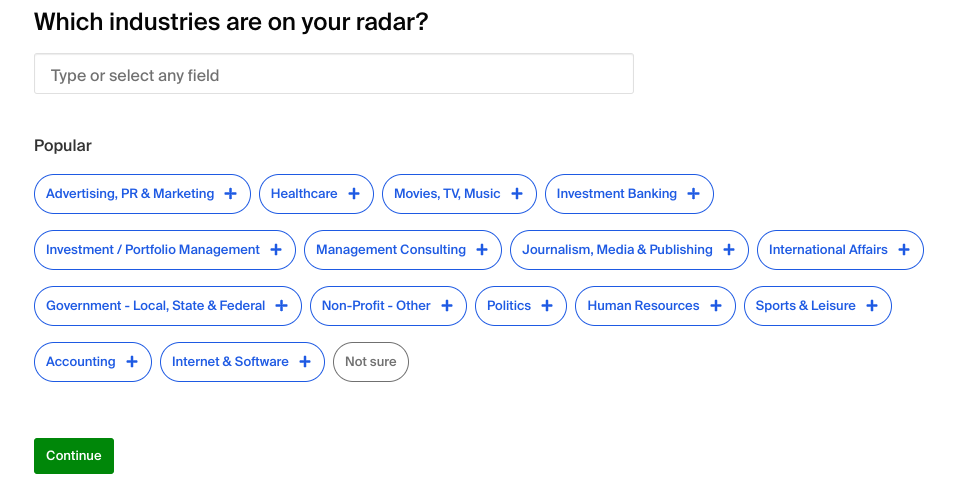 8. We ask the student what they are looking for in a company. For more information on this, please refer to the last section of this article: Employer Attributes in On-Boarding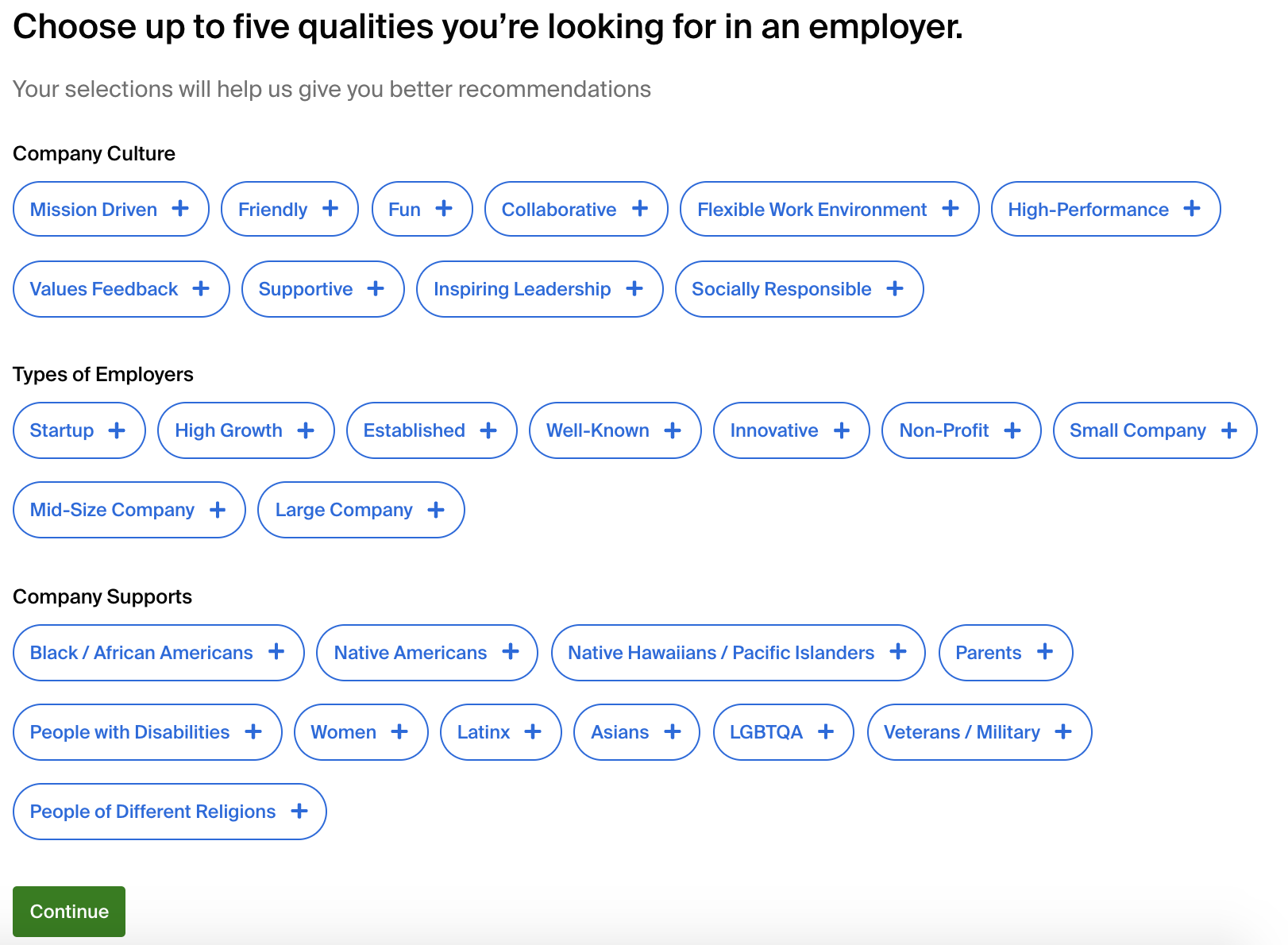 9. Types of jobs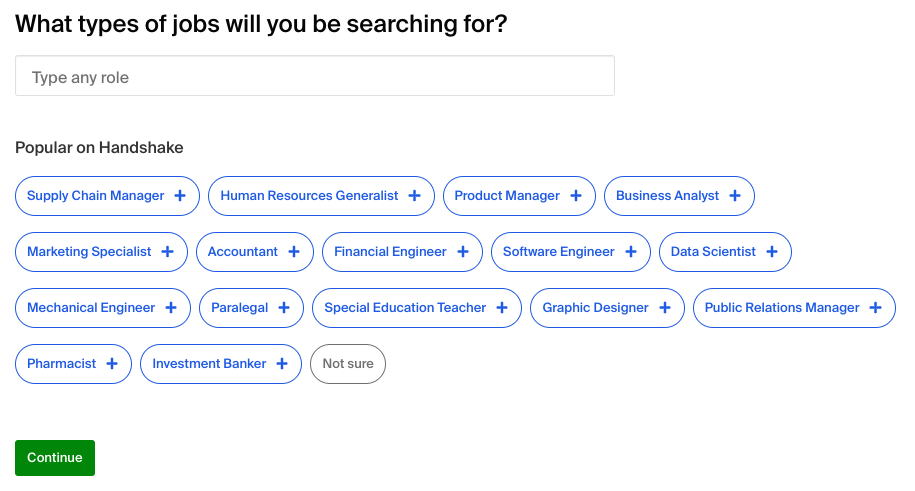 10. Skills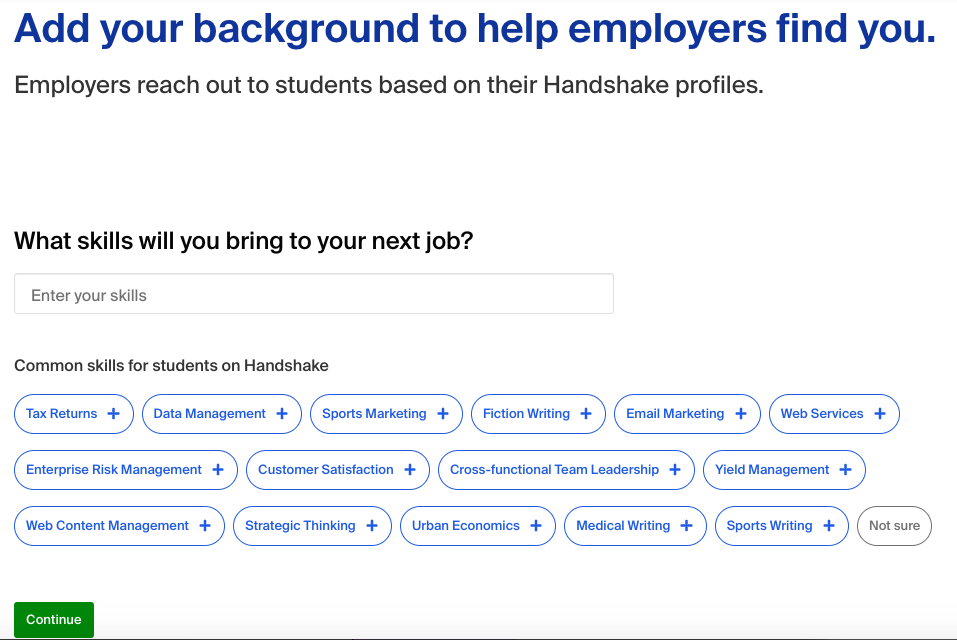 11. For schools who have synced their coursework data with Handshake, students will be able to easily select from their courses they'd like to share with employers. Employers can then search for students who've taken certain courses.
For certain majors, you will see a generic list of courses you can add. The courses there are the ones that if you've taken, employers are interested in reaching out.

12. GPA
Note: On mobile, students would need to uncheck the box for Make my GPA visible to employers to hide their GPA from employers. Once they've completed on-boarding, GPA visibility may only be changed via web browser.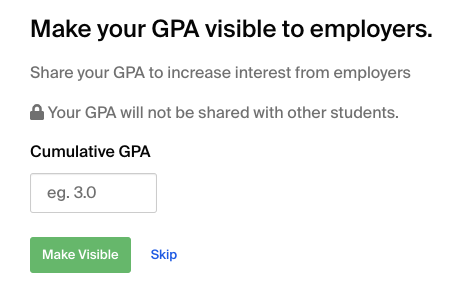 13. Clubs or Organizations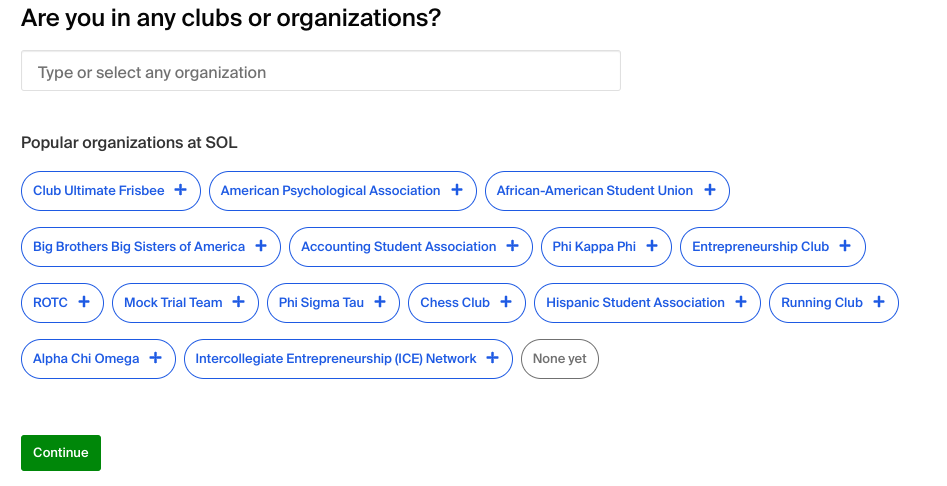 14. Work/Volunteer history

15. Interesting jobs: Students have the opportunity to mark jobs as interesting or not interesting to help us better personalize their job recommendations.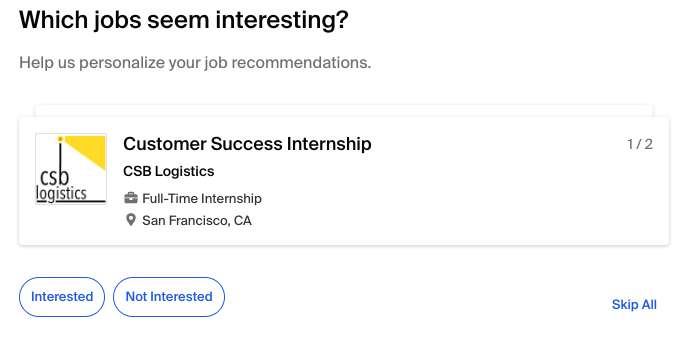 We include this section below on their profile to make it 100% clear to students if they are currently public and thus allowing their information to be viewed.
This is the state of the profile status section of a student profile when it is public to employers:
Your profile is visible to employers, students, and alumni across all Handshake universities.
You'll be able to message students and alumni who have similar interests and experiences. This can be changed anytime in settings. (Settings is linked to the user settings page in Handshake)
See employer view (clicking this in Handshake provides the student with the view of their profile an employer would see)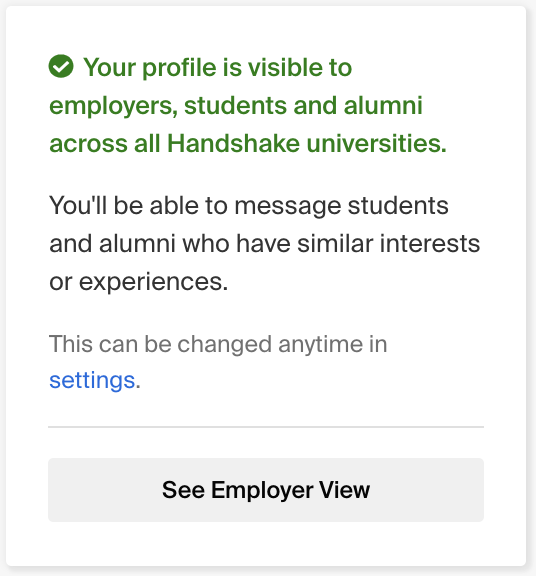 This is the state of the profile status section of their profile when it is private to employers:
Your profile is hidden from employers
By marking your profile as private, over 300,000 employers cannot search for you or message you about job or internship opportunities.
Make Profile Public to Employers (clicking this provides a prompt to update privacy settings)
This can be changed anytime in settings. (Settings is linked to the user settings page in Handshake)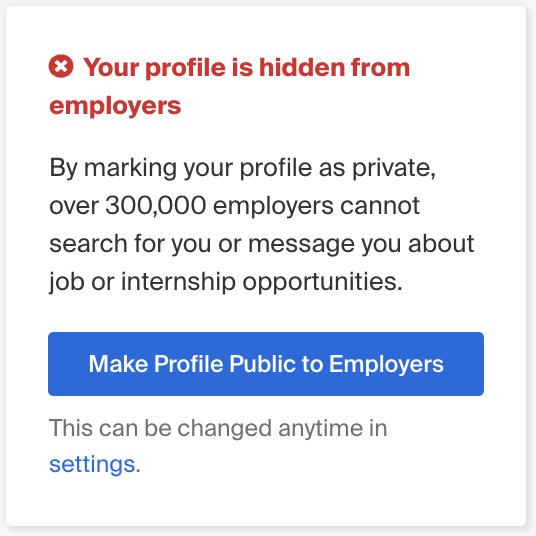 Overall, when a student decides to share their profile, they are taking ownership of all of the data on that profile. That information no longer needs to be protected by the university's FERPA responsibility and is owned by the students.
According to the
Department of Education
, students have the right "to have access to his or her education records, the right to seek to have the records amended, the right to have control over the disclosure of personally identifiable information from the records."
Employer Attributes in On-boarding
FAQ's
How did you generate this list of attributes? We asked a diverse group of students from several different universities around the country what was important to them in an employer and used their own words to generate this list. We then asked questions around what type of companies exist to further expand on the individual sections. We also did a text analysis of reviews that had been submitted by students about employers to pull out the words most used by students to describe those employers.
Who can see my responses? Employers will be able to search for students based on their responses. They will only be able to search for students who have selected a certain attribute. They will not be able to filter out students who have selected a certain attribute.
Why are the choices capped at five? Without the cap, people selected too many for it to be a helpful criteria. It is like the old saying - if everything is valuable than nothing has value.
Can I change my answer? You can change your information at any time! Refer to Update Your Career Interests and Update Personal Information on Your Profile. Additionally, every 6 months you will be prompted to "re-onboard" and will have the opportunity to update your selections.
Will this information be on my profile? At this time the information will not be visible on the student profile.