Because some employers may not have a corporate email domain and use generic email addresses to conduct business, employers can create an account in Handshake using their organization's designated generic email address. A generic email is any email address that use domains such as yahoo.com, hotmail.com, gmail.com, icloud.com, or others.
Setting up an account with a corporate email domain makes it easier for schools to identify legitimate employers. Since generic email addresses can be created by anyone, this leads to higher potential for bad actors hoping to gain access to students. Due to the increased risk of fraudulent employer accounts associated with these addresses, generic email domains are not typically desired by schools.
If you need to set up your Handshake account with a generic email address, please be prepared for schools to request additional information or be more hesitant to approve your connection request.
When signing up for an account, enter your organization's generic email address, just as you would a corporate email. For more details on the signup flow, refer to Create an Employer User Account, Join a Company, and Connect with Schools.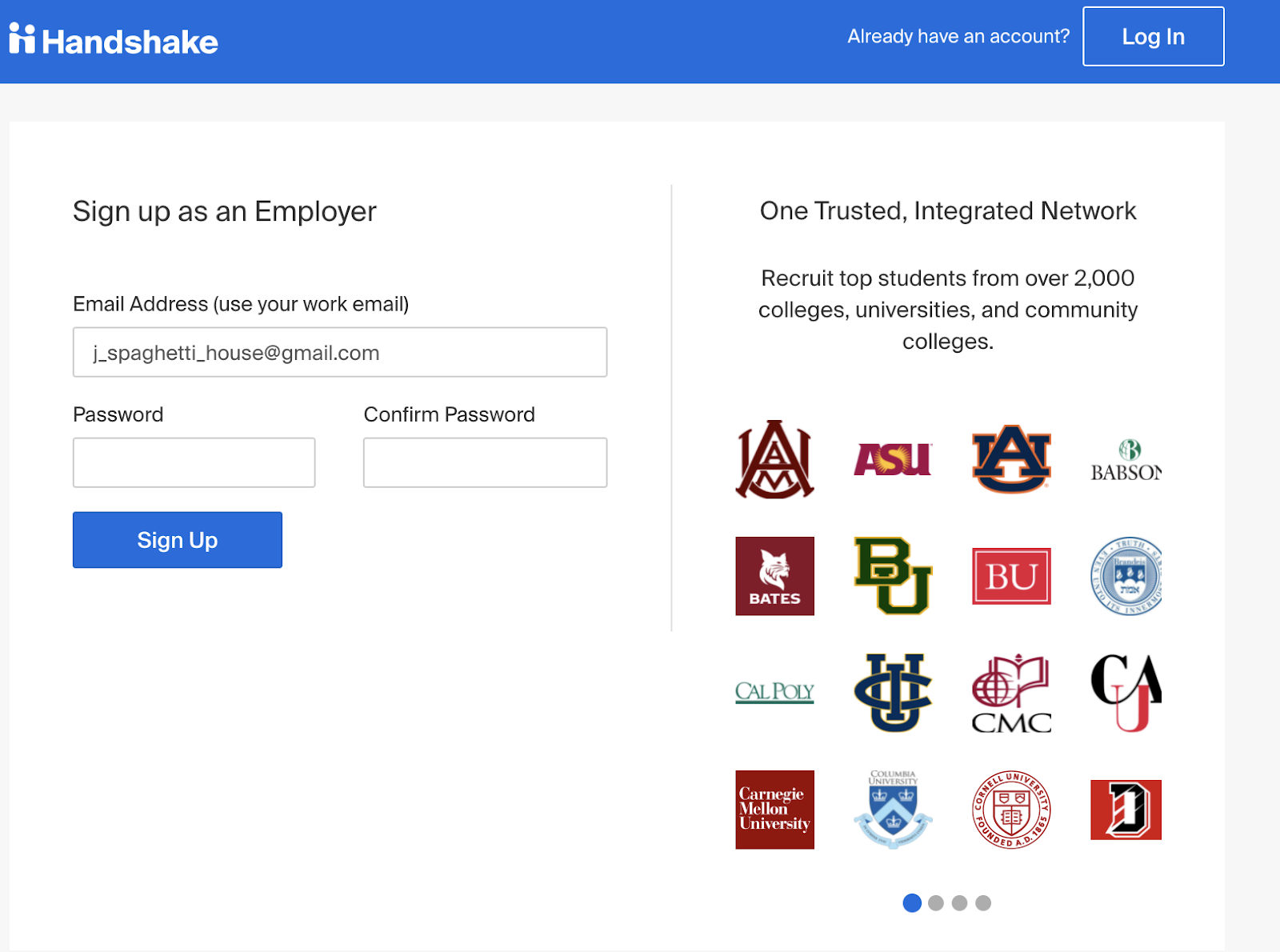 After signing up for an account, you can either connect with an existing company profile or create a new company profile if needed.
We recommend to search for your organization's name to determine if a company profile has already been created.
If you locate a company profile for your organization/location, you'll need to contact Handshake Support in order to connect with the profile. When contacting Support, include your company's name and the location you'd like to join, if there is more than one listed. We will then reach out to the company profile Owner to assist in getting you connected with the company.
If you do not locate a company profile, then you can create a new company profile by following the steps in How to Create a New Company Profile

.
Best Practices
The recommendations below will help you get established on Handshake and improve your Trust Score. For more information, refer to What is a Trust Score?
Fill out your profile as completely as possible.
Since schools will likely need additional information, providing more complete information up front can help save time for everyone.
This also applies if you created a new company profile. We also suggest taking the time to upload your logo and banner for a great first impression!
Be strategic about your first few school connection requests.
Only choose to connect with a handful of schools during the registration process, specifically any you already have an existing relationship with. Requesting approval from very many schools at once can quickly lead to numerous declines, sometimes a snowball effect.
Once you've been approved with some schools, you can request to connect with more later. For steps, refer to School Network Management: Requesting, Adding, and Removing Schools.